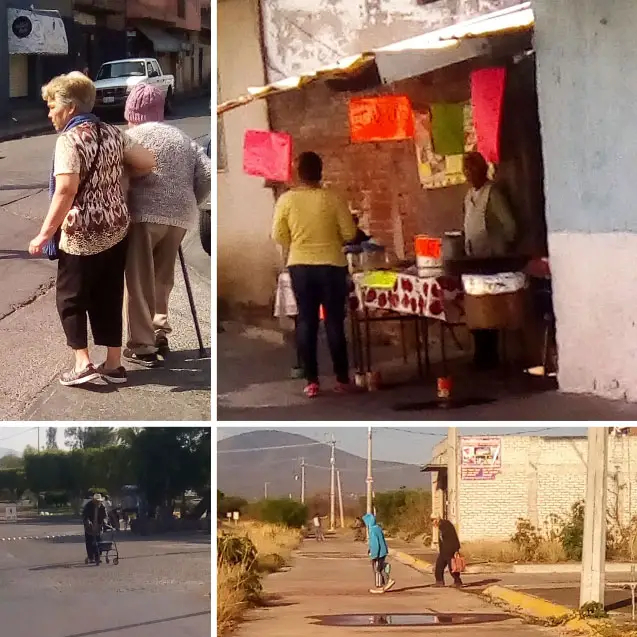 Wondering about eldercare in Mexico? Many people are. With the cost of medical expenses and nursing homes rising, while pensions and social security benefits dwindle, it's no wonder that many older adults are considering Mexico for their golden years. Traditionally reliant on families for eldercare, Mexico has begun transitioning away from home care in many areas to accommodate the influx of expats.
Senior Living Care Options in Mexico
The choices seniors have for eldercare in Mexico are not that different from those in the U.S. and Canada:
Aging in Place – hiring help to come into your own home
Community Living – co-housing with other elders
Assisted Living – housing in a residential facility for elders that have a higher level of need
Nursing Care
Assisted living facilities are a relatively new concept to Mexico and are mostly confined to highly concentrated expat areas. Therefore, your best bet of finding private nursing homes is in places like Ajijic, Lake Chapala, Puerto Vallarta, and San Miguel de Allende. The states of Chihuahua and Baja Norte are just a short drive from San Diego and El Paso, making them areas of high demand for American citizens looking to reduce expenses.
Related article: Panama Eldercare and Senior Care for Expats
The assisted living facilities in Mexico are not government regulated. However, many have reported that they are comparable to more expensive care homes in the United States. Assisted living in Mexico costs approximately $1,000 – $2,000 per month and may include medications, doctor visits, in addition to the housing, food, and assistance with daily living activities.
Many residences have trained nurses for staff and a doctor that makes weekly or twice a week visits. It is more lucrative for these medical personnel to work for an assisted care facility that caters to foreigners than to work with the general population.
Spanish and English Language Barrier
The language barrier in these facilities is less of a problem than you might think. The cities where many of these nursing homes are located have long adapted to the needs of the expats that have moved there. While there might not be a fully bilingual staff, at least several employees will speak passable, if not fluent, English.
Although the language may not be an issue in many expat areas, the culture and food may take some getting used to. Meals served in assisted living facilities tend to be made with local ingredients and in the local style, which may be unfamiliar to those who have made the move. Some dishes are spicier than the food you are accustomed to, while others are cooked in a different manner.
As you interact with the staff, you may notice differences in greetings, subjects considered appropriate for conversation, and even holidays observed. With patience and understanding, it is possible to overcome these dissimilarities and make a successful transition to life in Mexico.
Paying for Senior Care in Mexico
Mexican facilities are not authorized to accept Medicare as payment. If you choose to keep Medicare and are considering an assisted care facility along the US/Mexican border, then it is not difficult to return to the States for procedures. For places further south, this isn't an economical option unless you have a travel insurance policy that will cover the cost of the trip.
On the other hand, the Mexican public healthcare system draws the elderly to Mexico as well. Until recently, this program was known as Seguro Popular, and even those in Mexico on a tourist visa were able to receive health care with little to no co-pay.
Related article: Portugal Elder Care and Assisted Living Options
However, the system is currently undergoing some changes, and most states are transitioning to Insabi. Although the details are still being worked out, it seems that in the Mexican states that have moved to the new health care system, those seeking medical treatment need to present their CURP (Clave Única de Registro de Población) which is like a social security number. Foreigners that have temporary or permanent residency are issued a CURP, but tourists are not.
Even paying out of pocket for medicines and medical procedures is a fraction of what it would cost in the United States, making Mexico an attractive alternative for many. There are also travel insurance policies available that can provide medical transportation from Mexico to Canada or the US for those that reside part-time or full-time in Mexico if local facilities are not able to treat your health condition adequately. 
How Mexicans Utilize Eldercare in Mexico
If the reduced cost of assisted care living in Mexico is still too much, there are other alternatives available. Some families have opted to rent a small house and have caretakers look in on their elderly family members. Others have chosen to have a live-in caretaker assume full responsibility 24/7. Mexican culture reveres those that have reached "la tercer edad" (the third age), and caring for senior citizens is not looked upon as a burden.
Related article: Costa Rica Eldercare and Assisted Living for Expats
Mexicans often live in intergenerational homes designed to accommodate parents, children, grandparents, and even great-grandparents. Therefore, another option is to move the whole family to Mexico and begin to enjoy the more laid back life found there.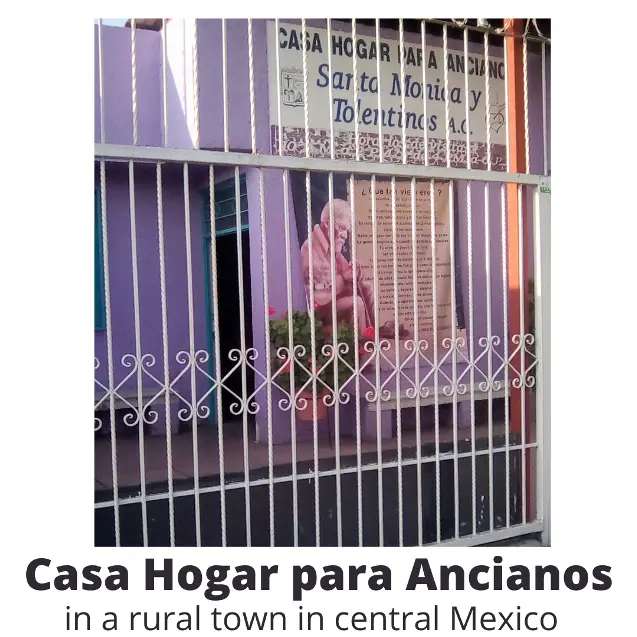 Casa Hogar para Ancianos (nursing homes for the elderly) are not as common in areas outside of the highly concentrated expat areas mentioned earlier. Although small towns often have at least one usually run by the Catholic church, it may not meet the minimum standards you feel comfortable with. It's essential to take the time to scrutinize the facility before making any decisions.
If you wish to live independently as long as possible, it's good to know that Mexico does not forget its elderly. In most towns, there is (cocina comunitaria) a community kitchen that provides at least one meal a day for the seniors in the area free of charge. Local government agencies may provide "dispensas" (food allotment) for those who have reached senior citizen status. Typically, this care package includes rice, beans, cooking oil, salt, coffee, sugar, soap, and tostadas. You may need to meet residency requirements to take advantage of these options, however.
Independent living is far more comfortable in Mexico than in countries like the United States. It's customary for even the middle class to hire a cleaning woman that comes several times a week. She often takes charge of shopping and simple meal preparation as well. Many grocery stores offer delivery service, even in rural areas. Fruit and vegetable trucks come right to your doorstep. Potable water and cooking gas are delivered in the same manner.
Mexico Long-Term Care Summary
With so many options for elder care available in Mexico, from high-quality assisted living to live-in care, it's no wonder so many expats are making the move. Compare other countries before making your decision on long-term retirement abroad.
Curious also about Panama? See Panama Eldercare for Expats.
Further Reading
Caregivers should make note of this article: Migrating to Mexico with an aging parent proved to be right for US couple.
Here are some books many have read to help inform their decision about retirement in Mexico:
Sale