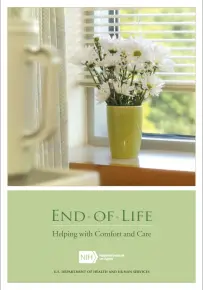 The National Institute on Aging has published an "End of Life: Helping with Comfort and Care" document for download and distribution.
Dementia, as we know, causes the gradual loss of thinking, memory, and mental capacity, which makes it difficult for providers of end of life care to know what is best. Because those with advanced dementia can no longer communicate clearly, their wishes cannot be shared.
The National Institute on Aging's publication is intended to help caregivers navigate the end of life process. Brief but informative, the publication includes:
Providing Comfort at the End of Life
Care Options at the End of Life
Dementia at the End of Life
Understanding Healthcare Decisions
What Happens When Someone Dies
Things to Do After Someone Dies
Getting Help for Your Grief
Planning for End of Life Decisions
A .pdf version of the publication can be downloaded here.