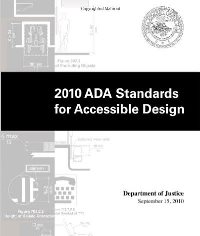 The 2010 ADA Standards for Accessible Design, set minimum requirements – both scoping and technical – for newly designed and constructed or altered State and local government facilities, public accommodations, and commercial facilities to be readily accessible to and usable by individuals with disabilities.
The U.S. Department of Justice updated their Americans with Disabilities Act regulations for Titles II and III of the Americans with Disabilities Act of 1990.  The official text was published in the Federal Register on September 15, 2010. Compliance with the 2010 Standards for Accessible Design is permitted as of September 15, 2010, but not required until March 15, 2012.
We have made the 254-page file available in .pdf format for those that want to download it. If you prefer to save the ink and paper, and want it in a more convenient reference format, you can also buy it in paperback form for ease of reading.
Download the 2010 ADA Standards for Accessible Design
Buy the Paperback 2010 ADA Standards for Accessible Design
The Department also assembled, into a separate publication, the revised regulation guidance that applies to these standards. This publication can also be purchased.
Buy the Guidance on the 2010 ADA Standards for Accessible Design
This guidance provides detailed information about the Department's adoption of the 2010 Standards including changes to the Standards, the reasoning behind those changes, and responses to public comments received on these topics. This is a crucial document for builders, architects, etc. as it should be coupled with the 2010 Standards for an accurate interpretation of the Standards.
Whenever possible, these standards should be used in building and modification of existing buildings whether required or not. We live in an increasingly older society and making places accessible for seniors and others with physical limitations is the right thing to do.