Looking for the SAGE test? The Self-Administered Gerocognitive Exam (SAGE) was developed by Ohio State University College of Medicine, Department of Neurology. The SAGE test for dementia is a cognitive screening assessment used to identify Mild Cognitive Impairment (MCI) and early dementia.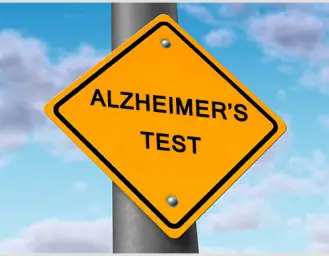 SAGE Test Online
The SAGE test is self-administered test is available to download online here, so people questioning their own cognitive abilities can take the exam privately. This is good and bad, good that it may encourage some people to take the exam who might not otherwise subject themselves to being tested by a doctor, bad in that it means some people testing themselves might draw inaccurate conclusions or not have the opportunity for a professional assessment.
The test cannot be used to diagnose Alzheimer's or dementia.
People should always consult their physician if they have cognitive concerns.
Live Science describes the test as such:
"The SAGE is designed to test various parts of the brain linked to certain functions. For example, patients are asked to identify pictures to test their language skills, and perform calculations to test their math skills, both primarily carried out by the left side of the brain. Subjects also copy geometrical designs to test their right brain, and perform memory tests. The SAGE test is quite robust compared to other handwritten tests in that it measures so many different parts of the brain, Dr. Douglas Scharre (Ohio State University Medical Center) said.

In a study involving 254 participants, Scharre and his colleagues compared the reliability of the SAGE exam with that of other standard tests used to detect cognitive problems, such as assessment by a neuropsychologist. The results show 80 percent of those with mild thinking and memory issues can be detected by SAGE, and 95 percent of those with normal thinking abilities will have normal scores."
SAGE Test Questions and Answers
The test is self-administered. There are four forms and any form may be used (use only one). The exam should be completed without the help from anyone else. All four pages must be completed. User questions should not be answered with anything beyond "do the best you can." The test should take about 10-15 minutes to complete, though the test is not timed. Total possible points are 22.
Sage Test Scoring
Taking the SAGE test is just the first step, of course. Administrators need to know how to both score the exam but also how to explain the scoring. Download these documents for that.
Who Can Take the SAGE Test?
First, this is a cognitive screening instrument that helps identify if you have a mild cognitive impairment or you are on the onset of early dementia. According to the Ohio State University Department of Neurology, you should take the test if you question your cognitive ability. You can take it privately online and take the test results to your doctor to evaluate and advise what the scores mean. 
The goal is to encourage more people to start taking the exam. These are people who would have problems subjecting themselves to a test by a physician. To avoid drawing inaccurate conclusions, people are encouraged to present their test results to a doctor for interpretation and evaluation. A professional assessment gives you more clarity on what your test scores mean concerning your cognitive ability.
Consult your doctor if you still have cognitive concerns to get more information. A SAGE exam tests various aspects of your brain that are linked to specific functions. For instance, you are asked to identify photos to test your language skills. Also, you perform calculations as a test for your math skills. Your left side of the brain predominantly does these brain functions. 
You copy geometrical designs to see how your memory and right brain function. The test is robust and more comprehensive than other handwritten tests as it measures various parts of your brain. 
According to Dr. Scharre, SAGE is a good remedy for those afraid of confirming their fears. Most families resist scheduling an appointment for Alzheimer's tests as they are not prepared for the bad news. However, it's highly recommended as it now allows them to start taking medications early to manage their condition if the doctor confirms their fears. You are better off starting early medications than wait until your cognitive decline is noticeable and a hindrance to your routine.
How to Use the SAGE Test to Detect Dementia
Evaluation of the effectiveness of SAGE as a screening test for dementia in a community setting is as follows:
A score of 22 indicates normal cognition, while a score of 15 – 17 signifies mild cognitive impairment. If you score below 14, you have dementia. The test is consistent and well-balanced as it tests visuospatial, language, memory, and cognition. 
After completing your SAGE test, take the results to your doctor, score it, and explain the results. In case the score doesn't indicate that you need more evaluation, the doctor will file those tests and use them as a baseline for future tests. You are free to take more tests in the future and bring the results to the doctor for comparison with your initial exam.
The only limitation is that you must be able to see, write, and read to take the SAGE exam. Individuals are highly advised to take this test early to know their situation and seek treatment early before the disease progresses to an unmanageable state. 
The test is extremely reliable, which reaffirms confidence. SAGE correlates well with detailed cognitive testing. You can repeat the test severally over time to allow your doctor to detect any slight changes in your cognitive ability. Any change is easy to manage as you are placed on early treatment than it would be without the test. 
Early detection is crucial to managing cognitive impairment and treating the condition. Therefore, SAGE is a vital tool in addressing Alzheimer's progression.
How Effective is the SAGE Test?
SAGE is very effective in detecting cognitive disorders. As many as 4/5 people can detect dementia through the use of it. Primarily it is because the SAGE test doesn't diagnose a specific cognitive condition. The test detects overall cognitive impairment. Regardless of one's cognitive state, whether a mini-stroke, early stage of dementia, or similar symptoms, the test will detect any impairment. 
As much as the SAGE test doesn't diagnose Alzheimer's, it allows one to know whether further evaluation by a professional medical expert is warranted. The test helps people catch early dementia. The earlier this detection happens, the earlier one can start treatment. Furthermore, the test gives physicians a baseline as they document cognitive changes enabling them to make targeted interventions. 
The test is easy to administer, and it can be used to screen large groups of people simultaneously. Participants get tested on reasoning, language, visuospatial, memory abilities, computations, and orientations. 
The fact that 95 percent of tested people achieve normal SAGE scores makes it a reliable resource. Go for a follow-up appointment with your doctor if you miss at least six points of the total 22 points. You may not even realize that you have early dementia signs unless the doctor performs follow-up evaluation. 
Treatment is only effective if you start early. Consequently, the SAGE test ensures that you never have to wait 3-4 years before seeking treatment. Most people only seek treatment once their early dementia symptoms are more apparent and affect their normal functioning.
Conclusion
Take your test to the doctor for scoring as they understand it best. The test is instrumental in detecting dementia. Take early intervention to manage the progression if your scores indicate cognition problems. The earlier dementia is detected, the more effective the therapeutic, pharmaceuticals, and alternative treatments to manage the symptoms. There is no cure for Alzheimer's, but you can slow the progression.