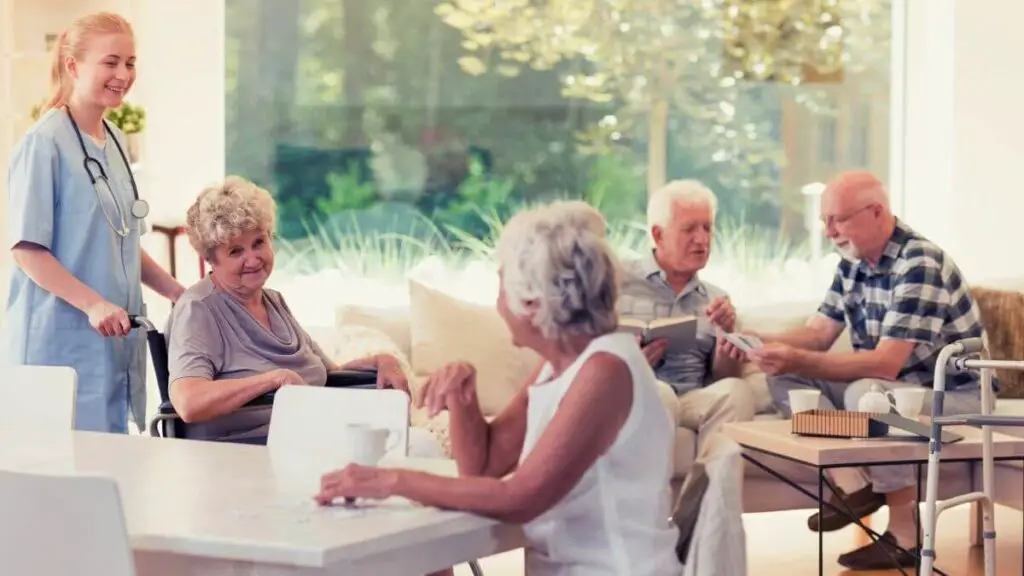 There are many different types of senior housing and senior care facilities. It can become confusing because – often – words are used interchangeably even when they shouldn't be. An assisted living facility, for example, is not the same thing as a nursing home. Then you have independent housing, retirement communities, and – the subject of this article – congregate housing.
"Congregate housing" is often used as a catchall phrase to describe a general type of senior housing that is more supportive than living on your own but less supportive than assisted living. This is true, but there are more distinctions.
My experience with congregate housing in Maine has been that they're more like senior housing with services. The buildings/projects often come with tax dollar incentives and credits to encourage the housing development. Service agencies then partner with the housing developer and together they create the community.
That is how I became involved with congregate housing. I supervised social workers who would visit different buildings on different days. They were one of many different types of staff who would visit the building on different days. In our case, being the Area Agency on Aging, staff were there as a resource, helping residents connect with services.
I would also visit the buildings myself, but more to attend TRIAD meetings in the building's community room. I also attended a few ribbon cutting ceremonies at new congregate housing developments.
So what exactly is congregate housing? Let's start by saying what congregate housing is not…
Short or Long-Term Care Facilities
Congregate housing can become confused with short or long-term care facilities. They're not the same thing.
Short-term facilities are ones where someone needs temporary help, usually for a type of medical condition, skilled care, rehabilitation, etc. They are regulated by the state.
For example, someone has a knee or hip replacement and needs assistance for the recovery period. Someone is in a car accident and needs physical therapy during the time that the broken bones and wounds are healing. Staff working at these facilities include nurses, personal care aides, occupational therapists, physical therapists, and social workers.
There is always a goal that must be accomplished with a short-term facility for the patient/resident. The patient is expected to recover in most cases.
A hospice care facility could be long term, but because a patient usually needs a doctor's order stating the patient likely has six or fewer months to live in order to qualify for hospice, hospice facilities are considered short-term.
Long-term facilities operate on a longer-term basis. Many residents are there for good. The facility takes care of all nutritional, medical, rehabilitative, and psychological treatment the resident needs. All these are put together in a care plan by the department heads of the different departments, carried out by staff, and the plans are evaluated regularly. These facilities are heavily regulated by the state.
Someone in a long-term care facility is there for an indeterminate time period. The facility is usually a skilled nursing facility for those who are suffering from a medical condition that is progressing, or one that is a chronic condition. This means there is nursing care available 24/7.
Some examples of people who might be in a long-term care facility are those who have neurological disorders, advanced diabetes or 'brittle' diabetes, advanced autoimmune disorders, dementia, and cancer. This also includes seniors who are too frail to provide adequate care for themselves or whose needs are beyond the means of informal caregivers.
What is Congregate Housing?
Congregate housing is a building with common areas for residents who can live independently but still need help. Residents have similar needs and get limited services.
Some of the services are available to those living in a congregate living facility include:
meal services (usually one meal a day),
housekeeping,
transportation,
in-home health care, and
organized leisure activities.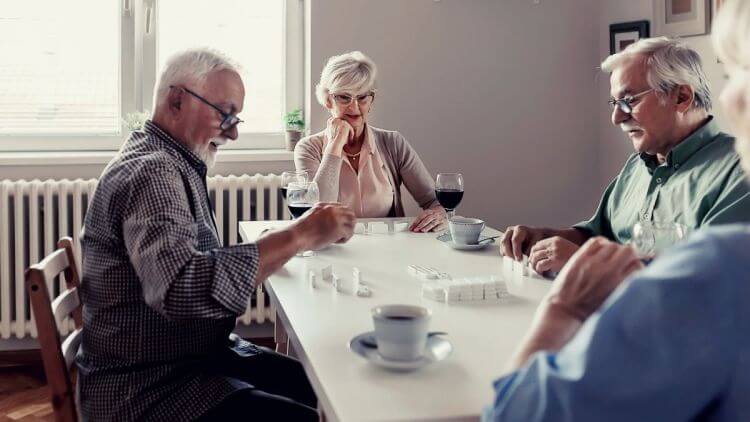 Congregate housing is generally not regulated by the state. They do not offer help with individuals' ADLs or IADLs. Higher levels of care happen assisted living facilities that would include help with toileting, bathing, incontinence care, and medication dispersal.
Congregate Housing vs Congregate Living Health Facility
"Congregate housing" can often be confused with "congregate health facility." They may sound the same, but they're distinctly different.
A congregate living health facility is a residential home with a set number of beds and includes a more robust health service offering. Those services include:
medical supervision,
24-hour skilled nursing and supportive care,
pharmacy dispensing,
dietary assistance, and
ability-appropriate social/recreational opportunities.
The whole purpose of people living in a congregate living health facility is to get skilled nursing care on a recurring, intermittent, extended, or continuous basis. The care is more intense than what is found in some facilities but not as advanced as what is provided in nursing facilities. The care may also help the resident build skills, increase self-confidence and contribute to the community, similar to skilled care in a nursing facility.
Congregate living health facilities may have a state limit in the number of beds (residents) they can have. The facility serves those who are terminally ill (hospice) or diagnosed with a life-threatening illness or both.
A congregate living health facility provides services to the following types of people:
those who are mentally alert, physically disabled, or dependent on a ventilator
those who have a terminal illness (life expectancy of <6 months) or life-threatening illness (a disorder that can lead to death within 5 years) or both
those who are severely disabled. They may have developed a disability after a trauma or an illness, and their medical doctor believes that active rehabilitation will help, such as speech therapy, physical therapy, or occupational therapy.
Family may be active participants in the rehabilitation process at this type of community.
Which is Right for You?
This chart may help explain whether congregate housing or a congregate living health facility is more appropriate:
| Congregate Housing | Congregate Living Health Facility (CLHF) |
| --- | --- |
| Living alone is just too lonely. Living with others connects you to other humans and meets your socialization needs. | You may be too sick to really desire a lot of companionship but from time to time, it will help. |
| Your health is presently manageable. You don't need a medical assistant or to be in the presence of health professionals 24/7. | Your health needs have become more and more cumbersome and you need outside help. |
| You don't have family members to stay with but can still manage your own finances. | You have reached a point where it's too difficult or impossible to manage your finances. The facility does this for you. |
| You don't have medical emergencies. | You are surrounded by health professionals if a medical emergency arises. |
| You are perfectly capable of taking care of your own hygienic needs. | You need help with normal daily activities such as bathing and toileting. Care is offered at the facility for this. |
| It would be easier if someone could do the cooking and cleaning for you. | It's too much stress and strain on you to prepare meals for yourself. The facility provides meals for you. |
| You aren't at risk of falling or leaving the stove burners on. | Safe environment. There may have been times where you almost fell and couldn't get up, or you did fall. You'll have immediate support at the CLHF. |
Who Pays for Congregate Housing?
Medicaid and Medicare do not pay for congregate housing. Those public insurances only pay for medically necessary services. Housing is necessary, but it is not medically necessary.
Residents pay privately for congregate housing, though many get public housing assistance to help with the cost. Public housing benefits only pay for the housing, however. It cannot be used to help pay the costs of food or health assistance.
What is Residential Life Like?
Congregate housing buildings have a central lobby, dining room, and activity areas. Neighbors get to know neighbors (and even look out for each other). Staff will visit the building to cook meals, provide different services, and organize events.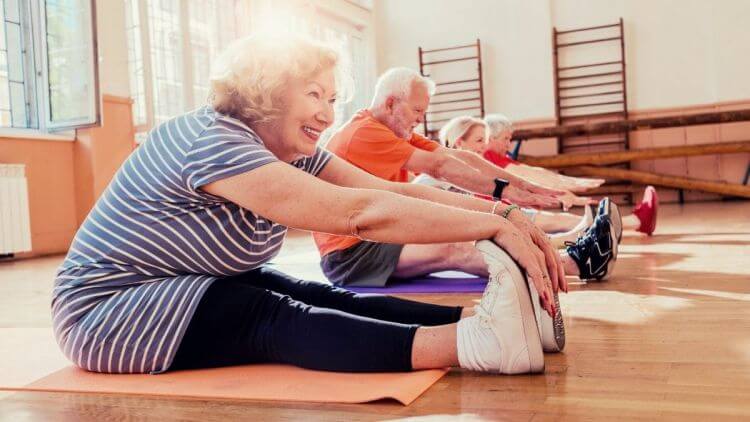 Expect interaction during the day. Residents have more confidence about their living situation because they have a community around them and regular contact with professional staff. Family and friends can come visit. Life, for many residents, is better.
Summary
Congregate housing can be the perfect solution for seniors who are tired of heating an old home, mowing a lawn, recently widowed, or facing a life situation where a change in housing would help. They want to be living near people their age, in a secure building, and conveniently connected to periodic services including meal preparation.
Do you have experience with senior congregate housing? Let us know in the comments section.