At some point, you or your loved one may be asked to complete an IADL or ADL questionnaire. Both assessments are designed to determine what, if any, accommodations should be made so that the individual can maintain the highest quality of life possible. They also may be used to determine if someone is eligible for certain services such as home health care or, in some cases, to see if you qualify for Meals on Wheels.
What does ADL stand for?
ADL is the acronym for activities of daily living, which are necessary for basic, day-to-day living. The inability to perform tasks measured by the ADL assessment indicates that the individual may need to be cared for in a skilled nursing facility or receive more extensive home healthcare support.
What does IADL stand for?
IADL stands for "instrumental activities of daily living." These are the categories considered necessary for independent living. This analysis is often used by occupational therapists to ascertain how much someone might need in the way of cognitive and physical assistance. Those that have difficulty performing IADL have a higher likelihood of developing dementia or Alzheimer's than those who don't struggle with the tasks.
Breakdown of ADL Tasks and Questionnaire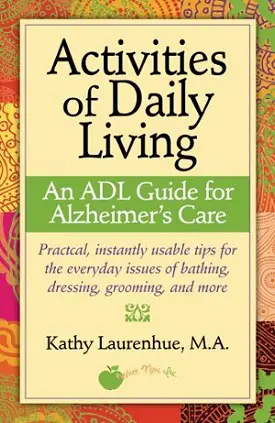 Katz ADL Index (download it here) focuses on basic daily living tasks. It measures six functions with either a yes or no response. The six tasks measured by the Katz ADL Index are
bathing,
dressing,
toilet use,
continence, and
feeding.
If the individual can complete the activity completely, or mostly independently, he/she is awarded one point for that task. If substantial or complete assistance is needed for the completion of the task, then no points are granted.
Six points indicate the person is capable of completing the tasks while four points mean there is moderate impairment indicating a need for some assistance. Anything less than two is a sign of severe functional impairment. Although useful in garnering a general idea of the functioning level of older adults, this assessment isn't able to measure incremental changes. These small improvements may be important considerations in determining independence in the case of someone undergoing rehabilitation after illness or injury.
For more information, specific to Alzheimer's Disease, see Activities of Daily Living: An ADL Guide for Alzheimer's Care.
Breakdown of IADL Tasks and Questionnaire
The Lawton Instrumental Activities of Daily Living Scale (download it here) is used as a measurement guide for activities that are more complex than those measured by the Katz Index of ADLs. Each task is assessed on the person's ability to complete it in whole or in part.
The assessment is quick and easy to administer, taking about 15 minutes. As it is self-reported or based on observations, it may not be as accurate as it could be. Seniors may answer dishonestly to hide deficits and observers may not have the exact information to answer accurately. There is also an inherent gender bias in that can be taken into account by scoring men and women differently.
Telephone Use
Can the individual use a telephone? Can he/she dial a few important or often-used numbers? Can the person answer the phone but has difficulty dialing? If using a phone is too complex, it is an indication that some support is needed.
Shopping
Is the person being assessed able to take care of all his/her shopping needs without assistance? Can he/she shop for a few things? Does the individual need to be accompanied on certain shopping trips? If the person is unable to complete any shopping tasks, then someone other than the individual should make sure the senior has everything he/she needs.
Food Preparation
The highest level of the food preparation category includes planning, preparing, and serving meals independently. If the person can prepare foods but is unable to get all the ingredients (indicating that their shopping excursions are not independent) then he/she would be on a lower level. If food preparation is sporadic or the individual is dependent on another person for meal preparation, it indicates that support is needed in this area.
Housekeeping
An individual who is considered independent can keep up with housework on their own or with the occasional assistance, such as a cleaning person who comes once a week to help with the more physically challenging tasks. An elderly person who is mostly independent can keep their residence clean by performing daily tasks such as making the bed and dishwashing.
If the person can do some of those light chores but is unable to maintain a level of cleanliness that is hygenic, then this individual would need support in this area. Someone who does not participate in any housekeeping tasks, either because he/she is unwilling or unable, would also need regular assistance.
Laundry
If the elderly individual is still able to do all of his/her personal laundry then he/she is still functioning independently. If she/he can do some laundry, then only marginal support may be needed. However, if the person is unwilling or unable to launder his/her own clothing, then someone must step in to do so in order to maintain a safe and clean environment.
Transportation
If a person is still able to drive or travel independently using public transportation, then he/she is considered independent. This task is more difficult to measure since some elderly drivers continue to drive past the point when it is safe for them to do so. Aging can cause diminished eyesight, hearing, and reaction times which make driving more dangerous. Arthritis can make steering more difficult. Someone with memory issues might be able to drive perfectly well, but be unable to remember where they were headed or how to get home.
The second level in this task is when a person can call a taxi or arrange for transportation independently but does not use other forms of public transportation, nor does he/she drive a vehicle. When a person can still use transportation when accompanied by another, then he/she is no longer considered independent in this task.
Medication
Often, seniors are taking several prescription medications along with vitamins or supplements. Managing their own medication correctly is therefore an essential task. If an individual can manage the timing and dosages on their own or if the medication is organized for them, then he/she is considered independent. Otherwise, he/she must have assistance for proper dosing.
Finances
Knowing how to keep track of one's finances is a skill that remains essential even as we age. If someone is able to pay bills, keep a budget, and complete financial transactions successfully, he/she would be considered independent. If someone can manage daily or weekly purchases but needs assistance with some banking transactions or large purchases, then he/she would be considered semi-independent. A person who is incapable or unwilling to manage their own money is in need of assistance in this task.
ADL and IADL Conclusion
The ADL and IADL assessments can help you determine the level of independence a person has when it comes to physical and cognitive tasks and provide appropriate support systems as needed. Need to find senior resources near you? See our complete listing of agencies by state.
What about you? What brought you to this article? Let us know in the comments section.