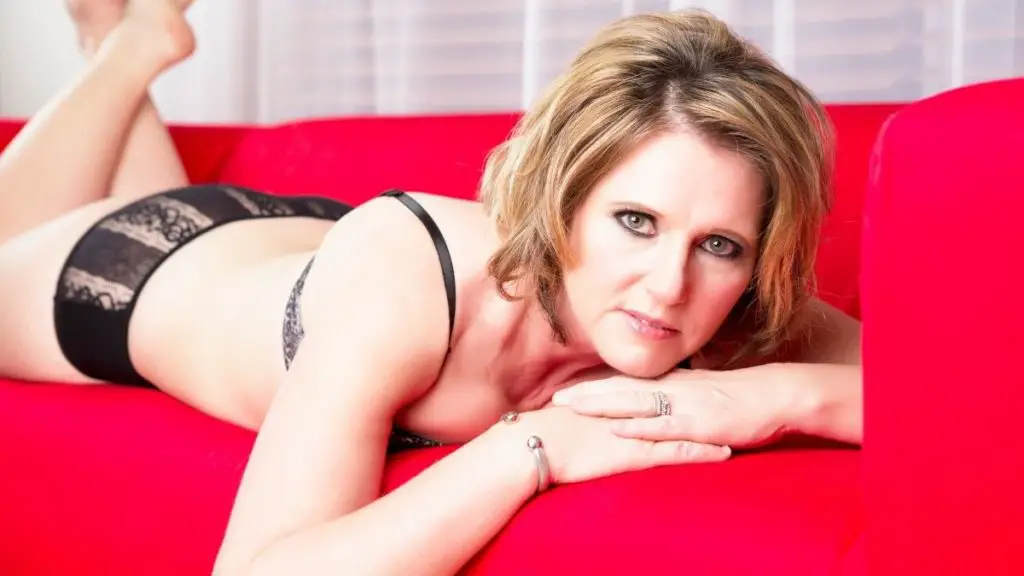 Having an attractive body is not left to the young alone. Older women can as well, and there are growing options for women looking to buy what is being labeled as "mature lingerie."
Most women take lingerie for granted. Few realize that prior to the mid-18th century, women didn't wear underpants (or drawers). Lingerie is a relatively new concept for which we can be eternally grateful.
These days, an important purpose of lingerie is to emphasize a woman's sexuality. By common logic, this can mean that sexy lingerie is mainly intended for young women. Older women are believed to have no need to emphasize their sexuality. They are not supposed to have any sexual thoughts. The familiar term "granny panties" is not used as a compliment.
Older Women And Sexuality
Some women see their advancing age as a reason to forgo sexual activity. However, they appear to be in a minority. Most women have expressed a desire for more sex. Age alone does not diminish one's sexual drive, and there are lists of the best sex positions for seniors and even sex toys for seniors.
Of course, body self-consciousness plays a large part in sexual hesitancy for older women. They feel their bodies can no longer compete with those of twenty-year-olds.
But why should they? Older women are unique and have plenty to offer sexually. Many make the effort to stay in shape and tone their muscles. We are not living in the age of the granny panty.
Plenty of older women love to experiment with lingerie, not just different designs but colors, as well. There is an abundance of mature lingerie with plenty of oomph to it just as there are mature bikinis. Sexy over sixty is real.
First, however, smart older women know what to look for in choosing their undergarments.
The Bra
A woman's body changes over the years. After a few decades, breasts are no longer perky and may droop a bit. That is why the choice of bra becomes important. Senior women should look for an underwire bra and a thicker strap for a better lift.
Many older women find a front-closure bra easier to handle. A cup without seams provides a smoother and more elegant look when worn beneath a thin shirt.
Following is a list of some bras for seniors, but for a more complete list see our list of 7 bras for seniors.
Bras for Senior Women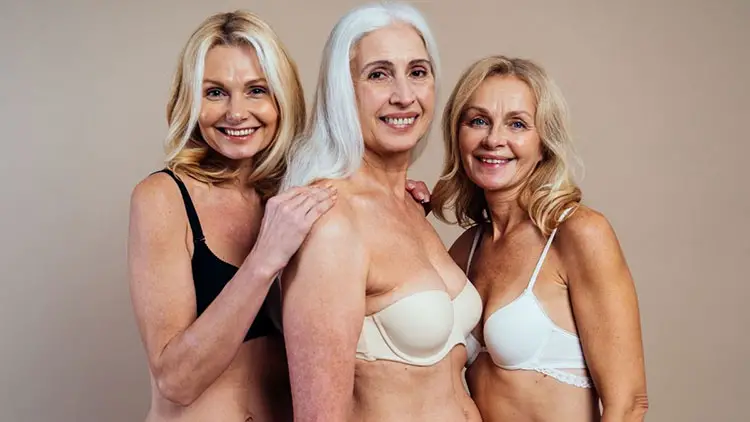 ZeroBound Minimizer Bra
Sale

ZeroBound Women's Minimizer Bras Comfort Cushion Strap Wirefree Full Coverage Large Bust Non-Padded Bra(Purple,40DD)
FREIENDLY MATERIAL:Light & breathable material, fits as your second skin.The wirefree bra Size: from 36B to 48G. Color Choice: Black, Deep Nude, Nude, Purple, Toffee,Gray Blue,Wine Red,Light purple.
MAXIMUM COMFORT:Wider fully adjustable cushioned straps for custom lift, everyday bras has cotton blend bottom band provide added comfort, U-shaped back, no digging, helps to take weight off your shoulders, reduce back and shoulder strain, offer all day comfort.
The ZeroBound Minimizer Bra is wire-free and is available up to size 48G. It comes in several lovely colors, include a naughty leopard print. It is made of lightweight material that feels comfortable against the skin. The straps are adjustable, and the U-shaped back lessens strains to the back and shoulders. It is an excellent option for women who want to minimize a large bust.
Pros
Excellent bra for large-busted women.
Cons
The cup does not run to size.
Glamorise Women's Full Figure Plus Size MagicLift

This bra support without wire technology. The straps are wide and add extra comfort, while the cups are made of attractive lace. Especially designed to fit and support full-figured sizes with three closure hooks.
Pros
This bra is extremely comfortable and provides superior full-figure support.
Cons
The cup is somewhat pointy.
The lace can be delicate, and care should be taken when laundering.
Calvin Klein Women's Invisible Comfort Seamless Lined V Neck Bralette

This bra comes in a large variety of lovely colors. It is made of 77 percent nylon and 23 percent elastane. The style is pull-on, so there are no hooks to bother with. The pads are removable. It is the perfect match for Calvin Klein's Invisible Panties to a pulled-together look.
The bra is very smooth and remains invisible beneath clothes.
Pros
Very comfortable to wear.
The light padding prevents nipples from becoming visible.
Cons
While it is a purposeful design, some people may not like the sports bra, uni-boob look.
Panties for Senior Women
There is a growing market in shapewear, which can help women tuck and lift for a better, more toned look. Otherwise, there are plenty of choices of panties for mature women that are both comfortable and sexy.
Too many older women forget the importance of a nice pair of underwear. After all, these undies are hidden from view, so why pay attention?
Panties at any age deserve attention. Although mostly unseen, panties do affect the way we feel about ourselves. Throw on a pair of ripped cottons, and you end up feeling like nothing special. A throw-away – just like the pants themselves.
Pay attention and opt for some satin and lace, and your sexuality will shine through even if your panties don't. Don't underestimate a nice pair of boy shorts to make you feel sexy while hiding a few bumps.
How we feel about ourselves is ageless. For that added touch, wear lacy bras and panties that match.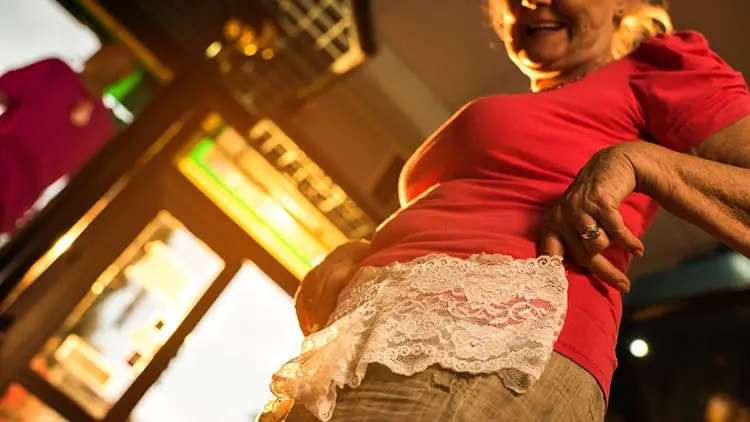 Boody Women's Full Coverage Underwear

The panties come in basic colors – black, white, beige, and nude.
The bamboo is very comfortable and environmentally friendly and feels like silk. It's a positive addition to the usual breathable cotton. Boody Underwear provides full, modest coverage and is high-waisted and seamless. These panties rest comfortably on the hip. They remain cool during summer weather and provide warmth in the winter thanks to the bamboo fabric.
Pros
These panties do not bind and feel very soft.
Cons
The panty only goes up to size 14 and is not available in plus sizes.
Vanity Fair Women's Flattering Lace Panties

These panties are high cut to flatter the legs. They also come in bikini and briefs and are available in several colors. The lace provides a sexy addition to the panties, which are made of 89 percent nylon and 11 percent spandex – the spandex does provide a bit of stretch.
Pros
The stretch provides comfort for curvy figures.
There are no visible panty lines.
They feel like silk
Cons
Some panties may run small.
Nudicate Cotton High Waisted Panties

Nudicate Cotton Panties for Women High Waist, Plus Size Panties Soft Breathable Cotton Women's Underwear (5 Pack) Multicolor
ORGANIC COTTON CROTCH: We care about your health that's why we use the highest quality materials for our panties. We only manufacture our underwear with 100% Certified Non-Colored (ivory color) Organic Cotton for the crotch part. The crotch part of our underpants are colorless to protect your skin from harmful chemicals and to easily observe any unusual spotting and stains.
WIDE STRETCHY WAISTBAND: The soft double-layer fabric covered waistband sits right at the waist, just below belly button. There is no pilling, bunching or rolling at the waist. The high waist is perfectly snuggish with moderate compression. High waisted women's panties provide moderate tummy control and they reduce the appearance of muffin tops.
The crotch portion of these panties is made from certified organic cotton. The waistband is wide and settles at the waist without rolling or bunching.
The wide waistband reduces the risk of the dreaded "muffin top." These come in regular as well as plus sizes.
Pros
The material is soft, yet strong enough to provide a bit of hold for the tummy.
Cons
These panties may shrink one size after washing in hot water.
Girdles
Every woman wore a girdle in the early part of the 19th century through the 1950s – it had slowly replaced the corset of earlier times. Certainly, girdles were easier to wear than those tight corsets, while still smoothing out bulges. A girdle was an essential piece of underwear. It was worn even while cleaning the house (thank you, Donna Reed).
Women at that time were rarely seen at a gym, and it was the girdle that accomplished what a regular workout would do today.
Older women, especially those whose mobility issues prevent them from getting needed exercise, are turning to the girdle for smoother curves and a better silhouette
Size is critical when purchasing a girdle. You want one that is an inch or so smaller than you would ordinarily wear to achieve that "tucked in" smoothness. When wearing a girdle, your clothes just "hang" better. You can strut with greater confidence.
A girdle won't just control your figure, it improves your posture, as well. That is important for women over the age of 60. A straight, proud posture can take an immediate ten years off your true age. A girdle provides a genuine confidence boost.
This is not to say that senior women have to sport a size 8 figure. But for a special occasion, a transforming sleek look can make senior ladies feel like queens.
Vintage Girdles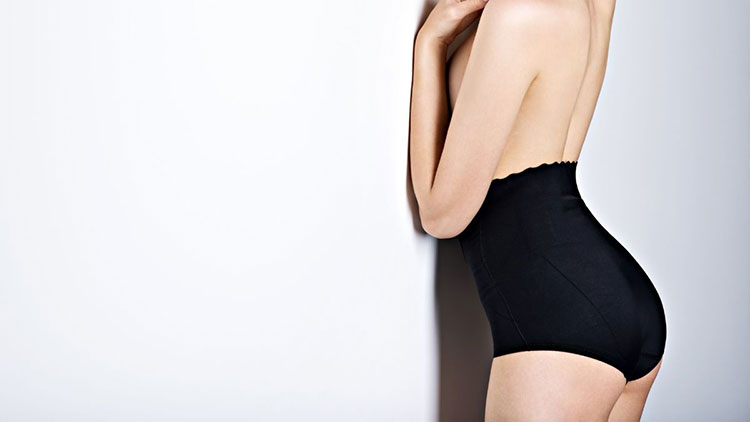 Rago Style
Sale

Rago Style 1359 - Open Bottom Girdle Firm Shaping, Black, 30
FULL FIGURE SUPPORT – Lacette jacquard knit fabric constructed of 70% nylon 30% Invista Lycra with two-way stretch in a special lace-floral motif.
ADJUSTABLE – Height variations can be adjusted by easily changing strap lengths and crotch-opening adjustment.
This girdle comes in a variety of convenient colors. It is made of 70 percent nylon and 30 percent Lycra for an adjustable stretch. Panels shape the tummy, waist, hips, and bottom. The Rago girdle is attractive with a feminine lace motif. The height and crotch opening are adjustable for the best possible fit. It can be worn comfortably for the entire day.
Pros
Works great under tight-fitting outfits.
No "muffin" effect above the waistline.
Prevents any body parts from "jiggling"
Built-in garter is great for stockings.
Cons
The built-in garter is not removable.
Girdle Longline Glamour Nouveau L3024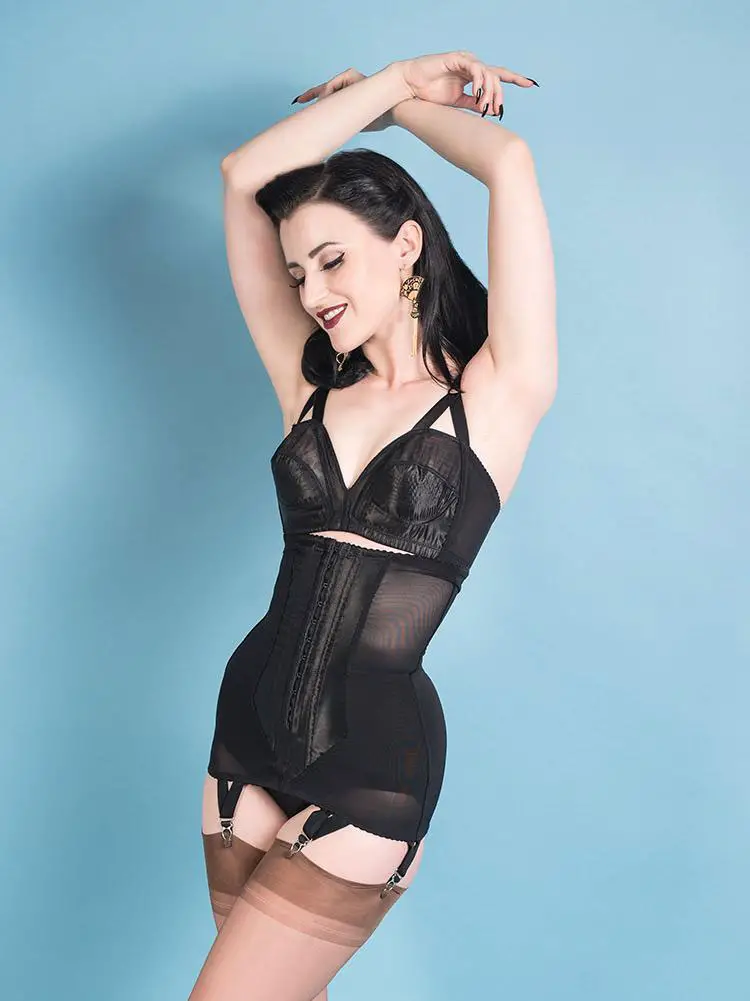 This is a glamor piece that smooths the body and hides the bulges. It has metal garter clips because the glamor of this girdle really calls for a nice pair of stockings. It closes with front hooks, so it is easy to put on and take off.
Pros
Has a visible effect on bodily posture.
Vintage girdles exude their own sex appeal. With up-to-date colors and design, they are an effortless means to a curvaceous figure. Stylish nylons and a nice pair of pumps add to the entire look.
Why Older Women Should Care About Their Lingerie
Lingerie can be fun at any age. For older women, wearing something flattering can help put some passion into a stale relationship. For seniors, alluring mature lingerie can boost self-esteem and provide an overall more positive mindset. A simple bit of lace can put a lot of sunshine into your day. Although no one else can see it, you know.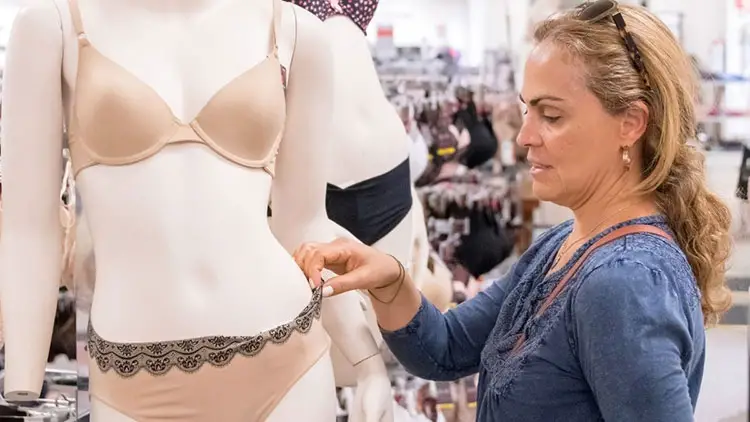 Fit Matters
Our bodies change as we age. A well-fitting bra is especially important to senior women. Don't assume that because you were a B cup in your thirties you are still a B cup. Get a good fitting before investing in your next bra. Most small lingerie shops will provide that personalized service. Once you are sure of your size, all systems are go.
The proper fit of your panties is equally as important. You won't feel good about yourself if you are squeezed into a small-sized pair of panties or if your panties are large and droopy. As we have stated, there is no room for granny panties in a mature lingerie collection.
Size Is Irrelevant
So, you are no longer a size 8. Fashion magazines con us into thinking if we aren't thin, we lose our worth – we are nothing. Many people are made to feel ashamed of how they look. Sexy and alluring know no size. With self-confidence, your self-worth will become clear to everyone. Never let some cultural media determine how you feel about yourself. Work on being a good person, and that is what people will notice.
Wearing the proper size isn't only important when it comes to bras. The same holds true for all of your undergarments. Squeezing yourself into a panty or teddy that is too small will interrupt the lines of your body and give you an unflattering silhouette.
Overall, the best selection of lingerie may be in specialty boutiques instead of larger department stores. They tend to have a broader selection and a staff that is well-trained in mature lingerie.
Know Your Style
Style is very subjective and individual. While you should consider your partner's tastes, you need to know yourself when purchasing lingerie. If you aren't the lacy type, there is no reason to invest in lace. Boy shorts can be just as pretty. Consider whether you prefer cotton, silk, or lace. Each has its own charm and own message.
It is far more important to invest in just a few high-quality pieces of mature lingerie than to accumulate a drawerful of low-quality items. Get the best fabric and construction that you can afford. Ultimately, they will last you a long time. Start your new undies collection and built on it. That usually means sticking to a few basic colors that you can mix and match. However, there is no rule that prevents you from going naughty occasionally with an animal print or a garter belt.
Matching your bra to your panties doesn't have to be an everyday thing, but you will feel the difference with you are wearing a set. It simply raises the bar in the world of lingerie. A matching set of undies can make you feel confident and alluring, regardless of your age.
When To Wear Your Favorite Mature Lingerie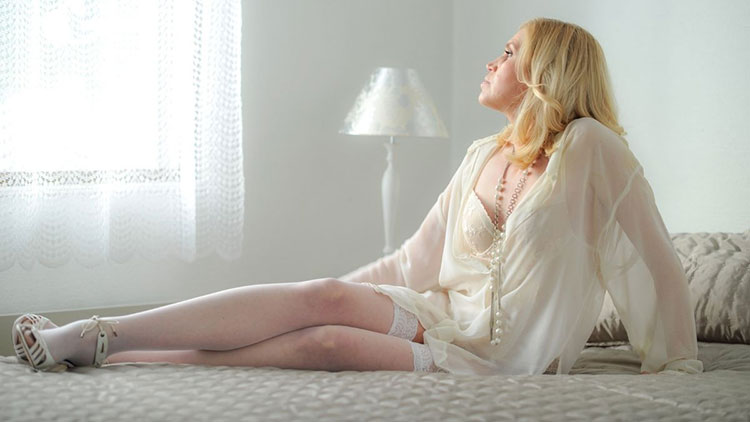 While everyone has a favorite piece of lace for special occasions, pretty lingerie should be for every day. Senior women can elevate an ordinary working-in-the-garden day with a pretty silk bra and matching panties. It doesn't matter that no one sees them. She knows.
Conclusion
Mature lingerie serves a very practical purpose. It shapes the body and prepares it for our favorite outfit. The right underwear can have a powerful effect on how we feel. It also makes our clothes look better and brightens our mood. It's good to know that many senior women are discovering the power and charm of mature lingerie.