Sex, and the products made for the activity, have historically been marketed primarily toward a younger market. Sex toys for seniors would be largely unheard of concept years ago. Fortunately, times are changing.
The technological revolution has completely changed the way we go about almost everything we do, whether it's shopping, traveling, learning, exercising, ordering food, accessing medical care, or connecting with friends and family. So, it's no wonder that technology has also been evolving at warp speed to revolutionize our sex lives.
Sextech is the booming industry expected to be valued at $122 billion by 2024. And while it's easy to conjure up images of VR and sex robots—Westworld, Ex Machina, or Stepford Wives, anyone?—the industry itself actually encompasses much more than alternate realities with avatars and droid companions. Sextech is considered to be any technology that facilitates or enhances our dating, romantic, and sexual lives.
This includes things like period and fertility tracking apps (for our younger counterparts), dating & relationship apps, vibrators, accessories, games, lube, medications, and even oral sex machines.
But sextech technically is not new. In 1855 Charles Goodyear patented vulcanized rubber. Shortly thereafter, the first rubber condoms were mass produced, protecting against STIs and pregnancy. Fast forward to the 1950s when the first birth control pills were created; by the 1960s they were widely available, revolutionizing sexual freedom for women everywhere.
Then, a medical breakthrough in 1998, when Viagra was approved by the FDA in the United States to treat erectile dysfunction. My how far we have come – and how far we've yet to go.
While reaching the uncanny valley—when we can't tell the difference between humans and robots—likely won't happen in our lifetimes, sex dolls and robots do exist, and do help some people. They've enabled couples to experience threesomes, albeit with a robot or doll; held sexless platonic marriages together; helped those with specific disabilities engage with their bodies in pleasurable ways; and filled a void for those who have experienced the deep loss of a partner.
Luckily there's a vast array of stellar sextech, aside from dolls and robots, for seniors that can enhance intimacy and the sexual experience in delightfully new ways. Behold, a list of sex toys for seniors and the associated sextech specifically with older adults in mind.
Discreet Vibes
"Hey, Grandma! What's this?!" you're asked, as your nosy grandkids emerge from your bedroom with your new fav sex toy.
If you want to avoid an embarrassing moment like this, consider the design of your pleasure products. One of my favorites to gift the folks with kids and grandkids in my life is the Satisfyer Pro 2. It looks nothing like a sex toy, and everything like a skincare device.
Sale

Waterproof, made of body safe silicone, and charged via USB, this award-winning toy has been responsible for helping some of my clients finally experience their very first orgasm. The air-pulse technology and oscillating suction mimics the feeling of oral sex with eleven different pressure wave settings. Buckle up!
Handsfree Vibes. High Fives.
If you suffer from carpal tunnel syndrome, arthritis, or simply want to have your hands free for other activities, you've got options.
My personal fav is Eva by Dame Products. Marketed as a handsfree couples' vibrator with flexible arms meant to tuck under the labia, it's also a great masturbation enhancer for anyone with a clitoris. Waterproof, made of body safe silicone, and charged via USB, Eva "stays out of the way so you can focus on the moment."

Dame Products Eva Massager - Hands Free Personal Stress Relief Comfort Relax - 3 Intensity Levels - 100% Waterproof and Body Safe - Fir Color
HANDS FREE: Eva allows hands free feeling and to completely focus on the massage while also being perfect to enjoy the present memorable moment.HANDS FREE: Eva allows hands free feeling and to completely focus on the massage while also being perfect to enjoy the present memorable moment.
FULL CONTROL: Designed to stay snugly fit in your fun spot for a comfortable fit. This perfect fit maximizes the control and allows you to focus on feeling even with different variety. Only needs one finger to readjust to the most optimal position and Eva is equipped with 3 intensities to maximize the fun and feeling.
Guybrators? Yes, please! Meet the Pulse line by Hot Octopus. The Pulse Solo Luxe is an award winning handsfree device you can use flaccid or erect, making it a great option for those who have erection difficulties or just need a little extra help. Waterproof and controlled remotely by a wrist strap,
Pulse Solo Luxe delivers high-amplitude oscillations via patented PulsePlate Technology, which means there's no need to do the stroking yourself. And if that weren't enough, there's also the handsfree Pulse Duo Luxe for couples.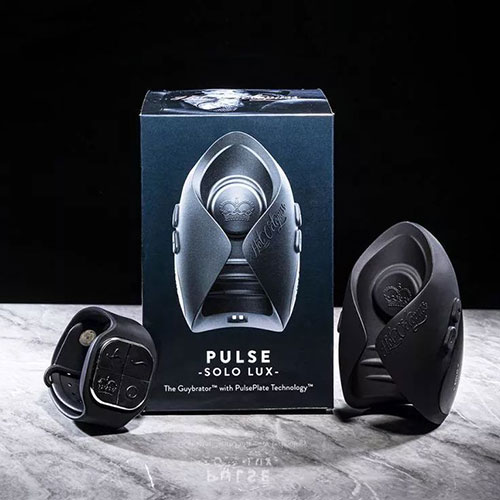 If you're a dare devil and prefer living on the edge, look no further than the Wearable Panty Vibrator. With a wireless remote control to be used by you or your partner, this wearable vibe is waterproof, whisper-quiet, and has 12 different vibration settings. Maybe you wear it out to dinner and live music. Or perhaps at the friendly neighborhood poker game—just don't let it be your tell!
No products found.
Erectile Dysfunction
In addition to the hands free Pulse line guybrators mentioned above, there's a new kid on the block aiming to break dependency on pills for the treatment of ED. Meet Eddie by Giddy, designed by urologists and medical device experts using advanced body-imagining technology. While it is available on Amazon, Eddie's website offers an entire ED Video guide here.
No products found.
If you're not keen on splurging on Eddie, or just want to try something simpler to start, never underestimate how helpful a good old fashioned cockring can be. A cockring that fits properly will be lose enough that it doesn't become uncomfortable, but tight enough to keep the blood engorged in the shaft. Try this variety pack of sizes, to find the fit perfect for you.

Vaginal Atrophy, Menopause, & Post Menopause
Hormones throw our bodies for a loop throughout various times in our lives, from puberty to PMS, childbirth, and menopause. When estrogen drops, our bodies physically change. And the saying is true—if you don't use it, you lose it.
It's important to stay active, even if it's via masturbation. While your doctor can recommend prescription estrogen creams and inserts to assist with vaginal dryness and atrophy, there are some hormone-free over the counter options too.
My top choice is Hyalo Gyn, formulated with hyaluronic acid, a naturally occurring substance in the body. Side note: it's in a ton of skincare products too, because it's truly good stuff! Hyalo Gyn makes both moisturizing suppositories and a hydrating gel.
Plus, they are paraben free and list all their ingredients on their website. Beware of other brands who are not so transparent about what they put in their formulations.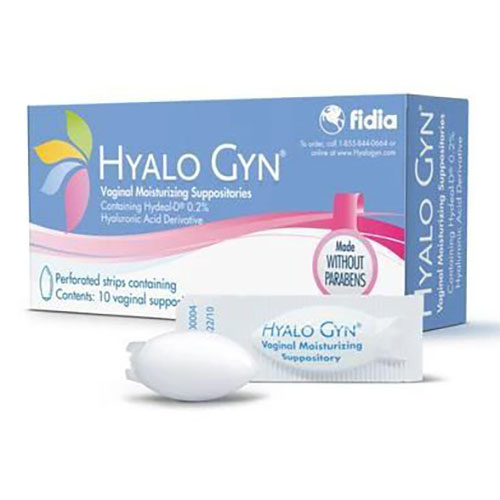 Other great hormone free options include Good Clean Love's Bionourish Ultra Moisturizing Vaginal Gel or Mother's Dose for moisturizing suppositories. Both contain hyaluronic acid and clean ingredients, with full ingredients listed.
Good Clean Love's Bionourish Ultra Moisturizing Vaginal Gel

Good Clean Love BioNourish Ultra Moisturizing Vaginal Gel with Hyaluronic Acid, pH-Balanced & Water-Based, Long Lasting Relief from Dryness & Discomfort for Women, 2 Oz (2-Pack)
NO MORE DRYNESS: BioNourish Ultra Moisturizing Gel with Hyaluronic Acid is scientifically formulated with key ingredient Hyaluronic Acid (known for its hydrating properties in skin care) to instantly deliver & retain moisture and provide long-lasting dryness relief. BioNourish is water-based, hypoallergenic, and pH-balanced and works to reduce dryness, discomfort, unnatural odor, and vaginal atrophy, while providing immediate & long-term hydration for the most sensitive tissue in the body.
EASY-TO-USE APPLICATOR: BioNourish is made with organic ingredients, and safe for daily intended use. We've included an easy-to-use reusable applicator to help you target the source of dryness and irritation with a natural formula that is discreet and stays put. Each tube includes 15 applications. 100% paraben-free, glycerin-free & artificial fragrance-free.
Mother's Dose
No products found.
Lube
Sure, you've probably tried different lubes before. But if you haven't tried CBD or weed lube, what are you waiting for? CBD definitely helps everything feel a bit more relaxed. But lube with THC, where it's legal of course, can make for a knock-your-socks-off experience.
Expect your orgasm to be a bit more prolonged and extra intense. It's not something we mentioned in our CBD benefits for seniors article, but it certainly could have been! My personal top picks are from Apothecanna and Fioria.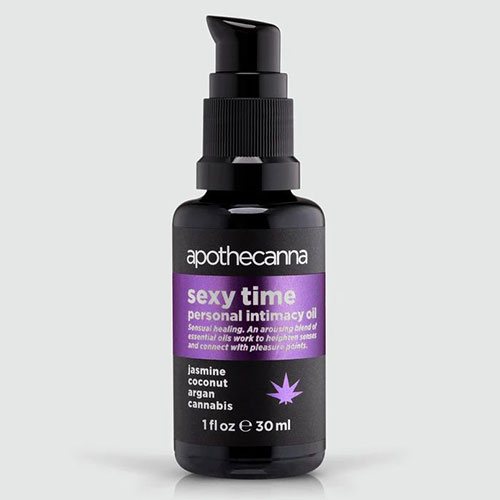 Important to note: if you're using toys, make sure they're oil safe. And do not use oil-based lubes with latex condoms—they can breakdown the integrity of the condoms rendering them less effective.
You'll want a water-based lube if you're using condoms or toys that aren't oil safe. And while they may not have the extra zing of cannabis oils, you can try the first carbon neutral lube from Good Clean Love, made with clean ingredients. Future generations will thank you.
Painful Sex
Death Grip. Ever heard of it? It's the term used to describe what happens when you grip your penis too tightly during masturbation. It wouldn't be a problem, except that it makes enjoying the sensations of partnered play very difficult—if not impossible. That's where an oral sex machine can help.
Practice makes perfect, so getting your member to participate in sensations where the chicken is not being proverbially choked half to death, but rather, enjoying free-range is key. Be sure to check out the Autoblow, one of the world's first ever sex toys to use artificial intelligence.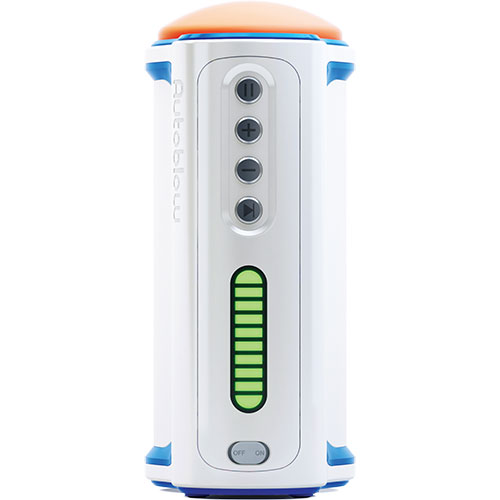 If penetration often feels like a painful problem, there's a practical yet cute solution. Enter, the Ohnut. Think of the rings like building blocks to stack on a toy or penis to keep penetration from going deeper than what feels good.
Pelvic floor specialists are another great resource to address painful sex. But if you want to go the tech route, the Elvie Trainer is a kegel trainer that promises to help end painful sex, incontinence, and bladder issues.

Sex Furniture
As mentioned in my last article on sex positions for seniors, sometimes all it takes is a different angle or position to alleviate discomfort and pain. One way to address this can be with sex furniture or pillows.

Check out this wedge pillow from Amazon, any of the beautiful pillows or chic furniture options from Liberator, or the luxury bouncing arched Bow Chair you can even get custom made.
Apps
Let's not forget apps. Whether we like it or not, our phones are here to stay. Why not tap into some of the apps meant to help enhance our dating, romantic, and sexual lives?
For dating apps definitely check out Stitch, Silver Singles, OurTime, and Bumble. Match.com is still highly popular, and pre-covid even held in-person mixers for senior singles.
Looking for an app to spice up your sex life? Check out Desire, Kindu, and Coral. I'm also a big fan of the website game, Wheel of Foreplay.
Apps to check out to grow in and improve your relationship? My top picks are definitely Relish and Coupleness. If you're a fan of the Five Love Languages, I'd be remiss not to mention the app devoted to all things love language—Love Nudge.
Sex Toys for Seniors Summary
I hope this list of the latest sextech leaves you excited to try at least one new thing! Novelty is a sure way to keep the spark going. Now go get exploring and thank the tech overlords. What a time to be alive!