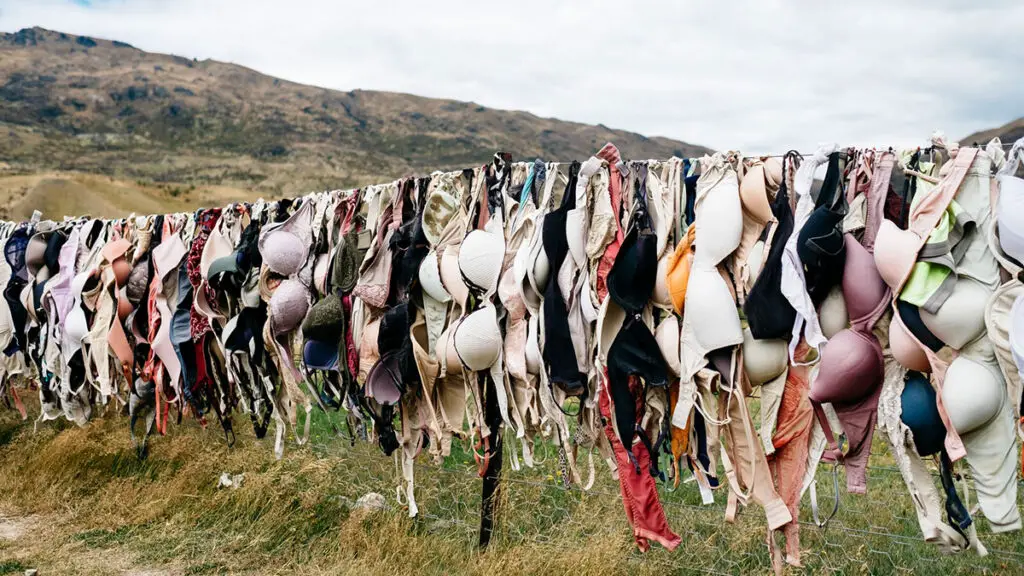 As women age, the shape of their breasts change. The best bras for older women is a matter of size and style that creates a perfect fit. The same principles apply here as finding the best shoes for seniors. Bodies change, mobility changes, and needs are different.
Aging changes our bodies dramatically, and breasts are no exception. The bra used just a few years ago may not be so comfortable for someone older. Reduced arm movement may make a traditional back closure bra a bit of a contortionist act. It's time to rethink these bosom holders! Other considerations can help you decide what bra is best for every situation.
Just because you are getting older doesn't mean you can't pick a comfortable bra that makes you look good. The same goes for lingerie for older women!
What to Look for in Bras for Older Women
What makes a good bra for an older woman is not all that different from the criteria for younger or middle-aged women.
Comfort
Comfort and appearance can go together if you pick the right bra. There is little to be gained by choosing a bra that gives you the support you want without being comfortable in it- especially if you exercise.
Quality
Quality bras are constructed with durable materials, closures, and fasteners that won't wear out. A quality bra will cost more than a poorly constructed one.
Support
Support is what a good bra is all about. The size of your breasts determines, to a large extent, the kind of support you need. If you have smaller breasts, you may not need an underwire. Bras should support your breasts not from the straps, but by the cups and side panels.
Straps
The straps support about 20 percent of your breast weight. Ensure they are wide enough to support your bust without leaving indentation marks. Larger breasts need broader straps that don't have as much stretch to them. 
Coverage
Breast coverage depends on personal preference and the situation you are in. A demi-cup may be suitable for a play or concert where you have a low-cut dress, but for yoga, you may want more coverage.
Closures
Back hook and eye closure bras are all well and good. However, front-closure bras will be easier to put on, which is a nice feature as you age. Front-closure bras come in a zipper, hook, and eye, Velcro, or snaps closures. There are also pull on bras, but they might not work well if you cannot get your hands over your head. Whichever type of closure you go with, make sure the fasteners are covered with cloth to prevent chafing. 
Material
Bras come in a variety of fabrics, including nylon, polyester, cotton, and Spandex. The bra cup and band fabric should allow for little movement. It should also be washable and comfortable.
Cotton bras are easy to wash and soft. Although they work well for smaller breasts, cotton bras may not have enough strength to support the larger bosom. The fabric tends to stretch after washing as well. 
Synthetic materials like polyester, nylon, and spandex allow for sweat evaporation. Good quality bras made from these materials dry quickly, retain their shape, and are durable. They also tend to be lighter than cotton bras.
Molded Cups
Molded cups, sometimes called "padded bras," may be the most comfortable for some women. They are smoother feeling under clothing and made of a thicker material to provide more frontal coverage, and they do not contain seams. They provide a more rounded shape, which may benefit women who want to give their sagging breasts a lift. The downside to these bras is that they may not come in as large a size as other styles and they can be warmer in hot weather.
Construction techniques differ between manufacturers, so you try different bras on at the store or order a few different types online and just plan to return those that don't fit properly.
Proper Bra Sizing
If you are finding that the bras you wore for so long are not as comfortable as they once were there are legitimate reasons for that:
Menopause changes the size and shape of our breasts.
Our skin becomes thinner as we age.
Gravity takes its toll on our breasts, making them sag more.
Limited upper mobility may narrow your choices.
Our bras should change with our bodies. We have a few recommendations to help you select the best bras for senior women.
How to Measure Bra Size
Many women are wearing the wrong size bra, and it shows. As women age, their breasts lose their fullness, so it's important to take new measurements periodically. Older breasts tend to be more teardrop in shape. If you're experiencing sagging, the cups or bands might be too big. 
If you have a double boob look, the cups are too small. Side boob bulges indicate the band and cups are too small. If your boobs seem out of proportion to the rest of your body, the band is most likely too big, and the cups are too small. If your bra moves around, you need a smaller band size.
I will tell you how to measure your bra size, but the best way to truly find out is to walk into a store like Victoria's Secret and ask a sales rep to size you. She will take you into a fitting room and give you the exact size you need to look for. If that is impractical or you're not comfortable with that, try this process:
Using a tailor's tape measure, you'll need to take some measurements. The first measurement is your band size.
Run the tape measure around your back, under your breasts. Make a note of the measurement and add three inches to it. So if your under bust measurement is 32 inches, add three to get 35. However, band sizes are even numbers, so you'll need a 36 bra. The band should fit comfortably on the loosest hook. The other hooks are there to compensate for material stretching over time.
Now you'll need to find out the proper cup size. Run the tape measure around your back again over the fullest part of your bust. Subtract the band size from this measurement. Use this chart to find your cup size. If you have a ½ inch, round up. So if your band measurement is 36 and the bust measurement is 40, you'll need a bra with a D cup. 
| | | | | | | | |
| --- | --- | --- | --- | --- | --- | --- | --- |
| Difference | No difference | 1 inch | 2 inches | 3 inches | 4 inches | 5 inches | 6 inches |
| Cup size | AA | A | B | C | D | DD/E | DDD/F |
7 Best Bras for Older Women
Once you've determined the proper size, you'll want to look through our list of the best bras for senior women for the most comfortable options.
---
Playtex 18-Hour Ultimate Lift Wireless Bra
The Playtex 18-Hour Wireless Bras is made of 100% nylon. The bra has added back support to help with posture and side support for added lift. The straps are cushioned and can be adjusted. Important to many women, the cushioned straps prevent digging and shoulder discomfort as the bra resists sliding.
This bra makes the top of our list since it is reasonably priced and, based on the tens of thousands of reviews, has made many women happy with their purchase.
---
Just My Size Easy-On Front Close Wirefree Bra
The  Easy-On Front Close Wirefree Bra from Just My Size is crafted from a nylon/polyester/spandex blend. The front closure is the standard hood and eye design. The straps have wide cushions, and the inner cups provide additional support. This bra comes in white, black, and nude. 
---
Leading Lady Women's Cotton Front-Closure Leisure Bra
If you are between sizes, then the Leading Lady Women's Cotton Front-Closure Leisure Bra has you covered. It is made from a cotton/spandex blend and has a front hook and eye closure. It comes in a variety of colors and prints. 
---
Glamorise Women's Full Figure MagicLift Front Close Support Bra #1200
For a fuller figure, check out the Glamorise Women's Full Figure MagicLift Front Close Support Bra #1200. It's made from 100% nylon and has a front hook and eye closure. It provides full coverage and support without an underwire. The inner bust band is also cushioned for comfort. 
---
Women's Zipper Front Closure Sports Bra from WANAYOU
Sale
If the hook and eye front closures are cumbersome, then you might want to consider this Women's Zipper Front Closure Sports Bra from WANAYOU. It is made from a nylon/spandex blend and has removable pads. It provides medium support for smaller bosoms and is breathable. It has a racerback design for added posture support and comes in a variety of colors and prints. 
---
MAXMALLS Every Daily Bras with Front Closure
MAXMALLS Every Daily Bras with Front Closure provides another front-closure alternative to hook and eye. This bra has four sturdy snaps. It is manufactured with a polyester/spandex/cotton blend. The u-shaped back reduces the pressure on the shoulders for a more comfortable fit. It comes in pink, red, beige, grey and purple.
---
Cottonique Women's Hypoallergenic Drawstring Bra
For those who need a little help getting dressed, this Cottonique Women's Hypoallergenic Drawstring Bra is comfortable and allows for easy assistance. It's made from 100% chemical-free cotton. It can be machine washed. The back is ribbed for more flexibility. 
---
Other Considerations When Choosing a Bra
Physical and Medical Conditions
If you have arthritis or other upper mobility issues, choose a front closure or zipper bra. Sports bras can be challenging to get on and off.
Activity Level
If you play golf or do yoga, you will want to choose a bra that maximizes movement without chaffing or constriction. You may have to sacrifice some support to have freedom of movement.
Cost
If you are on a budget, check for bras on sale or promotions. Remember that a pricier bra may last longer than a less expensive one- especially regarding support.
Wrapped Up
Selecting the best bra for older women doesn't have to be complicated. Ensure you have the correct size and the style needed for either independent or assisted dressing. Since a woman still likes to feel pretty at any age, look for bras in various colors and prints. 
---
About the author: Amanda has co-authored two books related to aging: Aging with Care: Your Guide to Hiring and Managing Caregivers at Home and Choose Your Place: Rethinking Home As You Age.