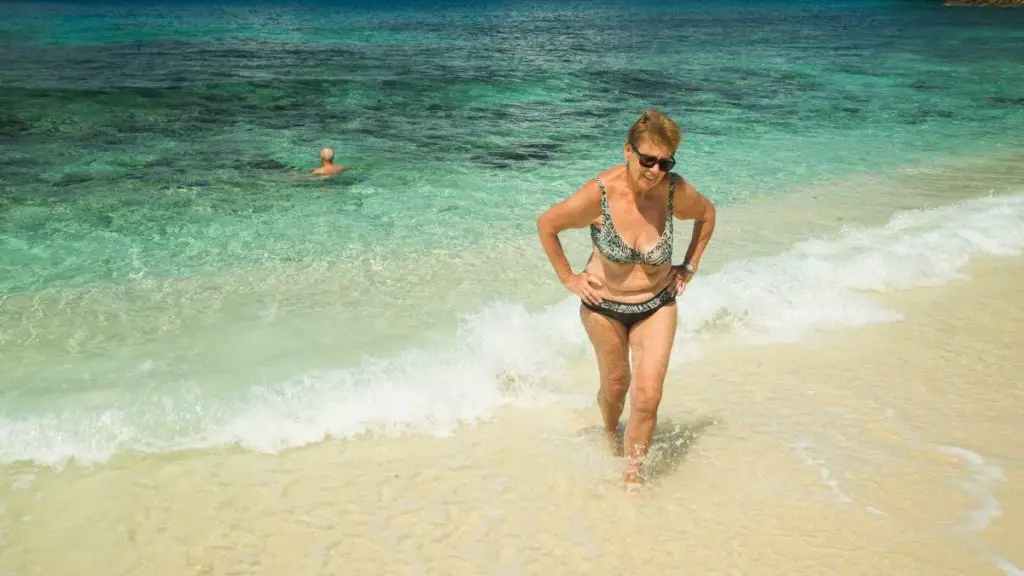 Mature bikinis? They're bikinis you're not apt to see highlighted on Instagram. The platform seems to favor young women posing in the perfect photo. Nevertheless, older women can still rock a bikini.
Aging has its definite advantages. We gain wisdom and become more confident in our actions. However, a by-product of getting older can be a poor body image. It is difficult to maintain body confidence in an era that has social media and other mediums worshiping the smooth and perfect bodies of youth.
Over Sixty and Sporting a Bikini
To some people, the very idea comes as a shock. It goes against societal rules for women over the age of sixty to seek attention – unless she is cuddling with the grandchildren and knitting a quilt, of course.
Older women are frequently made to feel invisible. Very few fashions are geared toward them specifically, and almost none of them are flattering. Even bras for older women can be less flattering (but not all of them!). The general consensus is that women of that age shouldn't walk into a restaurant and expect heads to turn.
We are living in a world that worships youth, especially when it comes to women. This unspoken attitude toward women over the age of sixty can eat away at their self-confidence.
In truth, women of any age can be sassy and sexy. Many are beginning to realize this. It is becoming more and more the norm to see a woman sixty years and older defying tradition and strutting the beach or pool in a bikini as if she were … dare we say it … a sexy person.
What To Look For In A Bikini When You Are  Over Sixty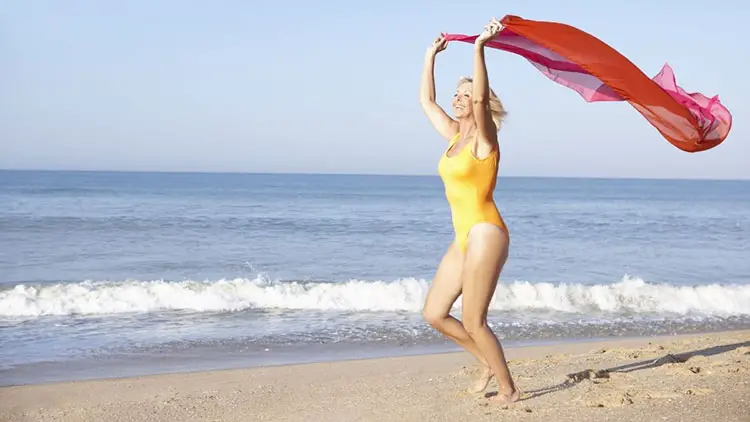 Women have plenty of bikini options as they grow older. They should be looking for designs that slim and high waisted bikini bottoms. Be aware that a mere high-waisted bottom won't necessarily hide a dimpled butt. It is the ruched bottom that controls the tummy and covers the rear with style.
When it comes to color, most senior women automatically lean toward darker colors for their slimming effects. A darker-colored bikini can make you look slimmer. But women should not lose sight to the stunning effect of a red, hot pink, or animal print bikini. There is absolutely no reason to set any limits when it comes to how you dress at any age.
Seven Best Bikinis for Women Over Sixty
Sienna High Waist Full Cut Bikini
This bikini bottom comes in several colors and will match with all of your bikini bras. The high waist design is flattering, as is the covering of the back. The Sienna High Waist Full Cut Bikini flatters every figure.
Pros
Provides excellent coverage.
Cons
Could use more Lycra for a better stretch.
OMKAGI Women's High Waisted Bandage Bikini
This sexy bikini for women over sixty has a push-up halter bra and could be the sexiest design on the beach in its hot pink shade. The shoulder straps are adjustable. The ruched bottom provides tummy control for over-sixty stomachs. The high cut bottom is a tad cheeky and provides additional allure.
Pros
The top stays in place even when you move.
The fit is perfect.
Hide what you want hidden and flaunt what you want shown.
Daci High Waisted Ruched Bikini Swimsuit
The Daci High Waisted Ruched Swimsuit Tie Knot has a flattering V-neck and ties for the bra portion of the bikini. The bra is padded. The ruched bottom has a high waist for excellent coverage and tummy control. The crisscross straps are a great addition to a full-figure bikini as it makes the hips appear slighter.
There are many colors from which to choose, from solids, to polka dots, to sexy animal prints. Provides a slimming coverage without an excessive price.
Pros
Superior tummy control
The top is adjustable
The bra pads are removable.
Cons
Certain colors may be see-through.
Tempt Me Women Ruffle High Waisted Bikini Ruched Bathing Suit
This bikini is available in black, white, green, red, polka dots,  floral, pink, orange, and yellow. Choose your most flattering color or make this your basic black go-to bikini. The top has adjustable spaghetti straps and removable pads. The tiered ruffle for the top adds fashion-forward style and elegance. It slims and accentuates the curves.
The bottom is high-waisted and is designed to flatten the tummy. The material is nice and stretchy.
Pros
Made of high-quality material
The bra can double as a top with shorts or pants
Excellent back coverage
Cupshe Women's High Waisted Falbala Bikini
This figure-enhancing bikini for women over 60 comes in a large variety of stunning colors. Strut the beach as bold as you like. The bikini is high-waisted and has a padded bra, which is ruffled for some added chic. The shoulder straps are adjustable.
This is a very elegant-looking bikini intended to flatter.
Pros
The fabric is high-quality
The top offers good support for busts that need it.
Cons
The bottom could provide better coverage.
Yii ouneey Women's Plus Size Two Piece Bandeau Bikini
Welcome to sexy after sixty. This strapless bandeau bikini comes in several colors and could be considered a special occasion suit, especially the stand-out leopard design. The bottom is a high-cut triangle that reveals curves and still provides coverage over any potential flaws. It's utterly feminine.
Pros
Excellent high-quality for a low price
Provides stomach support.
Has sexy animal patterns
High-quality material
Cons
The lack of straps may not offer sufficient support to large-busted women.
Cocoship Women's Ruching High Waist Cross Wrap Bikini
COCOSHIP High Waist Bikini with a flattering push-up and tie-back top comes with a tummy-tucking ruched bottom. This is an elegant vintage bikini that focuses on chic.  Retro elegance for the daring over-60 bikini wearer.
Pros
The cross wrap adds a special touch to this bikini.
Cons
While the wrap feature is very attractive, it may be confusing for some wearers.
Women and Body Confidence
By the time we reach puberty, and sometimes before that, women develop a relationship with their bodies that isn't always positive. They go through pregnancy and menopause, which can change bodies physically and the way woman view their bodies.
In an era of selfies (selfies are for seniors, too), beauty is often associated with perfection, youthfulness, and zero percent body fat. The models in magazines selling anti-aging cream all seem to be under forty. This can cause women anxiety before they are close to reaching the age of sixty. The very term "anti" hints that there is something wrong with aging and with the person who is doing the aging.
Just getting dressed can be a challenge for senior women. If they opt for a youthful look, they are gently (or not so gently) reminded to act their age. If they dress "their age," they are viewed as dull, uninteresting, and ready for the old folks' home. The idea of getting into a bikini can be terrifying.
Accepting Who We Are
While senior women try to age as confidently as they can, the media inundates the public with images of Helen Mirren, Elizabeth Hurley, Iman, Christie Brinkley, over-fifty ladies who can rock a thong. Admittedly, they also have phenomenal genes. No denying that!
While these women surely are beautiful, they have the means to afford thousands of dollars in the best beauty products, surgeries, personal trainers, and nutritionists. They don't even come close to representing the average woman as they lounge the beaches dressed in pieces of dental floss.
The secret is we don't have to look like any of them. Every woman over sixty is unique, regardless of body type.
What Women See When They Age
The older women get, the greater the tendency to check for every flaw. When women find themselves doing this, they need to tell themselves that perfection is not the goal. Self-acceptance is.
Knowing that they are being compared to women thirty years younger, this isn't always easy. However, they can take action. If a closet is filled with clothes that no longer fit but are being kept in the hopes of fitting again "soon," toss them. No one needs a closet filled with size 8 reminders. Toss any single-digit sized outfit that no longer fits!
Elderly women need to buy clothes that fit and look great on them. That's the true confidence-builder.
Positive Affirmations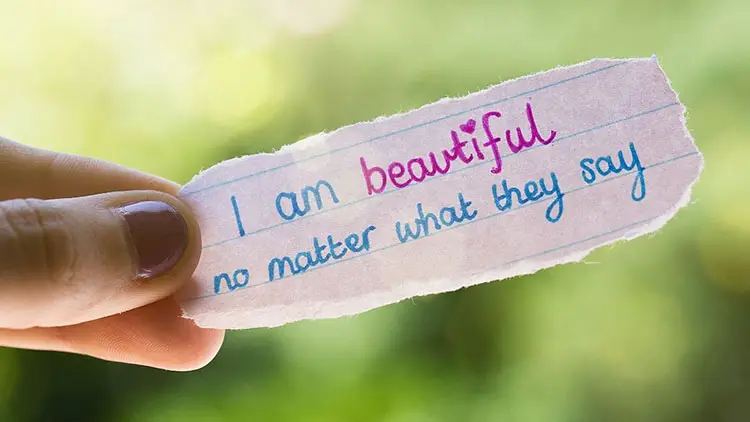 Positive affirmations can provide another confidence boost. Confidence is a mindset. When senior ladies begin to doubt their worth or beauty, keeping positive affirmations in visible places, including phone and computer screens, can be helpful. Some example affirmations are:
I love my body
I love myself exactly as I am
I do not need to be perfect
I feel comfortable with my body
I am worthy of respect and love
Pick an affirmation and repeat it several times a day. You will soon notice a shift in your mindset.
Be Confident
We have discussed the importance of confidence. If women over sixty want to look their best, they may need to work at it, as women of any age do. Go to the gym and work on those thighs and tummies. Knowing you look your best will have you glowing with self-esteem. Don't overlook accessories (a lovely pendant, a perky sun hat) to add interest to your bikini-look. And there is no reason you shouldn't be wearing a bit of make-up. Keep telling yourself – sixty is sexy.
As stated above, it is easy for women over sixty to feel invisible. There are few fashions geared specifically for them. But that shouldn't stop anyone from dressing with confidence, including wearing a bikini.