Updated November 2023
The idea of taking mature selfies may clash with what you see on social, photo sharing platforms such as Instagram, Facebook, etc. – young men and women carefully orchestrating the background scene of their photo, the angle, and filter so the photo looks nothing short of perfect, and as though they're living their best life every minute of the day online. Less often do you see senior men and women posting photos or selfies to social media. It's a young person's game after all… or is it?
Older adults are learning the advantages of remaining connected with friends and families through sites such as Facebook and Instagram. The further apart the family lives, the more valuable social media becomes.
With children and grandchildren that seniors rarely see, social media platforms such as Facebook, Twitter, and Instagram have become a helpful means of keeping in touch with loved ones. It can also help older adults of a certain age keep up with the latest trends and interests followed by their beloved grandchildren. The younger generation may be shocked to learn that Grandma knows about the latest "in" music artists, restaurants, or fashion trends.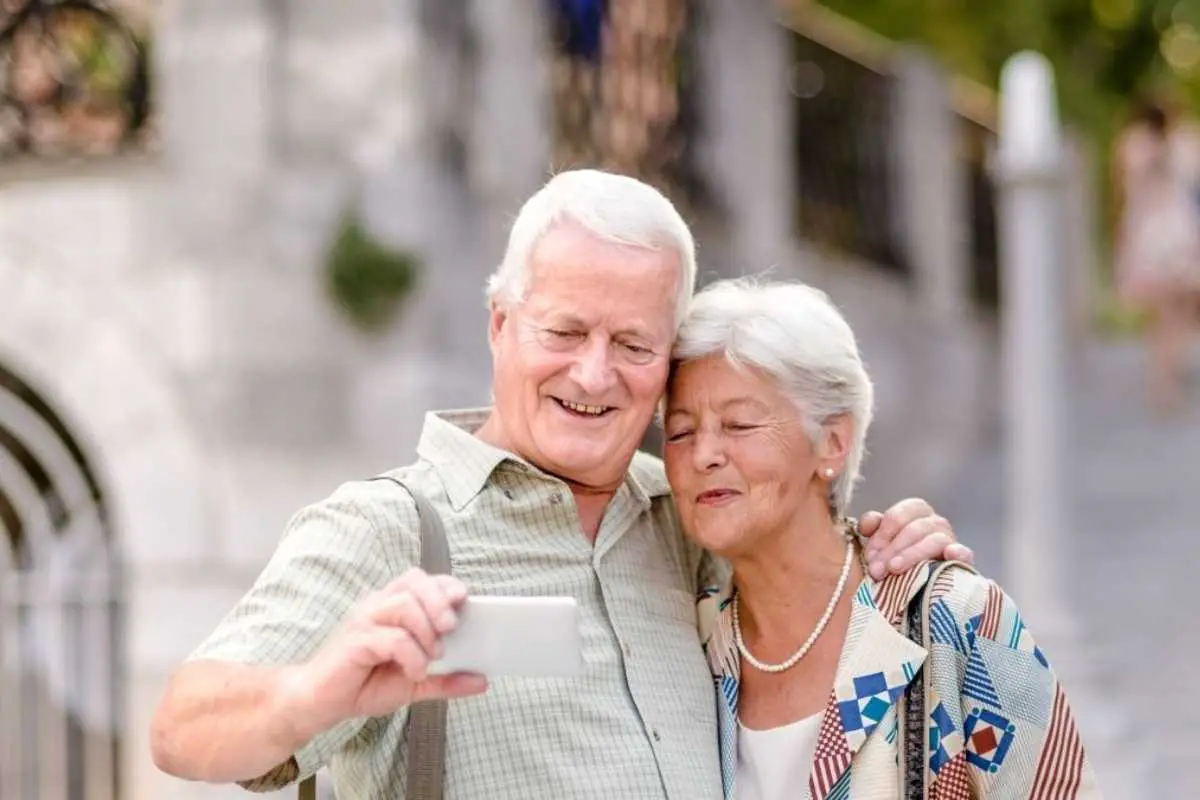 More and more mature adults are sharing their lives and experiences through social media. This includes posting selfies. What was once the realm of attention-seeking twenty-year-olds is being embraced by aging adults everywhere.
Are these beauty shots? Maybe. Maybe not. But these selfies of seniors are representative of who they are and what they enjoy doing. So, if you're a mature adult and want to learn how to take the best selfie – we've got you covered!
Mature Selfies
There are excellent reasons seniors are posting selfies on social media platforms. Many are doing it for the fun of it. You do not have to be 'young' to enjoy a picture of yourself. Plus, the social media "likes" and "comments" can be entertaining. How else can you get fifty people to comment on a photo of you preparing a homemade breakfast casserole recipe? Or get everyone excited about your special chocolate cake? Social media plus selfies equals new friends around the world. For seniors, it's a side of themselves that the world rarely sees. Not necessarily always a perfect side, but a true and genuine side. And we believe that's what matters most.
Reasons Seniors Post Selfies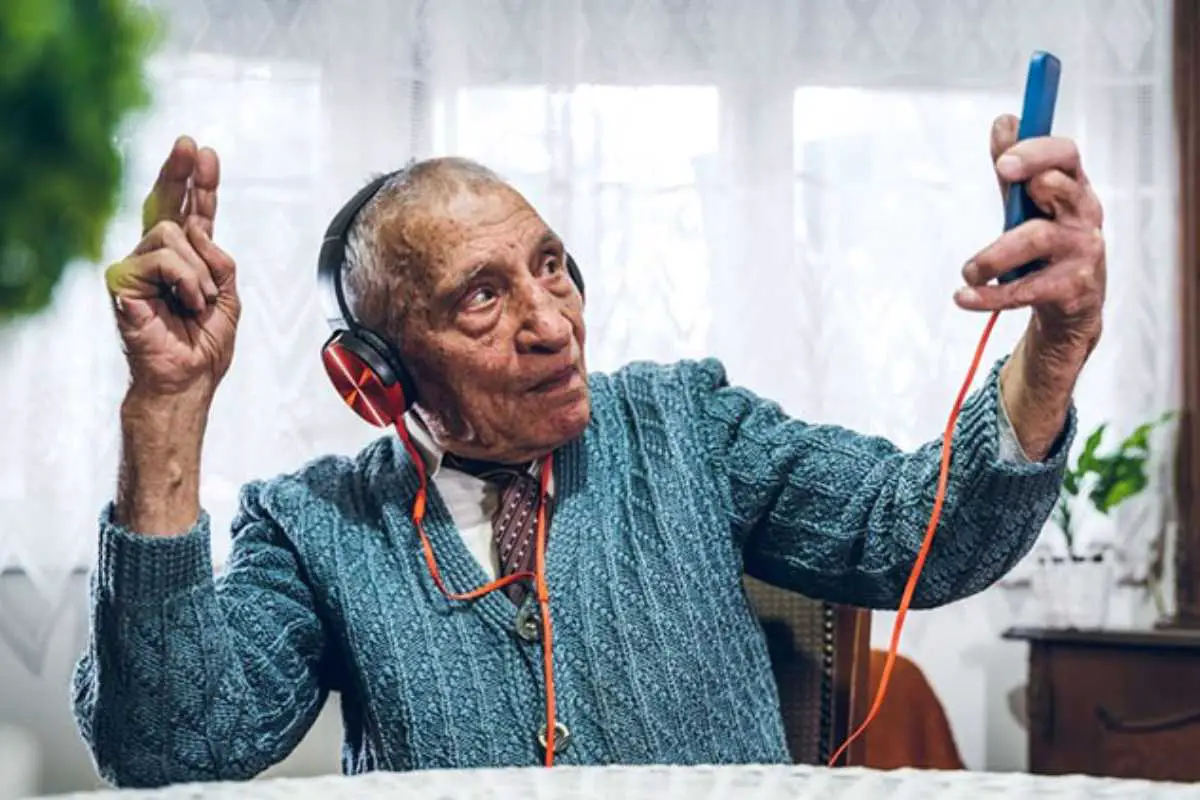 The reasons seniors take selfies are the same as anyone else, largely because they want to connect with others, show where they're at, what they're doing, etc.
Many seniors live alone, with their families spread across the country, or even the world. Many consider themselves fortunate if they see their grandchildren once or twice a year. Posting selfies of themselves keeps them alive and relevant in their grandchildren's minds. Many seniors aren't as mobile as they once were and spend a lot of time alone and isolated. Selfies are a terrific way to stay connected.
Self-expression isn't just for the twenty-one-year-old girl modeling bikinis. Sometimes, selfies can be silly, informative, and just a way of sharing one's day. A senior can have a great deal of fun posting a selfie of a new hairdo and asking, "How do I look?"
It can be delightful to share a bit of one's life with others and to have them share with us.  
Most seniors, especially women, don't feel comfortable having their picture taken. We change as we age. The lines and wrinkles on our faces are a testament to surviving sixty or so years of living and coming out ahead.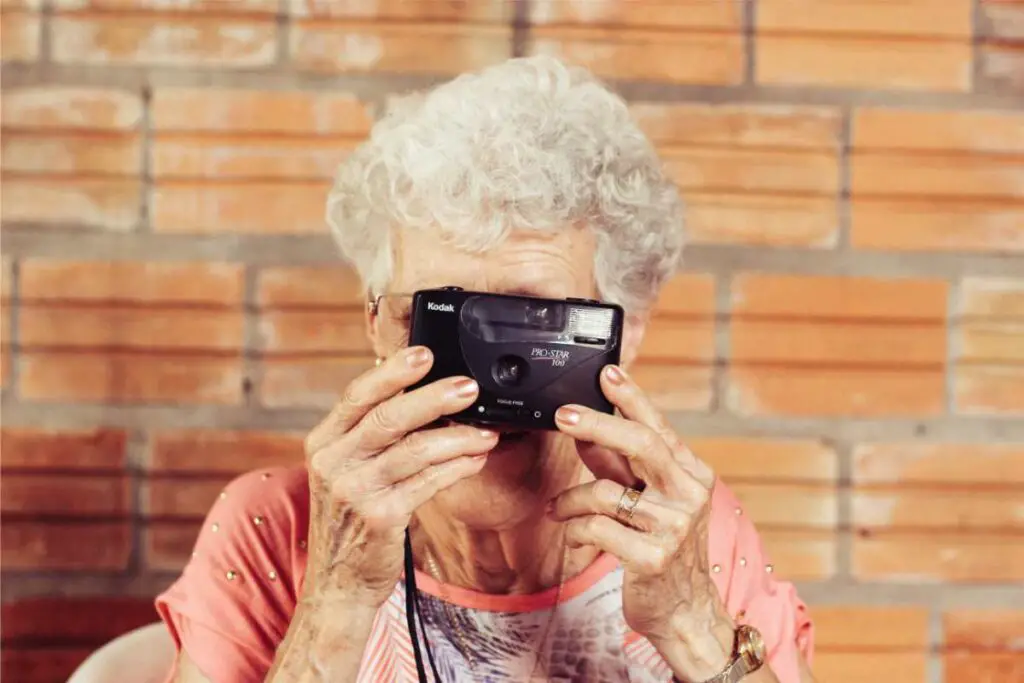 First, seniors need to feel comfortable with their looks and own those wrinkles. They aren't sixteen years old, so why would they want to look it?
Every age in life is unique. Sixty is as distinctive as sixteen. Older women should accept that with pride. They are irreplaceable just the way they are. Why switch with someone else?
Just think – which selfie would the family rather receive – one with Grandma posing stiffly with makeup or one with Grandpa frolicking in the grass with the dog? Selfies aren't about looks; they are about spontaneity and authenticity.
How to Take the Best Mature Selfies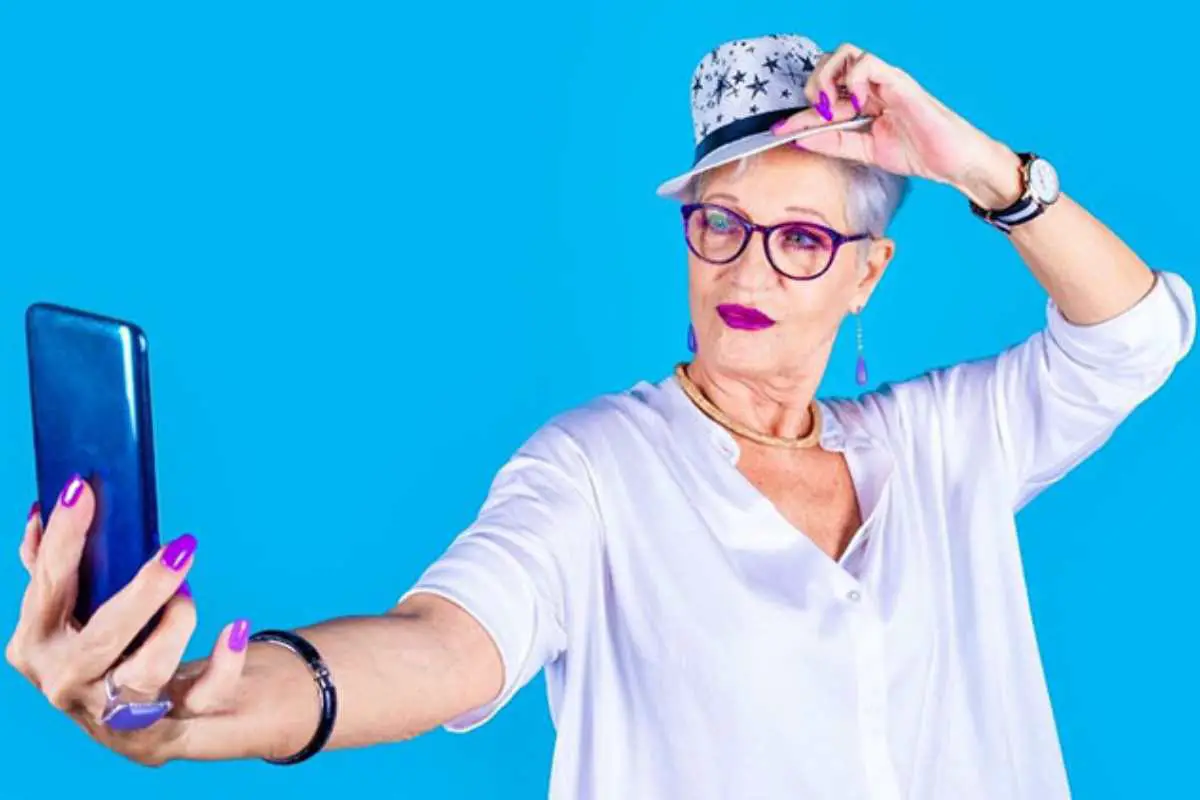 While we have established that selfies aren't a beauty contest, there are actions you can take to create the best, most flattering, and most genuine selfie to share with friends and family. Here are some tips!
Practice your pose. Does anyone think those flattering pictures of teenagers and college students just happen naturally? Hopefully not, because they do not. Those figure-flattering photos are practiced endlessly in front of a mirror, then scrutinized for any technical flaw. The best pose and look is often the result of hours of practice. While you want natural, un-posed pictures, you can also have some fun by practicing a nice pose. (We don't however, recommend that you spend hours doing so!)
Take more than one and choose the best. Selfies are rarely spur of the moment. They involve creating shadows and lights to achieve just the right effect. There is no reason for seniors to spend too much time on selfies for their families. However, you can feel comfortable knowing that with just a bit of effort, you can get over your "selfie fear" and snap the picture you'll like the look of.
Pick the right makeup. Photographers know that the right makeup can make a significant difference in a photo's final result. With selfies becoming so popular (to a younger generation, they have become a necessity), beauty companies have been eager to join the Instagram and TikTok trend and provide products specifically designed to flatter pictures. Many young people take advantage of them, and there is no reason seniors shouldn't, as well. These are not your going-out-to-dinner makeup products. Oftentimes, these are specifically designed makeup products for photos/selfies, meaning they help to reduce the appearance of fine lines, brighten the face, and don't unintentionally lighten with the use of a camera flash.
Choose the right photo angle. The best angle is the one you feel most comfortable with, but there are some general guidelines. Most advise pointing your chin down slightly and looking up at the camera. You can also tilt your head slightly to one side so it is not a direct-on photo. Also, try holding the camera up and looking up at it. Go back to tip #2 – take plenty of photos from different angles and see what works best with your features and background.
Choose the right background. A good selfie includes a good background. This allows you to tell more of a story with the photo. It's then not just about you, but where you are, and what you are doing. A good background adds depth to your selfie.
Use the right lighting. Natural light is best with the magical hours being just after sunrise and just before sunset. If your photo is being taken inside, practice with lighting. Face the light rather than have it behind you. Keep the light – ideally – at eye level. A camera flash will rarely be in your favor.

A ring light is another tool commonly used by people when taking photos or videos indoors. It's an unnecessary 'extra' for many people, but we've linked our top pick here if you're interested.
Does it sound contradictory to state that selfies shouldn't be about beauty while at the same time using products that enhance your looks? Not at all. Every person is different and has different goals for their pictures.
Also, the purpose of each selfie is different. A picture of you sweating while exercising, makeup-less with your hair taking on a life of its own, is oftentimes just as valuable to its viewers as a picture of you perfectly dressed and posed. They serve two different purposes but will be enjoyed equally.
What Makes a Good Selfie?
If you are serious about getting into the "selfie" business and sharing a part of your life with your friends and family, it will likely take a bit of work.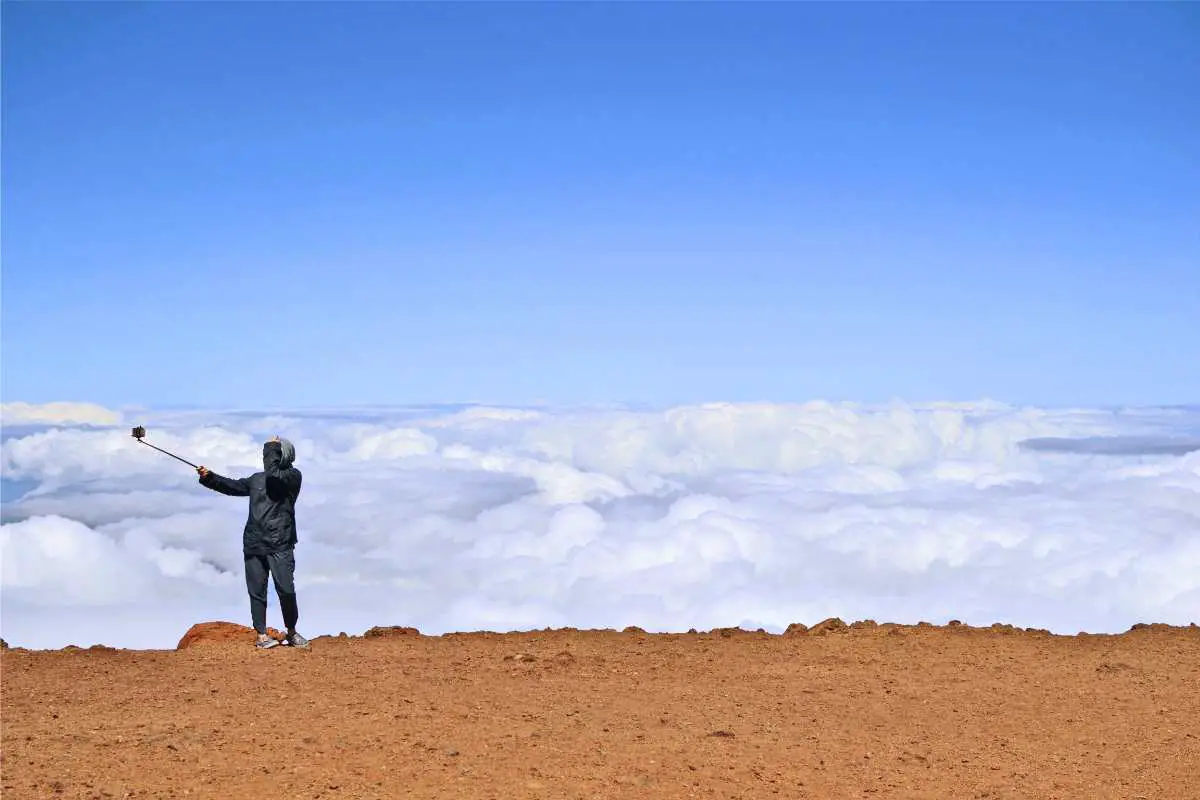 A good selfie involves bright lighting, the proper angle, and also includes your expression. You are on display, so you will naturally want to tone down your 'worst' features and play up your best ones.
Moving your face can change the angle and the effect of the light. You are creating a picture … a mood … a moment. Check out any actor or model, and you will notice the neck held as long as possible. That means shoulders down and head up. This is where the practice comes in. Keep practicing shots in every possible position. Try out as many expressions as possible.
As we have already mentioned, producing outstanding selfies does take time and effort. If you want to get into the millennial game of selfies, it will usually involve more than just posing and snapping. The idea is to have fun. Take those practice photos and analyze them. Why are some better than others? Really study them until you arrive at an answer.
To Smile or Not to Smile
Should you smile in your selfie? That's an excellent question.
Have you noticed that models never smile? Smiling distorts the angles of your face. Your eyes squint, your cheeks stick out, and those wrinkles are being advertised to the world. But, it's important for your family and friends to see you as you are. So, smile when the occasion calls for it.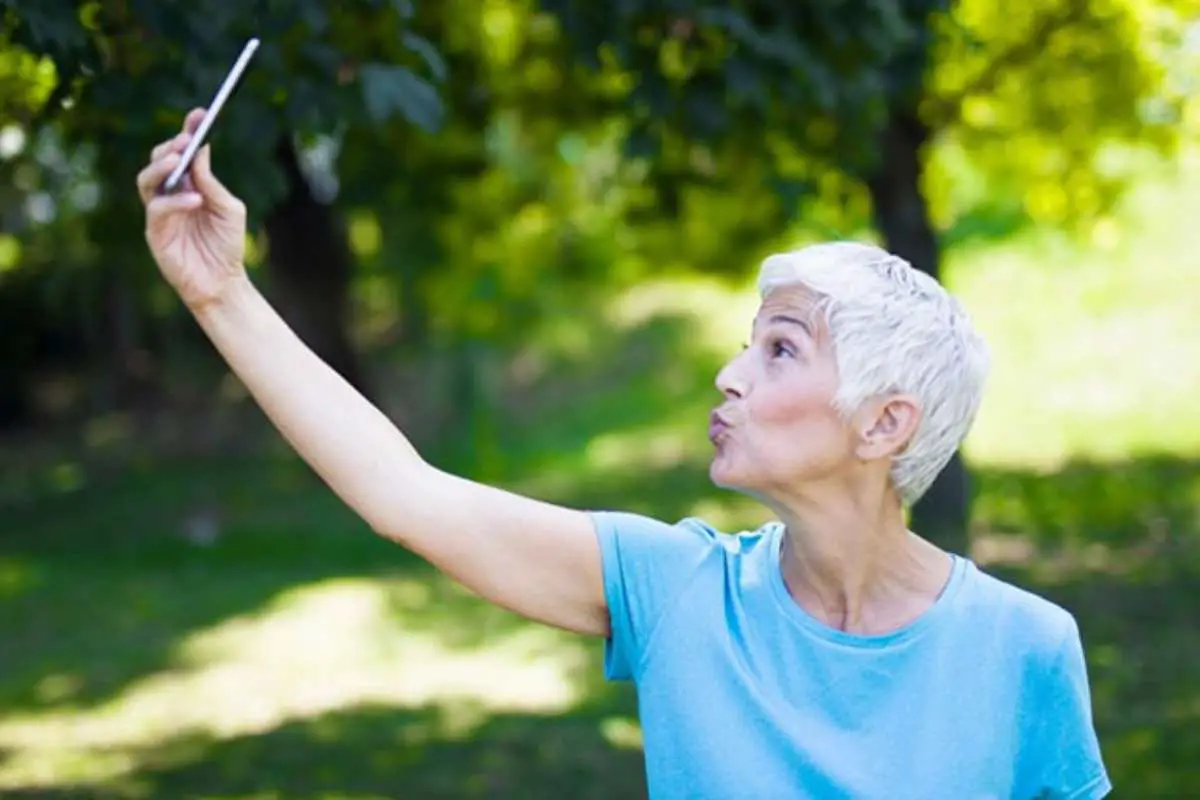 Otherwise, consider what supermodel Tyra Banks calls "smizing." It's what she calls smiling with the eyes. That's when you think, "smile," but you don't actually smile. Your face responds to your thoughts without you smiling.
Filter or no Filter
Most Millennials swear by selfie filters and airbrushing. While there isn't anything wrong with playing with your picture, in too many ways, it defeats the original idea and purpose of a selfie. Selfies are for sharing your life, especially with family. There are plenty of reasons to skip the filters.
If you filter and airbrush to extremes, you aren't sharing the real you. Your beloved grandchildren aren't getting an authentic picture of their grandma and grandpa. By all means, strive to look your best, but if you've changed nature to the point it doesn't even resemble you, it might be time to stop. Such pictures are obvious, and they flicker "I'm Insecure" in bright lights. They shout that you don't think you're enough. Instead of worrying about filters, flash a confident look at the camera. Confidence is true beauty.
Besides, if you keep posting doctored-up selfies over and over, people will get bored. Those that view them sense that's not really 'you', so why bother getting excited? For the best selfie, just be you.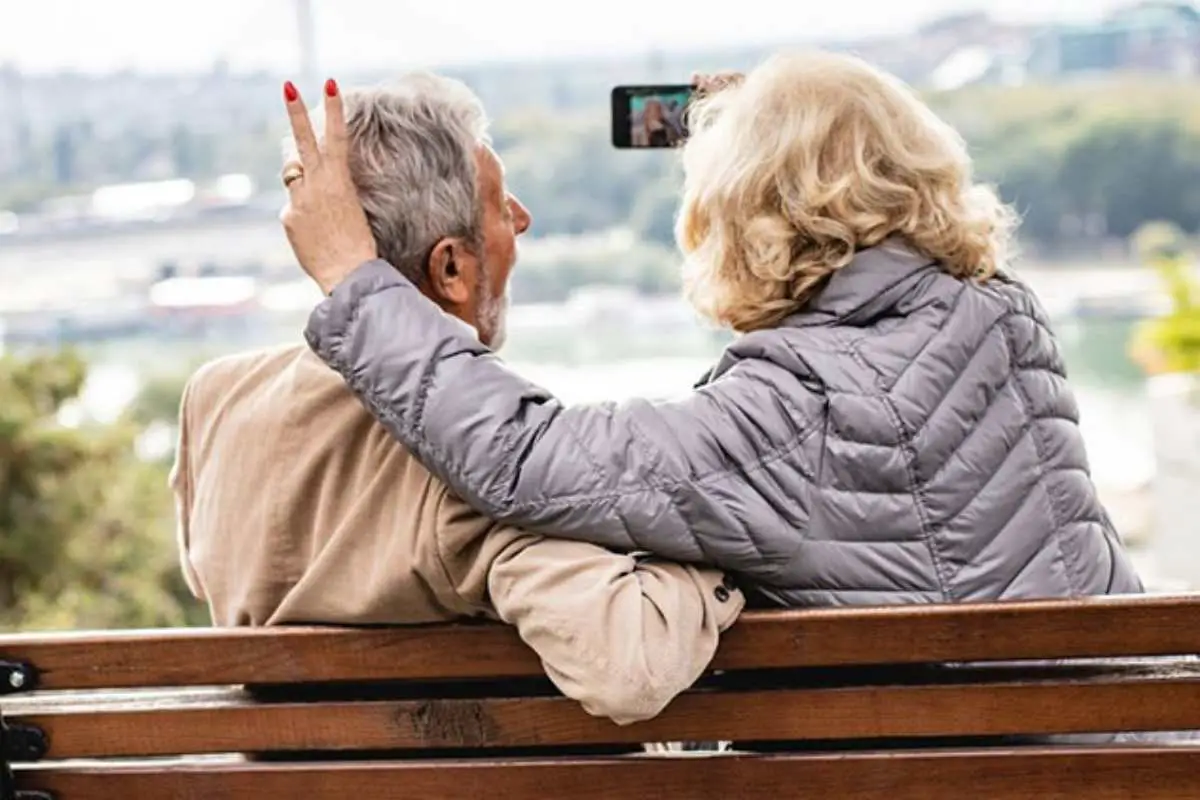 Frequently Asked Questions
1. What is the most flattering angle for a selfie?
The most commonly flattering angle for a selfie is for the camera or phone to be held slightly above eye level. Other tips include utilizing natural lighting and attempting relaxed and natural expressions rather than forced or posed smiles.
2. Are there any products you suggest that make taking photos easier?
Yes, selfie sticks and smartphone tripod mounts can make taking selfies easier by providing stability for the camera and extending your reach while taking your photo, ensuring a wider angle that makes it easier to include multiple people or interesting backgrounds.
The product we recommend is a combo selfie stick and tripod that fits all phones regardless of the make or model. There is a button on the stick to press to easily take a photo at a distance rather than having to touch the phone, and it also comes with a Bluetooth remote control button to capture a photo or smooth video from far away.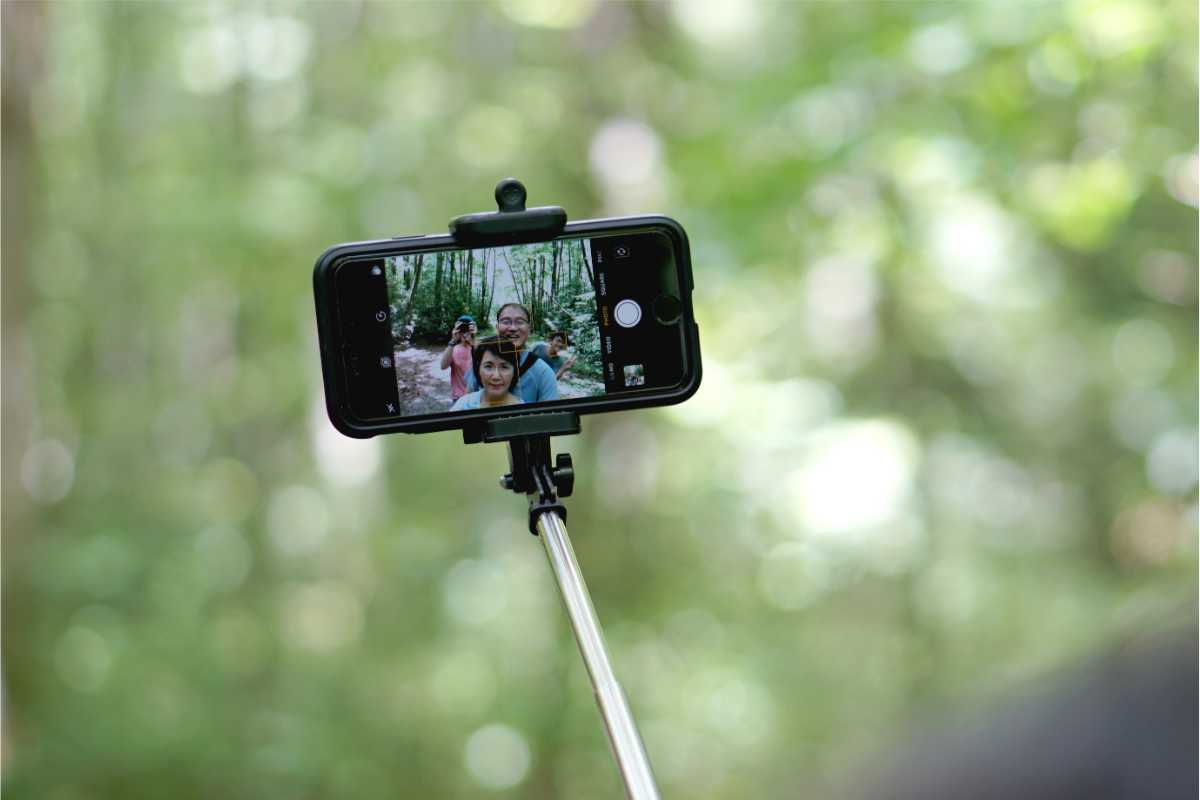 3. Are there easy ways to retouch or edit photos for seniors?
Yes, there are a few user-friendly photo editing apps that are suitable for people of all ages, including seniors. Here are the top three easy-to-use and free app choices we recommend:
1. Snapseed: Snapseed is a free photo editing app available for both iOS and Android phones. The app offers a wide range of tools and filters for both basic and advanced photo editing, including simple, one-tap enhancements.
2. Instagram: Instagram, an app that many people already have installed on their phones, has built-in editing tools for enhancing your photos before sharing them. It's simple and widely used for photo editing, as you can save a photo you edit in the app without actually posting it publicly online.
3. Fotor: Fotor is a very user-friendly photo editing app that provides a variety of effects, filters, and easy-to-use retouching tools. It's available for iOS and Android and is a popular photo editing and graphic design tool that's used around the world.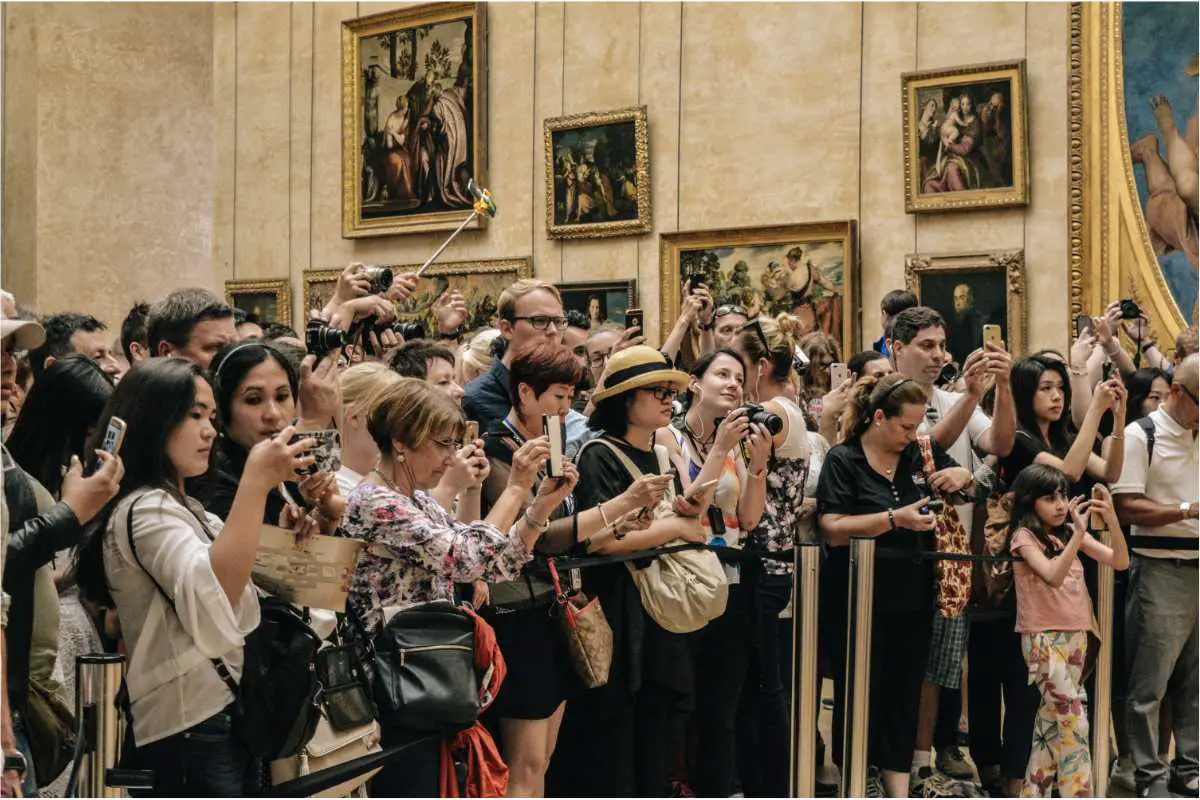 Final Thoughts
Selfies are the perfect way for seniors to stay in touch with their loved ones. You can absolutely snap any picture of yourself, and share it. However, if you want to look your best, we suggest trying some of the tricks above. But remember, selfies are not just about looks. They are all about staying connected.
It's important to remember that what's most important is for you to feel confident and comfortable with the way you look in your selfie. Flattering angles can vary from person to person, so don't be afraid to experiment and find what works best for you. Selfies are also about self-expression and personal style, so there are no strict rules for what makes a "perfect" selfie.
What do you think? Have you tried any of these tips and found success? Have you discovered any tips we haven't mentioned above that might be useful for other people? If so, please share them in the comments below!
About the Author
Leona Small is a freelance writer and former caregiver. She has experience working with people with Alzheimer's Disease and related dementias and has spent years working alongside both patients and caregivers in Hospice. Additionally, she's worked as a Professional Organizer helping people and families to purge, organize, manage, and prepare for various life transitions such as moving, downsizing, and the passing of loved ones. Her passions include writing about healthy aging, innovative resources to help older adults and caregivers, and traveling.