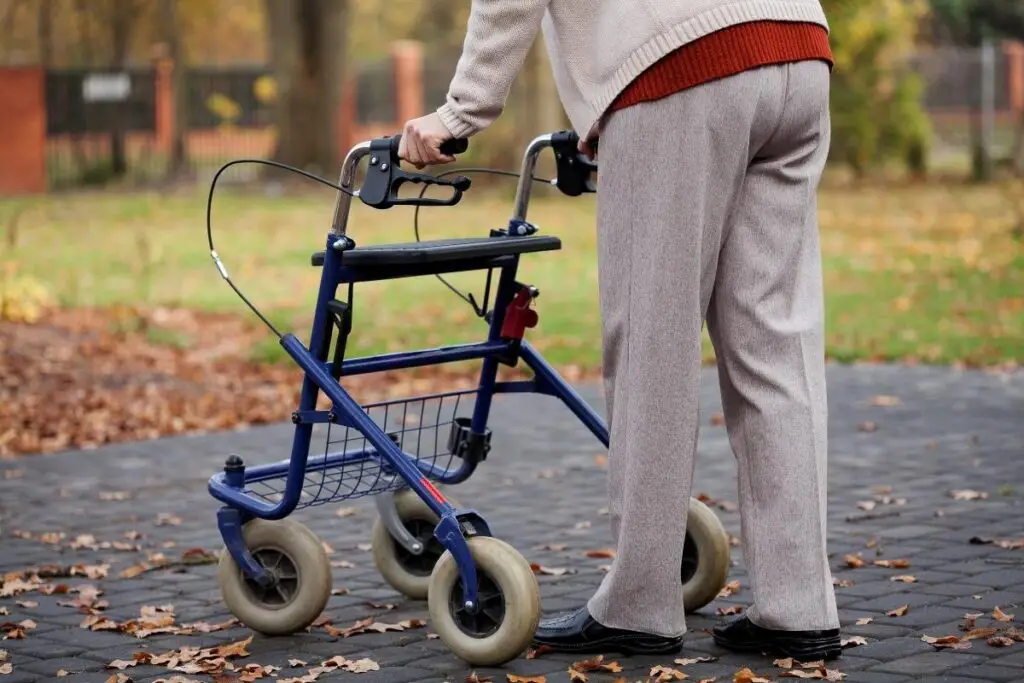 Many seniors balk at the idea of using a walker. Not only are they cumbersome, but there is the stigma of disability associated with their use.
So if it's time for you or your loved one to start using a mobility device, then you should look into upright walkers. An upright walker has four wheels, like a standard rolling walker. However, the design is meant to support its user while fully upright without hunching, promoting better walking posture. This more natural positioning helps relieve joint and back pain and muscle tension that result from using a traditional walker.
Because the body is upright, your head and eyes are faced forward, not down, making it easier to identify and navigate upcoming obstacles. In addition, the forearm supports help you maintain your balance. These supports also reduce pressure on the hands and wrists while walking.
What to Look for in an Upright Walker
When choosing an upright walker, you should ensure that the handlebar heights are appropriately sized for your body.
To find the correct measurement:
Stand straight while wearing your walking shoes and allow your arms to hang naturally.
Next, measure the distance from the ground to your wrists in inches.
This measurement is the correct handlebar height for you. Although most upright walkers can be adjusted for a comfortable fit, if you are over six feet tall or under five feet, you might need to look for a walker that can accommodate you better.
You should also choose an upright walker that corresponds to the terrain you intend to use it on. So, select a more rugged outdoor model if you plan to scoot about town with your new mobility device. If you only plan on using it indoors, choose a model that runs smoothly on flat surfaces.
This distinction is important because the user's center of gravity differs from a traditional walker's. It's much higher. Therefore, if the base isn't broad enough to support that higher center of gravity, it may tip if it hits a slight obstacle, potentially causing injury.
Another important consideration is weight limits. Many upright walkers are built to support a person weighing up to 300 pounds, but not all. When deciding on the model you want, ensure it is sturdy enough to support your weight. Similarly, if the upright walker has a seat, check to see that the user can sit comfortably. If not, choose a model with a roomier cushion.
Not all upright walkers are designed the same. The model you should choose should promote better walking posture. Encouraging better posture means that the arm supports are padded and adjustable, the device is height-adjustable, and the design should reflect ergonomic principles. Taller seniors should look specifically at tall walkers.
Safety is important. A rolled mobility device must have brakes. Easily accessible, locking brakes are the best option. Users can use the brakes to slow down, stop, or keep the walker in place while seated.
Storage might be another concern. Consider where and how the upright walker might be stored when not in use. The walker should be lightweight enough to manage easily. It might also be able to be folded down for compact storage or transportation.
Ready more about how to choose the best walker for you.
Why is Quality Important?
As with any mobility device, quality is crucial. A poorly designed upright walker can cause falls and other injuries. In choosing an upright walker, weight limitations, height suggestions, and adjustable arm supports are essential considerations.
Additionally, the type of material used for the frame, wheels, and seat support should be examined. Most walkers have aluminum tubing because it's lightweight. However, if you need additional bracing, look for a walker that is made from steel. It will be heavier but more durable. A steel frame is highly recommended if you weigh more than 250 pounds.
The quality and size of the wheels are also important considerations. For example, many walkers have only 8″/20 cm wheels. The smaller size means it is difficult to maneuver. Brakes typically work by exerting pressure directly on the wheel. As a result, too much stress can snap the wheel off.
If dragging walker legs become a noisy problem, consider putting tennis balls on the legs of your walker.
Larger wheels have more surface area. Bigger wheels can also manage more significant obstacles like curbs, roots, small rocks, and door thresholds. To see the ratio of obstacle size to wheel size, take the wheel's outer diameter and determine what 15 percent of that diameter is. That's the maximum obstacle size the wheel can handle easily. So an 8″/20 cm wheel can manage 3 cm or smaller obstacles without considerable force. Anything more significant and maneuverability becomes more challenging.
Should You Get the Optional Seat with Backrest?
Many upright walkers have a seat with a backrest option. While this might seem like a no-brainer add-on, you might not necessarily need a seat. However, remember that a seat adds to the walker's weight, making it less portable and requiring more effort to move.
However, a seat is an excellent addition if you tire easily and would benefit from taking short breaks as you go about your daily activities. Keep the weight capacity in mind when deciding on a walker. If the seat isn't wide enough to use comfortably or reinforced sufficiently to support your weight without buckling, skip the seat option.
We cover this subject more in-depth here. When using a seat, ensure the wheels are locked in place. Turn away from the walker and center your body over the cushion as you slowly lower yourself down.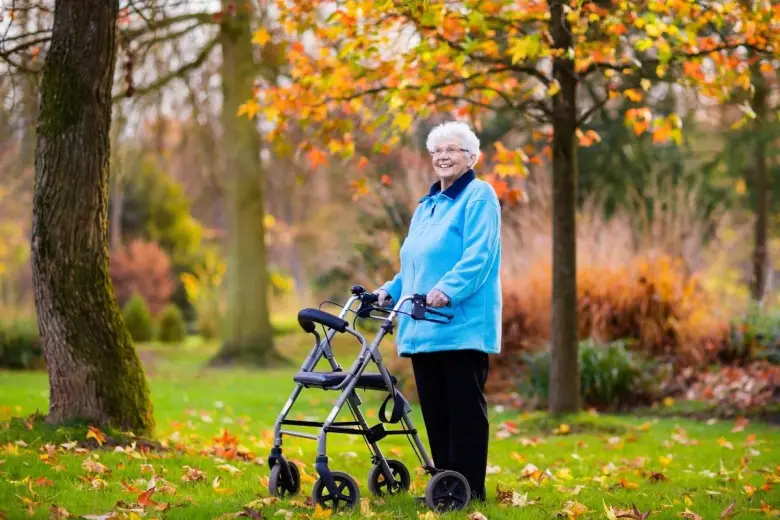 Cost
Upright walkers vary considerably when it comes to price. Upright walkers with just the basics might start at $200 to $700. More accessories, larger wheels, and reinforced materials will increase the price. For comparative purposes, a standard walker will only set you back about $40. Two-wheeled walkers can cost up to $250. Wheeled walkers range from $70 to $600.
Does Medicare Cover Upright Walkers?
Medicare covers necessary durable medical equipment (DME), including upright walkers, under Part B if you meet specific requirements. There is a $233 deductible before Medicare coverage takes effect. Additionally, most individuals must pay 20 percent of the approved amount. The deductible is also covered if you have Medigap plan C or F. Medicare Advantage coverage varies.
To qualify, the walker must be medically necessary, prescribed by a doctor, and supplied by a company that accepts Medicare assignments. Medicare will pay for the rental or purchase of the walker. It will also cover the replacement cost if it is stolen, lost, or damaged due to an accident or natural disaster. If the walker wears out and you have been the sole owner, Medicare will pay for repairs or replacement.
Medicare will not cover UpWalker upright walkers because the supplier is not enrolled in Medicare. However, other brands enrolled in Medicare may be covered as long as the above mentioned requirements are met. To find a supplier in your area, check Medicare.gov's supplier directory.
Where to Find Used or Free Upright Walkers
It's possible to find used or free upright walkers from the Center for Independent Living, the Wheelchair Foundation, Lifenets Wheelchair Project, or local, online marketplaces.
Since the cost of an upright walker is quite steep, you may be able to find a used or even free mobility device that meets your needs. First, contact your local Center for Independent Living. Many centers have walkers, wheelchairs, and other mobility devices that can be borrowed.
The following few organizations focus on wheelchairs. However, it wouldn't hurt to ask if they have other types of mobility devices available. The Wheelchair Foundation works with Catholic Charities, the Salvation Army, Goodwill Industries, and other charity organizations to distribute wheelchairs and mobility devices to those that can't afford one. Lifenets Wheelchair Project matches wheelchair donations with individuals who need them in the United States.
Social media marketplaces might be another option. Check out NextDoor.com, Craigslist, eBay, Facebook Marketplace, or even Amazon for free or used walkers. Make sure to verify shipping prices before purchasing.
5 Best Upright Walkers
Let's take a look at the five best upright walkers. When choosing an upright walker, pay attention to the height and weight recommendations for the best fit.
The products listed below are available on Amazon, but it's also worth considering other online retailers to compare prices. The Wright Stuff specializes in mobility aids for seniors and people with disabilities and they have a variety of walkers and accessories worth checking out.
Elenker Upright Walker
The Elenker Upright Walker has adjustable padded armrests and 10-inch front wheels that swivel 360 degrees. This model comes with a cane holder and storage bag.

The mesh seat measures 18″ (L) x 10″ (D) x 24″ (H) and has a backrest but is not adjustable. The device can accommodate individuals 5′ to 6'2″ tall. It weighs 24 pounds and has a weight capacity of 300 pounds. The frame is aluminum construction.
OasisSpace Original Upright Walker
The OasisSpace Original Upright Walker has padded armrests that can be adjusted both for length and holding angle. The front wheels measure 10-inches while the back wheels are 8-inches with a 360-degree rotation.

The frame is made of aluminum with a weight capacity of 300 pounds. The seat backrest is adjustable and removable, although the seat is not. The seat dimensions are 18″(L) x 10″(W) x 21.6″(H). This walker can be adapted to fit users 4'10" to 6'5″ tall. It has a waterproof storage compartment.
ErgoActive Roller-Go Rollator Walker with Forearm Supports
The lightweight ErgoActive Roller-Go Rollator Walker with Forearm Supports is exceptionally portable. It folds horizontally and vertically with just a button push. It has four 8-inch wheels and padded forearm support cuffs. It can be adjusted for individuals from 5'2′ up to 6'6″ tall and has a weight capacity of 300 pounds.

The padded seat has a backrest and is 21.5 inches from the ground and 16 inches wide. This walker comes with a detachable storage bag and a carrying case.
Health Line Massage Products Up Rollator Walker
The Health Line Massage Products Up Rollator Walker has a weight capacity of 300 pounds. It folds for transport. The walker can be adjusted for individuals 5′ to 5'11". The four wheels are 8 inches in diameter. The front wheels swivel.

The padded armrests can be adjusted from 40 to 43 inches. It comes with a cloth storage basket and cane holder. This model has an obstacle assist pedal, helping the user lift the front wheel over small obstructions without tipping.
OasisSpace Heavy Duty Upright Walker
The OasisSpace Heavy Duty Upright Walker is the best option if you need a sturdier mobility device. It has a weight capacity of 450 pounds and can be adjusted to fit individuals 4'10" to 6'5″ tall.

OasisSpace Heavy Duty Upright Walker for 450 lb,Bariatric Upright Walker Rollator with Wide Seat,Stand up Rollator Mobility Walking Aid for Elderly, Seniors and Adult Blue
【STAY ACTVIE & FIT】OasisSpace Heavy Duty upright walker is tailor-made for elderly with mobility difficulties or provides support throughout your rehabilitation after an accident or injury. Using the walker will keep body balance and reduce the fear of falling while also keeping you active to go out and move more.
【10 INCHES FRONT WHEELS】OasisSpace Upright walker for senior is designed with advice of most customers. It comes with 10" front wheels and 8" rear wheels.360°swivel front wheels for easy maneuvering,sturdy enough for indoor and outdoor smooth ride.Ergonomic hand brakes,push forward to slow or stop. It could be effective to avoid customers fall down and brake sensitive. Solve all the problems from others.
The seat dimension is 22″ (L) x 11″ (W), and the backrest is adjustable. Because of its reinforced construction, this walker will not fit through standard house doorways.
When to Know if You Need an Upright Walker
A mobility device can allow you to maintain your independence as you age. Walkers are designed to help you get around if you find walking difficult because your legs can not support your body's weight.
Walkers without wheels are very stable but awkward to maneuver. Rolling walkers and upright walkers are less steady but more mobile. To decide what type of walker you should choose, first determine the main reason you feel a walker will improve your life. If you need help staying upright, a two-wheel or traditional walker is probably your best bet. However, a rolling or upright walker would be a better choice if you need less support.
If you have neurological, pulmonology-related, or cardiovascular issues that make walking challenging, a walker could help as well. An upright walker might be the way to go if you are using a traditional walker design and are experiencing discomfort or pain. An upright walker positions your body differently and reduces strain on specific body parts.
Summary
Mobility issues become a concern as we age. No one wants to give up their independence. Mobility devices such as walkers enable seniors to stay active despite physical limitations. It's estimated that 6.8 million Americans use a mobility device.
Because of the arm support, an upright walker might be what you or your loved one needs to navigate their world safely without hunching. Most models can be adjusted to accommodate users between 5′ and 6′ tall and up to 300 pounds. If you need a shorter or taller walker, look for specialized-sized mobility devices that will support you as the device is intended. Don't just try to make do with an improperly sized walker, which can result in injury.
Once you've selected your walker, consider accessorizing it with baskets and bags that are made for walkers.