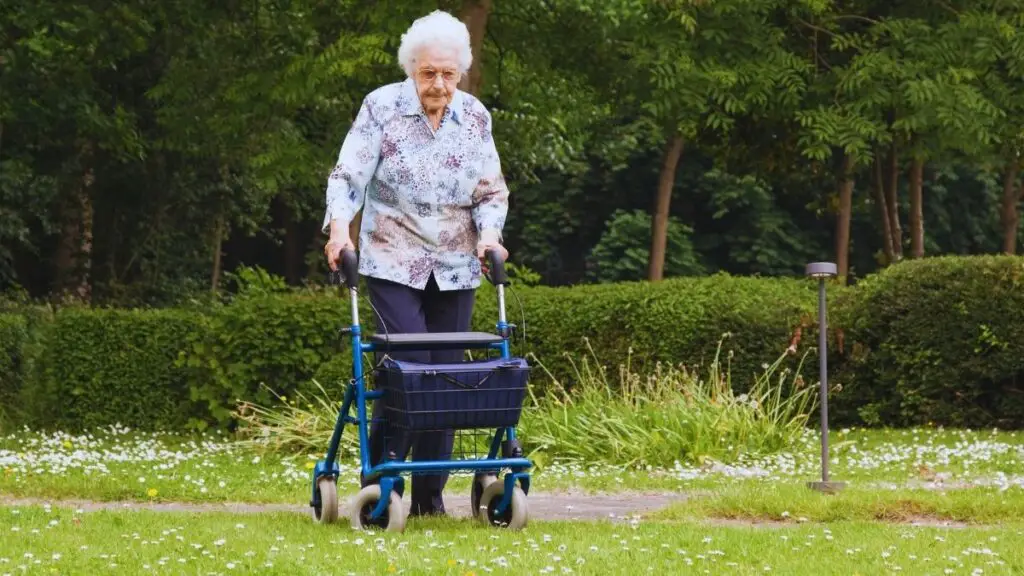 Walker baskets and bags are an important piece of a walker, particularly when it's used daily. Think about how often you carry an item from one place to the other. If you're using a walker, both hands should be on the handles. A basket will carry your items on the walker itself!
Mobility issues are a dominant factor in the lives of many older adults. According to Science Daily, 16.4% of seniors use a cane, 11.6% use a walker, 6.1% use a wheelchair and 2.3% use a scooter. So, with more than 1.5 million people using walkers it is no wonder that there is a huge range of walkers and walker accessories available.
Walkers are easy to use and offer good support and provide independence to users. The trouble with a walker is that it is very difficult to carry objects with you, as I mentioned.
The solution to this problem is a walker basket. A walker basket is designed to fit onto the walker securely and enables the user to carry objects as they walk with the walker. They are affordable and convenient.
Can You Put a Basket on a Walker?
Yes, you can certainly put a basket on a walker. There are many baskets designed specifically for walkers. Baskets are the best of the walker carrying options as they provide the most space for goods. You can use them to carry groceries, your purse, needlework or reading material. Some even come with a tray fitting enabling you to carry drinks.
How Do You Install Walker Baskets?
Different baskets may attach slightly differently, but the principle is always the same. Once the walker is unfolded and set up, turn it so the handles are facing away from you. The basket should have two hooks.
Simply hook the basket over the cross bar to which the seat is attached. There is an indent at the bottom of the basket which must rest on the cross bar below the seat.
You can then easily lift the basket up and out to detach it. It will need to be detached in order to fold the walker up when not in use or when traveling.
Walker bags are installed in a similar way to walker baskets except where the basket has two hooks the bag has two straps with clips that can be secured around the bar. Most bags also have Velcro straps that fit around the upright poles of the walker.
Walker Bags vs Walker Baskets – Pros and Cons
Bags and baskets have the same purpose – to bring your items with you without having to carry them by hand. There are some advantages and disadvantages to each, however.
Bags:
Pros:
Bags are very convenient as they do not need to be removed when folding up the walker.
They can zip or clip closed to prevent things from falling out while you're walking.
They are often brightly colored and attractive.
They can be removed and double as a tote bag or purse when on outings.
They have many separate compartments allowing you to organize and store items in an orderly fashion.
Cons:
The disadvantage of a bag is that, generally, a bag cannot hold as much as a basket.
It can be difficult to get goods into and out of the bag while you are in a standing position.
Baskets:
Pros:
Baskets can carry plenty of goods, such as groceries.
It is easy to get the goods into the basket from the side you are standing in the walker.
They can come with a tray attachment for carrying drinks.
Cons:
Baskets need to be detached in order to fold the walker up.
They can be dull and look ugly.
Items may get mixed up as there is generally only one compartment.
Generally, I think bags are the better choice for most people, particularly if you need to collapse the walker often. Baskets may be the better choice for bulkier, heavier items.
9 Different Walker Baskets and Bags
Many walker baskets are plain and rather ugly, honestly; but you do not need to settle for mere practicality. There are many walker baskets out there that are both practical and attractive.
The following items are all available on Amazon. However, you can also buy walker baskets and bags at durable medical equipment suppliers directly. Both of these suppliers sell walker accessories:
HealthSmart Walker Storage Basket
These original baskets may not look too appealing but they are still extremely practical. The wire basket design makes it easy to see what is inside. The open top makes it accessible from both sides of the walker. It comes with a tray insert which prevents small objects from falling though the gaps.
It also comes with a cup holder which allows you to walk with beverages without spilling the contents. It will need to be removed when folding up the walker but it is very easy to attach and detach with Velcro straps and hooks. It will fit most walkers.
Top Glides Universal Washable Liner for Wire Walker Baskets
PREVENT LOST ITEMS: Add privacy & prevent small items from falling through your existing walker basket with this removable insert.
SECURITY CLOSURE: Features a cinch closure for that keeps all contents out of sight but quickly accessible.
If you are looking for more security and privacy for items in your basket you could get a basket liner. These ensure no objects will fall out and your items cannot be seen by anyone walking past. The liner is fitted with a cinch closure so you can easily close your goods away for privacy and security or leave it open for easy access. The liners are very simple to remove and are machine washable.
---
The IssyAuto Walker Basket
Sale
ISSYAUTO Walker Basket, Basket for Walkers for Seniors with Cup Holder, Foldable Walker Accessories Bag, Walker Tray for Folding Walker, Best Gift for Family and Friends (Not Fit Rollator Walkers)
【Practical Lifesaver】 Basket for walkers for seniors, for you to carry drink cups, bowls, fruits, belongings from place A to Place B. Great for happy outdoor time with family, lightweight and convenient. Note: The basket does not fit rollator walkers.
【Foldable Basket】 Unlike other hard baskets with plastics tray, upgraded foldable walker basket designed with durable 600D oxford and nylon fabric, you can fold it up when not in use.
This basket is a wonderful blend of bag and basket and retains most of the advantages of both.
It is very easy to install with Velcro straps keeping the basket secure and in place. Two cardboard dividers create three compartments. The boards are adjustable enabling you to create three compartments of any desired size. The boards' design also makes the basket easy to fold away.
Unlike other baskets, it can be folded away into a neat package for storing or it can be folded away while still attached to the walker as you fold the walker. It is made of Oxford fabric and is thus stylish and easy to clean. A reflective strip along the front side of the basket allows for easy visibility and extra safety. The wide-open layout makes it easy to access while standing, thus making it convenient and easy to use while on the move.
The basket does not fit rollator walkers but will fit any normal walker with ease as its Velcro straps are adjustable.  
---
The Supregear Side Walker Bag
supregear Side Walker Bag, Walker Side Access Bag Organizer Pouch Tote with Handle Multifunction Walker Side Accessory for Most Walker with Side Bar, Easy to Install and Lightweight (Purple)
A great choice for organizing and holding your daily essential items in a convenient multifunction carryall which fits most sizes and styles of walkers with side bar, keeping your hands and arms free for superior balance and mobility
Double sided design with 8 pockets in total in the front and back to satisfy all your need, including 5 roomy pockets, 2 pen pockets and 1 mesh bottle holder, allowing you to quick access frequently used items like reading glasses, drink, water bottle, snacks, remote control, wallet, books and medical supplies
The side walker bag by Supregear is great as it allows full vision of you path in front of you. Some walker bags and baskets may hinder a person's view and some people find this off putting. This side bag is thus perfect for anyone who is a little anxious about being able to see where they are going clearly without any hindrance.
It consists of 8 pouches in total: 5 large pockets, 2 pen pockets and a mesh water bottle pouch. Some pouches have a zipper to ensure your items do not fall out. It attaches to most walkers, scooters, wheelchairs and rollators with adjustable universal hook and loop straps. A handle at the top makes it easy to remove and carry should one need to.
It is made of strong water resistant nylon and is machine washable. It come in an assortment of bright, patterned fabrics that will brighten any walker or a stylish black and grey. The double-sided design allows you to store items where they will be most convenient.
Being a side bag it is not recommended that items with too much weight are stored in the bag as this could cause the walker to tip over to the side. Should you need to carry many heavy items, try purchasing two side bags to even out the weight.
---
The Update Walker Bag
Sale
This bag is easy to attach to most walkers, wheelchairs or scooters. It's mesh front pockets make easy access for the things you need regularly, such as reading glasses or a cellphone, and you can see where they are at a glance reducing the need to scratch around searching in pockets.
It consists of three mesh front pockets, one large middle pocket with a zip and two smaller back pockets. The zipper compartment is large and can carry a purse, tablet, wallet or anything else you may want to tuck away safely. One of the mesh pockets is designed to fit a water bottle or cup. The nylon fabric is water resistant and machine washable. It connects to most walkers with 7 easy to use Velcro straps.
---
Granny Jo Walker Bag
Wheelchair/Walker/Scooter Bag
Fits most Walkers, Wheelchairs and Power Scooters. Also available in Burgundy.
Our 16" by 9" Wheelchair/Walker/Scooter Bag is 100% cotton duck with Velcro closure.
This stylish walker bag can double as a purse as its inside pocket has a key ring holder and slots for credit cards. Its water resistant, 100% cotton duck fabric makes it stylish and practical. Choose between navy blue or black (or burgundy by special order). It comes with many pockets and compartments, some of which are zippered for extra security.
It attaches easily to walkers, wheelchairs or scooters with adjustable straps and clips. It is very easily detached from the walker if need be and can be quickly and easily reattached. The large compartment is easily accessed from the top and is thus accessible while standing in the walker.
---
The Walker Tote Bag from The Wright Stuff
This walker bag is large enough to carry all your belongings. It has a strap and can easily be detached to double as a tote bag.
Its quilted cotton design is stylish and comes in a rich burgundy or chic grey. It is 14.5" wide, 11" long and 5" deep. It attaches easily with adjustable straps and clips. A flap hides the contents of the pouch but can also make it a little tricky to get at the goods you need. The large inner compartment has a key ring holder and a water bottle compartment. The compartment is roomy and can hold plenty of possessions.
---
RMS Walker Bag with Soft Cooler
This is a unique walker bag as it comes with a cooler compartment to keep your temperature sensitive goods fresh all day. it is perfect for storing dairy products, meat, fruit and diabetic supplies.
As well as the zipped cooler compartment, there is a large, separate compartment that has a key ring holder and slots for bank cards. A back pocket can hold a large coffee mug or a water bottle and there are two outer mesh compartments for easy visibility. The front pocket has a zipper and is perfect for storing a cell phone.
This 18" by 10" bag comes in a range of colors from wine to black to patterned with butterflies or flowers. It has adjustable straps and easy release clips making attaching and detaching the bag quick and simple. It fits both walkers and rollators.
---
Vive Walker Bag
Sale
The vibrant Vive walker bag comes with a 60 day unconditional guarantee. It is machine washable and water resistant making it practical and user friendly.
It attaches to any walker with seven Velcro loops making attachment easy and secure. The large inner compartment has a zip to ensure the safety of your goods. Three mesh outer pockets make accessing everyday objects a breeze. It is machine washable in a cold wash. Allow it to air dry. It comes in a wide variety of vibrant colors and patterns from leopard print to the American flag.
---
Double Sided Walker Bag
Walker Bag-Double Sided Walker Pouch with 9 Pockets for Large Capacity Water Resistant Tote Folding Walker Basket Caddy Universal fit Walker, rollator (Flower)
【Double Side Design for Large Storage】: Unique double sided design for 9 pockets, you can easily sort your items and put them into different pockets like newspaper,pill organizer,book,phone,pen and so on
【Six hook and loop fasteners for More Stable】: Hanging bag on elderly walker's saddle, six hook and loop fasteners attach to the heavy duty walker accessories, great gift for seniors, adults,and disable.
If you're looking for a large walker bag that can carry all your goods and necessities, this is the bag for you.
It has nine pouches of different sizes ensuring there is a place for everything. It has three large pouches, three net outside pouches, one cloth outer pouch and a side pocket which is secured with a flap and a press stud. The adjustable straps ensure that it attaches easily to any walker. It has a thirty day unconditional guarantee. It is durable, lightweight, waterproof and machine washable.
---
When buying a walker bag or basket first decide what your needs are.
Do you have plenty of things you want to carry around or would you rather go for something small and lightweight? Do you want to access the compartment while standing in the walker such as when grocery shopping or just while sitting in chair?
The answers to these questions will help you to decide which is the right bag or basket for you.