Chronic leg pain, swelling of the extremities, and fear of blood clots are all just some of the reasons that many have turned to regularly wearing leg sleeves. These are simple yet powerful products that can make a profound difference in one's health.
Is wearing a pair of compression leg sleeves something your doctor or physical therapist has recommended? If so, we have some recommendations.
What Are Leg Sleeves Used For?
There are three main reasons that leg sleeves are worn: for pain reduction, to reduce swelling, and to assist in the circulation of blood.
Pain Reduction
Studies have shown that the use of leg sleeves amongst pregnant women can decrease the leg pain which they experience. Runners as well often will wear leg sleeves to alleviate shin splint pain. Both of these situations show that leg sleeves can be used to alleviate pain.
They shouldn't be viewed as a panacea, however. While leg sleeves very well may help with some pain reduction, they're not going to cause one's knee arthritis to disappear. If used for this purpose, realistic expectations need to be set so that one's hopes aren't disappointed.
Swelling Reduction
Should leg swelling be a daily problem for an individual, leg sleeves can even help here. Many patients suffering from lymphedema (typically a post-cancer condition) use leg sleeves to assist with lymph node drainage. Those with issues related to blood accumulation in the lower legs often wear leg sleeves to alleviate their swelling as well.
The fact of the matter is that it's hard to put more water into an already skinny bucket, and that's something of what leg sleeves do. They take the bucket (your leg), and squeeze it tight, making the bucket have less volume than it would otherwise.
Perhaps that's not the perfect analogy, but it gets the point across. Pressure helps to alleviate swelling, and that's what leg sleeves provide.
Blood Circulation
There are a number of circulatory issues which cause people to wear compression leg sleeves. Among these are varicose veins, a history of blood clots, or poor circulation in the extremities. To understand how a leg sleeve can assist with these conditions, perhaps its best to first understand a bit of anatomy.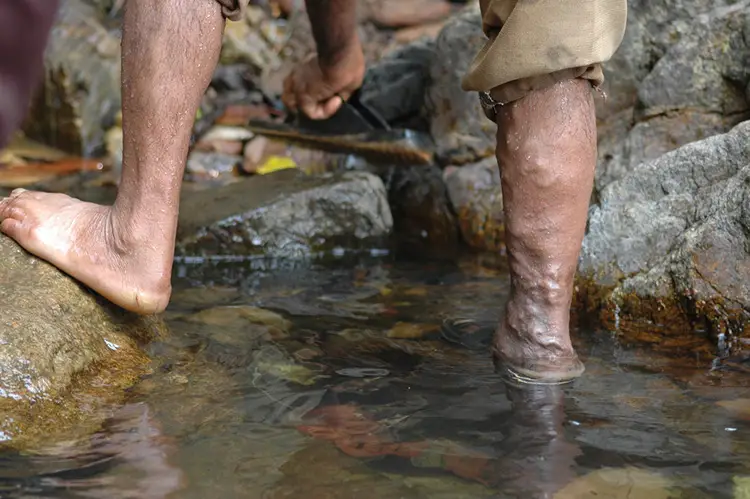 The role of veins is to shuttle blood back to the heart. Venous blood has been stripped of its nutrients by the cells. Think of it as an empty FedEx truck driving back to headquarters to pick up another load of packages.
While arterial blood has a lot of pressure behind it to forcibly pump it to its destination, venous blood does not. Instead, venous blood relies on a series of one-way chambers throughout the veins to allow the blood to continually move up towards the heart.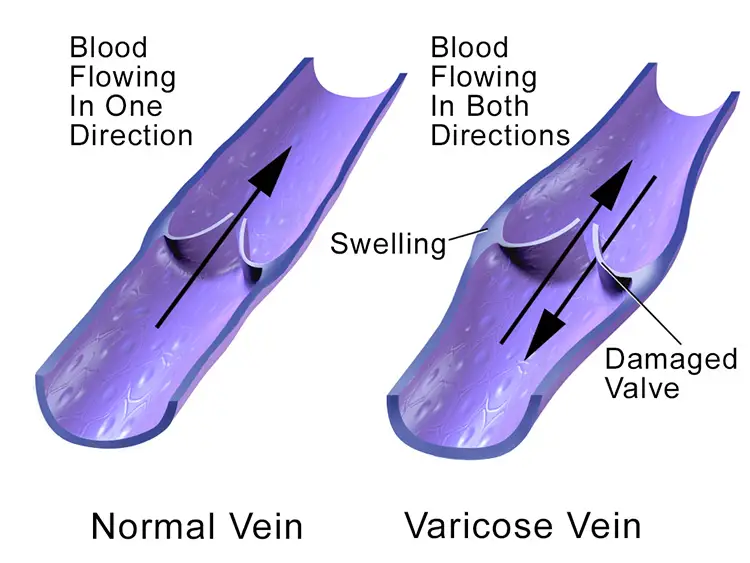 What squirts the blood through these one-way chambers is muscle contraction. When one walks up a flight of stairs, several muscles throughout the legs are utilized. As the calf muscle contracts, it squishes the vein, squirting blood through the one-way valve up back to the heart.
But if one is sitting for hours (such as in a plane)?
Then, there's no muscle contraction present to squirt that blood back up to the heart.
That's where a pair of leg sleeves can come into play. Even the CDC considers them as a potential means of preventing blood clots during travel. They act as something of an artificial muscle contraction, in a sense. This helps to ensure that blood isn't pooling in the legs when movement isn't possible. The result is a decreased risk of blood clots, less varicose vein pain, and better circulation throughout the legs.
5 Leg Sleeves with Strong Reviews
CopperJoint Compression Calf Sleeve

CopperJoint Compression Calf Sleeve – Copper-Infused High-Performance Design, Promotes Proper Blood Flow, Offers Superior Compression and Support for All Lifestyles - Pair
Unlike other compression calf sleeves, these calf sleeves for men and women provide superior comfort and shin splint support. With 20-30 mmHg of compression, you'll never feel like it's too tight and it will not rip apart. These high-performance shin sleeves give you the stability you need.
Performance Fabric Keeps You Dry and Comfortable: Our products feature a unique copper-infused, breathable, moisture-wicking fabric that stays warm in cold temperatures and cooler when the temperature rises. Copper's unique properties help eliminate foul smell allowing you to wear your sleeve longer without worry of offending those around you at the gym or at work. The remarkable fabric helps keep your skin dry and comfortable even in extremely hot temperatures.
Genuine Copper Ions Support Recovery and Pain Relief: CopperJoint products utilize genuine copper ions rather than copper oxide which is not as effective. Copper's multi-faceted properties are the reason we feel our garments work so well under any load, stress, or circumstance. Our products stimulate oxygen delivery to the muscles and augment airflow. This aids with joint and muscle recovery, and supports rejuvenating relief from pain and discomfort.
These compression leg sleeves only cover the calf but provide within the ballpark of 20-30mmHg. For those who enjoy running or other outside activities, they're constructed out of a moisture-wicking material as well, helping to ensure that sweat doesn't accumulate within the sleeves and create a wet and uncomfortable mess.
The CopperJoint Compression Calf Sleeves are a unisex design and are filled with copper ions as well. Allegedly, this has a host of health benefits that are attached with it (whether that claim is true is debatable), but for customers who are looking for such an option, these types of sleeves are out there.
---
SKDK Store's Full Length Compression Sleeve

Full Leg Sleeves Long Compression Leg Sleeve Knee Sleeves Protect Leg, for Man Women Basketball, Arthritis Cycling Sport Football, Reduce Varicose Veins and Swelling of Legs(Black,M,1 Pair)
FASTER RECOVERY & ALL DAY COMFORT - Newest ergonomic design with extra adjustable wrap that will boost your circulation in targeted way which reduce varicose veins and swelling of legs while still being comfortable whether you are hiking, jogging, weightlifting in gym, cycling or sleeping.
KEEP COMPRESSED: With wear-resistant and lint free patella reinforcement three dimensional integration that ensures increased blood transport to muscles over the entire length and keep the legs warm. Offers enough resistance to give your legs extra support while improving your athletic activities.
Size:Please check our size chart carefully before buying,there may be a very few people who will find it unsuitable, in this case, you can change the size.M(35-39CM ,13.8'-15.4') ; L(39-43CM ,15.4'-16.9') ; XL(43-47CM ,16.9'- 18.5') ; 2XL(47-51CM ,16.9'-20.1') ; 3XL(51-56CM ,20.1'-22.04')
While they don't advertise the pressure rating that these sleeves provide (which is a sign that these aren't medical grade), these sleeves from the SKDK store have amazing reviews all the way around.
People seem to love them, and there's a chance you may as well. These are advertised as a full-length leg sleeve, but if you're looking for a sleeve that extends all the way up to the groin, you're probably going to want to look elsewhere. Instead, these seem to extend halfway up the thigh. This isn't necessarily a bad thing – many people detest sleeves which extend to the groin – but it is something to think about if that's what you're looking for.
---
Run Forever Sports Store Calf Compression Sleeve
Calf Compression Sleeves For Men And Women - Leg Compression Sleeve - Footless Compression Socks for Runners, Shin Splints, Varicose Vein & Calf Pain Relief - Calf Brace For Running, Cycling, Travel
BARELY THERE -Through a dedicated eye for detail, Run Forever Sports has created a premium Leg Compression Sleeve ideal for your every day needs. Made of durable, high quality materials and painstakingly measured to ensure an exact fit, we make absolutely sure you get what you paid for! They're so comfortable, you'll forget you have them on!
THE WARM UP - It's known that a warm muscle is less likely to be injured, and performs better overall. Though breathable, our compression sleeve is sturdy enough to help increase blood flow throughout your leg muscles, and offers enough resistance to give your legs extra support, while enhancing your athletic activities.
PAIN AWAY - If you've ever dealt with Shin Splints, you know the discomfort and outright pain they can bring. Feel more confident to stay on your feet and avoid that unwanted pain as well as muscle cramps while you travel, work, or play! No matter if you're a runner, nurse, are pregnant, or just experience occasional leg pain, our sleeve is just what you need!
Looking for color options? Run Forever Sports Store has you covered. You'll find 15 different options available for these particular sleeves, and they have a host of positive reviews. The sleeves provide between 20-25mmHg of pressure to the user and possess the Never-Slide Stay Up Cuff to better ensure that you're not constantly having to adjust your sleeves.
And perhaps the best part? The sleeves are covered by a lifetime warranty. If the sleeves developed issues or just not be a good fit, Run Forever Sports Store has a no-questions-asked refund policy. All you have to do is ship the sleeves back to them and your full payment will be put back in your wallet.
---
Blitzu Compression Sleeves for Women

Womens Compression Socks Calf Compression Sleeves For Men Leg Compression Socks for Runners, Shin Splint, Recovery from Injury & Pain Relief Great for Running, Maternity, Travel, Nurses Purple L-XL
RELIEVES LEG PAIN - If You Have Ever Suffered From Shin Splints, You Know How Uncomfortable and Painful They Can Be. You Will Feel More Confident in Staying on Your Feet and Avoiding Muscle Cramps and Pain While You Work, Travel, or Simply Play! Whether You're a Nurse, Runner, Pregnant, or Simply Have Occasional Leg Pain, Our Sleeve Is All You Need.
KINESIOLOGY TAPING TECHNOLOGY – Patent and Designed in New York, the Embedded Kinesiology Strips Provide Support, Stability and Pain Reduction. You'll Be Able to Naturally Alleviate Pain and Recover From Injuries Using the Same Kinesiology Technique Shared by Doctors, Chiropractors, and Physical Therapists.
SPEED UP RECOVERY - Leave the ice and pain medications at the door. Fight pain, recover and get back in the game naturally with Blitzu Calf Sleeves. Our compression sleeves activate your body's natural pain-relieving mechanisms and provide targeted support for key ligaments, tendons and muscles in and around your calf and shin area.
A wildly popular leg sleeve for women, these sleeves boast eight different designs and come in three different sizes. Somewhere within the range of 20-30mmHg of pressure is given by these sleeves, helping to ensure that a proper level of compression is reached.
The manufacturers advertise them as being great for those with varicose veins, calf cramping, leg fatigue, leg swelling, or leg soreness. These may be a product that you want to check out.
---
Mojo Compression Stockings for Women

Mojo Compression Stockings For Women - Thigh-Hi Leg Sleeve With Grip Top Firm Graduated Support 20-30mmHg Black Medium A609BL2
HIGH QUALITY COMPRESSION STOCKINGS made with medical grade materials that are easier to get on. 20-30mmHg Graduated Compression - strongest at the ankle and gradually diminishes as it goes up the leg.
COMPRESSION STOCKINGS FOR WOMEN AND MEN - See sizing chart for the appropriate fitting, sold per pair - Helps prevent pain and injuries like: Calf Pain, Shin Splints, Leg Cramping, Muscle Soreness, Fatigue, swelling or edema, POTS or varicose & spider veins.
DESIGNED TO BOOST CIRCULATION IN YOUR LEGS TO REDUCE MUSCLE FATIGUE AND DAMAGE. Graduated Firm compression helps prevent pain and injuries like: Calf Pain, Shin Splints, Leg Cramping, Muscle Soreness, Fatigue, swelling edema, & varicose / spider veins.
Another popular leg sleeve for women is this design by Mojo. Four different designs are available in four different sizes. The sleeves provide between 20-30mmHg of graduate compression, with the greatest amount being found at the ankle, and have fantastic reviews to boot!
A moisture wicking substance is used to craft the sleeves as well, meaning they will help to keep you as comfortable as possible. This is a very large sleeve as well, going well past the knee to provide compression even up into the thigh region.
---
How Can a Leg Sleeve Benefit Seniors?
Just like with anything else in life, there are inherent risks to using leg sleeves as well. Prior studies have shown that some people simply don't tolerate leg sleeves well. Inhibited blood flow, tissue death due to oxygen deprivation, skin breaks, and ulcers have occurred in the past by people who were wearing leg sleeves.
In fact, there are some people who are contraindicated from wearing leg sleeves in the first place. Examples include:
Those with allergies to leg sleeve material
Those with sensory impairment
Those with peripheral arterial disease
Those with a blood clot caused by congestive heart failure
Skin issues where the leg sleeve would be worn
Or those with deformities of the leg which would keep a leg sleeve from fitting properly
There are other medical conditions as well which may negatively interact with leg sleeves, such as diabetes, ischemia, and more, so make sure to talk with your doctor about whether leg sleeves are right for you before using them.
However, when directed by your doctor, leg sleeves can potentially give the benefits of pain reduction, decreased swelling, and better circulation as outlined above.
How Long Should You Wear a Leg Sleeve on Your Leg?
Typically, leg sleeves are safe for all day wear (though pay heed to the warning below about wearing leg sleeves while sleeping).
However, keep in mind that a leg sleeve has to be the proper fit. If a leg sleeve is too tight, more harm is going to be done than good. A too-tight leg sleeve doesn't help assist with improving blood flow – it hinders it.
Do Leg Sleeves Help with Knee Pain?
One of the acronyms commonly touted in regard to injury is RICE: rest, ice, compression, and elevation. These are all factors which have been shown to help alleviate pain.
Leg sleeves fall in perfectly within the compression variable. That's in fact, what they were designed for – to compress the legs.
In some instances, the compression from leg sleeves can help to alleviate knee pain. As always, there are several variables here (extent of the injury, type of injury, etc.), but many people do report decreased knee pain and better knee function by regularly wearing leg sleeves.
Can leg sleeves help your knees? That depends, but it may be worth a try…
Is it Okay to Wear a Leg Sleeve to Bed?
You should not wear leg sleeves to bed. Here's why:
Throughout the course of the day leg sleeves tend to shift around. They catch on clothing, rub against furniture legs, and just move about because of muscle movement. That's all fine and dandy during the daytime when you're wide awake and can make necessary adjustments as needed, but it's a different story at night.
When you wear compression leg sleeves at night, there is a good chance that the leg sleeve could roll or shift throughout the course of the night. Sheets cause friction, people roll over, and constant adjustments of position cause the sleeve to bunch.
Bunching can result in one wearing less of a leg sleeve and more of a tourniquet. This can end up causing more harm than good. While pain and numbness follow with tourniquet use, if you're asleep (particularly in a drug-assisted sleep) then the chance that one is going to feel this pain and numbness becomes very slim.
After several hours without proper blood flow, a leg or foot can easily experience catastrophic damage. Human cells need nutrients to stay alive. In a sense, they breathe just as we do. They need oxygen to come in and for waste products to go out. A tourniquet inhibits this process completely.
In addition, there's often little to no reason to wear leg compressions at night either (unless, of course, the doctor prescribes such for you). Arguably, most users of compression leg sleeves do so to assist with blood flow.
If you're spending long periods of time standing or sitting in one spot, this is beneficial. Blood will tend to pool in the legs and feet, and this can lead to potential health issues. Compression sleeves help to fight against gravity by squeezing blood black up to the heart.
If you're lying flat on a mattress, the veins don't have to fight against gravity to get the blood up to where it needs to go. As a result, there is little to no risk of the blood pooling, and thus, leg sleeves aren't necessary.
Wrapping It Up
Leg sleeves can truly offer a host of benefits, but they aren't for everybody. If interested in whether these may be an appropriate means of pain and swelling reduction as well as decreasing one's risk of developing blood clots, be sure to ask your doctor as to whether or not these may be an appropriate means of prevention for your specific case.
If given the go-ahead by the doctor though, check out the following links above. These are all products others have found beneficial, and there's a good chance you may as well. But what are your thoughts? Are there particular leg sleeves on the market you've found better than others? What has been your experience with leg sleeves? Let us know in the comments below!
---