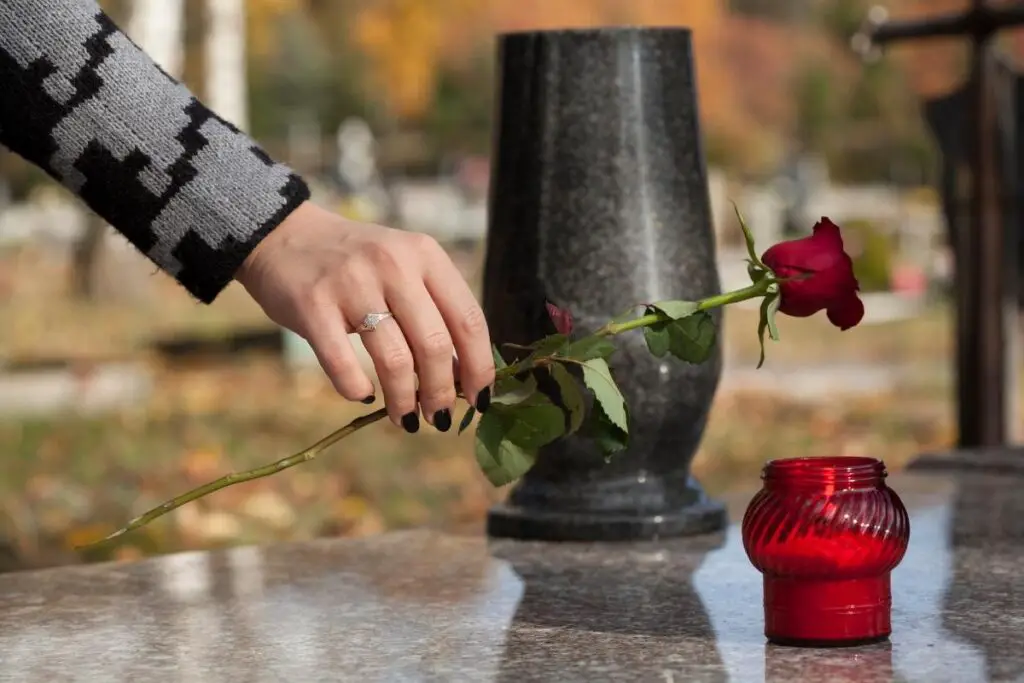 This topic covers two types of anniversaries for the widow, the anniversary of the actual date of the death, and the anniversary the couple may have enjoyed if the partner was still alive. The latter, saying happy anniversary in heaven, can be recognized in similar ways.
Comforting a widower can be a real challenge. This article is not just for the spouse of the deceased, but also for family and friends looking to lend a hand to someone who is still grieving their loss.
Barsy
Few things are more painful than the anniversary of the death of a loved one. They even have a name for it – barsy. That simple, little word means the opposite of birthday. It is a death day, a day of remembrance, especially in Eastern cultures.
It's a long year filled with too many "firsts." That first Christmas, Birthday, Wedding Anniversary alone… and many others. Each special "first" occasion will bring up memories of the two of you and turn into a day of sadness. Getting through special days alone can be painful. But get them we must. We survived the loss, the funeral, and the initial pain. Now, we need to survive the memories.
This year is a different journey for everyone. But each step taken, each day survived, enables us to rebuild our inner strength. Time is its own unique healer. It helps us persevere. Grief can be survived, but it won't disappear. That first anniversary of death will likely see an intensifying of grief as it is a vivid reminder of what we have lost. It's not just the beloved person that is lost, but what he or she represented – the warmth, laughter, and the love that was shared.
It is a good idea to be prepared and plan for this all-important day – this barsy. According to the Mayo Clinic, grief can be haphazard. Feelings come and go. However, they are almost certain to surface on the anniversary of death and bring on anger, depression, and anxiety. That is perfectly normal and ignoring the day won't make it go away. That is why the Mayo Clinic states that it is important to plan ahead.
It helps to have something to do on the death anniversary, whether you get together with friends or are alone. People can use their imagination and prepare to have a good day. Have dinner with family and friends in the deceased one's memory. Take a trip to a place that was special for both of you. Or do something special for yourself. Self-care is a critical part of healing. Have a massage or a manicure. Buy something just because you feel like it.
Consciously remember the good times you had as a couple. It may help to keep these happy memories in a journal – with photos. This will not only keep the happy times alive, but it will also help heal the grieving. Letting go of grief does not mean that you loved the deceased less. It means that you are using his or her love to carry you through the rough parts of the journey.
Recognizing the Event
A barsy shouldn't simply be ignored. Emotionally and spiritually, it is a major event. Many people wonder about the best way to recognize Remembrance Day when a friend or family member is facing the anniversary of the loss. It doesn't seem the type of day for cake and balloons, but there are few rules for guidance. What to do for or say to someone experiencing a death anniversary?
Words aren't always easy, and it may be tempting to ignore the event. What should you say on a death anniversary? It makes for complex navigation. Do you stir up painful memories by acknowledging the day, or do you remain silent and hope for the best?
There are actually a number of ways to be there for someone who is having a death anniversary and to show them your support, love, and caring.
It is best to keep it simple, such as "I am thinking about you," or share a remembrance involving the decease, "Remember when [deceased] fell into the pool at his boss' house?" It is perfectly appropriate to share a laugh.
If you aren't in frequent contact with the survivor, a sympathy card will likely be fondly appreciated.
Make a phone call just to chat and reminisce.
Share any memento, picture, or, again, a casual memory – "I just finished reading that book that [deceased] loved so much. I now see why he/she enjoyed it."
Sharing a photo album or a video of the deceased can evoke sweet memories. These memories will always exist, and they are best shared.
What Not to do on a Memorial Anniversary
Humor can have healing powers, but making inappropriate jokes, especially about the deceased, should not happen.
Don't ignore the day and pretend nothing is different. While it may be difficult to know what to say or how to act, indifference shouldn't be an option. A simple, "This is a hard day," can cover a lot of territory.
This is not the day to talk about yourself. This is a day to be more listener than talker. Frankly, while your feelings matter as much as anyone's, this is not the time to complain.
Avoid getting overly personal. Do not bring up finances or a will.
Do You Still Say Happy Anniversary to Someone in Heaven
The relevance of a wishing a widow happy anniversary is a debated subject, rightly so. It is perfectly proper to wish the survivor a happy anniversary, but it should be stated simply. For example, "This would have been your and [deceased] anniversary. I wish you well." A present is a lovely and thoughtful touch – something like a plant, a meaningful photograph, etc.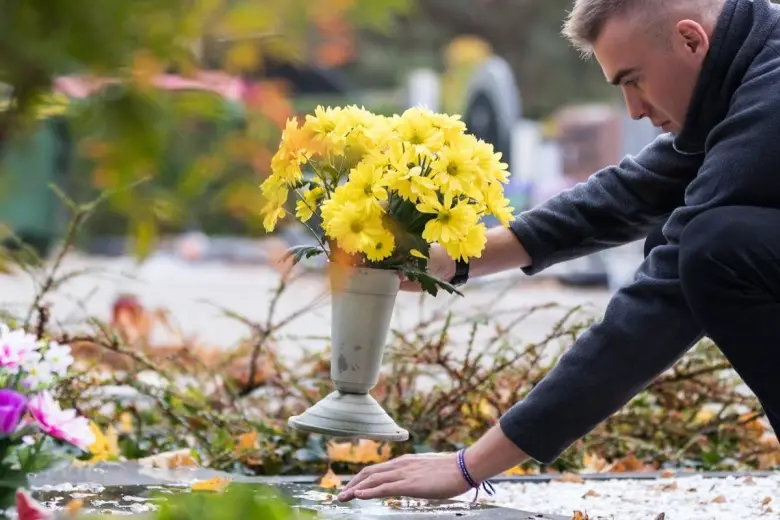 Recognizing Death Anniversaries
Death anniversaries are a time to honor a loved one, even if he or she is no longer with you. The memories, what he or she meant to you, and the difference he or she made in your life are still alive. This special impact should be honored on Remembrance Day. And that first anniversary can be especially painful.
But it isn't pain that is being celebrated. It is the connection to the beloved deceased, which will always exist, even if the survivor has found a new relationship. Remembering is a part of dealing with the grief. Memories will include the good times, funny moments, and special occasions which will diminish the pain.
Here are several ways to celebrate and say Happy Anniversary to a deceased:
Visit the gravesite and have a picnic with a few close friends, a bottle of wine, and special treats. Bring flowers and let the good memories roll.
Write a letter sharing your thoughts with your lost love. It can be like having a private chat. Talk about the highs ("Had such a great time at Laurie's birthday party. Wish you had been there.") and the lows ("Some days, I miss you so much, it's unbearable."). Such a letter can be saved or tossed. It's the writing and sharing that is cathartic and important.
Flipping through photograph albums and videos is another way to be together in spirit. The survivor can invite friends and share this with others.
Everyone has a favorite song. Or an "our" song. The first anniversary of death is an appropriate time to play and listen to the deceased's favorite tunes. If others are present, this can turn into a singalong.
It is a time-honored tradition to prepare someone's favorite meal on his or her birthday. That standard still holds for barsy. Set a nice table filled with the loved ones' favorite dishes. Imagine him or her relishing every bite. Or visit his or her favorite restaurant. Sharing a favorite meal is an important part of bonding when alive – as it can be in death.
A Remembrance Day can be a solemn occasion – so turn it into a party, with friends, music, dancing, and food. Make the occasion a cause for laughter.
It is possible to have a Remembrance Day while away from home. This is a good time to enjoy a trip. The destination doesn't really matter. What is important is making new remembrances and enjoy new activities. It's a great time for moving outside your comfort zone and trying some new – skydiving, snorkeling, etc. If there is family that you haven't seen for a while, reconnect with them now.
Nature, or the great outdoors, is known for its tremendous healing powers on the spirit. There are probably several reasons for that. Being with nature usually includes healing time alone, away from annoying and stressful distractions. Of course, nature itself, in all its beauty, can be tremendously awe-inspiring. Whether it is strolling along a beach to the sound of flapping waves or hiking through a forest, fresh air and sunshine have a remarkable possible effect. Marine Biologist Wallace Nichols, whose book Blue Mind likens water to medicine, has stated that "seeing water can promote wellness and relaxation by inducing a flood of neurochemicals that increase the flow of blood to the brain and heart."
Conclusion
Remembrance Day, or death anniversaries, are inevitable. Every person reacts differently, and that is perfectly fine. Perhaps the only wrong reaction is to ignore barsy. It is real, and it should be dealt with accordingly.
For the grieving widow or widower, recognizing the couples' personal anniversary can also be a struggle, but the methods of recognizing both types of death anniversaries can be similar or the same.