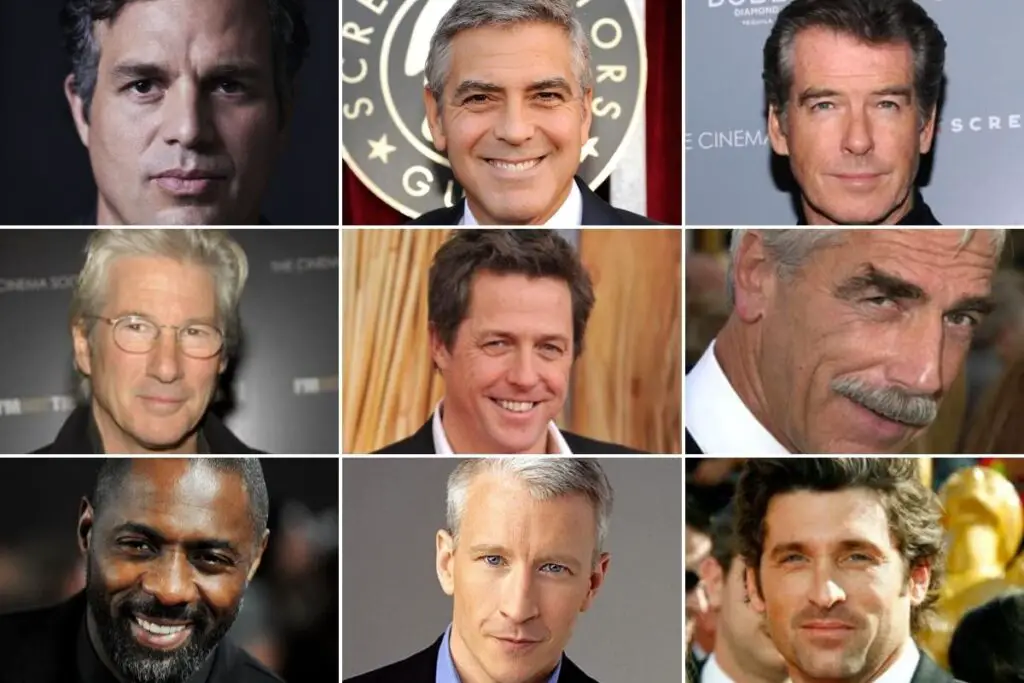 While many dread the first appearance of gray hairs, the physical features that typically come with old age aren't necessarily bad things. Gray hair is coming more into style each day, and age is one of the most sure-fire ways to get the coveted look. Even teenagers are paying hefty sums to achieve beautiful gray locks, which can only mean one thing: old age is definitely in style.
But if the fashion trends aren't enough to convince you, there are also plenty of real-world examples to prove that being attractive isn't synonymous with being young. There's a surplus of people who continue to be the epitome of attractiveness even as they age, and we've rounded up a few of our favorite Silver Fox Men to prove it.
What is a Silver Fox Man?
A 'Silver Fox' is a phrase used to describe attractive, gray-haired men. When someone is referred to as a fox, it typically means that person is smooth, clever, and attractive. But when 'silver' is added to the phrase, it means that smooth, clever, and attractive person is also rocking the old age look. 'Silver fox' is a compliment, similar to hunk or bombshell, but it's exclusive to the people who have aged enough to earn the right to that title.
The phrase 'silver fox' isn't specific to one look, either. If a man is starting to get some gray in his beard or facial hair, that's considered silver fox territory. The classic salt-and-pepper look is a crowd favorite, despite the ages that typically go along with the look. And, of course, men who have gone gray all over are definitely silver foxes, yet they are still considered attractive by the masses. Overall, the silver fox continues to woo the people around him despite the number of years behind his face.
11 Most Attractive Silver Fox Men
George Clooney
George Clooney is known for being one of the most popular actors and filmmakers, famously appearing in projects such as ER, Ocean's Eleven, and Up in the Air. And because he's been in the spotlight since the early 90s, we've gotten to watch Mr. Clooney become even more attractive with age. It started with a gray beard to contrast his dark hair, but over time George Clooney has gone entirely gray. But despite the change in his appearance, he continues to be one of the first people we think of when someone asks us about celebrity crushes. Silver fox status achieved.
Steve Harvey
With his youthful energy and large personality, you'd never guess that Steve Harvey, host of shows such as The Steve Harvey Show and Family Feud, is in his mid-60s! But even as he's gotten into old age, Steve has never let feeling old get in the way of looking good. He's recently been debuting some new fashion styles, and he even met with a group called the Silver Fox Squad on his show to discuss aging and the power that comes along with it. Although many fear gray hair or lack of hair in general, Steve Harvey has proven once again that age is just a number.
Pierce Brosnan
Pierce Brosnan is another actor and producer who has become synonymous with being attractive. Thanks to his seven-year gig playing James Bond in the Bond film series, he's solidified himself as an international heartthrob for generations of people. And although he's nearly 70 (I know, we're shocked, too), he still looks as good as ever. His gray hair only accentuates his mischievous eyes and genuine smile, and we're sure that he will continue to get better with age.
Richard Gere
Although his role in American Gigolo earned him the title of American Sex Symbol all the way back in 1980, Richard Gere continues to woo audiences to this day. His dark hair has significantly lightened over the years to a gray-white, but his charisma and attractiveness have only improved with time. And even though he could technically retire, Richard Gere continues to appear in blockbuster films and TV series to show everyone why he's still considered one of the best in Hollywood.
Anderson Cooper
At 55 years old, Anderson Cooper is one of the latest household name to enter the silver fox club. Known for his work in broadcast journalism and political commentary and for being the most prominent openly gay journalist on American television, he definitely has a face for TV, even as he ages. With modeling credits aging all the way back to infanthood, Anderson Cooper has proven time and time again that age can never get in the way of success.
Hugh Grant
Hugh Grant has been in the spotlight for four decades, yet his sex appeal has never wavered even for a single second. Between his 70+ acting credits and countless other projects, he's still considered one of the most attractive men in Hollywood despite his growing age and graying hair. And even though he's now in his 60s, he continues to star in various projects, and his face alone is guaranteed to get a sizable crowd excited and through the doors.
John Slattery
Best known for his prominent role in AMC's critically acclaimed drama Mad Men, John Slattery is an actor who's been recognized as a silver fox for most of his career. Even in his roles in the Marvel Cinematic Universe, he rocks striking white hair and facial hair to match. But his charisma and tenacity often make people forget that he's officially in his 60s, and he continues to capture the hearts of millions of people who watch him act. If this is old age, we can't wait to see what else John Slattery has in store!
Sam Elliott
Sam Elliott began his film career in the 60s, before many of his fans were even born, and yet he's continued to be a Hollywood favorite in households across the country. From early projects such as Lifeguard all the way to the most recent remake of A Star is Born, he has always given performances his all and looked great while doing it. Both his luscious white hair along with his signature white mustache have helped him secure his spot as a silver fox.
Patrick Dempsey
Although many still think of him as young and hunky despite his salt-and-pepper look, Patrick Dempsey is officially old enough to be considered a silver fox. Best known for portraying Derek "McDreamy" Shepherd in Gray's Anatomy, he's stolen the hearts of people from all over the world throughout the years. But as he gets into his late 50s, the gray in his hair and beard has become much more prominent; however, that hasn't stopped him from still being considered attractive by fans of all ages. If this is what old age could have in store, birthdays don't seem so scary anymore.
Idris Elba
Idris Elba is one of our favorite up-and-coming silver foxes. Known for his roles in The Wire and Mandela: Long Walk to Freedom along with his DJ and singing careers, he is one of the most talented stars in the spotlight. And although he just recently entered his 50s, gray hairs have begun to appear in his facial hair. We're excited to see Idris Elba continue to excel in new projects and get even more attractive with age.
Mark Ruffalo
As both an EGOT nominee and a household name, Mark Ruffalo can also officially call himself a silver fox. He's known for playing prominent roles in projects such as 13 Going on 30 and several Marvel movies, but both his looks and talent have also made him a very common celebrity crush. And with the gradual addition of streaks of gray in his black hair, he's just another piece of evidence that getting older can also mean getting even more attractive.
Can Silver Foxes be Women?
Technically, an attractive woman with gray hair should be called a silver vixen. If men can rock old age, then there's no reason why women can't do the same! Although women are more likely to want to dye their gray hair, many women continue to sport the salt-and-pepper or fully gray look. Gray hair doesn't just mean a woman has reached a certain age; it can also show that the woman has lived a long life and has the wisdom to show it.
There's a huge stigma against women with gray hair, but that's slowly but surely changing. As we mentioned earlier, gray hair is actually in style, especially in younger generations. Whether long or short, gray hair is actually a luxury that older folks don't have to shell out an entire paycheck at the salon to achieve. And with people younger and younger rocking the silver locks – whether naturally or artificially – gray hair is no longer seen as an exclusively old feature.
Summary
The fact that the phrase 'silver fox' exists at all means that people still find men attractive – and sometimes even more attractive! – even as they get into old age. Some of the most attractive celebrities of our time are now considered silver foxes, and they are loved by millions just the same. And although all of the silver foxes we've talked about are celebrities, silver foxes aren't exclusive to stars – they're everyday people as well.
If you've been self-conscious about your appearance changing with age, just take a look at all of the heartthrobs we know and love despite their gray hair. And the key to rocking old age like all of these people is simple: wear your age with confidence. With the right attitude toward the natural progression of the human body, there's a chace you could be the next person to make our list of the most attractive silver fox men.