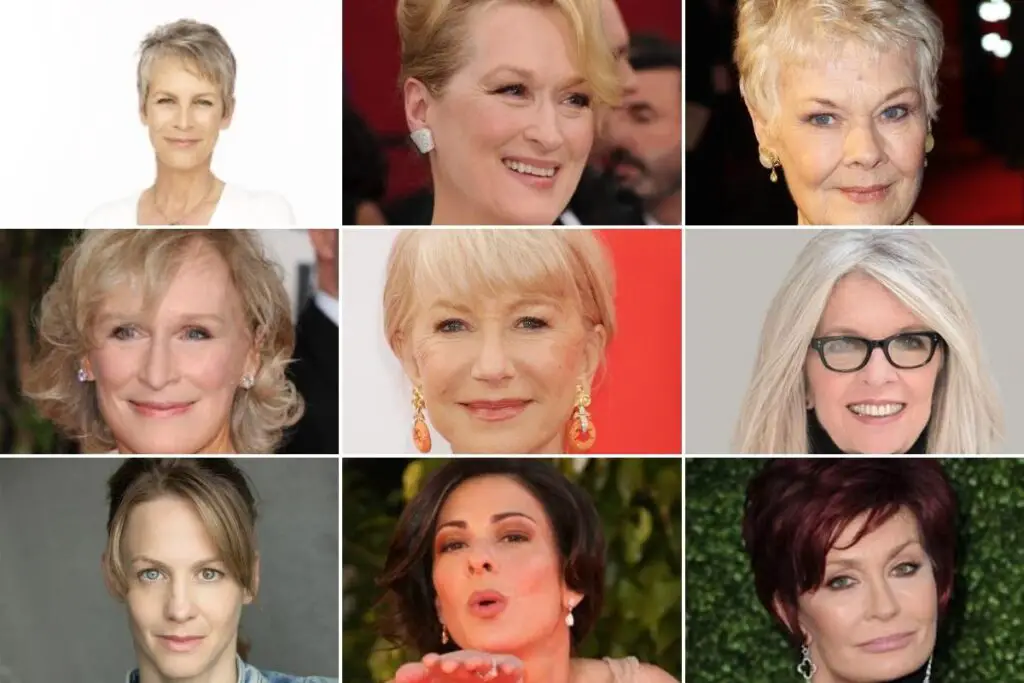 Silver fox women, or more accurately described as silver vixens, are finally gaining notice. While gray-haired women are not as commonly referenced as their male counterpart, silver fox men, appreciation is growing for older women who are aging well.
There's been an unfortunate stigma surrounding women with gray hair for as long as we can remember, but that's finally starting to change. People are beginning to embrace their gray hair as they reach old age, and they look great while doing it. This trend has even caused younger people to start artificially dying their hair gray, solidifying the silver fox look as "in style".
Gray hair happens as a result of the pigment cells in hair dying over time. It's a common symptom of aging, but it can occur to people in their twenties or even earlier. And although gray-haired men have begun to gain popularity in recent years, there are many women who are also sporting gray hair and couldn't look any better. In fact, old age looks so great on women that the label of "silver fox" is now used to describe them as well.
What is a Silver Fox Woman?
"Silver fox" was a term originally coined to describe men who were embracing gray hair and old age while still looking great. "Silver" refers to the gray hair that comes with age, while using the term "fox" to describe a person typically means they're clever, smooth, and attractive. This could be someone with some gray, a salt-and-pepper look, or fully gray. And although the phrase is still most commonly used for graying men, women have been gradually adopting the term as well.
Silver fox women, also known as "silver vixens", have grown in popularity in recent years. As more and more celebrities have adopted this exclusive label, women all over the world have chosen to let their natural gray hair show. Women have found products and hairstyles that compliment and accentuate their gray hair.  And because gray hair is now seen as chic and stylish, the days of feeling pressured to use hair dye as you age may almost be behind us.
11 Silver Fox Women Rocking Old Age
Jamie Lee Curtis
Since her first major role in the late 70s on the ABC sitcom Operation Petticoat, Jamie Lee Curtis has been one of the most prominent women in films and television. As a result, we've gotten to see her gracefully age in real-time. And although she takes on many different characters and looks in her various roles, one thing remains: she always looks great. In recent years, she's embraced her silver hair and signature pixie cut, securing her label as a silver fox woman.
Andie MacDowell
Starting with her 1984 role in Greystoke: The Legend of Tarzan, Lord of the Apes, Andie MacDowell has done everything from film to television to modeling. But in recent years, the world has seen her make the switch from her signature brown curls to a beautiful gray, making her a silver fox. But this hasn't stopped her from continuing to be the spokesperson for L'Oréal or turning heads at Paris Fashion Week. In fact, she says that embracing her natural gray hair has made her feel more powerful – and we couldn't agree more!
Stacy London
Best known for her work as a stylist, fashion consultant, and co-hosting the reality program What Not to Wear, Stacy London has made quite a name for herself in the world of fashion. So it only makes sense that she would know what works best for her own look – including her natural salt-and-pepper hair! Although she hasn't yet gone fully gray, Stacy London has made it clear that she's embracing the change and looking great while doing it, making her the perfect addition to our list of silver fox women.
Glenn Close
Glenn Close has both won and been nominated for awards for her acting in films and television along with her work on Broadway. And although much of her career has been spent performing in front of millions of people, she's been rocking her natural gray hair for as long as it's been around. With a chic pixie cut to accentuate the color, Glenn Close is the perfect example of a silver fox woman who is a vixen.
Judi Dench
Even as she gets into her late 80s, Judi Dench is still regarded as one of England's best actors. Starting with her professional debut in 1957 at a theater company in London, Judi Dench has starred in various productions over the past few decades, racking up eight Academy Award nominations and one win for Best Actress in a Supporting Role. But even as she's aged, she's never let that get in the way of looking fabulous. Her signature gray pixie cut makes her a prime candidate for the silver vixen label.
Helen Mirren
With acting credits spanning over decades and major awards from several countries, Helen Mirren is considered one of the best in the biz, even as she nears 80 years old. And in the same way her age hasn't stopped her from giving incredible performances, it also hasn't stopped her looking great while doing it. Although her blonde hair has gone white over the years, she embraces the look just as well, securing her a spot on our list of silver fox women.
Diane Keaton
Whether you know her from her early days on Broadway, her work on The Godfather, or any of her other various roles, you've definitely seen (and loved) a Diane Keaton performance at least once. And since she's been in the public eye since the late 60s, we've gotten to see her graceful transition into old age right before our very eyes. And despite her long gray locks, you'd never know she was nearing 80 years old. Her continuous beauty as she ages definitely makes her a silver fox woman.
Alexandra Grant
Alexandra Grant is best known for being a visual artist, focused on creating art in various mediums featuring written text. As an artist, Alexandra Grant understands style and color, which is why she chooses to embrace her natural gray hair, even though she's just now approaching 50. Often pictured on the red carpet next to her long-term boyfriend Keanu Reeves, her stylish look and beautiful silver hair definitely classifies her as a silver vixen.
Meryl Streep
Often described as "the best actress of her generation", Meryl Streep continues to impress audiences and look great while doing it. From her first major performance in the Tony Award nominated production of Trelawny of the Wells to the 2008 jukebox rom-com Mama Mia!, her talent and influence is indisputable. And although she's been sporting her natural grays for several years now, she's still considered one of the best looking celebrities to date. Her status as a silver fox woman is just as obvious as the talent that brought her fame.
Allison Janney
Known for her roles in films such as The Help, Juno, and Hairspray – and with more than 140 credits on IMDB in total – Allison Janney is now also the most recent celebrity to embrace her natural gray hair. Whether it's in a perfect pixie cut or a classic bob, her new look suits her and shows everyone that she is a talented, intelligent woman who's been around awhile and knows exactly what she's doing – so of course she's the perfect addition to our list of silver fox women.
Sharon Osbourne
Although you may know Sharon Osbourne by her signature strikingly-red hair, she's recently stopped her hair color appointments and gone silver. As a television personality, manager, and author – and also being married to one of the most famous people in the music business – she's used to being in the spotlight and always looks great while doing it. And although the red hair is in the past, she still wears her gray with the same level of confidence, making her the epitome of silver fox women.
Silver Foxes – Not Just for Men
Despite the fact that people often find men with gray hair even more attractive than their younger, non-gray counterparts, many women still feel like their own gray hair just makes them look old. However, other people often regard women with gray hair as intelligent, powerful, and even sexy. And because gray-haired women are now being labeled as silver foxes or silver vixens, women can feel more comfortable letting their natural hair grow out without trying to hide or cover it.
Gray hair isn't just in style for men anymore! Even though there's sometimes, unfortunately, still a stigma associated with gray-haired women, these silver vixens are breaking down barriers and showing the world that beauty and aging aren't mutually exclusive. Although going gray is almost always inevitable, feeling old doesn't have to be. With the right amount of confidence, anyone can look great while sporting their natural color.
Summary
Gray hair is a natural part of the aging process, but we've all seen people who bring a youthful energy to the look. The silver fox women we've talked about so far are all celebrities, but everyday women with gray hair can just as well be vixens. And with gray hair being as in style as it is now, anyone can rock the color without worrying about being thought of as old. In fact, there's evidence that people don't even consider whether or not a woman has gray hair when deciding whether or not she's attractive.
If you're beginning to see the first signs of gray hair – or if you've already gone fully gray – don't let that dwindle your confidence. As you can see, there are tons of women who have embraced their silver fox status and still are considered some of the most beautiful people in the world. If you're ready to join the silver vixen club, keep in mind that gray hair has a slightly different texture than pigmented hair, so take some time to research ways to care for your new hair color. And once you're ready to debut your new look, wear it with confidence – and maybe you'll end up being the next person on our silver vixens list!