Shower standing handles can improve the safety of anyone who needs physical support to stand or move in a shower or tub. The added benefit of a handle for stability and to pull or push on to ambulate can result in lower odds of falling or slipping in a shower where the floor is wet and dangerous. A shower handle, when properly installed can prevent slips, prevent injury, and ensure peace of mind. These are useful aids for anyone with disabilities or older adults who are losing physical strength and balance.
As we grow older small chores that we used to carry out without a thought, start becoming a challenge. Some of these chores can become downright dangerous as we age. Taking a bath or shower is one such chore. According to a study carried out by the CDC, of the non-fatal bathroom injury cases documented in 2008, 81.1% were caused by falls in the bathroom with more injuries occurring in older adults.
37.3% of injuries occurred while bathing, showering, or getting out of the tub or shower. There are many steps you can take to prevent injuries and falls in the bathroom. Non-slip bath mats are a good start as are non-slip shower shoes. Another very useful addition to your bathroom is to install shower grab bars or shower standing rails into your shower or bath to prevent slipping.
That's what we're covering in this article: how to select the right shower standing handle or shower grab bar and some video instruction on how to install them.
Choosing the Correct Shower Standing Handles
To be clear, a shower standing handle here is any type of shower handle that can be used to move from a seated to standing position. This could encompass wall mounted shower handles of different sizes depending on the size of the shower and the abilities/limits of the end user.
Handles of this type are also known as shower grab bars. While they can be used to slide from one seated position to another, where they're installed on the shower or bathroom wall really impacts how they're best used, and we'll be looking specifically at standing; i.e. moving from a seated position to a standing position versus moving from a seated position to a seated position for someone with limited mobility (wheelchair to shower chair, for example).
For the latter, something like a shower transfer bench combined with lower-level grab bars will work best. Similar principles apply to standing handles as they do to grab bars, however. This post should be of benefit to both intended uses.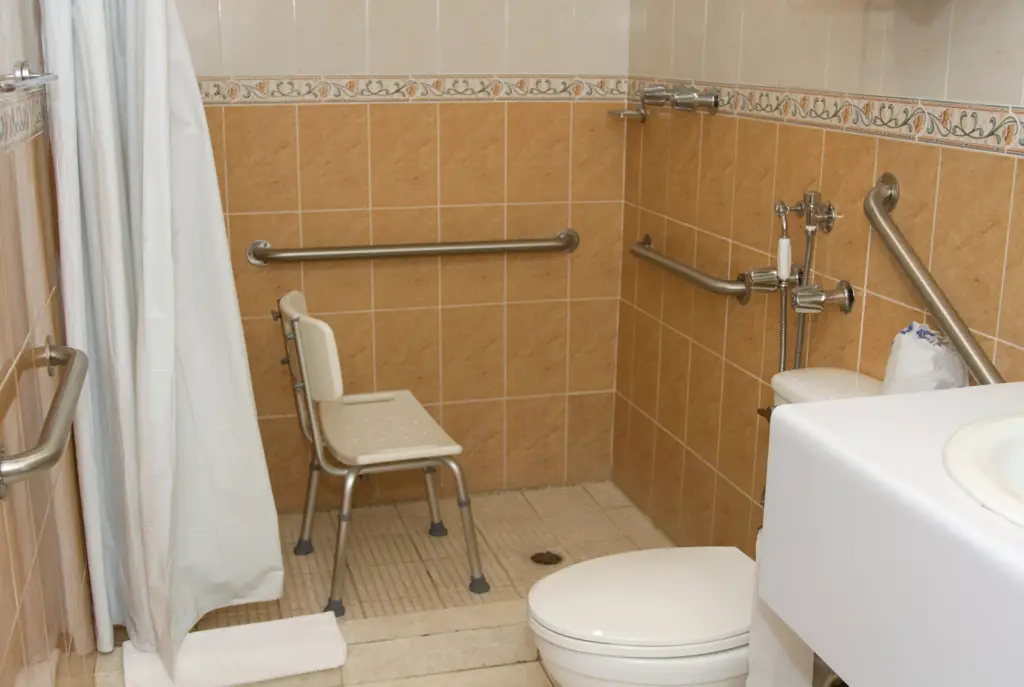 There are two main types of shower standing rails or grab bars: fixed and removable.  
Fixed rails are more secure and are thus safer. The disadvantage is that they take some effort to install and once they are in place it is a big job to move them to a different location if you have not put them in the perfect spot. You are also left with repairing the holes when they are removed.
Removable rails are not advisable if you going to need to support your full body as they rely on suction to grip they may not be secure and may not support your full weight. Their advantage is that they are easily relocated if need be and can be used when traveling.
| | Advantages | Disadvantages |
| --- | --- | --- |
| Fixed Shower Standing Handles | stronger, safer, and support more weight | requires installation and repair work when uninstalled |
| Removable Shower Standing Handles | no install necessary and portable | far less safe and possibly dangerous to someone relying on them for full support |
What Is the Best Size for a Shower Handle?
Shower handles or grab bars come in a range of sizes from 9 to 42 inches.
A grab bar that is installed on the shower wall to assist when getting into and out of the shower should be at least 24″ long.
A bar this this size can be placed at an angle, which is beneficial if people of different heights will be using it or if it will be used from both seated and standing positions.
Wall mounted standing bars that are intended more as a balance aid can be shorter, but not less than 12″ long.
What is the Correct Height for a Shower Handle?
There is no standard height for grab bars and shower rails. But the Americans with Disabilities Act (ADA) Standards for Accessible Design recommends certain heights which are followed by institutions and commercial facilities.
For horizontal grab bars, the ADA Standards require a height between 33 and 36 inches from the finished floor of the bathroom, shower or bath.
Use this as a guide, but it is more important that it is a comfortable height for the person who is going to use it. A good exercise to carry out before installing a bar is to get the person who is going to use the bar to step in and out of the shower. S/he should imagine that s/he is tired or dizzy and try to see where s/he would naturally reach out to for support. This should give you a good idea of where to place the bar correctly.
Should Grab Bars be Vertical or Horizontal?
According to the South Canterbury District Health Board, hand rails that will be used to aid security when stepping into and out of the shower should be vertical. The bottom of the grip should be at the height of your elbow when standing with your arms at your sides.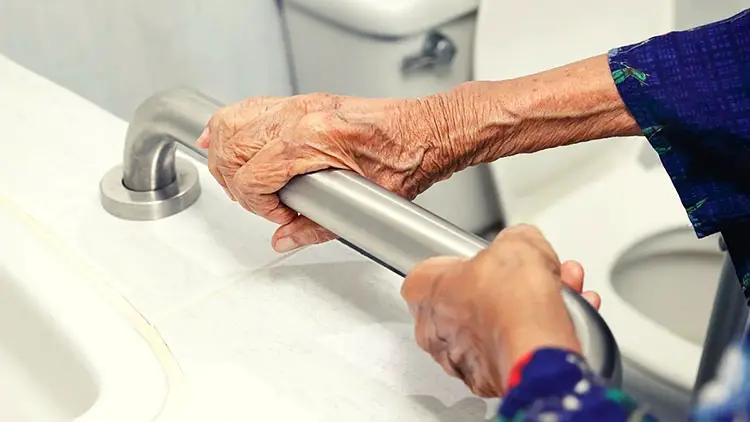 Horizontal rails are more useful for assisting with balance when standing in the shower. Horizontal rails should be placed on the same side as the shower wall at belly button height. This rail can be used when standing in the shower as well as when stepping into the shower.
How Much Will a Grab Bar Hold?
A shower grab bar should be able to hold 250 pounds of weight. Fixed grab bars that have been properly installed will do this. Removable grab bars are not guaranteed to hold this amount, as they are typically secured by suction cups and cannot hold as much weight.
When choosing a grab bar it is best to choose one that is ADA compliant. The ADA requires grab bars to be able to support a weight of 500 pounds. You will need to assess if this is necessary according to the person who will be using it.
6 Permanent Shower Handles
Permanent shower grab bars are a much safer shower handle option than removable ones with suction cups but they do take more effort to install.
Moen 24″ Bathroom Handle
Sale
The Moen 24 Inch Bathroom Handle is stylish and high quality. It is made of stainless steel and thus should match the décor of most bathrooms. Concealed screws ensure a chic look. Installed correctly, it will hold a weight of up to 500 pounds. It is fitted with the SecureMount design but studs and SecureMounts are not included.
---
Invisia Grab Bars – Great for Tubs
Invisia makes higher-end (and thus more costly) shower handles. This is one of their specialties, so they do it well, which means they're not just durable but the look nice as well. If you need a shower handle that can accommodate tub use as well, they make some that go around the faucet control, around the soap dish, and also make one with a toilet paper holder for getting on/off the toilet more easily.
INVISIA Accent Ring 13", ADA Compliant Circular Grab Bar for Bath and Shower Safety, Water Resistant, Designer Premium Grab Bar for Adults, Seniors & Handicapped- Up to 500Lbs (Polished Chrome)
ELEGANCE AND STRENGTH UNITE: Experience the perfect union of style, functionality, and safety with the Invisia Accent Ring. This exquisite accessory not only adds a touch of luxury to your space but also offers uncompromising security without sacrificing the aesthetics of your bathroom. Crafted for both function and aesthetics, the Invisia Accent Ring is designed to harmonize with your bathroom decor.
LUXURY AT YOUR FINGERTIPS: The Invisia Accent Ring redefines the concept of bathroom safety. It's a discreet rail that you can rely on in wet and slippery conditions. The ideal blend of beauty and function, this grab bar ensures your well-being in style.This innovative design is the perfect solution for those who desire a blend of style, support, and luxury, all in one discreet package.
These are $200+ plus grab bars, but if design and appearance are of greater concern to you than the price, Invisia's products might be the best choice for you.
---
Moen's Flip-Up Bathroom Grab Bar
Sale
Moen's Flip-Up Bathroom Grab Bar is ideal for a home where people of mixed ages are sharing a bathroom. The bar can easily be flipped away when not needed and is ready in a flash for anyone who does need it. It is ADA compliant and supports up to 300 pounds. It is 30 inches long and has a diameter of 1.25 inches.
---
Gotega Two Pack Shower Grab Bar
Sale
2 Pack Shower Grab Bar, Stainless Steel Bathroom Grab Bar, Shower Handle Bath Handle, Safety Bars for Shower Chair Bench, Grab Bars Senior, Elderly, Handicap(12 Inch)
304 Stainless Steel Shower Handle- the material of the shower bar is 304 stainless steel, so there is no doubt about its firmness and safety. Shower handles can support up to 500lbs. 304 stainless steel handrail is durable and corrosion resistance. Please feel free to use our premium bathroom grab bars to make each bathroom safer for your family.
Multipurpose Sturdy Design - the shower handles can not only be used as bathtubs and showers to protect your safety, but also put your towels, clothes, etc. Grab bars for bathroom- grab bars can provide good support for families in bathtubs, showers, bathrooms and other indoor locations to minimize the risk of slipping and falling. Grab bars for bathtubs and showers.
The Gotega Two Pack Shower Grab Bar is ideal if you are setting a bathroom up for an elderly person and will be needing quite a few support handles. Both bars are 12 inches long and have a diameter of .98 inches. The stainless steel bars can hold a weight of up to 500 pounds. Flanges and screws are included to make installation easy and convenient.
---
AquaChase Safety Grab Bar
The AquaChase Safety Grab Bar is one of the few bars with an anti-slip grip. The soft grip is made from odorless silastic which increases traction significantly, especially when wet. It comes in 12-, 16- and 24-inch lengths. It can support a weight of 500 pounds and is ADA compliant. It can be installed horizontally, vertically, or diagonally.
---
Curve Grab Bar by Stander
A bar of this size can be placed at an angle, which is beneficial if people of different heights will be using it or if it will be used from both seated and standing positions.
This is an exceptionally stable grab bar as well with various mounting points to the wall. Caregivers who need to help lift and stabilize someone will also find it useful because it's suitable for them to hold onto while transferring the individual. This brand also has options for a ceiling transfer pole, which as the name implies goes from floor to ceiling.
---
2 Removable Shower Handles
A removable shower standing handle is not as secure as a permanent shower standing handle and require more maintenance and checking that they are still secure. Despite the slightly higher risk, a detachable shower handle, or suction cup handles, can be installed in seconds and can be moved easily and quickly. Removable shower handles are ideal for traveling as they can be attached in seconds and removed when you leave. They are the perfect way to give you independence and secure your safety in any bathroom be it a hotel room or a guest room.
According to the South Canterbury District Health Board, no-drill or suction bars are not particularly safe. The safety of suction rails is dependent on four factors:
the type of wall surface suction cups are being attached to
the wetness/dryness of the wall, excess water is not helpful
regular safety checks to ensure suction
the amount of weight applied to the rail
If all these factors are not ideal the rail will not be safe.
Two Piece 12″ Grab Bar
The Two Piece 12 Inch Grab Bar Is ideal if you are setting up a bathroom for an elderly person and you need to quickly install a shower handle. The suction grip only works on a smooth, non-porous surface such as glass, dry tile or fiber glass and must not be placed over a grout line. The bar should be put in place before each use as the suction will lose its strength over time. It cannot support full body weight and is merely an aid.
---
Heinsy Suction Cup Portable Bathroom Shower Handle
HEINSY 17inch Suction Shower Grab Bar, Portable Shower Handle Bar Suction Grip Bar Bathtub Handle with Strong Hold Suction Cup Fitting and Rapid Release for Bathroom(Max Capacity :253lb)
【Portable & Reliable】Tool-free installation and easy disassembly make it perfect for storage and travel, while its sturdy construction provides a weight capacity of 253 lbs. The rail is easy to grip, even when wet, and is made of high-quality materials.
【Buying Guide】Prior to purchasing, consider that the grab bars can only be attached to flat, non-porous, and rigid surfaces that are steam-tight, clean, dry, and free from oil/grease. The mobile handles support natural movement, making them ideal for standing up. If installed on tiles, make sure the single tile is larger than 5"*5" and the suction cups avoid touching grout lines.
The Heinsy Suction Cup Portable Bathroom shower handle comes in 17 inch and 18.5 inch lengths. The tile thus need to be larger than 5×5 inches for the bar to fit securely as it cannot be mounted over a grout line. It can support a weight of 253 pounds when suction is at its optimum. It is recommended that you reapply the bar every week to ensure suction is working fully. Simply flip the latches down to engage suction and flip them up to release.
---
How to Install Shower Standing Handles: Mounting Options
Installation of these bars and handles is only required for permanent handles. Suction-type handles are self-explanatory. You simply create a seal with the suction cup, make sure it's secure, and you are ready to use it.
Fixed handles and bars require tools and at least some level of carpentry skills. Tools involved depend on the situation, but could involve:
power drill
level
stud finder
possibly a tile cutting device
This is in addition to the screws and mounting brackets that come with the handle itself.
Hiring Help
If you are not very good with your hands or don't have the correct tools, it would be a good idea to get a handyman or builder in to install the handles for you.
In some areas there are churches and other groups that volunteer to do such jobs for the elderly. For a time, before the program's money ran out, the Area Agency on Aging where I worked employed a handyman to go out into the community to help low-income elders with minor home improvement/repair projects. You could see if your area's Area Agency on Aging has such a service or if they know of someone that can help.
Do It Yourself
Most weight limit specifications are worked out with bars being installed in a stud or when using SecureMounts. Rails that have not been installed correctly will not hold the weight advertised.
So, it is important that you follow the manufacturer's instructions very carefully if you are installing the rail yourself. Most rails come with all the installation accessories such as screws and flanges, but it is advisable to read the fine print as some do not.
Generally, to install shower standing handles you need to:
locate studs in the wall
marking on the wall where to drill
pre-drill holes into the stud where the handle will be mounted
attach a SecureMount (or similar mount)
secure the handle as directed
This process can be seen in this video:
If you use silicone caulk, or other bonding/sealing substance, you should wait at least 12 hours before showering to allow the caulk to dry.
Attaching Shower Standing Handle to Tiled Walls
Shower handles can be attached to tiled walls, but for maximum support the bar should be attached to the studs inside the wall. You just need the correct drill bit to get through without cracking tiles in the process.
"Suction cups or temporary shower handles attach very well to most shower walls. They will only suction efficiently to surfaces that are smooth and non-porous making most tiles ideal. They should not be attached over a grout line so, depending on the size of the handle, tiles will need to be larger than either 4×4 inches or 5×5 inches.
The Importance of Correct Height Placement
Installing a shower standing handle at the correct height is paramount to ensure its effectiveness and accessibility. The standard shower valve and handle height may vary depending on the type of fixture. In a bathtub setting, the average shower valve height is approximately 28 inches, aligning with the required faucet height for comfortable bathing. Conversely, for a regular shower stall, the standard shower valve height is around 48 inches. It is advisable to install the valve and faucets at the same height within a shower stall, ensuring convenience and consistency.
Conclusion: Choosing the Right Shower Standing Handle
A shower handle come in two main types: fixed and detachable. A fixed shower handle can offer robust support and stability, allowing users to confidently lean on them if needed. They are securely attached to the bathroom wall, ensuring long-lasting reliability. On the other hand, detachable shower grab bars provide more flexibility, allowing for easy attachment and removal. While detachable handles offer convenience, they may not provide the same level of support as a fixed shower handle. Careful consideration should be given to the specific needs and preferences of individuals when choosing the appropriate shower handle.
By incorporating these comprehensive insights into shower handle installation, shower head types, and corresponding heights, you can ensure a safe and user-friendly bathroom environment. With the proper placement and selection of a shower handle, you can enhance the accessibility and stability of your bathroom, providing peace of mind for yourself and your loved ones. Remember to prioritize safety when making your choices, and enjoy a secure and enjoyable showering experience.
ABOUT THE AUTHOR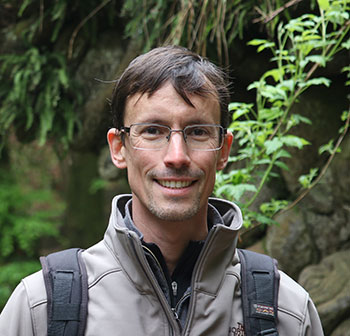 Derrick Grant began his professional career working as a social worker in a nursing home, helping residents and families navigate the world of long-term care. He then worked as the Social Services Manager at an area agency on aging where he oversaw Information and Referral and programs such as Alzheimer's Respite, Matter of Balance, and Meals on Wheels eligibility.
After that he became the Director of an Adult Day Care at an Alzheimer's care facility and served on the board of the Maine Adult Day Services Association. Derrick then went to work for the State of Maine as a Research Analyst at the Office of Elder Services. He now works as a Program Manager on Medicaid policy.