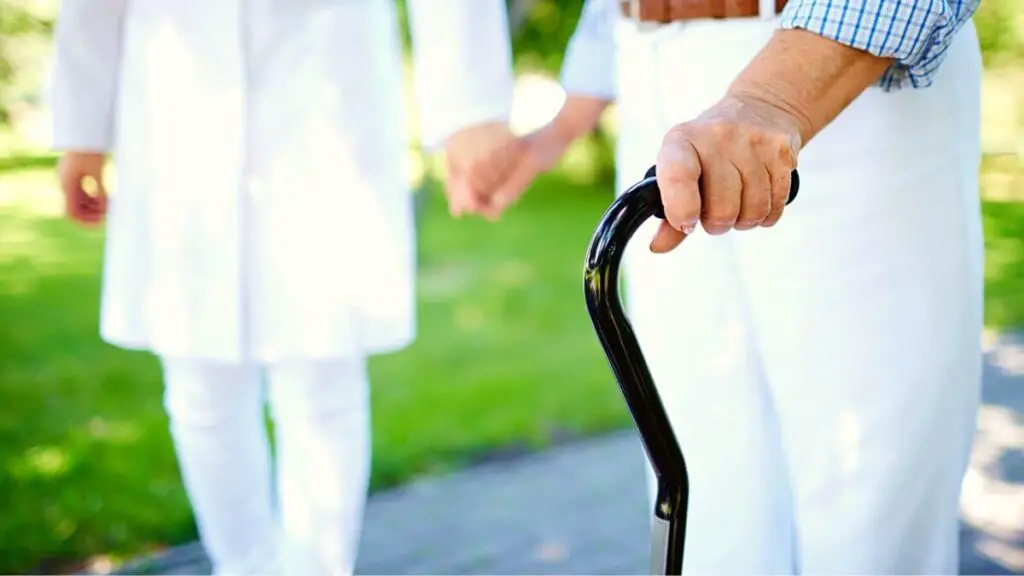 There are several reasons that people use canes, but 4-prong canes has several advantages over a traditional crook design that has caused these to be the most common cane design in use by seniors.
Quad canes (the other name for 4-prong canes) are widely touted for the increased stability they provide and their ability to stand solo without having to be leaned against, laid on, or hung over anything. Both factors serve to be a powerful drawing force for those who are in the market for a cane.
Let's delve into the details, though, as to why these canes are great options.
Why 4-Prong Canes are Beneficial
Any type of cane can be beneficial for somebody who is at an increased risk of falls. They provide a helpful support to keep people on their feet after surgery, assist people navigate uneven terrain, and can help to take some of the load off the joints of the legs.
In fact, there are studies that back these claims up. One study examined 260 people aged 60+ years old. Out of this study, 75% of the participants who fell were not using their cane or walker at the time of the fall. Fully 100% of those study participants who fell and consequently required surgery were not using their canes or walkers as well.
So, there are most certainly good reasons to carry a cane should it be necessary. Where 4-prong canes are superior to traditional canes, however, is that they permit the user to leave the cane standing where it is. There's no searching necessary for somewhere to hang the cane from or to lean it against, and as a result, there's less time spent picking up a cane that's decided to plop against the ground.
For the cane user who has recently had knee or back surgery, this is something to consider. The reason a cane is used is because there are mobility limitations present. Knowing this, it doesn't make much sense to use a cane that's liable to force the user to have to bend down to pick it up off the floor regularly.
The only downsides are that that 4-prong canes can take us a bit more space and may cost a bit more than traditional canes. If you need to tuck the can inside a tight vehicle, a traditional cane will fit more snug. More material in the 4 prongs also adds to production cost. Oh, and for anyone interested in canes as a self-defense tool, the traditional cane will serve that role better as well.
How to Choose the Best 4-Prong Cane
Choosing the best 4-prong cane is virtually the same as choosing the best "regular" cane.
Height
Let's begin with the most important factor: cane height.
All one must do to determine if a cane is the appropriate height or not is to stand up and then select a cane that comes up to the crease of your wrist. That's it. With a non-adjustable cane (e.g., a wooden cane), this may require a bit of shopping around to find the perfect fit. With an adjustable cane, all that needs to be done is to continue to adjust the height of the cane until you have a good fit.
Material
Another factor to consider with canes in general is the material. Some people prefer the look and feel of wooden canes. Aluminum canes don't look as unique as a hand-carved wooden cane, but they are ubiquitous, inexpensive, adjustable, lightweight, and provide plenty of support.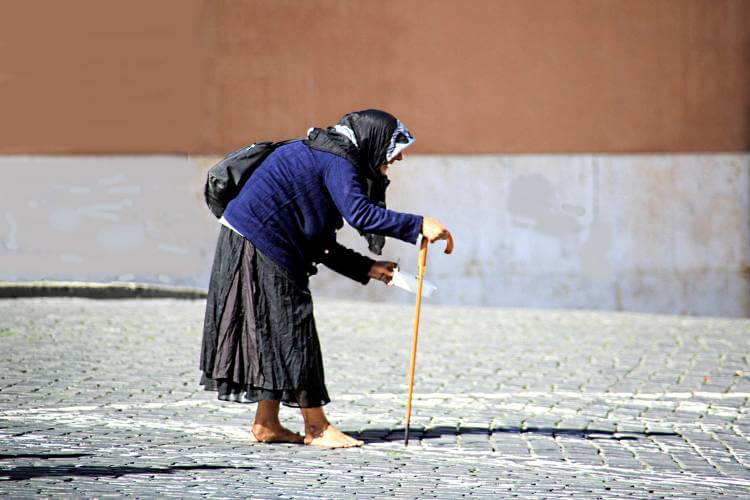 Even if you live in a cold environment, choosing a metal cane shouldn't be too much of an issue as virtually every single metal cane out there has either a polymer or a cushioned handle that won't get as cold as the rest of the cane will. That said, virtually every 4-prong cane out there is made out of aluminum, so there's no variety out there here.
But know that this is not a problem. Aluminum is a strong metal that can still safely support a cane user. Most walkers that are out on the market are crafted out of this metal, and as long as one sticks within the specified weight limits, an aluminum quad cane should support the user.
7 Solid Recommendations
If in the market for a quality quad cane, what are some of the best options out there? Here, you'll find our top seven picks for the 4-prong canes on the market:
1) Best No-Frills Quad Cane: RMS Quad Cane
If looking for a standard, no-frills 4-prong cane design, this is it. For all of $40, you have a black cane that will stand up of its own accord, can be used by either hand, and has anti-slip rubber tips to help ensure you not only have the best grip on the floor possible, but also helps to ensure you don't end up scratching up anybody's wooden floors.
Sale
The handle is offset, to help better distribute the weight of the user along the entire shaft of the cane, and contains a cushiony, padded grip for the hand to rest on. Made of aluminum, this cane only weighs 1.5 pounds, so carrying it about throughout the course of the day isn't going to be too strenuous for anybody.
Adjustable from 28"-37" in height, the RMS Quad Cane can support weights up to 250 pounds, meaning this cane has the goods necessary to support the majority of users out there.
2) Quad Cane with Best Color Options: Vive Quad Cane
For right around the same price as the RMS Quad Can, the Vive Quad Cane has virtually identical specifications, but with a few additional options that may be appreciated. For starters, there are four color options available here. Black, purple, brown, and blue are all potential choices here, so if the standard black of the RMS Quad Cane is something that was hoped to be avoided, the Vive Quad Cane provides a bit of variety.
The handle is ergonomically designed as well, with finger grooves that allow the fingers to nest in their own respective divots within the cushion. This handle design is ambidextrous as well, so whether a southpaw or normal, this cane can still be used. A wrist strap is present to better ensure that the cane stays upright while in use and doesn't end up falling out of reach to the ground should the cane slip out of the hand.
The cane is adjustable from 28-37", supports 250 pounds, and is crafted of aluminum. The result is a cane that weighs in at 1.5 pounds. And though it's doubtful one would ever experience a problem with this cane breaking, should that happen, Vive backs this cane with a lifetime guarantee.
All these combined makes for a top-notch product at a very affordable price.
3) Best Quad Cane for Getting Out of a Chair: HealthSmart Quad Cane
The most unique aspect of this cane is the handle. Shaped like a robotic 'S', this handle gives the user the ability to use both of their hands to push off the cane as they rise to a standing position. The handles possess a soft foam handle as well to make using this cane as comfortable as possible.
Sale
Only one color is available – black – but this cane adjusts in 1" increments from 29" all the way to 38". The cane is made of aluminum, weighing in at 1.8 pounds, and has the capacity to support up to a 250-pound individual.
All of these combined makes for a very unique and practical cane for right around $30.
4) Best "Chromed" Quad Cane: Carex Quad Cane
Perhaps the most "medical" looking cane on this list, the Carex Quad Cane is an aluminum design that looks like an aluminum design. For those whose cars are covered in chrome in need of a cane, this is it.
Sale
This cane is adjustable from 28" to 37", supports up to 250 pounds, and weighs a total of 1.95 pounds. An ambidextrous design, this cane has a rubberized handle that's perhaps not as comfortable as other handle designs out there (particularly for users who find themselves tending to lean heavily on their cane), but at right around $23, the price here is hard to beat.
5) Best Heavy-Duty Quad Cane: Hugo Adjustable Quad Cane
This author's favorite cane on the list, the Hugo Adjustable Quad Cane possesses just about everything one could want in a quad cane. The design is ambidextrous, with a distinctive 'K'-shaped base that can be rotated to accommodate whatever hand it is that is holding the cane.
Hugo Adjustable Quad Walking Cane, Rose
Adjustable Quad Cane: This small-base, adjustable walking cane for women and men provides lightweight yet ultra-stabilizing support that can accommodate most people between 5 feet and 6 feet 5 inches; cane is adjustable from 28 to 39 inches.
Quality Construction: Constructed of heavy-gauge anodized aluminum, our walking canes for men and women feature a stabilizing K-shaped base that can be rotated for left- or right-handed use
This is noteworthy because most quad canes come with a box base. This is typically fine, but occasionally, some users feel that the box gets in the way of their feet. The 'K' base avoids this malady as the straight bar in the 'K' is closer to the feet and the legs of the 'K' are flared out away from the body.
Three color options are available: rose, black, and "cocoa," so there are a few options to give a bit of variety here. This is easily one of the most heavy-duty canes on this list as well, capable of supporting 300 pounds. The cane can be adjusted from 28" to 39" and has a shock-absorbing ergonomic handle to help make the user's experience with this cane as pleasant as possible.
6) Best Quad Cane with a Small Base: Medline Quad Cane
A pricier option on this list (roughly $50), the Medline Quad Cane does have the advantage of a smaller sized base. While a larger base on a 4-prong cane does improve stability, it can also prove to be something of a hindrance as well. The base can find itself bumping into things, scuffing walls, and getting kicked.
Medline Quad Cane, Small Base, Supports up to 300 lbs, Black
Quad canes have 4 feet for greater weight-bearing, better traction and better stability on indoor and outdoor surfaces than single-point canes
Self-standing for easy access all the time with non-skid rubber tips on all four feet for added stability and ensure long life
For quad cane users who find this to be a regular problem, but who still want a quad cane design, the Medline Quad Cane may prove to be an acceptable alternative. Other than the small base, this is a standard 4-prong cane design, however. Made of aluminum, the color black, and with a rubber handle, this is a pretty low-frills design.
7) Best Quad Cane for Tall Users: BigAlex Quad Cane
If looking for an alternative to the Hugo Adjustable Quad Cane that can also support up to 300 pounds, then give the BigAlex Quad Cane a look. Available in black, brown, or pink, this cane is made of aluminum and is adjustable all the way up to 40".
The handle has an ergonomic, cushiony design, and a wrist strap to keep it handy perchance the handle slips out of the hand. Should the Hugo be out of stock, the BigAlex may prove to be a suitable alternative that will fit the bill nicely.
Safety Tips
The first thing about cane safety one needs to know is to look forward when walking when using a cane. Don't look at your feet. It's the same principle as riding a bike. What happens when you look at the pedals? The risk of falling increases.
To avoid that, strive to look straight ahead rather than down. If using one of these types of canes, be mindful of keeping the cane from swinging in the path of the next footstep. 'K' shaped designs and small bases can be helpful alternatives here to make for a safer design, but other users don't report any problems with a standard box base design.
Other than that, there aren't too many safety tips that are specific to a quad cane that don't also apply to a traditional crook cane design.
For advice on the proper way to walk with a cane, regardless of type, check out this link here.
Conclusion
If a cane is necessary, there are a few reasons that one may want to choose a quad cane rather than the traditional cane design. And out of all the 4-prong canes available, we believe that the above options are quality choices that will give one the support and confidence needed to go about one's daily business as safely as possible.
---