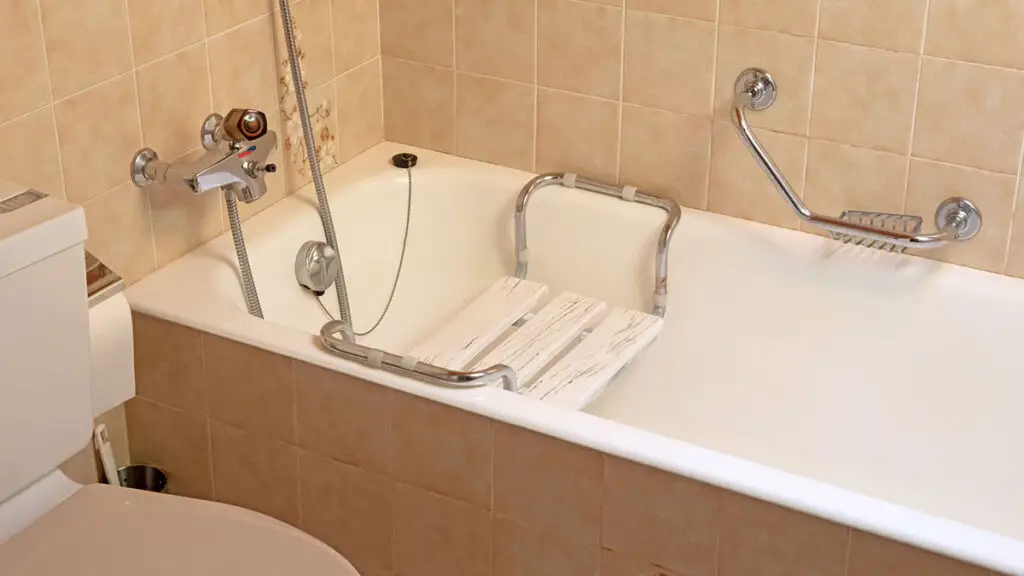 Although we don't often think about it until we need to, showers can become more difficult or even dangerous as we age or for people with disabilities. In fact, shower and tub injuries make up for more than 200 thousand injuries each year. Running water can pose a real threat to those more prone to slipping, and many individuals may not be able to get themselves back up in the event of a fall. Showering can also be difficult for those with limited mobility, as they may not be able to reach all of the areas they need to clean due to a lack of balance or flexibility.
Many senior citizens wish to maintain their independence as they age. However, approximately 17% of injurious falls for people over 65 occur in bathrooms, so taking the proper safety precautions is essential. In addition to transfer benches and shower shoes, one of the most important products to ensure showers are safe and comfortable is a shower stool. Deciding on the right shower stool for your situation can be a tedious process, so we've compiled some of the best stools and benches for both safety and convenience.
How to Choose a Shower Stool
Material
Shower stools or shower chairs can be made out of a variety of different materials, so you'll want to weigh your options before making a purchase. Shower chairs for the elderly are very similar to shower stools, but generally the chair option has a back that may or may not be removable. Common materials are polyethylene and aluminum, which are typically sturdier and have higher weight limits. They also tend to be lightweight, which is great for users with limited strength. This material, however, can be less visually appealing than other options. Shower stools could also be made out of bamboo, teak, or other wood. These are typically more visually appealing than traditional stools, and they're also more eco-friendly. 
No matter the material, however, you'll want to ensure it's waterproof and has a weight limit that aligns with your needs. A heavy duty handicap shower chair may be necessary in some cases. How quickly the material dries after use can also be a deciding factor in your search. You'll want to consider other safety features as well, such as rubber feet or non-slip padding on the seat. These additions to your stool can further prevent slipping and falling during showers.
Height
Height is a very important factor when deciding on the right shower stool or bench. Consider the mobility of the person who will be using the stool – if their knees can't support as much bending or squatting, a higher bench will be essential in ensuring both usability and comfort. Getting a measurement of the tub or shower the stool will be living in can also help you determine the correct height and size of your ideal product. A shower chair with adjustable legs could also be a great option so the height can be adjusted over time or as needed to fit the space.
Purpose
There are a ton of shower-assisting products on the market, so you'll want to ensure the product you purchase is able to meet all of your needs. Many bathroom stools weren't designed to get wet and were meant to be used next to the bathtub or outside of the shower. If you're looking for a stool, bench, or chair that can be used during a shower, it will need to be waterproof and slip-resistant. This ensures a comfortable and safe shower without the risk of falling.
Additionally, many shower stools include easy storage options. With built-in shelves below the stool, soaps and other shower products can be stored for easy access throughout the shower. The less difficult it is to get everything you need during your shower, the less likely the user is to slip and fall.
Are Shower Stools Covered by Medicare or Insurance?
Some Medicare and other insurance plans will cover in-home devices if they are considered medically necessary and fall under the definition of durable medical equipment. Medicare.org considers products durable medical equipment if they are intended for use in your home, are used for a specific medical reason, are able to be used repeatedly, and are expect to last for at least three years. In order for the purchase to be covered, a doctor must also deem it medically necessary.
Unfortunately, shower stools don't often qualify under these criteria. However, while shower stools aren't explicitly covered, Medicare or insurance may help in part or in full with a shower stool purchase if it's deemed medically necessary. Consult your individual plan to see what your options are for staying safe at home.
Best Shower Stools
We've listed what we think are the best shower stools by type. These are all Amazon products, but if you want to support another retailer or want to look at other options, there are companies that specialize in mobility aids and products for seniors.
Elder Depot is one of the biggest online sellers of mobility aids.
1) Best Shower Chair with Arms
The Vaunn Medical Shower Chair is a great option for people who want a sturdy seat while showering. Crafted with a heavy-duty aluminum frame, this chair is designed to withstand up to 350 lbs. The rubber feet also keep this stool from sliding during use.
Vaunn Medical Shower Chair Bath Seat With Padded Arms, Removable Back and Adjustable Legs, Bathtub Safety and Support
SIT, SHOWER & RELAX- Shower chair allows individuals i.e. seniors, elderly or anyone with limited mobility or injury to sit during shower. Create a relaxing shower experience; allows fall risk individuals to shower independently.
DURABLE & SECURE - NEWLY UPDATED model shower chair now made with heavy-duty anodized aluminum frame with a weight capacity of 350lbs (compare to competitors' 200lbs). Please note that the user manual might show an outdated max weight capacity of 250lbs.
Pros:
Holes in the seat to keep water from pooling
Adjustable legs
Rubber feet to prevent slipping
Padded arms for safety and comfort
Removable backrest for additional support
Cons:
Less visually appealing than wood or bamboo stools
Some assembly required
May not be wide enough for some users
This chair also features a backrest that can conveniently be removed if needed. Adjustable legs ensure this chair can assist at any height and fit comfortably into any space. The armrests are also padded to ensure a comfortable experience from start to finish. Overall, this shower chair is both practical and affordable.
2) Best Teak Shower Chair
The TeakCraft Teak Shower Bench looks great and can hold up to 300 lbs. Built-in rubber feet prevent slipping in water and are adjustable in order to account for small inclines in a tub or shower, ensuring consistent sturdiness. The seat also has a curved design for comfort while sitting and easy drainage of water after use.
Pros:
Wide seat for better accessibility
Fully assembled upon arrival
Attractive design
Adjustable feet to maintain level seating
Cons:
No armrests or backrests
Leg height cannot be significantly adjusted
More expensive than other options
This stool also includes a lower shelf for easy storage. Soap, shampoo, and other shower necessities can conveniently be stored directly under the seat for easy access. These features all ensure a safe and comfortable showering experience for all mobility levels.
3) Safest Bathroom Bench
The OasisSpace Heavy Duty Shower Chair is small but mighty. Although it can hold up to 500 lbs, it's still slim enough that it can easily fit in most showers and tubs. The bench's curved design and padded seat make for a very comfortable shower for the user. It also had adjustable legs, so the height can be adjusted as needed.
Sale
This bench is crafted using an aluminum frame to give it its strength but is lightweight and resistant to corrosion. This particular product also comes with a free medical-grade shower handle included in the package. With so many features, you'll be surprised at the very affordable price!
Pros:
Small and lightweight
Padded seat for additional comfort
Holes in the seat for easy water drainage
Can withstand significantly more weight than other stools
Cons:
Some assembly required
The seat may not be wide enough for some users
No armrests or backrests
4) Best Bamboo Shower Bench
This Bamboo Shower Bench from RANDEFURN is a large and convenient option for anyone with limited mobility or high risk while showering. Bamboo is more eco-friendly than other materials and less expensive than traditional woods, and this stool is also made with a waterproof coating to extend the life of the product.
Sale
Pros:
Wide seat and lower shelf
Durable and waterproof
Designed to prevent water from pooling on the seat
More affordable than other wood options
Cons:
May not fit in smaller showers or tubs
The seat isn't curved so may be less comfortable
Does not come fully assembled
At two feet across, this bench is wide and accommodating. This bench also has a shelf under the seat for easy storage of items during a shower. Rubber feet at the end of each leg also ensure this shower bench is sturdy and slip-resistant, making this both a safe and attractive option for those who could benefit from the product.
5) Cheapest Shower Stool
Even if you're on a budget, shower safety should still be a priority for you and your loved ones. This bathroom stool, created by Drive Medical, is a great option for when showers are becoming difficult but you don't want to break the bank. At just around $30, this is one of the cheapest shower stools on the market, but that doesn't mean you have to settle on quality.
Sale
Drive Medical RTL12004KD Handicap Bathroom Stool, White
Shower Stool: Designed to fit just about any style of bathtub, our bath stool is a lightweight, compact bath safety accessory that fits in most tubs and showers
Quality Construction: The ultimate accessible shower accessory, our tub chair for elderly or injured individuals is made of durable aluminum
Pros:
Inexpensive
Includes rubber feet
Has adjustable legs
Small enough to fit in tighter spaces
Cons:
Doesn't have backrest or arm rest
Seat is smaller
Seat is not padded
Although it's on the less expensive side, this shower stool features rubber feet in order to keep it in place in the shower or tub. It also has adjustable legs, ensuring it will work no matter what height is needed for the user or over time. The weight capacity is also 300 lbs, making it a lightweight but powerful addition to any home in need of new shower safety options.
6) Most Luxurious Shower Chair
This shower chair from Platinum Health Store pulls out all the stops, making it the most luxurious shower accessory on the market. Featuring a thick, cushioned seat, soft backrest, and padded armrests, whoever sits in this chair is sure to be comfortable throughout the entire duration of their shower.
Pros:
Extra large for maximum comfort
Padded seat, armrests, and backrest
Padding is totally waterproof and won't absorb liquid
Height is easily adjustable
Cons:
May be too large to fit in some showers
Very expensive
Water could pool in the seat due to the lack of drainage holes
With a wide seat and lots of space between the armrests, users won't find themselves cramped while using the product. The weight limit is also at an incredible 600 lbs, making it a suitable option for nearly anyone. It also includes rubber feet for additional safety and adjustable legs to fit any height needs.
7) Highest-End Shower Stool
This rotating, round shower stool sold by The Wright Stuff is made of durable plastic. It has a swivel seat and a narrow footprint, making it great for narrow tubs or shower stalls. It has adjustable legs for different heights.
Price:

$101.95
Price:

$101.95
Pros:
Rubber feet for stability
Adjustable leg height
360 degree swivel seat
Made in the USA
Narrow footprint for small showers
Cons:
No backrest
No lower shelf/storage space
Higher price
The seat rotates 360 degrees. The base measures 18" wide. The chair is made in the USA. This is a higher-end swivel chair, and the $100+ reflects that.
Additional Bathroom Safety Products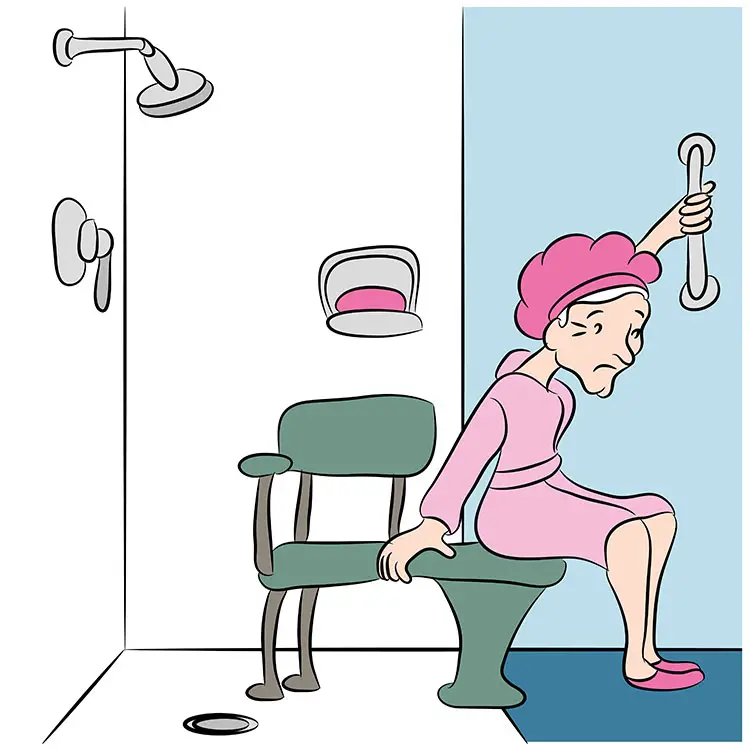 While shower stools are an important piece of bathroom safety, there are other considerations one should also make when updating a bathroom to meet the needs of aging.
Grab Bars
Ensuring you have stable handles throughout the bathroom can help you or your loved one navigate the space. Grab bars are designed to withstand significant pull and weight, are more durable than towel bars, and are easier to hold on to than countertops. Installing grab bars in the shower and throughout the bathroom can make movement easier and prevent falls from occurring.
Transfer Benches
Read our article on transfer benches. It's possible these could be better suited to your needs than a shower stool. As we age or lose stability, getting in and out of the bathtub can become difficult or even dangerous. The chances of tripping and falling are much higher, so using a transfer bench can help make getting in and out of the tub easier and safer. Transfer benches allow the user to set and slide across the hazardous ledge, eliminating the need to navigate stepping in and out.
Shower Shoes
When in a bathroom, slipping is one of the main concerns. Injuries could result from the fall itself, or it could be difficult for senior citizens or people with disabilities to get themselves back up. Shower shoes are a great option to help prevent slipping during a shower or on the slick bathroom tile.
Elevated Toilet Seats
Limited mobility or weak joints can make bending down to get on or off the toilet extremely difficult. Know the proper toilet height for seniors, and if you toilet is too short, add an elevated seat.
Adding an elevated toilet seat to the bathroom is a common solution to make this everyday task easier. This both increases feelings of independence and limits the risk of injury or getting stuck.
Nonslip Strips
Bathrooms in general are typically pretty slick. The tile floors and condensation from the shower steam can cause nearly every surface to become slippery, making the bathroom one of the most dangerous rooms in a house. Adding nonslip strips to the floor or bathtub is an easy and effective way to increase traction and prevent falls.
Summary
Senior citizens and people with disabilities deserve to be able to maintain their independence while doing something as simple as showering. Shower stools can help that person continue to live their life safely and comfortably. If you or someone in your life is having trouble being able to enjoy one of life's simple pleasures, a shower stool or chair can be a great investment in both health and happiness.
Getting older can feel scary, but a combination of the right knowledge and products can slowly but surely help senior citizens or people with disabilities stay safe and regain their independence. By taking these small steps, individuals with limited mobility don't have to feel like they're missing out on life or relying too much on the people around them. Shower stools may not feel like a revolutionary idea, but it can make a life-changing difference to those who need them.
If you're looking for other ways to ensure your loved ones stay safe as they get older, additional safety precautions and products can be found in this Alzheimer's Disease Bathroom Safety Checklist. These steps in conjunction with a suitable shower stool are sure to make you or your loved ones feel self-sufficient and give you some peace of mind in the process.