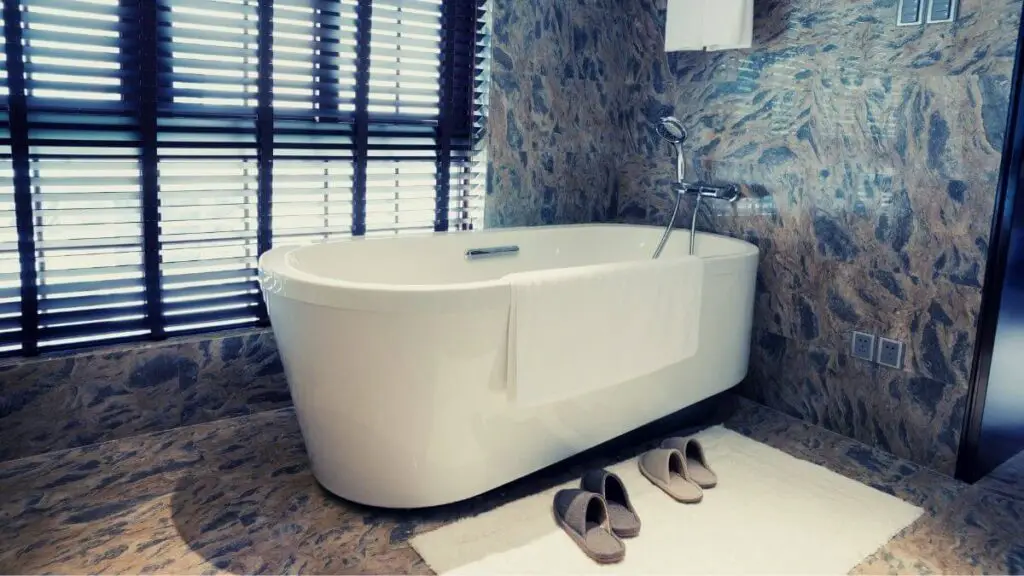 Shoes in the shower? You might be asking yourself why anyone would even make shower shoes. After all, isn't the whole purpose of taking a shower to get yourself completely clean, including your feet?
Research has shown that the shower floor is a breeding ground for germs, bacteria, and fungi. These microscopic critters can wreak havoc on our feet, causing many serious ailments and diseases.
Public showers are a lot more dangerous than the showers in our private homes. We should wear shower shoes when using the showers in any of the following places: gyms, nursing homes, spas, community pools, private sports clubs, campgrounds, travel rest stops, and locker rooms. Although hotels are cleaned and sanitized between each guest, it is still advisable to wear shoes in their showers.
When showering in public showers we are literally stepping into a petri dish of bacteria and fungi. Common ailments picked up in shower are athletes foot, nail fungus, plantar warts, ringworm, staph, and MRSA infections. All of these are rather stubborn and difficult to get rid of. In all of these cases, prevention is definitely better than cure.
Safety is another factor, and this is particularly important for seniors who have balance challenges. Bathroom falls are a serious problem. Shower safety can be improved with standing shower handles or transfer benches, and the same is true with shower shoes. Some shoes have grips on the bottom to improve stability in an otherwise slippery situation.
THIS is why you want to wear shower shoes.
Choosing the Right Shoes
When choosing a pair of shower shoes, you need to take two things into account: safety and health. For health reasons, a closed shoe is best as this will keep all the germs away from your feet giving you full protection. A slide or a flip-flop will offer some protection, but if the water drains away slowly and there is a build-up of water in the shower you may find your feet swimming in a pool of bacteria. The flip-flops will thus offer no protection in this case. You can go for an open shoe if you are certain the shower you will be using will not have drainage issues.
You also want to choose a shoe that will dry quickly to prevent bacteria and fungi from breeding in the shoe.
On the safety side, you need to find a shoe that is completely slip resistant. The under sole must not slip on the shower floor and the upper sole must not allow your foot to slide off as this can cause ankle injuries and falls.
Also, take into account that you will need to be wearing the shoes when you get out of the shower as well. They must not slip on the tiles of the bathroom or locker room floor.
The best shower shoe is thus a closed, non-slip, quick drying shoe. Closed shoes are difficult to come by so finding an open shoe that provides the maximum support is your goal.
What to Look for in a Shower Shoe
Shower shoes need to be waterproof to keep the bacteria out. It is no good if water gets into the shoe and touches your feet as this would be defeating the point of wearing the shoe. The best waterproof shoes are made with EVA (Ethylene Vinyl Acetate). EVA is a cushiony but quick drying material. You need your shower shoes to dry quickly and completely so bacteria and fungi don't begin to breed in them. Also look for shoes that have antimicrobial properties.
9 Choices Shower Shoes
You can find shower shoes at different big box stores, and it's possible some durable medical equipment stores might carry a selection. Pharmacies are another option. Of course, there is also online shopping.
Unfortunately, if health is your primary concern, it is harder to find closed shower shoes. You will likely need to go to a specialty shop for these. What is recommended below are more commonly used shoes. They are all designed to get wet.
The biggest advantage to open-toed shower shoes is that they can be used for purposes beyond just showering. Many of the shoes below will work just as well walking around the yard or on the beach as they would standing in the shower.
1 – Quick Drying Shower Sandals
Sale
These unisex shower sandals are ideal for throwing into your gym or spa bag. They are quick drying which makes them perfect for traveling. They are made of a soft cushiony material which is durable and flexible to enhance comfort. The under sole is fitted with non-slip rubber and the upper sole has raised ridges and small bumps to maximize grip thus ensuring that the shoe will not slip in the shower and your foot will not slip out of the shoe.
This non-slip ridge and bump pattern also creates a massaging effect on the feet which is great after a long day. The sole is designed with drainage holes ensuring that water from the shower rose can run away from your foot decreasing any chance of slipping. They come in an assortment of colors ranging from black to pastel shades.
---
2 – Xomiboe Shower Shoes
Sale
These shower shoes are made of EVA (Ethylene Vinyl Acetate). It is a quick drying, cushiony, flexible substance that is lightweight, waterproof and durable. They are extremely lightweight with a pair weighing only 0.23kg making them easy to slip into a bag and cart about.
They are fitted with large drainage holes which allows the water to run away from your foot thus reducing the risk of slipping. The upper is fitted with drainage holes as well. The upper is wide and thus the foot can easily be slipped in and out of the shoe when you want to wash your foot. Both the upper and under sole are fitted with non-slip bumps to create grip and prevent slipping. These come in a range of colors from black to tan to bright and pastel.
---
3 – Bronax Cloud Shower Slides
Sale
The Bronax Cloud Shower Slides live up to their name of being as comfortable as walking on a cloud. They have an extremely thick sole which keeps you high above the water in the shower and adds comfort. They are made of EVA (Ethylene Vinyl Acetate) which is flexible, supportive and waterproof.
The rebound sole is lightweight and compression resistant thus providing shock absorption and good stability. Both upper and under soles are designed with a non-slip pattern thus protecting you from falling. They are over 10 choices of color allowing you to pick the perfect shower shoe for you.
---
4 – Aoowoll Shower Shoes
The hardwearing under sole of this shower shoe is anti-slip and robust. It is made of durable, flexible EVA which is quick drying and comfortable. Large holes in the sole allow water to wash away from your feet. The large hole on the side of the upper also helps to dispel water and prevent it from collecting in the shoe.
This helps to increase stability and reduce falling. The holes increase air-flow and thus help to speed up drying. If you have narrow feet, it is recommended that you choose a size smaller than your usual size. They come in a variety of colors.
---
5 – Happy Lily Shower Shoes
If you are looking for the best bang for your buck these are the shower shoes for you. The thick rubber sole (1.57 inches) keeps you well out of any water lingering in the shower. It is made with EVA material which is lightweight, waterproof, flexible and durable.
It is quick drying thus ensuring no bacteria or fungi will build up on your shoes. The under sole is equipped with anti-slip ridges to ensure your safety in the shower. The concaved shape of the upper sole ensures your foot fits snugly into the shoe and does not slip out while you are entering or exiting the shower. You can choose from black, green, pink or grey.
---
6 – Crocs Baya Slide Water Shoes
Crocs Unisex Baya Slide Sandals, Black, 5 Men/7 Women
Contoured Comfort: Make A Comfy Statement With The Crocs Baya Slide Sandals For Men And Women. They Provide The Perfect Sporty, Slip On Style, Making Them The Sandals Women And Men Need.
Water-Friendly: These Men'S And Women'S Sandals Are Water-Friendly And Designed To Channel Water Away. Needless To Say, If You'Ll Be Near The Water, You'Ll Want To Have These Sandals With You.
Crocs are the ultimate in non-slip water shoes. They were originally designed for use on the decks of ships and boats where they needed to have enough grip to keep sailors from slipping even when water was flowing onto the deck. The EVA (Ethylene Vinyl Acetate) sole has a slightly raised heel which increases comfort and stability.
The upper sole is designed with small, raised bumps to ensure your foot does not slip out of the shoe. The under sole is fitted with anti-slip ridges for safety in the shower. They come in an assortment of colors, and it is recommended that you buy a size down from your usual size.
---
7 – Vifuur Water Sports Shoes
Sale
If you are unstable on your feet and you are looking for a shoe that will give you maximum stability in the shower try this water sports shoe. It is not strictly designed for use in the shower but its quick drying material makes it an option as a shower shoe. It fits more like a sock than a shoe, slipping onto your foot comfortably.
The upper is elastic while the sole is rubber. The rubber sole is anti-slip ensuring your safety in the shower. There are over 40 funky designs to choose from. These decorative sports shoes will bring a touch of pizzas to your shower routine.
---
8 – Crocs Classic Clog
Sale
Crocs Unisex-Adult Classic Clogs (Best Sellers), Slate Grey, 13 Men/15 Women
Crocs For Women And Men: The Crocs Classic Clogs Are Not Only The Most Comfortable Shoes For Women And Men But Also Easy To Clean Just Using Soap And Water And Allowing For A Quick Dry.
Lightweight And Fun: The Crocs For Men And Women Feature Lightweight Iconic Crocs Comfort. Ventilation Ports Add Breathability And Help Shed Water And Debris Quickly.
The good old fashioned Croc Classic Clog is your best bet for a shower shoe if you are looking for stability and health. The closed toe and back strap make the shoe secure and stable and thus it is suitable for people who are unsteady on their feet. The EVA (Ethylene Vinyl Acetate) material ensures that the shoe is lightweight, waterproof and durable.
The holes along the side allow water to drain out while you are showering. The back strap can be pivoted forward and onto the upper if preferred. They come in an array of colors. They are quick drying and the holes along the side help to ensure airflow through the shoe thus reducing bacterial and fungal build up in the shoe. As crocs were originally developed as a boating show their grip is exceptional thus ensuring you will not slip in the shower.
---
9 – Bai Hou Shower Slipper
These shower slippers are cleverly designed to allow water from the top to pass through the drainage holes but water from the bottom does not come back up onto the shoe. This is achieved by placing the holes in the hollows of the ridges. The thick (3cm) sole then keeps the holes out of the water. There are large holes on the sides of the upper which allow water to escape thus ensuring there is no buildup of water in the shoe.
This helps with stability and thus reduces the chance of slipping. The EVA material is quick-drying, lightweight, durable and non-slip. The ridges on the under sole exaggerate the non-slip quality of the shoe giving you peace of mind in the shower. The upper sole is designed with bumps which give your foot a massage effect when wet. They are large in size, and it is recommended that if you have a narrow foot, you buy one size down from your usual size.
---
Taking Care of Shower Shoes
Shower shoes should be disinfected daily. The underside of the shower shoe is in contact with the contaminated shower floor and thus fungi and bacteria will stick to it. Shoes should be soaked in a bleach solution for 10 – 15 minutes and then allowed to air dry.
Drying them outside in the sunshine is ideal as sunshine has a damaging effect on many forms of bacteria and fungi. If your shoes are made of EVA do not leave them in the sun for a long period of time as the material will warp and shrink at high temperatures.
It is also recommended that you replace your shower shoes at least once every six months.
If you are throwing your shower shoes into a kitbag or gym bag it is a good idea to disinfect your bag every few weeks. An alternative is to place the shoes in a plastic packet before placing them in the bag.
---