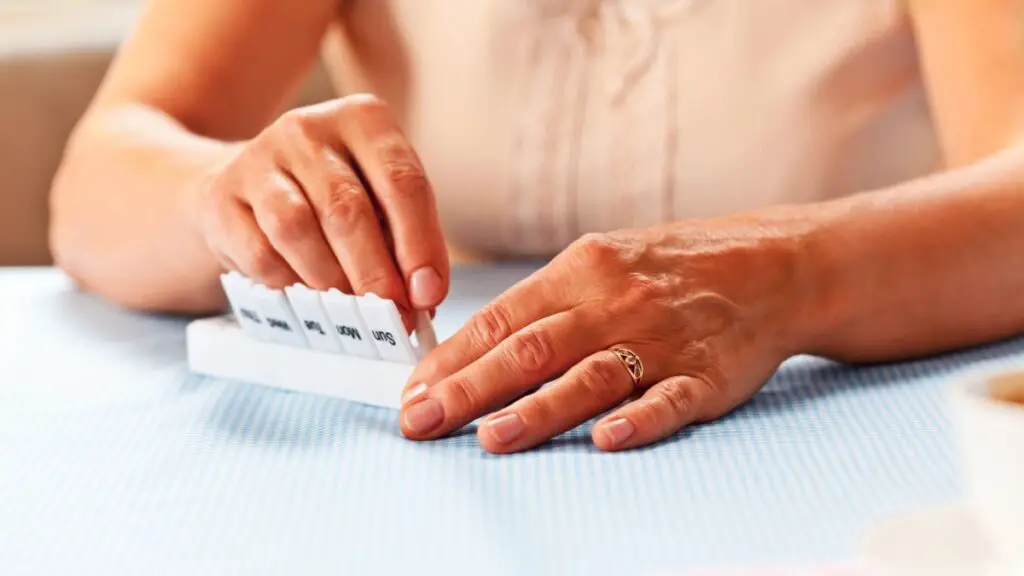 Pill organizers are an extremely common item in the American household, and it's no wonder why. As people live longer, more and more people develop chronic health conditions associated with aging, like arthritis, diabetes, and asthma. This means that older adults are relying more on prescription medication. In fact, the typical American senior takes two to four different medications, and people living with dementia tend to rely on more medications as well.
Keeping track of multiple medications is challenging for most people. And medication errors aren't just inconvenient, they're potentially fatal. Pill organizers can be a great option for seniors who want peace of mind knowing they haven't missed a medication or taken the incorrect pill. This article discusses the various options for pill organizers and our top picks for seniors in particular.
What is a Pill Organizer?
Believe it or not, people have been taking pills since around 1500 BCE. But pill boxes exploded in popularity during the Victorian era. People stored pills in large, beautifully embossed boxes or toted miniature versions that were considered jewelry.
Demand for a more durable, organized container led to the invention of the modern-day pill organizer. Drug companies recognized that people needed a memory aid and created an affordable option. Nowadays, a pill organizer is usually made of plastic and often features multiple compartments.
The typical modern pill organizer might not be as stylish as antique pill boxes, although I found a stylish option that I note below. Nonetheless, a pill organizer a great way to store scheduled doses of medications. When used properly, pill organizers can be useful for anyone who takes daily medications, especially seniors who may struggle with disorganization or memory problems.
Types of Pill Organizers
Pill organizers come in a wide variety of shapes and sizes. Weekly organizers, a popular option, are marked with the days of the week and provide up to four compartments per day, while monthly organizers allow the user to sort a month's worth of medication in advance. Most pill organizers are rectangular boxes, but some pill organizers aim to be more stylish or portable with cute shape or a stacking design.
Pill organizers have become more sophisticated in recent years, with options like automated dispensing and anti-tampering becoming available. There are discrete pill organizers as well, which are designed to be slipped into a purse or bag for the day.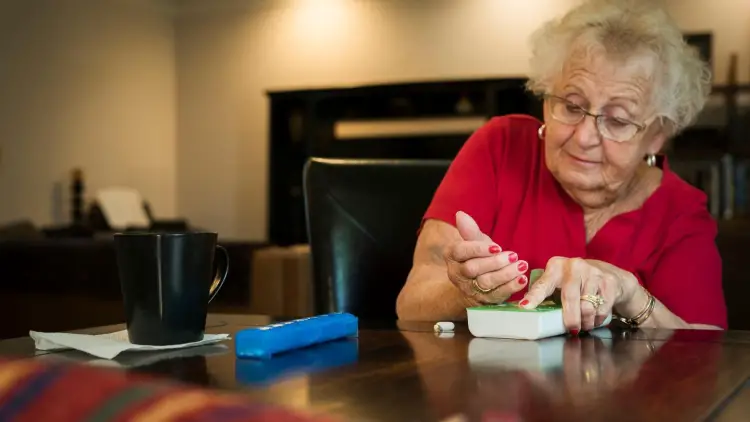 How to Choose the Best One for You
The right pill organizer depends largely on your individual needs. Seniors and caregivers choosing a pill organizer should consider the number/frequency of medications taken and the cognitive and physical ability of the person taking the medications. While aesthetic considerations may come into play, at the end of the day, seniors will benefit the most from a pill organizer that's long-lasting and makes sense for their lifestyle.
Here are some important features to look for in a pill organizer:
Poor eyesight is one of the most common causes of medication errors. Since vision impairment is so common in older adults, pill organizers with color-coded compartments can be extremely helpful to prevent medication mix-ups. Even if the organizer isn't color-coded, clearly marked days and times (in large print) are a must. Braille labeling is also an option.
Pill organizers with pop-up designs and large compartments can be very helpful to seniors with arthritis or limited mobility. Caregivers should make sure snap-on lids are tight enough to keep pills from spilling, but not so tight that the senior can't comfortably open it. Pill organizers that are too difficult to open can negatively affect medication compliance, which would defeat the purpose of the pill organizer.
Reminders are another great tool to improve accessibility. "Smart" pill organizers can organizer and dispense medications automatically and even include lights or alarms to remind seniors to take their pills. This is a great feature if you're to prone to forgetfulness, which can result in missed or repeated doses. Smart pill organizers have also been shown to increase adherence in patients with depression.
Durability is an important consideration for seniors. Plastic pill organizers should be made from food-grade plastic, and seniors who plan to carry their pill organizer in a purse or bag should look for scratch-resistant labels to prevent mix-ups.
Security is also an important feature. Several options exist beyond a snap-on lid that can provide added security when needed. For example, some pill organizers come with an optional lock and key to prevent tampering or overdosing, which is useful for patients with a history of drug abuse or cognitive decline. Tamper-proofing features can help prevent children from accessing a family member's pills.
Best Pill Organizers for Seniors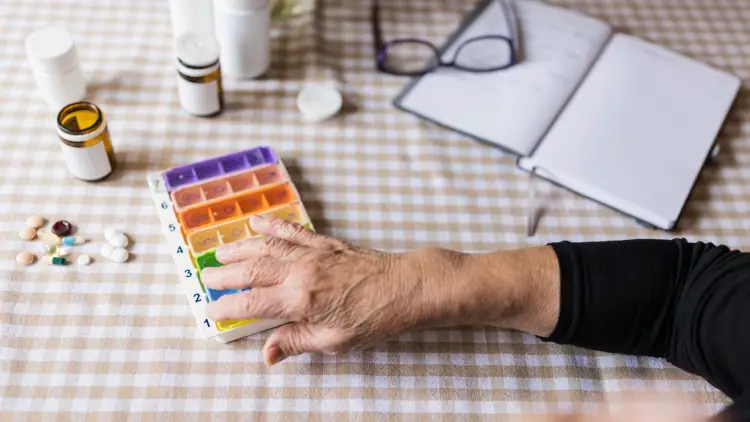 Best Overall
The best pill organizer for seniors is the OAAO extra-large weekly pill organizer. I chose this pill organizer as my favorite for a couple reasons. First, the simple, colorful design and scratch-resistant labeling makes it easier for seniors to identify the correct compartment, which reduces the risk of medication mix-ups.
Another great feature is the compact flower shape, which is still large enough to hold multiple medications. Finally, the arthritis-friendly lids snap closed to keep pills secure.
Best with a Reminder
If you're looking for a pill organizer with a reminder, we recommend the VODESON weekly pill organizer. This sleek little pill organizer has a digital display that allows you to set different reminder times for each pill compartment. When it's time to take medication, the alarm will sound and the pill organizer will vibrate. The display will also remind the user of the number of pills to be taken at each dose.
VODESON Weekly (7days) Travel Pill Organizer,Smart Remind Pill Box with Alarm,Medicine Dispenser Portable Travel Pill Case for Vitamins/Fish Oil/Supplements/Pills Home Pill Reminder
Smart Reminder Setting: Each Separate Pill Compartment Can Be Set The Different Times. According To The Medication Time And Requirement, Setting A Reminder Time For Each Pill Compartment. You Can Set Up To 7 Time Period Alarm Clocks, So You Don't Have To Worry About Forgetting To Take The Pill On Time. Each Separate Pill Compartment Can Be Set An Different Dose , When Reminded, Choose The Pill And The Dose According To The Corresponding Position, Don't Worry About Taking The Wrong Medicine.
3 Reminder Modes:when The Time Set Before Is Reached, The Smart Weekly Pill Organizer Will Have Digital Display Reminder, Beeping Reminder And Vibration Reminder, When You Open The Pill Container, The Alarm Will Stop, But If You Don't Open It Right Away, It Will Continue To Beep Every 5 Minutes For A Maximum Of 30 Minutes To Make Sure You Won't Forget To Take Pill When You're Busy.
Another great pill organizer with more robust reminders is featured further below under the "safest" designation. It has a bright LED light and loud alarm that serve as a reminder for the hearing or vision impaired individual.
Cutest Pill Organizer
Sale
This fruit-inspired pill organizer by INVODA is the cutest pill organizer of 2022 by far. The pill organizer comes in three different colors (lemon, orange, and pomelo), which is handy for those who take medication three times a day. Each fruit slice features seven compartments and a pop-up lid, which is great for accessing and refilling medications.
Best Weekly Pill Organizer
As far weekly pill organizers go, I like the Detach-N-Go pill box from Apex. It has two compartments for pills, great for twice-a-day medication schedule. But what I like most about it is that it comes apart so you can take one day's pills with you on the go.
All 7 compartments are detachable, and detaching them is easy. Hold the other compartments in place and simply pull straight up on the day's compartments that you want to take with you. The curved sides also make it easy to get pills out of the compartment, great for people with arthritis in their hands.
Best Monthly Organizer
After searching far and wide for the best monthly pill organizer, we settled on this extra-large monthly pill organizer. Similar to the AUVON weekly organizer, this box features an outer case and removable inner compartments.
The large-capacity compartments are easy to pop open and can hold a day's worth of pills - even including those huge, hard-to-swallow pills. Another great feature about this pill organizer is the scratch-resistant labeling, which will ensure the pill organizer is useful for a long time to come.
Safest Organizer
The MED-TIMER pill organizer from Arthritis Supplies is about as high-end as you can get. It features and easy-to-use reminder and dispenser for daily, weekly or weekly medication schedules. The best thing about this about this organizer is the safety features. Caregivers concerned that forgetful seniors might accidentally take too many drugs can find comfort in the fact that this tamper-proof organizer can only be accessed with a key. It will reduce the odds of over dosing.
The MED-TIMER has 28 compartments and has an LED light and alarm that will go off to remind hearing or vision impaired seniors to take their medications. The dispenser can be set to dispense pills on a daily or weekly basis and up to 4 times per day.
While much more costly than the more simple options previously featured, it comes with peace of mind for caregivers who are concerned about medication safety.
Absolute Cheapest Option
This seven-day pill organizer is, well, cheap. At less than $2 for one extra-large weekly organizer, this is one of the most practical options for those who are looking for an affordable pill organizer.
This organizer also features large print and Braille for those who have vision impairments. It may not be the most exciting pill organizer, but it will still serve its intended purpose.
Summary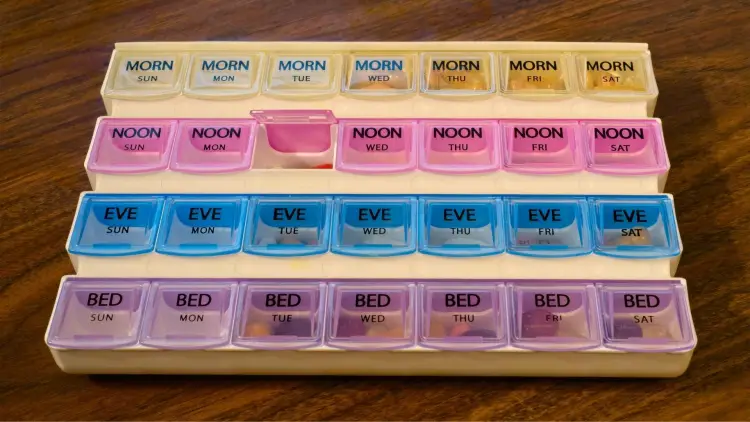 In theory, for most people who take medications, a pill organizer will be well worth the investment. Pill organizers can give you peace of mind knowing you've taken the correct medications and haven't missed any medications. Pill organizers can help caregivers reduce the rate of error in giving medications to seniors. However, it's important to make sure you find the right pill organizer for the needs of the person taking the medication. Pill organizers can actually be adverse for seniors when they're confusing or difficult to open, for example.
Most importantly, no one should rely on pill organizers as a crutch. Seniors and their caregivers should still carefully identify and count the correct medication and dosage before taking any pills.
A pill organizer can be a useful tool in preventing medication mix-ups. There are plenty of great options of pill organizers for seniors out there that can fit pretty much any need. If you're an older adult who takes medication regularly or a caregiver for someone who takes medication, explore getting a pill organizer to improve compliance and, hopefully, health outcomes.