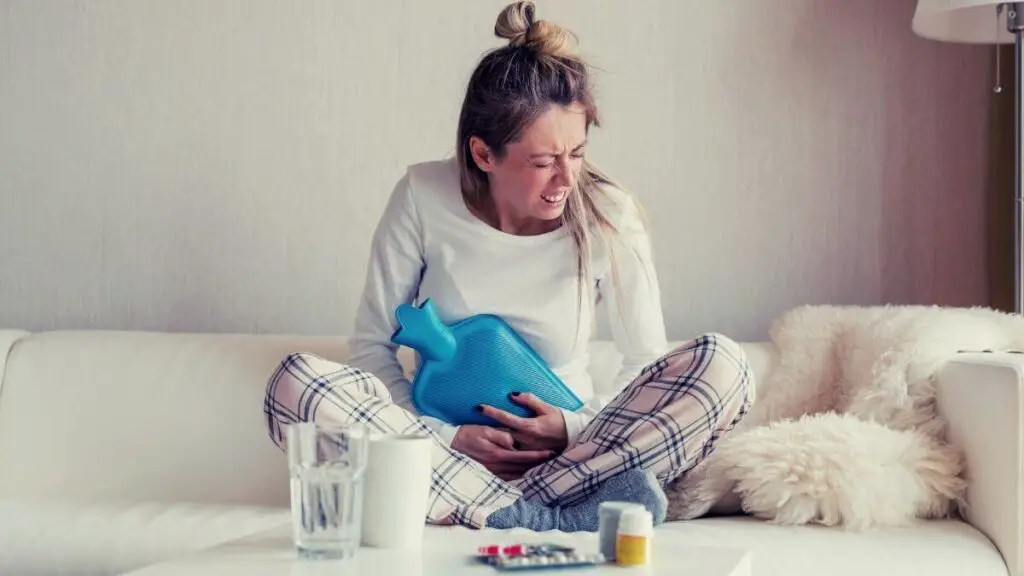 Young and middle-aged women know the pain of cramps. We want anything for relief. Natural relief is even better. This leads some to question if hot water bottles for cramps might work.
As we all get older, other things happen to our body that we seem to have no control over. This includes cramps that now come more frequently than the predictable one time a month.
These are often muscle cramps that happen with no rhyme or reason. When they hit, you think, "Geez! Who or what is squeezing my calf? It hurts! Stop!"
There are different reasons people get cramps. It can be from inadequate blood supply, nerve compression, mineral depletion, overuse, etc.
We are going to look at two different natural treatments to ease cramps. The will look at hot water bottles for pain relief and the second will look at dietary solutions.
Of course, I can't stress enough here that you should go to your doctor to make sure there is not another reason for your muscle cramps. If you're on certain medications, they could also be causing cramps.
If you are keeping a Sleep and Cramp Journal, then you can probably determine why you have cramps in the first place! Keep a log of when you have them, what they are like, what time of day they happen, and other pertinent information can help you uncover the pattern.
Hot Water Bottles for Muscle Cramps
Now that you know what to do about cramping muscles due to nutritional deficiencies, you should know that there are other reasons why your muscles might be cramping. One of them is you hurt the muscle, such as in a strain or sprain. You misstepped on the stairs, caught yourself, but your muscle suffered a shock that caused a strain or sprain. Or you had a sports injury or were in a car accident. Car accidents are notorious for causing strains or sprains in the muscles.
That's when you need a hot water bottles for cramps.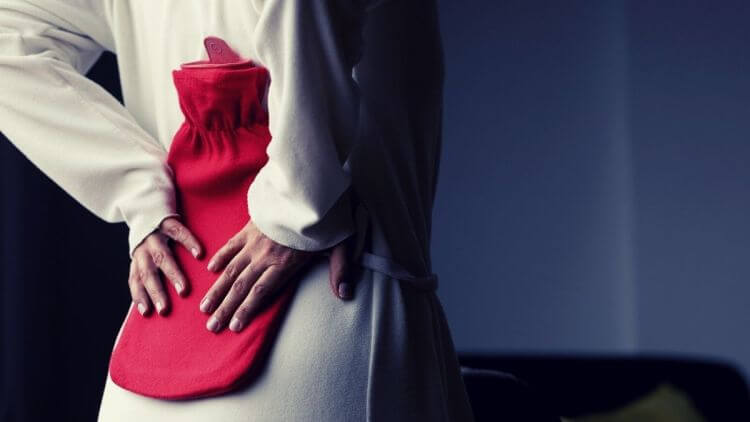 Hot water bottles for cramps are the answer for the strains and sprains. They won't help you at all if your muscle cramps are due to dehydration, medication, or nutritional deficiencies (more on this in a bit). These reasons deserve their own solution.
The best thing about hot water bottles for cramps is there is so little risk of using them. You merely heat up some water, pour it in, and lay it on you for relief. You do not have to ingest medicine for it. It's natural and simple.
5 Hot Water Bottles I Like
Hot water bottles for cramps have taken a jump into the 21st century and are sexier or might even make you smile. Long gone are the days when we were limited to one red hot water bottle. They come in different shapes and are even covered with soft material to make the pain of cramps go away faster.
The following are a few of my favorites.
1 – HomeTop Premium 2.25 liters Rubber Hot Water Bottle with Soft Navy Blue Snowflake Knit Cover
HomeTop Premium 2.25 Liters Rubber Hot Water Bottle w/Soft Navy Blue Snowflake Knit Cover (Navy Blue
Package included: 1 Rubber Hot Water Bottle(2.25 Liters), 1 Cute Knit Cover. This hot water bottle is manufactured to B.S.1970:2012 to ensure maximum safety. The hot water bottle is made from high quality materials thickened version of natural rubber, heat resistance to aging, insulation more durable environmental protection. Non-allergenic fabric, safe for adults, children, and seniors.
Hot water bottle size: Length-72 cm(28.35 inches) Width-11.5cm(4.53 inches) Enlarges the water injection port-2.8cm(1.1inches). This hot water bottle will stay warmer for longer due to its large capacity, so you don't need to worry about having to refill it again and again on a chilly day. The shape offers greater coverage, so more parts of your body can be kept warm at the same time and aches and pains can be reached more easily.
This one is just over 28 inches long by 4.5 inches wide. Great for your legs, spine, arms or back. And the knit pattern can bring back some snowy memories from your childhood.
2 – Rubber Hot Water Bottle with Cover Silicone for Pain Relief
Imagine the look on your caregiver's face when you ask her to get you your hot water bottle for cramps that looks like this animal paw!
3 – ITODA U-Shaped Hot Water Bottle for Neck and Shoulder
If you have trigger points – tight little marbles in your neck and upper back which are quite common, using the hot water bottle can do a lot of good to increase your circulation to the area of those triggers. The extra circulation breaks them up. 
4 – Hot Water Bottle with Cashmere Cover
Why not go all out and treat yourself with a cashmere covered water bottle? Take a look at this one:
No products found.
5 – Alin Bolk Classic Extra Large Hot Water Bottle 2 liter
Maybe the area of pain on your body is quite large. Some of the hot water bottles for cramps and pain relief are quite large to match. Here's one that might work:
AlinBolk Classic Extra Large Hot Water Bottle 2 Liter Hot Water Bag for Pain Relief, Neck and Shoulders, Feet Warmer, Menstrual Cramps, Hot and Cold Therapy-Great Gift for Women and Girls (Pink)
HIGH QUALITY YOU CAN RELY ON Life isn't always easy. That's why making time for you is so important. Your cute and fluffy high-quality extra-large hot water bag FREE OF Polycyclic Aromatic Hydrocarbons (PAHs) was designed with your complete comfort in mind. From its user-friendly design, to its beautiful, cuddly, double cover, it delivers warmth that lasts for a long time. Time to put every care and worry aside so you can find your peace. Time for relaxation. Time to unwind. Time for relief.
PAIN RELIEF. BETTER THAN CLAY WRAPS AND GEL PACKS With its intuitive design, this cute heating pad was designed to work easily from the moment it arrives. For hot or cold therapy, menstrual cramps pain, neck or low back pain, pain relief for feet and hands, comforting warmth for aches, pains, or warmth in a cold house, we designed your new hot water bottle to be a smart "pain relief bag" of warmth with your comfort and ease of use in mind. 100% Satisfaction guaranteed.
Well, that's it for now. As you can see, getting pain free can actually be quite a bit of fun! Hot water bottles for cramps and pain relief improve your circulation and can double as a cold pack. No matter what you need them for, they can also improve your mood, bring a smile to your caregiver and family and friends, and make you the talk of the town.
Dietary Reasons Seniors Get Cramps
One time I was teaching a class in the community on nutrition and an older man in the class jumped up and started stamping his foot on the floor with determination. I was sure it wasn't related to what I was saying and asked him if he was okay. He replied that he got cramps like this at least once daily.
Usually they came at night. His muscle was so tight that he was trying to relieve the pain of the vice grip in his calf by slapping his leg and foot onto the floor.
It didn't work. About five minutes later, the cramp relieved itself and he sat down and was perfectly fine.
This type of situation shows us what it's like when there's a calcium or magnesium deficiency. Both these minerals are needed for proper muscle contraction and relaxation.
When I asked him about his calcium and magnesium food intake (or supplement use), his answers gave him a big zero on the calcium and magnesium food intake quiz. He was deficient.
Cramping of the muscles will occur whenever there is low sodium, low potassium, low calcium, or low magnesium in the diet. Someone can have low sodium and potassium if they have problems with vomiting or simply aren't eating. If they never salt their food, this could also contribute to low sodium levels.
Potassium can be low in the diet if someone doesn't eat fruits that often. However, if you consume something like coconut water, you'll get plenty of potassium in one 8 oz glass – 470 mg.
Some brands of coconut water may even have up to 600 mg potassium in one serving and are great as part of your electrolyte replacement formulas.
Taking in an extra 1200 mg or more a day is not harmful for most people, but always check with your nutritionist as some health conditions may not allow you to have extra potassium.
Most people are deficient in calcium and magnesium; that's what I've found in my nutritional practice over the years. They might consume dairy products, which are great for calcium but super low in magnesium. In these people, they always need magnesium supplements (which can also help keep you regular).
Nature's Life Magnesium 500 mg is for muscle and nerve support and is reasonably priced. Since you are only taking one a day, the bottle lasts for almost 10 months, and it's only 0.08 cents a day.
Sale
If you have been dehydrated and are taking a rehydration formula, check it. I've seen many online that are mostly hype and don't even have all the electrolytes in them. Replacing electrolytes is about replacing sodium, potassium, calcium, magnesium, and chloride. Not just the sodium and potassium. You'll need all of them once the weather gets hot and makes you sweat.
Easy Ending
Cramps can be a real pain! If you have unexplained cramps that happen regularly, find out why. It could be your diet, your activity level, overuse, medications, or something else. When in doubt always contact your doctor.
I hope you can find some comfort. If there is another natural remedy that you know to relieve cramps, let us know in the comments section.