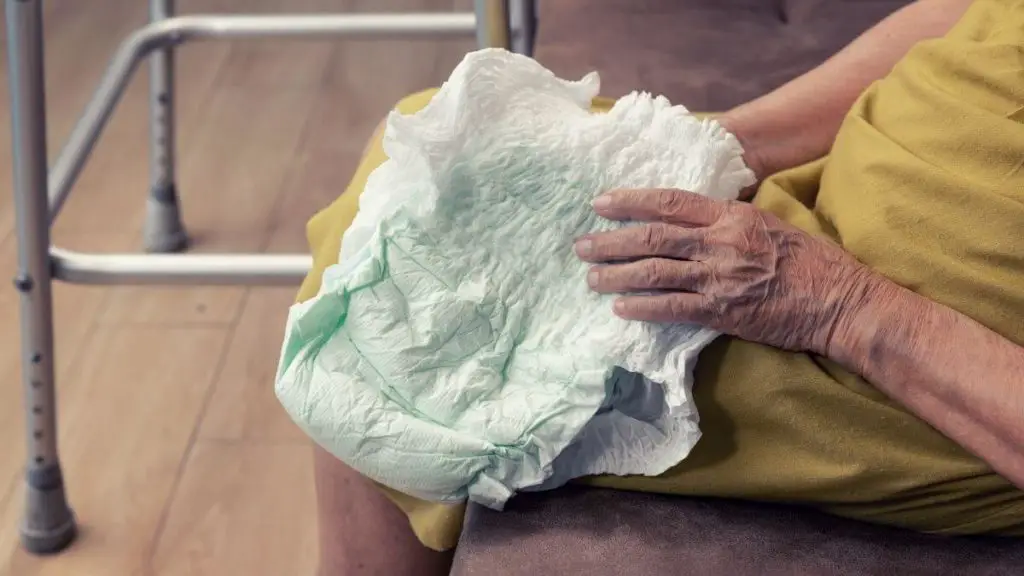 It's unfortunate that as we age our bodies begin to fail in function. This includes incontinence, and just like a child with a diaper rash, seniors sometimes need adult diaper rash creams to ease the pain and irritation that comes from repeated diaper use.
Adult incontinence, also known as loss of bladder control, happens quite often as people age. It is an embarrassing little secret few want to talk about, but it needs to be acknowledged to be helped and controlled.
There are a few different types of adult incontinence:
Stress Incontinence – adults may leak urine when they cough, sneeze, exercise, bend over, or laugh. These activities can put enough pressure on the bladder to cause urine loss. A visit to a doctor is recommended if stress incontinence interferes with normal, daily activities.

This type of incontinence happens when the pelvic floor muscles weaken, as can happen with age. Normally, the muscles in the urethra close and prevent urine leaks until a person reaches the bathroom. But if those muscles are weak, any force exerted by a cough or sneeze can put enough pressure on the bladder to cause leakage.

When men have their prostate removed, one of the most common consequences is stress incontinence as prostate surgery weakens the sphincter, which surrounds the urethra.

Stress incontinence can be aggravated by extra weight, smoking, strenuous exercise such as running, pelvic surgery, and age,
Urge Incontinence is caused by a frequent urge to urinate during the day and night. Some people may experience leaks before being able to get to the bathroom in time. The problem can be serious to the point of bedwetting. Urge incontinence is usually the result of an overactive bladder which causes the bladder to contract more than necessary.

This contributes to a constant urge to pee. Although age is a large factor in urge incontinence, diabetes, pelvic surgery, prostrate problems, menopause, obesity, smoking, and certain medications can also contribute to the problem. Losing weight, ceasing to smoke, and decreasing one's caffeine intake can help.
Overflow Incontinence – This situation occurs when the bladder doesn't eliminate all the urine, which keeps leaking out. Urinary flows are weak and incomplete. When the bladder is unable to squeeze out all the necessary urine, the reason may be loss of muscle or nerve function caused by injury, Parkinson's Disease, or Multiple Sclerosis. As urine is being kept in the bladder, there will be leaks as it attempts to empty itself.
While incontinence can be annoying and perhaps a sign of additional problems, a doctor can suggest ways to control the bladder and lessen the severity.
Can You Use Diaper Rash Cream on Adults?
Adults, just like infants, can use diaper rash creams. When seniors develop incontinence and wear diapers, treating a diaper rash becomes an issue as urine or stool has lengthy contact with the skin. The area that becomes infected with a red rash can include the genitals, buttocks, and thighs. These seniors may experience itching, which will only increase the severity of the rash.
Any skin that develops a rash requires careful attention; it needs to be treated properly and as soon as possible.
Clean the area before applying the cream, preferably with wet wipes to keep the skin free from as much bacteria as possible. If you're using soap, use only a mild or medicated cleanser. It isn't advisable to rub overly hard; patting the skin clean, and then dry, should suffice. It is a good idea to let the skin dry naturally.
There are any number of over-the-counter adult diaper diaper rash creams on the market. These creams fall into two categories, petroleum-based or zinc oxide-based. The zinc oxide cream is best for sensitive skin as it adds an extra layer to the skin.
Applying the diaper rash cream should be done correctly. Remove the existing diaper. Apply a very small amount of adult diaper rash cream to the affected area. Then, put on the fresh diaper.
7 Adult Diaper Rash Creams
1) A & D Plus E Ointment, Genteel
This ointment effectively seals out excess moisture to help prevent adult diaper rash. It contains skin-healthy ingredients such as Vitamins D, and E, as well as white petrolatum.
Pros:
Provides relief to temporarily chafed skin
Cons:
The active ingredient is 15 percent lanolin instead of the very effective zinc oxide
2) Balmex AdultAdvantage B Protected Skin Relief Cream
This balm soothes and protects skin that is irritated and chafed and eliminates redness and contains healing zinc-oxide, as well as beeswax. Apply daily for full relief of adult diaper rash.
Pros:
Effective at preventing adult diaper rash sores
Cons:
The cream is very thick and may be difficult to extract from the tube
3) Medcosa Adult Rash Cream
Sale
Medcosa Adult Rash Cream - Fast Relief from Sweat Rash, Heat Rash & Adult Diaper Rash (Incontinence Cream) - Thick Moisturizing Barrier Cream. Zinc Oxide to Reduce Redness & Irritation (350g)
✔️ 𝗔 𝗥𝗔𝗦𝗛 𝗖𝗥𝗘𝗔𝗠 𝗙𝗢𝗥 𝗔𝗗𝗨𝗟𝗧𝗦 ~ Soothes, heals and nourishes red, raw, itchy, and inflamed skin due to wetness and sweat. Effective for sweat rash, incontinence, aging, disability, illness and the complications that arise from limited mobility.
✔️ 𝗜𝗧𝗖𝗛 𝗥𝗘𝗟𝗜𝗘𝗙 𝗙𝗢𝗥 𝗔𝗡𝗬 𝗕𝗢𝗗𝗬 𝗣𝗔𝗥𝗧 ~ The cream can be used almost anywhere, from the face, underarm (or underboob), back and bottom itching.
Medcosa offers relief from any type of rash by creating a layer of thick moisture on the skin. It contains zinc oxide to heal skin irritation quickly and reduce itching.
Pros:
This cream is made specifically for adults
Cons:
It may leave a white residue on the skin
4) Aquaphor Baby Diaper Rash Cream
Aquaphor soothes the skin with zinc oxide, mineral oil, glycerin, and panthenol. It's fragrance-free and excellent for sensitive skin, including adult skin. The formula is the same as in the adult cream, Aquaphor Advanced Therapy Healing Ointment.
Cons:
The size of the tube could be larger.
5) Touchless Care Zinc Oxide Protectant Spray
This is a diaper rash spray instead of a cream. It is great for skin that is extremely sore and cannot be touched.
Pros:
Hospital quality protection
No need for messy cream applications
More cost-effective than creams
Cons:
More expensive than a lot of the creams
6) PINXAV Healing Cream
Sale
PINXAV Healing Cream, Fast Relief for Diaper Rash, Eczema, Chafing, Bed Sores, Acne, and Minor Cuts and Burns (4 OZ)
CHAFING & RASH RELIEF: Whether you're using this cream as an athlete or as the parent of a little one, our product is just what you need to help prevent chafing or rashes; PINXAV provides a protective coating for the bums of babies, adults, and the elderly by creating a lubricated barrier against rashes and more
PROMOTES HEALTHY SKIN: Many of the incredible ingredients in PINXAV are amazing for promoting healthy skin; Use PINXAV cream to help heal rashes, allergic reactions, dry skin, ed skin, bug bites, sunburns, or skin blemishes; It's also great to use as a preventive measure against similar problems; Great skin product for athletic adults with jock itch! Use also as cycling cream
PINXAV Healing Cream is a multi-faceted skin cream that works on bedsores, burns, acne, eczema, and diaper rash. It is a true skin cream that can be used throughout all of life's stages, from infancy through advanced age. It contains 30 percent zinc oxide, peppermint, natural oils, aloe vera, and an anesthetic to help with skin pain.
Pros:
It treats everything from a mosquito bite, sunburn, and an irritated red rash
Cons:
The cream has a distinctive odor
7) Boudreaux's Butt Paste Maximum Strength Diaper Rash Ointment
This maximum strength ointment contains 40 percent zinc oxide for long-lasting rash protection, far more than other creams. It heals and soothes a rash on contact. The maximum strength ointment is more powerful in clearing rashes than the regular ointment.
Pros:
Works on both babies and adult rashes
How to Prevent Adult Diaper Rash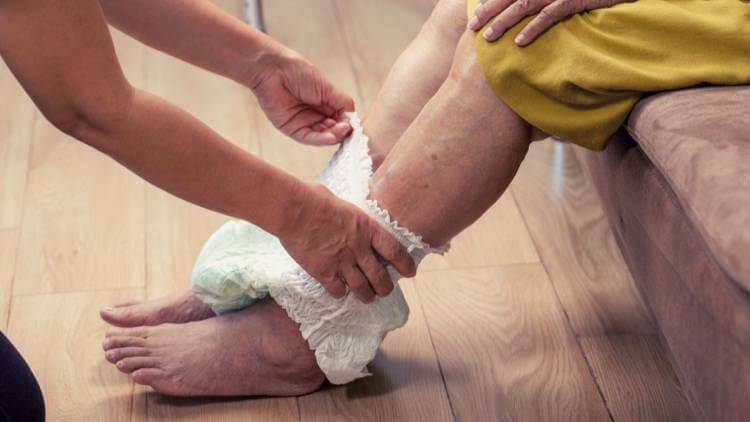 For seniors suffering from incontinence, few things are as important as controlling a diaper rash. With proper care, managing a worrisome diaper rash can be quite effective.
Change frequently – For anyone wearing diapers regularly, Mark Twain's maxim applies: "Politicians and diapers must be changed often, and for the same reason." We won't comment on the politician, but regular adult diaper wearers should change them at least three to four times daily.  If diapers are kept on for more than six hours, rashes are just waiting to happen. Be alert to reddish skin, burning, and itching in the groin area.
Wipe gently – Seniors should be careful to wipe the area gently but thoroughly before every new diaper change. This includes not just the groin but the inner thighs, which can easily chafe.
Start with the right diaper. The right diaper is important. Low absorbency diapers can be best for daytime, while a high absorbency diaper is recommended for nighttime. We have written about the best adult pullups before, adult diapers specifically for women, and on washable incontinence pads. See those links for more information.
Use creams and powder regularly. It is critical to use diaper rash creams and powder during every change. The creams offer a barrier between wetness and sensitive skin. Simple powder can also help keep the skin dry and rash-free.
Shower regularly. While proper hygiene habits are usually a given, seniors, especially those prone to diaper rash, should shower or bathe daily. Cleanliness is indeed next to supreme beings. Use a mild soap and warm (never hot) water.
5 Natural Alternatives to Adult Diaper Rash Creams
Adult diaper rash creams do work on irritated, red, itchy rashes, but there are alternatives you may already have around the house. The following natural products can be tried alone or in conjunction with diaper rash creams.
1) Coconut Oil
Coconut oil, that miracle of the kitchen, also has antifungal and antibacterial properties to fight a diaper rash.
3) Apple Cider Vinegar
Like white vinegar, apple cider vinegar is a kitchen staple and has proven helpful in handling skin problems. Either add a cupful of apple cider vinegar to the bath or use some cotton or a clean cloth to directly clean the affected area.
BRAGG Organic Raw Apple Cider Vinegar, 16 Ounce
Certified Organic Raw Apple Cider Vinegar is unfiltered, unheated, unpasteurized and 5% acidity, and contains the amazing Mother of Vinegar.
Apple Cider Vinegar is organically grown, processed and bottled in accordance with the California Organic Foods Act of 1990 and is also Kosher Certified.
4) Baking Soda
Baking soda isn't just for making your favorite cookies. Add a few tablespoons to the bath and let it heal an itchy rash.
Sale
Arm & Hammer Pure Baking Soda, 5 lb
America's #1 trusted Baking Soda brand
FOR MORE THAN 100 YEARS: A versatile, effective and affordable solution that has been trusted for over 170 years
5) Epsom Salt
Add Epsom salt to your bath to relieve diaper rash itch. Or mix a tablespoon with a cup of water and apply the solution directly to the skin using a cotton ball.
Epsoak Epsom Salt 19 lb. Magnesium Sulfate USP Bulk Bag
Epsoak Epsom Salt (Magnesium Sulfate) is USP grade. It is GMO free (Genetically Modified Organism).
After soaking in Epsoak Epsom Salt it becomes clear why Epsoak is the leading name in Epsom Salt. The expertly selected grain size of Epsoak Epsom Salt means that it dissolves quickly & easily in warm water without hassle every single time. It's transparent/slightly white in color, and is unscented. Buy in BULK and save.
When Should Adults Wear Diapers?
Many adults wear diapers to preserve their dignity. Diapers are intended to contain serious and embarrassing accidents. These adults do not necessarily wear a diaper all the time – prime times would be when attending a function or when bathroom locations are remote or unknown.
Some adults may wear diapers for a while after a surgery. This relieves the stress of worrying about an accident and allows the person to focus totally on his or her recovery. As a rule, this is a temporary situation.
Far more common are adults who regularly wear diapers when they are away from home and the bathroom situation at their destination is uncertain. When incontinence becomes a problem overnight, so diapers are worn to prevent nighttime mishaps.
Some seniors simply accept that they need to live with incontinence. They may be in denial at first and refuse to consider wearing a diaper. But once they realize that they are being held back from many daily activities, even something as simple as shopping, they accept that wearing a diaper has become a necessity.
The Emotional Toll of Female Incontinence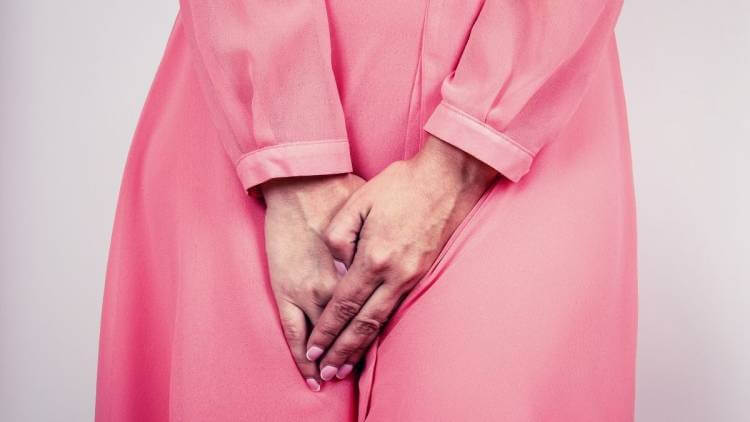 It is not unusual for adult incontinence to take a psychological toll, especially on women. Urgent incontinence can happen at any time anywhere, and frequently at the most inconvenient moment. Living with incontinence is challenging.
It can be tempting to avoid social contact and even sex and can lead to severe depression. As Jennifer Anger, professor of urology at the University of California, has very simply summed up:  "Incontinence is embarrassing."
Depression is more prevalent in women than in men in general, and that includes depression relating to adult incontinence. In a study including 6000 between the ages of 30 and 90, 40 percent suffered from some level of incontinence.
A French study reveal that women with urinary incontinence suffered from lower self-esteem and felt less sexually attractive. Urgent incontinence, with its very unpredictable nature that can happen without warning, takes the greatest emotional toll.
Summary
Adult diaper rash can certainly be uncomfortable, but it is not life-threatening. The adult diaper rash creams we mentioned should heal any skin fairly quickly. However, there may be occasions when nothing will work on the rash or relieve the itching.
If that is the case, there may be an underlying medical condition associated with the rash. A doctor can diagnose the problem and provide a solution, possibly prescription medication.