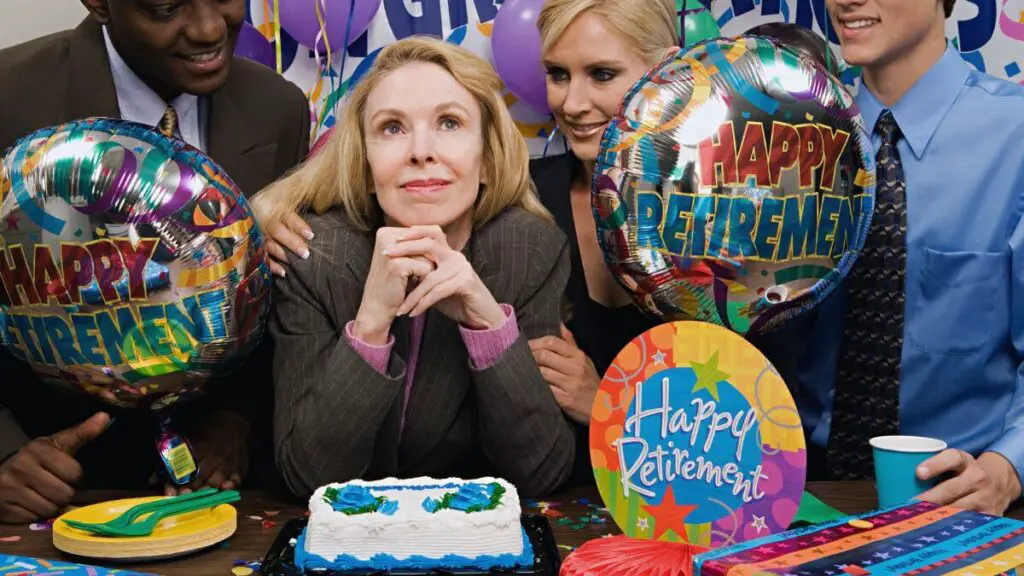 A retirement caps a lifetime of achievements and the beginning of something new for the retiree. It's an exciting beginning and a very important moment in a person's life that deserves to be celebrated. That celebration calls for appropriate retirement songs.
How to Throw a Retirement Party
A retirement party should be as close to the actual retirement date as possible to emphasize the theme. If the party is thrown too long after the senior has retired, it will be throw-away old news – like a birthday party given several weeks after the actual birthday. By that time, the spark is gone.
Before deciding on a retirement party date, the following should be taken into consideration:
The number of people who will attend and who they are.
The venue for the party.
A theme to pull the party together – if the retiree loves to golf, perhaps a golf-themed party at a golf club. If the retiree is a music lover, make sure his or her favorite tunes are highlighted.
Good food makes for a great party. Be aware of the allergies and limitations that can limit a senior's diet.
Many seniors are on medications that do not mix with alcohol, so be sure that there are sufficient non-alcoholic beverages available.
The Retiree is the Star
Everything about the retirement party should be about the retiree. He or she may have conflicted emotions about entering a new phase in life. Maybe they are wondering what to do with themselves. Maybe they are actually going to work a post-retirement job.
The party-giver can make sure the retiree has an unforgettable good time. It is easier than it sounds. Start by picking the right theme and planning from there.
Do some research on people from the retiree's past or people who are currently important to him or her. Surprise and thrill the guest of honor with an old friend he or she would never expect to see. Perhaps someone from school or a company he or she used to work for.
Remember the all-important signing of the yearbook in high school? For this senior, have an autograph book available that friends can use to record their thoughts and feeling. This will be treasured for many years.
Thanks to technology, video comments and interviews (great for those who live far away and are unable to attend) can describe memories that are both funny and poignant. It's fine to poke fun at the retiree in a gentle way.
Organize a quiz that involves who knows the guest of honor best.
Best Retirement Songs
The playlist will determine the mood and atmosphere. The list should keep the retiree in mind but should also be enjoyable for all the guests.
There are humorous and poignantly sad retirement songs. Both are appropriate for the party, but they should match the moment. For example, after a guest has made a touching and heartfelt speech about how much the retiree has meant to him or her, it's the wrong time to play funny retirement songs, such as "Hit the Road Jack" by Ray Charles and "Take This Job and Shove It" by Johnny Paycheck. They are perfectly great songs, but not at this moment.
Songs such as "The Power of Good-Bye" by Madonna, "Don't You by Forget About Me" by Simple Minds, or "Sweet Caroline" by Neil Diamond might capture a deep moment more appropriately. A good song list shouldn't be tone-deaf.
11 Songs for Retirement Parties
A party needs music. A retirement party needs music with a retirement theme. Here are some excellent choices. For added fun, make at least a part of the music a sing-along. It will end the occasion on a positive, memorable, and fun note.
"Wind Beneath My Wings" By: Bette Midler is an ideal song for the retiree who has been there for everyone and has made a difference in so many lives.
Did you ever know that you're my hero
And everything I would like to be?
I can fly higher than an eagle
For you are the wind beneath my wings
---
"Legacy" By: Nichole Nordeman is about everyone leaving a legacy behind:
I want to leave a legacy,
How will they remember me?
Did I choose to love?
Did I point to you enough?
To make a mark on things
I want to leave an offering
A child of mercy and grace
Who blessed your name unapologetically
And leave that kind of legacy.
---
"Young at Heart" By: Frank Sinatra. Old Blue Eyes reminds us that retirement doesn't mean growing old.
And if you should survive to a 105
Look at all you'll derive out of being alive
And here is the best part, you've had a head start
If you are among the very young at heart
---
"We've Only Just Begun" by The Carpenters. The Carpenters reminded everyone that every stage of life is a beginning.
And when the evening comes, we smile
So much of life ahead
We'll find a place where there's room to grow
(And yes, we've just begun)
---
"It's Just a Matter of Time" By: Graeham Goble is a song about a new future and the inevitability of change.
Continue singing here
After I gave you everything I had
You laughed and you called me a clown
But remember in your search for fortune and fame
What goes up must come down
I know, I know that one day you'll wake up and find
That my love was a true love
It's just a matter of time
Is the boss at the party? Is the retiree the boss? There are some fun songs celebrating the end of a lifetime of work.
---
"9 to 5" By: Dolly Parton sums up life at the office.
5 to 9, you keep working, working, working
Working 5 to 9, 'til your dreams, come true
Working 5 to 9, you keep dreaming, dreaming, dreaming
5 to 9, 5 to 9, you can do it
---
"Working Man Blues" By: Merle Haggard sums up the pain of going to work every day.
But I keep my nose on the grindstone, I work hard every day
Get tired on the weekend, after I draw my pay
But I'll go back workin', come Monday morning I'm right back with the crew
I'll drink a little beer that evening
Sing a little bit of these working man blues
Sometimes I think about leaving, do a little bummin' around
Throw my bills out the window, catch me a train to another town
But I go back working, I gotta buy my kids a brand new pair of shoes
I'll drink a little beer that evening
Cry a little bit of these working man blues, here comes workin' man
---
"The Best is Yet to Come" By: Frank Sinatra. Anything is possible after retirement.
Out of the tree of life I just picked me a plum
You came along and everything's startin' to hum
Still, it's a real good bet, the best is yet to come
Best is yet to come and babe, won't that be fine?
---
"My Way" By: Frank Sinatra is one of the great songs of triumph over life.
And now the end is here
And so I face that final curtain
My friend I'll make it clear
I'll state my case, of which I'm certain
I've lived a life that's full
I traveled each and every highway
And more, much more
I did it, I did it my way
---
"Hello, Goodbye" by The Beatles – any person who is retiring grew up listening to the Beatle, who pointed out Hello and Goodbye can mean never having to say goodbye.
You say, "Yes", I say, "No"
You say, "Stop" and I say, "Go, go, go"
Oh no
You say, "Goodbye" and I say, "Hello, hello, hello"
I don't know why you say, "Goodbye", I say, "Hello, hello, hello"
I don't know why you say, "Goodbye", I say, "Hello"
I say, "High", you say, "Low"
You say, "Why?" And I say, "I don't know"
Oh no
---
"You've Got a Friend" by James Taylor. Retirement doesn't mean losing friends.
When you're down and troubled
And you need some lovin' care
And nothin', nothin' is goin' right
Close your eyes and think of me
And soon I will be there
To brighten up even your darkest night
---
"The Best is Yet to Come" by Frank Sinatra sings the truth about retirement
The best is yet to come and babe, won't it be fine?
The best is yet to come, come the day you're mine
Come the day you're mine
And you're gonna be mine
---
11 Easy Listening Songs About Retirement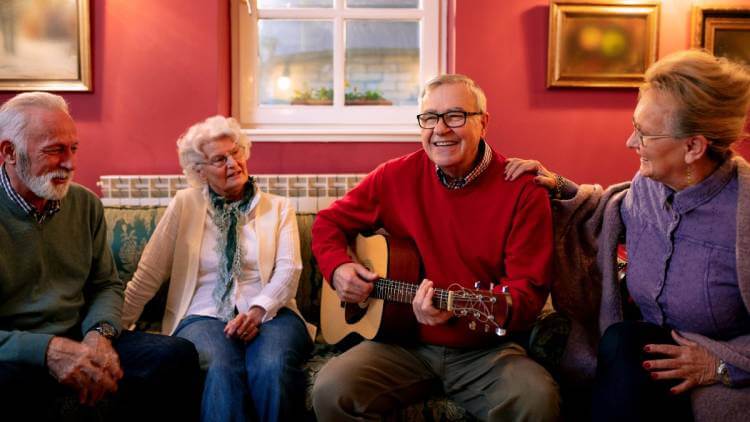 "I Was Here" by Lady A – We want to be remembered. And this song catches that desire perfectly.
I was here, I lived, I loved, I was here
I did, I've done, everything that I wanted
And it was more than I thought it would be
I will leave my mark so everyone will know
---
"Can't Take it With You" by the Allman Brothers Band is about living without regrets. You can't take it with you – so live your best life now.
Well I sympathize completely but there's nothing I can do
I am just a humble servant with a message here for you
Well I know you have good reasons and there's things you've got to do
But the boatman won't be waiting and he's leaving here with you
And you can't take it with you
No matter what you do
No you can't take it with you
Not the place you're going to
---
"Gold Watch Blues" by Donovan couldn't make it clearer that there are some job that no one will miss. Goodbye.
I went up for my interview on the fourth day of July
Personnel man, he questioned me until I nearly cried
Made me fill in forms until I shook with fear
About the color of my toilet roll and if my cousin's queer
"Here's your gold watch and the shackles for your chain
And your piece of paper to say you left here sane"
"And if you've a son who wants a good career
Just get him to sign on the dotted line and work for fifty years"
---
"100 Years" by Five for Fighting – talking to one's younger self? Chances are, every retiree wishes he or she could.
I'm 99 for a moment
And dying for just another moment
And I'm just dreaming
Counting the ways to where you are
15, there's still time for you
22, I feel her too
33, you're on your way
Every day's a new day
---
"When I'm 64" by The Beatles is a song about love. Will it last a lifetime? It's a question to which everyone wants an answer.
When I get older losing my hair
Many years from now
Will you still be sending me a Valentine
Birthday greetings, bottle of wine
If I'd been out till quarter to three
Would you lock the door
Will you still need me, will you still feed me
When I'm sixty-four
---
"I'm Free" by Rolling Stones – retirement is freedom for many.
I'm free to do what I want any old time
I'm free to do what I want any old time
So love me, hold me
Love me, hold me
But I'm free any old time to get what I want
---
"I've Had the Time of My Life" by Bill Medley and Jennifer Warnes – for many, retirement is finally about having the time of their life.
I'm free to do what I want any old time
I'm free to do what I want any old time
So love me, hold me
Love me, hold me
But I'm free any old time to get what I want
---
"Five O'Clock World" by The Vogues makes it clear that not everyone will miss their job post-retirement.
Up every morning just to keep a job (up!)
I gotta fight my way through the hustling mob (up!)
Sounds of the city pounding in my brain (up!)
While another day goes down the drain (up!)
(Yeah, yeah, yeah) but it's a five o'clock world when the whistle blows
No-one owns a piece of my time
And there's a five o'clock me inside my clothes
Thinking that the world looks fine, yeah
---
"This Ain't Goodbye" by Train states that no goodbye is final. Goodbyes are difficult but a normal part of life.
You and I were friends from outer space
Afraid to let go
The only two who understood this place
And as far as we know
We were way before our time
As bold as we were blind
Just another perfect mistake
Another bridge to take
On the way of letting go,
---
"Champagne Supernova" by Oasis is about things coming to an end. Even our jobs.
How many special people change?
How many lives are livin' strange?
Where were you while we were getting high?
Slowly walkin' down the hall
Faster than a cannonball
Where were you while we were getting high?
---
"I'll Always Remember You" by Robert Cray – sometimes, all we are left with are memories. But that's okay. Memories are precious.
I always knew after all these years
There'd be laughter, there'd be tears
But never thought I'd walk away
With so much joy, but so much pain
And it's so hard to say "goodbye"
---
"Something More" by Sugarland – there has to be more to life than trying to please the boss. And retirement is the ideal time to aim for more in life.
There's gotta be something more
Gotta be more than this
I need a little less hard time
I need a little more bliss
I'm gonna take my chances
Taking a chance I might
Find what I'm looking for
There's gotta be something more
---
11 Fun Retirement Songs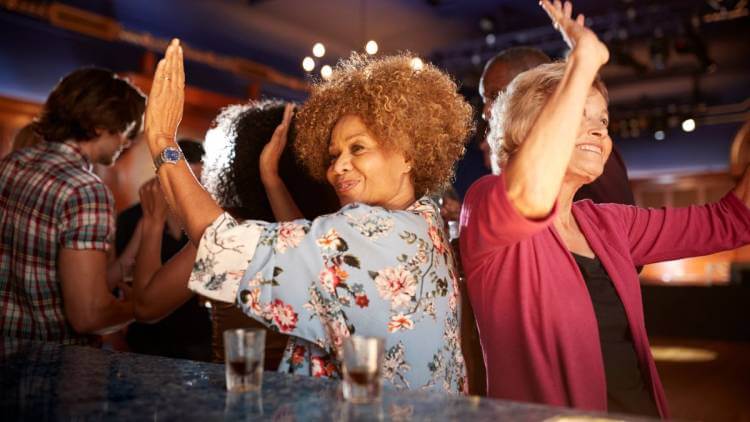 "Hell Yeah" by Neil Diamond – life is a journey. Be grateful without having regrets.
So if they ask you when I'm gone
Was it everything he wanted?
When he had to travel on
Did he know he'd be missed?
You can tell them this, Hell Yeah!
---
"I'm Still Standing" by Elton John has an upbeat take on retirement. You may be retired, but you're still here. You still matter.
Don't you know I'm still standing better than I ever did
Looking like a true survivor, feeling like a little kid
I'm still standing after all this time
Picking up the pieces of my life without you on my mind
---
"Cups" by Anna Kendrick brings some humor to the party. You're gonna be missed – sure you are.
When I'm gone
When I'm gone
You're gonna miss me when I'm gone
You're gonna miss me by my hair
You're gonna miss me everywhere, oh
You're gonna miss me when I'm gone
---
"No Shoes, No Shirt, No Problems" by Kenny Chesney – No ties, no suits, no heels. It's casual day at the beach for you every day.
No shoes, no shirt, and no problems
Blues, what blues?
Hey I forgot 'em.
The sun and the sand,
And a drink in my hand with no bottom,
And no shoes, no shirt, and no problems,
No problems.
---
"You Haven't Seen the Last of Me" by Cher – some defiance, some humor. A promise and a threat. You'll still be around, so everyone better be on their toes.
They can say that
I won't stay around
But I'm gonna stand my ground
You're not gonna stop me
You don't know me
---
"School's Out" By: Alice Cooper – Okay, it's not school, it's work that is out. The old children's song adds some humor to the festivities.
School's out for summer (detention)
School's out forever
School's out with fever
School's out completely
School's out for summer
---
"Jailhouse Rock" By: Elvis Presley – Elvis wasn't singing about retirement, but many people view the job as a kind of jail. And you are dancing free now.
Let's rock
Everybody, let's rock
Everybody in the whole cell block
Was dancin' to the Jailhouse Rock
---
"Don't Worry Be Happy" by Bobby McFerrin – A silly song that covers every occasion – including retirement. In the end, does anything but being happy really matters.
Here's a little song I wrote
You might want to sing it note for note
Don't worry, be happy
In every life we have some trouble
But when you worry you make it double
Don't worry, be happy
Don't worry, be happy now
---
"Take This Job and Shove it" by Johnny Paycheck. No explanation is needed here. Especially humorous if the boss is at the party. Sing this one loud and proud.
Take this job and shove it
I ain't working here no more
My woman done left and took all the reason
I was workin' for
You better not try to stand in my way
As I'm a-walkin' out the door
Take this job and shove it
I ain't workin' here no more
---
"We Gotta Get Out of This Place" by The Animals – is another song, if sung at a retirement party, that will have everyone laughing.
We gotta get out of this place
If it's the last thing we ever do
We gotta get out of this place
'Cause girl, there's a better life for me and you
---
"Born to Be Wild" by Steppenwolf – someone's spent years in their cubicle, following the rules. Not anymore. It's time to roar.
Get your motor runnin'
Head out on the highway
Looking for adventure In whatever comes our way
---
Best Gifts for the Retiree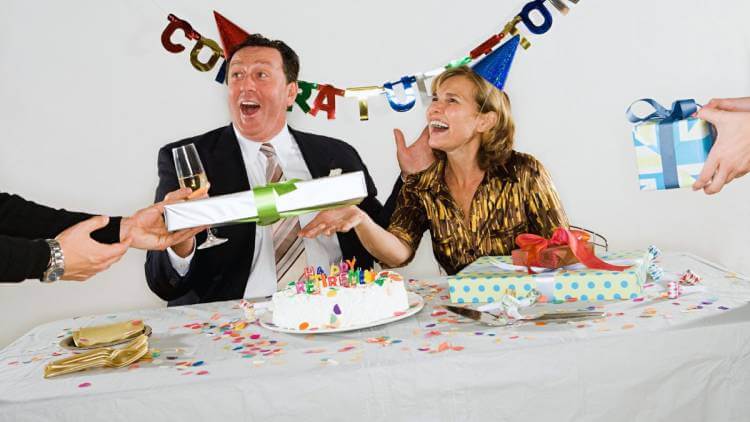 Most retirement parties will include gifts. It shouldn't be too difficult to choose the right present. There are just a few things to keep in mind:
A retirement gift is a once-in-a-lifetime occasion, and generic ties and perfumes should probably be avoided. It's time to get personal. Even if you aren't sure what the retiree wants, personalize it by adding initials (even on a mug). And accompany the gift with a personal, handwritten note.
For many, retirement translates into travel time now that they finally have the time. This means a travel-related gift would be most appreciates. This includes travel luggage, discounts on local and out-of-town eateries, or spa specials.
Seniors understand the importance of self-care to their overall health. (If they don't, their doctor will remind them.) This means a gym membership, yoga mat, exercise equipment, a foot massager, or puzzles to keep the mind young are all excellent retirement gifts.
With more time on their hands, retires now have time to enjoy the books they've always wanted to read or spend some time reading magazines. Consider a book or a magazine subscription as a retirement gift. Of course, time can also be used on an online learning course or an in-person cooking or dancing class. A great gift should remind the retiree that he or she is facing a new beginning with all kinds of opportunities and possibilities. There is always something to learn, regardless of age.
Few people really indulge in gourmet food. If not during retirement, then when? A gift of rare wines or expensive chocolates will be much appreciated.
---
Did we miss any retirement songs? Let us know in the comments section.