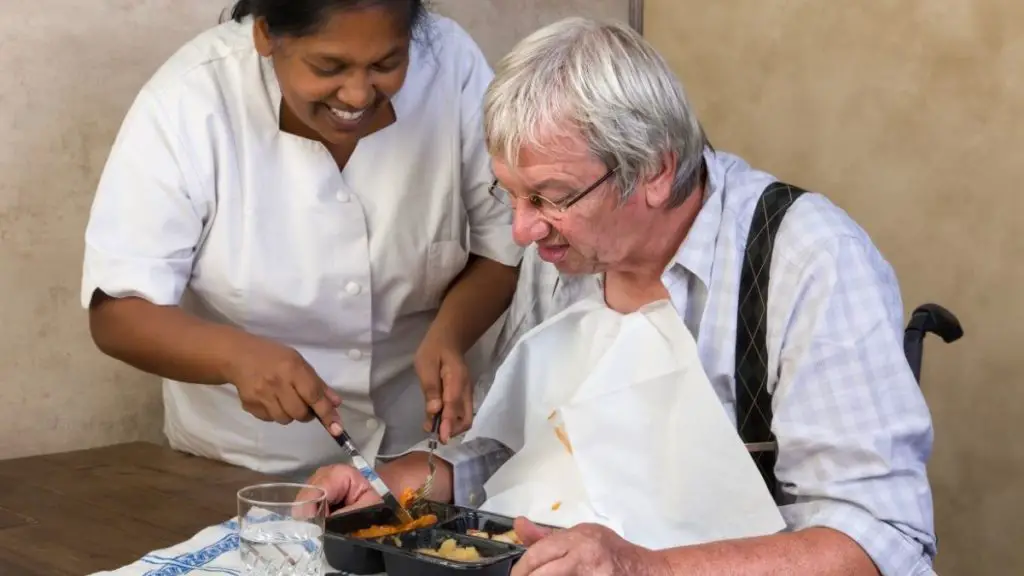 Bibs are not uncommon on babies, but as our population ages, adult bibs are also becoming more common. We are going to cover different bibs that are for sale in this article, but we will also look at how to make your own adult bib toward the end.
We tend to take eating for granted. After all, it is something we do every day. However, as we grow older, a simple task such as eating can become difficult. With arthritis, utensils can be hard to manipulate. And how to cut things?
We need to accept that eating can become a problem for some seniors. Caregivers should encourage seniors to eat unassisted as much as possible. Serving appropriate finger foods can be helpful here. Soups in a mug with a handle can also make eating easier.
Medical Conditions that Can Impact Adult Eating
Nevertheless, eating can be messy for seniors. Caregivers can only do so much. Dementia and/or Alzheimer's Disease, when the senior becomes confused about how to eat, adds to the problem. The simple act of maneuvering different types of utensils can become a challenge for some seniors.
In fact, there are a variety of medical conditions that impact eating and thus might warrant looking for adult bibs to protect the adaptive clothing that may have also been purchased.
1) Strokes
A stroke can cause seniors to experience problems with eating. The primary problem is difficulty with swallowing or chewing. Depth perception may also be affected, making maneuvering a fork or spoon a challenge.
Sometimes, for a period following a stroke, the person may have trouble identifying simple utensils, making their use haphazard and leading to spills.
2) Alzheimer's Disease
Eating can become a challenge for people suffering from Alzheimer's Disease. They require adequate nutrition but frequently forget to eat. They can also suffer from teeth and gum problems or are unable to remember how to handle a simple utensil.
Caretakers can offer a variety of appetizing food to tempt the person. Offer portions that are cut into small pieces and arrange for finger foods. An adult bib will help with the majority of spills
3) Parkinson's Disease
People with Parkinson's Disease suffer from weak muscles and uncontrollable tremors. The simple act of eating can turn into a daily nightmare. It always helps when a family member or caretaker can help at mealtime.
Try preparing softer, easier to chew food.
Ensure that the patient swallows frequently.
Cut food into small pieces to avoid choking and make swallowing easier.
Keep drinking fluids to prevent the mouth and throat from becoming dry.
Patients with Parkinson's Disease and their caregivers will benefit from the use of adult bibs.
7 Best Adult Bibs
Given these conditions and how they can impact eating, individuals and their caregivers are often left shopping for adult bibs to protect clothing and make meal time easier to manage. Below we have assembled a list of different adult bibs that we think might benefit readers.
1 – RMS Bibs for Seniors
These senior bibs come three to a package. They each have a colorful design, making them fun to wear. The designs are also intended to hide many stains. The bibs have vinyl backing and are waterproof. The RMS Bibs come with an optional crumb-catcher.
A Velcro closure makes the bibs easy to keep on. It is washable and reusable. The size – 34" by 18" – is designed to comfortably cover a large person.
Pros
The RMS Bibs are reusable and machine washable.
The large size is practicable for large-sized seniors.
The bib's backing is made of easy-to-wipe vinyl.
---
2 – Elaine Karen Premium Adult Bibs
Sale
The Elaine Karen Premium Adult Bibs can be worn by both men and women and come in a convenient six-pack. They are machine washable.
These bibs are made of durable blue cotton. They are available with two types of closures, a hook and loop or Velcro.
Pros
They are made of 100 percent lightweight cotton.
They have an easy closure.
They are machine washable.
They are sized to accommodate a large person.
Cons
There may be loose threads following a washing.
The cotton is fairly thin.
---
3 – Vive Adult Bibs
Vive Adult Bibs are suitable for both men and women. They are made of machine-washable terry cloth.
These multi-colored bibs come six to a pack, and they fasten around the neck with a strap.
Pros
The Vive Adult Bibs have an optional crumb catcher.
They come in several colors.
The Vive Adult Bibs come with a money-back guarantee.
Cons
They may not be totally waterproof.
They are smaller than some other adult bibs.
They may be difficult to fasten
---
4 – Bacaby Adult Bibs
Sale
Bacaby 3 Pack Adult Bibs for Eating,Butterfly Washable Reusable Clothing Protector for Elderly Women 33.5" x 18"
WIDER BREADCRUMB CATCHER: 3 pack of 18" x 33.5" adult bib. A wider crumb catcher that can easily snares food and spills. Notes: For the folding method of bread crumb catcher, please refer to the picture.
DOUBLE LAYER WATERPROOF PROTECTION: Outer layer of Soft & waterproof fabric to prevent liquid splashing and spilling. The vinyl Supplex backing is waterproof, yet light weight and breathable. Double protection, isolate liquid and hot drink, prevent scald.
The Bacaby Adult Bibs come three in a pack. They have a fun butterfly design that makes them fun to wear. These adult bibs are machine washable. A conveniently large crumb catcher keeps crumbs and other spills in their place. The bibs are made of waterproof vinyl that can be cleaned with a damp cloth.
Pros
The Bacaby bibs are designed to cover large people.
Cons
The vinyl may not be totally waterproof
---
5- Classy Pal Adult Bib for Women
Classy Pal Adult Bibs for Women, Wipe 'n Wear™ Clothing Protectors for Eating, Senior Adult Bib Crumb Catcher, Waterproof, Reusable, Washable (Pearls 3pk)
Not Your Average Adult Bib - Classy Pal Wipe 'n Wear Clothing Protectors are much more than the typical adult bib on the market. The adult bibs for eating are composed of the finest woven plastic and vinyl material with a waterproof inner lining to help under clothes stay clean when spills happen. For many adult senior citizens wearing a bib is demoralizing, but now your loved one can feel dignified, confident, and beautiful.
Your Clothing is Protected - Spills happen. Our fast-drying Wipe 'n Wear vinyl clothing protectors are easy to clean. Simply wipe or rinse off & go on with your day! At a large 19" wide x 29.5" height, our adult "bibs" were designed with full lap & chest protection with bottom snaps that allow for an optional crumb catcher and/or pocket and 2.5" fastener to adjust the length. Whether you're eating at home, driving to work with a coffee, or applying makeup - your clothing will be protected.
These are a fun bib for women, with a formal pearl-on-black design. It definitely looks classy and expensive. It is long for ideal coverage down to the knees. There is a male version of the Classy Pal Adult Bib designed like a shirt.
The Velcro closure can easily be used by most seniors without assistance. It is made of machine-washable terry cloth.
Pros
It looks elegant and formal.
The Classy Pal bib has quality stitching.
The bibs absorb moisture well.
Cons
There is no design except for the pearls.
---
6- Adult Bib Scarf
Adult Bib Scarf - Fashionable Alternative to Adult Bibs | Machine Wash & Dry
🎁 STAY DIGNIFIED & FASHIONABLE with our senior bibs scarves specifically designed to uphold the dignity of senior citizens. Wearing a "grown-up bib" is depressing and humiliating for many of our loved ones. Designed to Dine adult bib scarves allow our seniors to maintain a stylish and dignified look while dining with friends and family. Adaptive clothing to protect both your shirt and your dignity.
🎁 EASY TO WEAR Our uniquely designed bibs for adults solve the problems of size with a modified scarf design. Simply drape around your neck, the micro-suede texture will keep it in place. Provides independence to adults with arthritic hands, Parkinson's Disease, hand tremors, and other medical conditions. A clothing protector which masquerades flawlessly as an accessory for any outfit.
The Adult Bib Scarf makes an absolute fashion statement. It can be worn any time but is probably worn best while dining out. It comes in a variety of colors and designs, allowing you to coordinate the scarf with your wardrobe. It is the epitome of chic. At the same time, it is a practical bid that is stain-resistant. The polyester fabric is machine washable.
For seniors who want to make a fashion statement. The scarf drapes easily around the neck like a favorite fashion accessory. It can actually be worn as a scarf.
Pros
It allows seniors to dine out with dignity.
The scarf adds a layer of warmth.
It creates a fashion focal point.
Cons
The scarf can create a bulky-looking torso.
Long hair may tangle with the scarf.
---
7 – Terry Cloth Adult Bibs
6PK Reusable Terry Cloth Adult Bibs – 18" x 30" Super Absorbent Washable Apron
FULL-COVERAGE BIBS: These high-quality large sized bibs provide full coverage for adults during meals and measure 18"x30". Our adult bibs protect chest and lap from spills and stains and they're great for caregivers, nursing homes, hospitals and at home use.
SUPER ABSORBENT TERRY CLOTH: Washable bibs are made from ring-spun cotton that is super soft and absorbent like a towel. Cloth easily absorbs liquids. Material is 86% cotton and 14% polyester with a double-stitched him that makes it durable and long-lasting.
These terry cloth bibs come six to a package. They come in one color only – blue. The bibs are made of soft, washable cotton and do an excellent job of absorbing liquid. They can multi-task and provide perfect coverage while cooking or working on an art project.
The Velcro closure is easy to handle, including by anyone with disabilities.
Pros
The bid protects the lap as well as the chest.
The terry cloth material is super absorbent.
The fabric holds up during machine washing.
Cons
The blue color can fade over repeated washings.
---
What to Look For in an Adult Bib
It is not unusual for any senior to become embarrassed by the need to wear an adult bib. Fortunately, they come in an array of different styles to make it easy to find the best one for you.
Picking out the style can be half the fun. Some bibs are sophisticated, such as the Classy Pal bibs, have pretty pictures like several other brands, and come in different colors. Look for a bib that is fun to wear.
Keep the seniors' built in mind. Not every bib is designed for a large person. You want the chest and lap completely covered. That would take a bib approximately 35 inches in length. But that might be too long for a short person. Choose the best size for your needs.
Bibs come with different closures. Many adults, even those with mobility issues, can handle a Velcro closure on their own. The hook and loop system is doable, as well. This allows them more dignity and independence.
Consider if you want washable or disposable adult bibs. One will be more work, the other will be more expensive.
Not every adult bib comes with a crumb catcher. For messy eaters, however, it is a handy advantage.
How To Make Your Own Adult Bib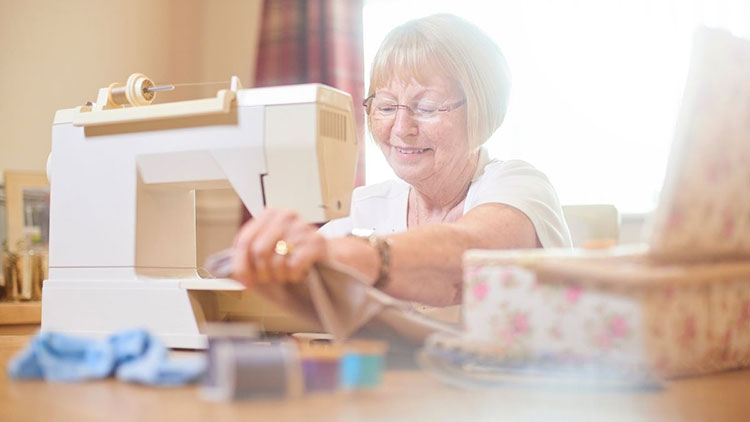 There are a number of ways to create an adult bib at home. A simple example is to use a chain with alligator clips and clip on a dinner napkin. It's simple, it's thrifty, and it works.
If you wish to sew your own, hand towels make the best absorbent material. Use plain ones for every day and use a holiday-themed towel for special seasons. Holidays can be difficult for seniors, and this small touch can add something special to the day.
The terry cloth material of towels also makes great linings, while you use an easy, washable material for the front of the bib. You can make these bibs look special by adding a decal or some buttons as a design.
Amount of Fabric for a Homemade Adult Bib
The amount of fabric for sewing a homemade bib will vary according to the size, of course. However, two and a half yards is a standard measure. Keep in mind that bids have two sides, so you will need that amount for each side.
Adult Bib Pattern
If you are handy with a needle, sewing an adult bib is a fun project that will mean a lot to the senior who receives it. Below are some sites that can help you create adult bibs.
This site offers easy-to-follow patterns with directions. It helps if you have some sewing experience to complete these patterns.
This site has several bib designs using flannelette, tablecloth, or terrycloth. The intent is to make the design unobtrusive. They can be worn out to a restaurant and discreetly removed after the meal. These patterns require a bit of sewing skills and may be best used for special occasions.
Technically, this design is not a senior bib. It uses a man's shirt and turns it into an eating bib. The site provides step-by-step directions on how to create this practical shirt.
This site provides the patterns for an easy adult bib that has plenty of coverage. Use your own choice of fabric.
This is a video that guides you step-by-step in creating an excellent adult bib. The demonstrator uses a simple and inexpensive towel to create a design that covers the torso and knees. 
This interesting pattern has two practical sides – one female version that has a round collar and a male version with a man-type collar. You can, of course, personalize this with a pretty design for the lady or a mock tie for the gentleman.
The site provides explicit directions for using the pattern. You can make several using different material, such as terry cloth for especially messy occasions. These designs are mainly created by sewing several types of fabric together, like a quilt. Regardless of the fabric, it has to be washable.
How Caregivers Can Help Seniors at Mealtime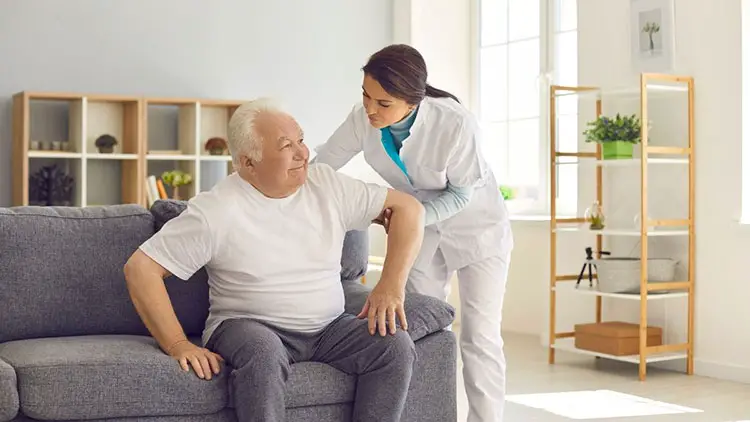 Many seniors simply lack an appetite; seniors with dementia frequently forget to eat. For caregivers, whether at home or volunteering in a nursing home, getting seniors to eat can be a challenge. As we have discussed, an adult bib can be a great help. There are other things a caretaker can do to assist a senior at mealtime and make it more pleasant:
If at all possible, have someone join you at mealtime, either a neighbor, friend, or family member. This will likely cheer up the senior tremendously and encourage him or her to eat a full meal.
Meals are always tastier outdoors. Arrange for a picnic or dinner on a terrace. If there is a nearby park, arrange for lunch or dinner there, amid the beauty of nature.
Seniors can be picky eaters. Try to indulge their taste and offer their favorite foods as often as possible.
Serve smaller but more nutritious portions. A huge plate overflowing with food can be overwhelming. Sneak in nutrient-dense foods such as avocadoes, eggs, nuts, and some cheeses.
Some seniors respond better to five small meals a day than to three full-sized meals.
Serve finger foods such as chicken nuggets, fish sticks, and strips of carrots or bell peppers.
Keep yogurt, string cheese, crackers, or dried fruits handy as tasty treats and snacks.
Many seniors dread mealtime. A caretaker who prepares nutritious and tasty meals can make a huge difference.