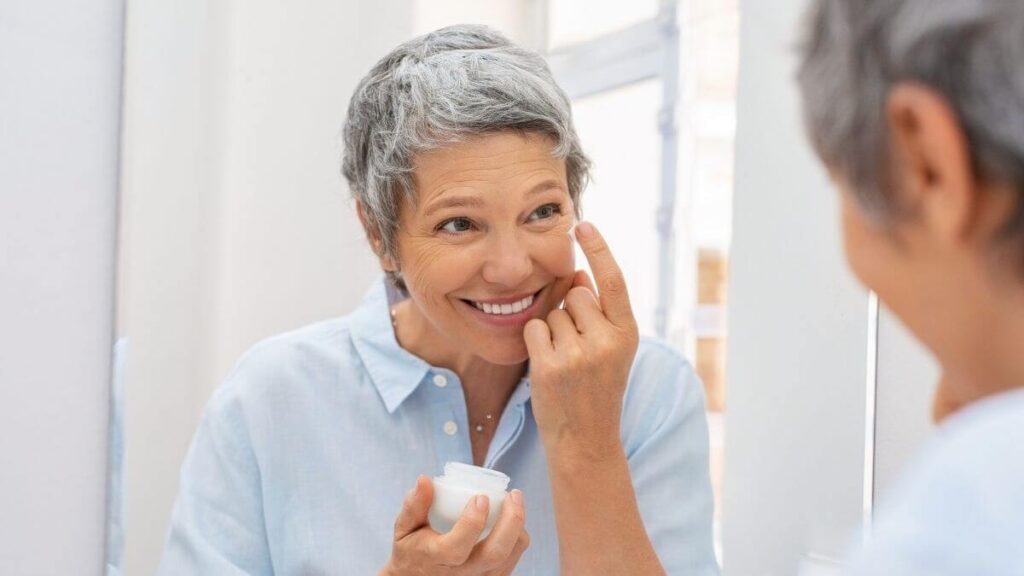 Skin will naturally change with age, but the right anti-aging skin care can make a huge difference in how the skin reacts. The state of one's skin is usually the first indication of our chronological age. But age is just a number, isn't it?
The most visible signs of aging skin are:
The skin becomes noticeably dry and rough – less smooth.
It loses elasticity.
It becomes thinner.
The blood vessels thin and we bruise more easily.
With age, the skin is more likely to develop lesions and benign tumors.
Sometimes, age is less about the advancing years than adjusting to what is happening.
Best 5 Strategies to Deal with Aging Skin
1 – Be Gentle
As the skin becomes more fragile, it is important to treat it as such. While teens are told to "scrub" their oily skin, seniors need to be gentler, even seniors who are still prone to breakouts (it happens). A gentle, circular motion spreading anti-aging skin washes with the fingers is all that is needed.
2 – Know Your Retinoids
Retinoids come in various forms – creams, gels, etc. – but they all have Vitamin A, which is critical for youthful skin maintenance. They help the body produce more collagen, which keeps the skin firm longer, with fewer wrinkles as the result. While retinoids are available in both natural and synthetic form, natural is better.

Retinoids are available in different strengths, from 0.025 percent to 0.1 percent. Higher levels of retinoid work better, but they may have side effects. Anyone considering retinoids should discuss the situation with his or her dermatologist, who can decide if a prescription or over-the-counter form is best.

Retinoids should be dabbed on the face in the evening and gently rubbed into the skin. There is no need to use much as that could cause redness and increased drying. Retinoids do not react well to the sun and should be avoided during the day. Says Dr. Wu, "I start recommending retinoids for anti-aging to my patients in their thirties."
3 – Use Sunscreen
Everyone knows the importance of sunscreen as a protection against sunburns and skin cancer. A less-talked-about benefit of sunscreen is that it moisturizes and may slow down the signs of aging by 24 percent. A study published in the Annals of Internal Medicine studied 900 people over four years. The results showed that those participants who began using sunscreen daily in their 40s showed reduced skin aging. Sunscreens work best when applied every day, not just when at the beach.
4 – Treat Dry Skin
Skin dries naturally as we age as the body produces less oil. To compensate, seniors should use a richer face cream than they did when they were younger.
5 – Eat a Healthy Diet
We all know about the link between diet and weight, but there is also an important connection between diet and aging skin. According to Dr. Patricia Farris, assistant professor at Tulane University School of Medicine, "There is research that suggests that a healthy diet with specific nutrients can help reduce the signs of aging."
At the age of 70, supermodel and dietician Maye Musk is still in demand to walk the runways.
Instead of plastic surgery and Botox, Musk credits a plant-based diet for her looks. A healthy diet can:
Add Vitamin C, which is an antioxidant and producer of collagen, to the skin. A diet heavy in Vitamin C would include strawberries, bell peppers, and broccoli, among other produce.
Linoleic acid, or fatty acid, is important to prevent the skin from getting thin. Foods with fatty acids are soybean oil and nuts. These can be consumed in conjunction with foods rich in Vitamin C.
They tell teenagers that sugar can cause acne. For seniors, sugar can cause the skin to lose elasticity and add more wrinkles. Seniors should take care to replace sugary foods with naturally sweet foods, such as fruits.
Instead of an expensive jar of cream, seniors would be wise to reach for some protein. Collagen protein is critical to healthy, aging skin. A lack of sufficient collagen protein can cause wrinkles and sagging skin.
Additional Anti-Aging Skin Care Tips
Many of us remember splashing some water on our faces in the morning and looking splendid for the day. That, however, was a few decades ago. As people reach a certain age, they are wise to invest the time in a good and beneficial skincare routine. Fortunately, that is a habit that is easy to get into and the benefits are younger looking skin. The sooner a person starts, the better the effects of such a routine. How we age is our own choice.
Use sunscreen religiously at any age. Sunscreen protects the skin from early signs of aging. Don't use anything that has less than SPF 30 – higher is even better. Be on the lookout for beneficial ingredients such as zinc oxide and titanium dioxide. In addition to sunscreen, hats and clothing that protect the skin can lessen the damage to skin cells, and spending time in shady areas are all recommended. You need some time in the sun (remember Vitamin D), but all in moderation.  
Sale
Antioxidants, so important to healthy skin, consists of vitamins and minerals that act as warriors to fight off damaging free radicals that are out to destroy the skin. It's rarely a fair fight, because antioxidants will most likely always win as they lessen inflammation and repair skin damage. Antioxidants are the good guys. The best way to ensure plenty of antioxidants is to consume fresh fruits and vegetables and to use natural skincare products.
Sale
Cetaphil Face Serum, Healthy Radiance Antioxidant-C Serum, Visibly Reduces Look of Dark Spots and Hyperpigmentation, Designed for Sensitive Skin, Hypoallergenic, Fragrance Free,1 oz
CETAPHIL HEALTHY RADIANCE ANTIOXIDANT-C SERUM: Concentrated vitamin C antioxidant protection defends against dark spots and hyperpigmentation
GentleBright COMPLEX: Powered by 2% niacinamide (vitamin B3) and nourishing antioxidants to reduce the appearance of dark spots, brown spots, age spots, hyperpigmentation, and post acne marks to even skin tone for a brighter, more radiant complexion
While we are discussing the importance of vitamins, all vitamins are good but not equally beneficial for the skin. Vitamin C is the leader in fighting off the signs of aging. It helps lessen the appearance of wrinkles and boosts the benefits of collagen. When purchasing a skincare product with Vitamin C, make sure it also contains L-ascorbic Acid. Whatever Vitamin C product you choose, make sure it has a minimum concentration of 10 percent, and preferably, 20 percent of Vitamin C.

Keep in mind that consuming Vitamin C, as in orange juice or broccoli, also has positive effects on aging skin.
Vitamin C Facial Serum with L-Ascorbic Acid 15% with Vitamin B5 - for Fades Age Spots, Smoothing Fine Lines + Dark Spots, Pore Refining, Resurfacing, 1 Fl Oz (30ml)
REAL 15% VITAMIN C IS INCLUDED - Our Vitamin C is produced in small quantities and should be used within 6 months after opening. vitamin c is an indispensable nutrient for collagen production, vitamin C synergistically blends with Botanical Hyaluronic Acid and Vitamin E, which is designed to target the most common signs of aging including, firmness, fine lines, wrinkles, dark spots & sun spots.
THE SECRET TO YOUNG, REJUVENATED SKIN. If you are worried about showing the signs of aging, or if you have already begun to see the effects of age on your face, our Vitamin C Serum helps fight the signs of aging before and after they begin through natural antioxidant protection. The Difference in skin treated with Our Vitamin C Serum is striking. fresher looking skin, improved tone and clarity, smaller pores, less breakouts, fine lines and dark spots.
Vitamin A, also known as Retinol, works in conjunction with Vitamin C to reduce fine lines and increase collagen production. Vitamin A needs to be used sparingly as it can be drying to the skin. Some doctors recommend using it every other day. Skincare products containing Retinol are available over the counter.
Argireline is a skincare ingredient that handles "deep" wrinkles, such as frown lines or crow's feet, and is believed to be the next best thing to Botox. Argireline is a brand name and can be found in various products. According to plastic surgeon Rita V. Linkner, "Everyone is trying to mimic Botox's contenders, and so far, Argireline is one of the best contenders." It is important to use an Argireline product that does not contain skin-drying alcohol. It works best when directly applied to the forehead and brows. The Ordinary Buffet is an excellent version of Argireline.
Sale
Matrixyl-3000, another powerful anti-age skin fighter, is about keeping wrinkles away with collagen and is known to outperform Vitamin C. In a study at Reading University, it was shown that Matrixyl-3000 decreased the severity of wrinkles. Just 4 percent of Matrixyl-3000 in a cream or serum can double the amount of collagen in the skin. It can even reverse some of the damage created by UV exposure.
Skin Perfection Matrixyl 3000 Anti-Aging Peptide Palmitoyl Tripeptide-1 Tetrapeptide 7 Look Years Younger DIY Serum Booster
Matrixyl 3000 - Anti-aging skincare ingredient Peptide! Use to Make your OWN Custom Formulas! Reduces the look of wrinkles - Brings back a youthful appearance - Palmitoyl Tripeptide-1 and Palmitoyl Tetrapeptide, a natural topical facial treatment for younger, more youthful-looking skin
What is Matrixyl 3000? Our Matrixyl 3000 is a Serum Booster to help your skin look visibly younger overtime. It Is a blend of 2 anti-aging peptides designed to help your skin look visibly younger. Look 5 to 10 years younger
Do Natural Anti-Aging Ingredients Work?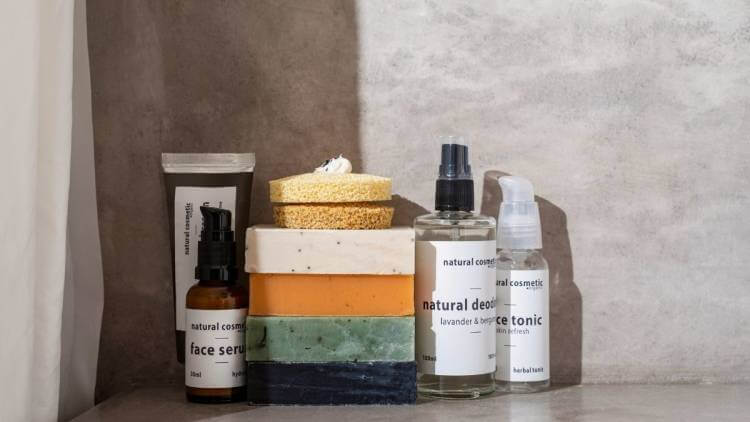 We have been trained to believe that natural ingredients are always better than chemical or processed ingredients. The vague general belief is that synthetic is toxic and natural is safe.
That is not always the case. Sometimes natural anti-aging ingredients are worse for our skin.
One of the problems is the confusion between clean and natural. Both are hailed as being sustainable, cruelty-free, and safe. Sounds good? It is, except clean products may also contain synthetic ingredients. And all-natural can be misleading. Poison ivy is natural, but a person would not want it next to his or her skin.
Coconut oil, a great natural product, may be too heavy for certain skins and clog pores. Of course, other natural ingredients, such as honey, oats, or turmeric, have incredible skincare benefits.
In many instances, the preference for plant-based products is simply that they are known – and pronounceable. Not everyone recognizes that long-worded ingredients, such as magnesium sulfate, or niacinamide, to just name a few, can be very beneficial. On the other hand, natural aloe vera, which is great for the skin, may have been produced in an unhealthy (polluted) environment and irritate the skin.
In some ways, we have been "naturally" brainwashed,
When looking for healthy, anti-aging skincare products, a lot depends on the individual product. It can be hit and miss. If irritation occurs, a dermatologist should be able to determine the source. When it comes to skincare products, seniors want products that work for them, not against them, and those can be either natural or synthetic. A smart consumer is usually a happy consumer.
Natural Anti-Aging Skin Care Products
boscia Indigo Eye Cream
Sale
boscia Indigo Eye Cream is vegan, natural, and clean, as well as cruelty-free. It reduces dark circles and puffiness around the eyes and hydrates. Stimulated collagen production and contains anti-inflammatory products. Smooths the skin and lessens fine lines.
Features
Wild Indigo Hydrates and Balances Moisture Levels
Reduces the Dark Circles, Inflammation, and Puffiness
Increases Luminosity
Fucus Algae Provides Antioxidant Benefits
Cacao Root Combats Fine Lines and Wrinkles and Slows Down Premature Aging
Contains Vitamin C and Magnesium Which Boost Skin Health
Pros:
It is a part of a line of skincare products.
Cons:
Contains artificial fragrances.
The jar is frequently only half full
CeraVe Anti-Aging Gel Serum
Sale
CeraVe serum provides hydration by using sunflower oil and hyaluronic acid and leaves skin with a smoother glow. It contains retinol and Vitamin C serum, niacinamide, and three essential ceramides that create a moisture barrier – ceramides are a natural skin moisturizer.
Features
Formulated With Ceraplex, a Blend of 5 Ceramides and Sunflower Oil
Instantly Improve Skin's Radiance
Hydrates & Moisturizes Skin
Fragrance-Free and Non-Comedogenic
Mve Delivery Technology Ensures Ingredients Are Delivered to the Skin Slowly Over Time
Gentle and Non-Irritating Formula
Cons:
It contains a lot of oil, so it should be used sparingly.
artnaturals Anti-Aging Vitamin C Serum
Sale
This serum contains Vitamin C, hyaluronic acid, and retinol. It works to reduce the appearance of wrinkles, crow feet, and dark under-eye circles. It tightens loose skin and provides a more radiant look. It is also cruelty-free and paraben-free. This is the overall best anti-aging serum in its price range.
Features
Vitamin C Serum With Hyaluronic Acid
Restores Skin's Natural Radiance and Targets Wrinkles, Signs of Aging, Sun Spots
Ideal for All Skin Types
Has Botanical Ingredients Such As Vitamin E, Gotu Kola, Jojoba Oil, and Aloe Vera
Won't Cause Redness Or Irritate
Non Greasy and Fast Absorbing
Pros:
Works well on most types of skin.
Collagen Face Cream- Anti Aging Daytime Moisturizer
This face cream minimizes pores, firms the skin, and hydrates. It contains collagen, Vitamin C, and hyaluronic acid to help cell renewal. It has an herbal but not artificial scent. Use with or without serum. It is lightweight and moisturizes for 24 hours.
Features
Designed to Support Collagen III Synthesis and Prevents Collagen Degradation
Boosts Elasticity and Increases Skin's Energy for Healthy Cell Renewal
Fights Against Blue Light
Fast Absorbing
Key Ingredients: Detoskin™, Vitamin C, Hyaluronic Acid, Argan Oil and Collagen
Pros:
Works well on sensitive skin.
Absorbs quickly into the skin.
Alpha Skin Care Renewal Body Lotion Anti-Aging Formula
Alpha Skin Care Body Lotion works on all skin types as it reduces the appearance of wrinkles. Helps eliminate fine lines and dark spots and overall improves aging skin.  The lotion has 12 percent alpha-hydroxy acids that help remove dead skin for a smoother appearance The lotion also contains Vitamin E and aloe vera.
Features
Formulated With 12% Glycolic Alpha Hydroxy Acid (Aha) and a pH Level of 4.0
Gently Exfoliates and Hydrates, Leaving Skin Soft, Smooth and Radiant
Paraben and Fragrance-Free
Reduces Signs of Aging from Head to Toe
Natural Ingredients
Cons:
Does not contain anti-irritants.
How to Keep Skin Looking Young(er)
We cannot do anything about aging. However, we can control how we age.
Here are some lifestyle choices that can help us look younger for longer.
Stay out of the sun as much as possible. If you are at the beach or out on a sunny day, always use a strong sunscreen, SPF 30 or higher. For that attractive tanned look, it is worth investing in a self-tanner.
Stop smoking. Smoking causes our complexion to become dull, and it does speed up the aging process.
Avoid the same facial expressions, such as frowning or squinting. These will leave permanent lines on the face.
Are you what you eat? That certainly holds a lot of truth where the skin is concerned. Skin needs proper nutrients to shine and glow. Sugar and carbohydrates can hasten the aging process.
Like the wrong diet, alcohol can leave us looking older as it dehydrates our skin.
Research at McMasters University in Ontario seems to indicate that exercise not only helps the skin stay younger, and it might reverse the effects of aging. More research is being done on that subject.
 Gently cleaning the skin twice a day and applying a good cream afterward keeps the skin clean and moisturized.
Summary
Our face and the condition of our skin are our introductions to the world. It is the first thing people notice about us. With a few good lifestyle habits and some proper moisturizing, we can maintain a youthful and smooth look for many years. Age is merely a number. How we add it up is up to us.