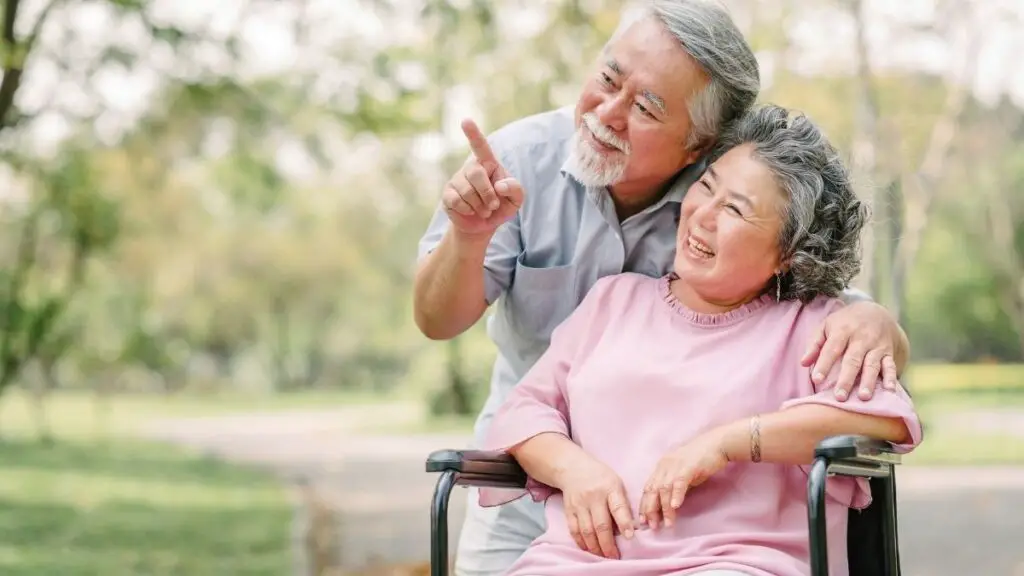 Massages and baths, make-up therapy, and gourmet meals made by ex-Michellin-Star chefs are hardly what one thinks about when elder care and assisted living options are mentioned. However, it seems that this is a reality for many Japanese seniors receiving elder care.
With an extensive and holistic approach to understanding the elderly and their needs, Japan has some of the best assisted living options for the disabled and the elderly in the world.
This kind of care and culture in which the elderly are cherished are some of the reasons why the Japanese are among the longest-living people on the planet. At one of the elder care centers that we've reviewed, the average resident age was a whopping 87 – more than an average person living in the West can hope to achieve during their lifetime.
With a day filled with activities and professional staff taking care of all the needs of the elderly, Japan is one of the more popular countries to retire to.
How Japan Treats Seniors
Seniors in Japan are well-respected and their care is prioritized by the state and the government. They are seen as strongholds of their multi-generational families. As the person ages, they know more with every passing year – which is an important concept to bear in mind to better understand where the fundamental difference in the attitude one has towards their family. The elderly themselves also have a big say in how their daily life is organized and how they spend their time.
Those with higher earnings may choose to go for regular trips or visit one of many hot springs found on the group of islands. Others may choose to enjoy more local activities – such as hiking, visiting museums, and learning. Indeed, DMM Eikaiwa, one of Japan's leading online English language schools, is one of the favorite pastimes for the elderly in Japan.
It is these two habitual practices, staying physically active and mentally occupied, that are at the core of how elderly homes in Japan are organized. Far from the hyper-comfortable Western counterparts, assisted living options in Japan bring together people from different walks of life and with different care needs – having young students, people with disabilities, and the elderly living on the same campus is not a rare sight.
During their average day, Japanese seniors are given a chance to exercise, cook, walk, and take care of their communal spaces – all with significant help from professional workers employed by the institutions. Besides these, they are also offered time and space where they can learn new skills, music, and singing, all with the aim of activating different parts of their brains and ensuring vitality and recovery to a reasonable extent.
In addition to all these perks of living in assisted living in Japan, the communal spirit is nurtured as well. As so many elderly live in cohabitation with younger students, they will necessarily exchange knowledge with them and spend time that is invigorating to them. In turn, the youngsters, usually there on a volunteer basis, receive discounts on their accommodation and free use of laundry services.
Far from a passive experience under medication, the elder care centers in Japan also reconstruct the way that their residents used to live. Some allow your own furniture to be brought in. Some others organize small on-campus shops and shopping trips – all with the goal of maintaining the quality of life of the elderly. As many other nations face an aging population and issues of financing elder care, it is mostly up to Japan that they can look up to and implement the already-proven best practices.
Long-Term Care Programs in Japan

Far from a sustainable model, Japanese elder care has its issues as well: the high costs of living in the assisted living options and a high reliance on the existing medical and hospital system put the aging population at risk of overdrawing funds available to them. With the issues expected to boom in the upcoming decade, with a shortage of some 380,000 elder care workers by 2025, the existing system needs revision and further cost-optimization.
Some authors propose more home care services to reduce the strain on hospitals and the pressure on existing elder homes. However, the current system in place has already moved past this point, as a single elder assistant can help more people in an elder home than in a home care scenario. Some of the best (paid) elder homes already combine providing assistance to multiple social groups at the same time:
Students – who are given accommodation on the premises – offering an additional revenue stream or volunteer work in exchange for a reduction in rent prices,
The elderly – the focus of the assisted living options; they help care for the disabled and are involved in maintaining, vegetable growing, and cooking food, and
The disabled – help by cooking and taking care of companion animals (mostly alpacas, due to their calm nature).
The streamlined and optimized system is far from a perfect solution, but considering a holistic approach to elder care, keeping them active, and increasing their longevity all give good results. With the changing family model in Japan and a higher focus on personal welfare and career-building, many do not have as much time to dedicate to the elderly at home. For this reason, an expansion of the existing model is necessary to provide the best to the most.
Still, there are many beneficial ideas and elderly care system organizations that you can benefit from, especially if you are an elderly expat in Japan or planning on moving there. For comparison's sake, looking at elder care in South Korea where seniors are also well-respected.
LTCI – Long Term Care Insurance
Japan's LTCI is insurance that covers care costs for those older than 65. Equally available to everyone. The system is criticized because it provides equal funding irrelevant of one's income. Still, it is considered one of the most comprehensive social care systems in the world.
Community-Based Care
Community-based care is somewhat integral to Japanese culture. From community-wide training in safety, fire hazard procedures, and many more, the community spirit is then passed on to the care of the elderly. With partial funding from the obligatory premiums (for everyone over the age of 40) and through local government subsidies, the other portion of the costs is covered by co-payments (a.k.a. participation payments) from existing users.
The system also relies on volunteer workers, which reduces the operational costs, while the circular care method provides both employment and care for all in the elder housing. As these centers are integral to the community, they are also present in the community itself – existing properties are repurposed or existing free land surfaces reestablished as elder homes. Far from the isolation that the Western models of elderly living options provide, the Eastern solutions provide contact with the community.
Home-Based Elder Care

As home to the world's fastest aging population, Japan promotes home-based elder care. The current focus on community-based care and facility-based elder care solutions are there to help bridge the existing gap between personnel that is needed and personnel that the job market can provide.
Home-based care for the Japanese seniors still relies on medical professionals and volunteers, with the biggest benefit of using the existing structures and buildings as opposed to building specially-designed buildings that are not easy to refurbish for other uses if the need be.
Besides the obvious financial and city-planning benefits, this approach to elder care and living assistance also offers emotional benefits, as the elderly do not have to leave their home to seek the protection they need.
Facility-Based Elder Care in Japan
Facility-Based elder care in Japan is undergoing the same scrutiny as other types of assisted living options in the island country. With the advent of the top-heavy demographics, the need for assisted living increased, and so did the number of facilities offering this type of assistance. However, as more people need access, it has become an unsustainable practice. For this reason, facility-based elder care in Japan has changed its approach from the one focused on comfort and providing to quite a different model.
Currently, the system provides care and support but does not provide enabling to the full extent. Rather than employing others to care for the elder, the facilities now empower the elders to take care of themselves and keep living the life they used to live. This includes work on improving mobility, cognitive performance, as well as the independence of the elderly.
Home-Visit Nursing Agencies in Japan

With an aging population, the need for different solutions to care for the elderly increases as well. Although this program now does not receive as much support from the government as it used to, it is still held in place by the private sector. Over time, the system has grown to include care for the disabled, people with psychiatric conditions, as well as terminally-ill patients.
Community-Based Prevention of Long-Term Care Dependence
Community-Based Prevention of Long Term Care Dependence or Community-Based Integrated Care System was introduced in 2000 with the aim of assisting facility-based elder care. In this model, the elderly obtain certification and are taken through a tier-based care system.
Medical assistance is provided at first, then appropriate recovery-period care, and finally, the elders are released into communities in which they can take care of each other. As this sector still faces labor shortages and funding issues, it coexists with other models of care for the elderly.
Japan's Elder Care Challenges and Opportunities
As no elder care system is perfect, the systems outlined above have their own issues as well. Thanks to a healthy lifestyle, an average Japanese resident has a high life expectancy – an amazing opportunity and a role model for the world. Still, the issues of funding elder care facilities, especially those specializing in long-term care and care for the disabled, persist.
There never seems to be enough funding for the elder care centers, and the already heavily-indebted country faces being able to offer only small wages to people working in the sector. As the need for the labor force continues, Japan is considering importing a workforce from elsewhere.
However, current practices show issues of underpaying workers, to the extent that some of them make around 25% of a living wage in the gray areas. Further integration into society and a heavier reliance on volunteers and elder self-help and prevention programs seem to hint at a resolution of these issues.
Further Reading
The world's fastest-aging population and a sheer lack of workforce to assist the elderly seem to mark the period in Japanese elder care. As of 2000, the government has introduced a series of measures that are supposed to empower the elderly to provide for themselves. This, in turn, has led to an elder-care system that is among the best in the world.
Want to read more about Japanese seniors and growing old in Japan? Two books can offer more information: Making Meaningful Lives: Tales from an Aging Japan and Successful Aging in a Rural Community in Japan.


Have experience as a Japanese senior or caregiver? Please contribute to the comments section.