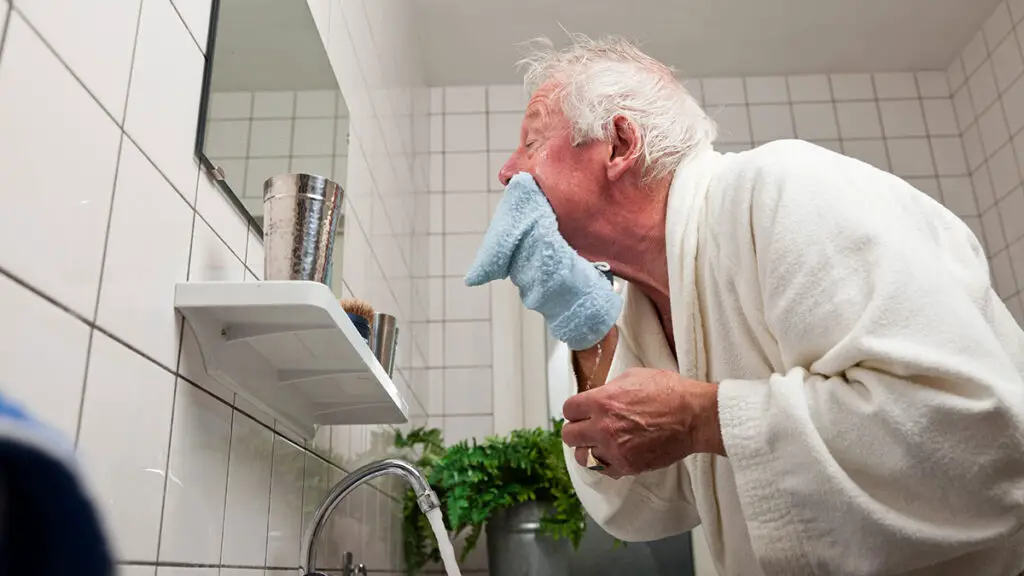 We are all aware that skin changes as we age. It loses fat and its youthful plump smoothness. It becomes dry and can be prone to itching, mainly due to spending too much time in the sun, lack of enough liquids, and general stress. Hot baths and the wrong cleansers can worsen the situation. Aging skin needs special attention.
The best anti-aging skincare routine should pamper skin. This begins with proper cleansing with anti-aging skin washes. As a teenager, we cleanse to get rid of an overabundance of natural oils. As we age, we cleanse to moisturize.
The Importance of Cleansing
A good anti-aging skin routine begins with a good and gently cleaning. A quick splash of water over the face simply won't do it.
It is important to take the time to wash off makeup and thoroughly cleanse every single day, twice a day. The skin on one's face is exposed to a great deal – makeup, sun, pollution, and excess skin cells. At a glance, our skin may look clean, but the environment around us can be toxically aggressive.
Unless we wash our wash twice a day, the toxins can accumulate and hasten dehydration and the aging process. However, it doesn't have to be that way.
Boost Hydration
Remaining hydrated and drinking plenty of water becomes essential as people grow older. Hydration is needed for everything from keeping the joints lubricated to pumping blood properly. Water is essential for overall health as we age. The axiom, "drink eight glasses each day," holds serious anti-aging truth.
Simply put, dehydrated skin lacks water – which translates into the skin lacking needed moisture. Generally, dehydrated skin looks dull, dry, has the appearance of fine lines, and can be itchy. Of all the signs of aging, dehydration is the easiest to deal with. All it requires is more water and less coffee and alcohol. This should become a lifestyle habit.
It is important to understand the difference between dehydrated skin and dry skin – both of which can be aging. Dehydrated skin lacks sufficient water and can be remedied by an increase in appropriate liquids. Dry skin indicates insufficient moisture and may become scaly, flaky, and irritated.
Dry skin is more challenging to treat than dehydrated skin and will usually require a steady anti-aging routine.
Face Cleaning Mistakes Seniors Frequently Make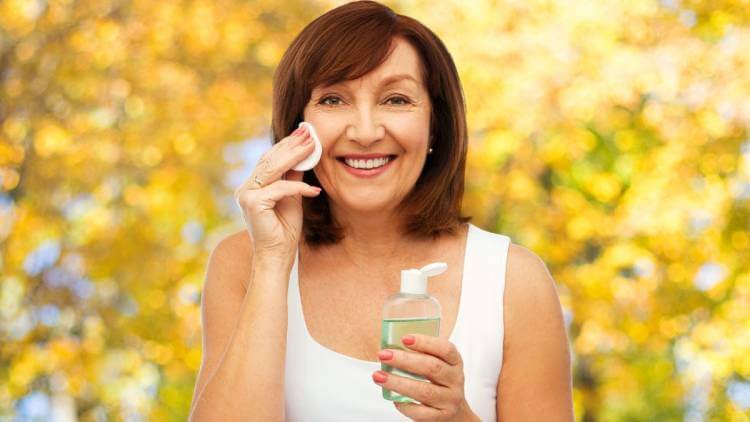 By the time we become older, we may assume we have the face-washing routine down to a science. However, that may not be the case. As our skin changes, our face-washing routine needs to change with it. The following are mistakes that can make the face look worse instead of better than it is:
Not removing make-up first. Strange as it may sound, most facial cleaners do not clean make-up. Many people do not realize that and end up with lots of dirt left on their face after washing, which can lead to dull skin. Use a special eye make-up remover for the eyes and remove make-up with a toner or even a few drops of baby oil soaked on a piece of cotton. Once the make-up has been removed, then it is time to clean the face. There are also specific cleansers that clean and remove makeup.
Not using moisturizers. Any skin cleaner is in contact only briefly with the skin before rinsing. All you want is clean, and that can be accomplished with simple drugstore cleansers instead of wasting money on expensive brands. The money is better spent on moisturizers that remain on your skin all day and night. Cetaphil, as an example, is known to be good for your skin.
Washing once a day. Many seniors only wash their faces once a day. That is only doing half the job. Even if they go through the procedure of removing make-up in the evening, the fact remains that skin collects oils and bacteria during the night. A good cleansing in the morning is needed and should not be omitted.
Using hot water. A good rule of thumb is that the older we get, the colder the water with which we wash should be. Hot water is simply too drying and robs the skin of needed moisture. For seniors, splashing with lukewarm water is the best way to wash and rinse.
Using wipes. Many seniors use convenient cleansing wipes. And these do a very good job in cleaning and removing make-up. However, many also forget to rinse after using the wipes, leaving an irritating residue. Always wash, and always rinse.
Not exfoliating. Exfoliating those dead skin cells is important. Younger skin can stand a bit of a harsh scrubbing. But a grainy scrub can cause wrinkles on older skin. Instead, use a gentle, easy scrub – and remember to rinse.
Types of Cleansers for Aging Skin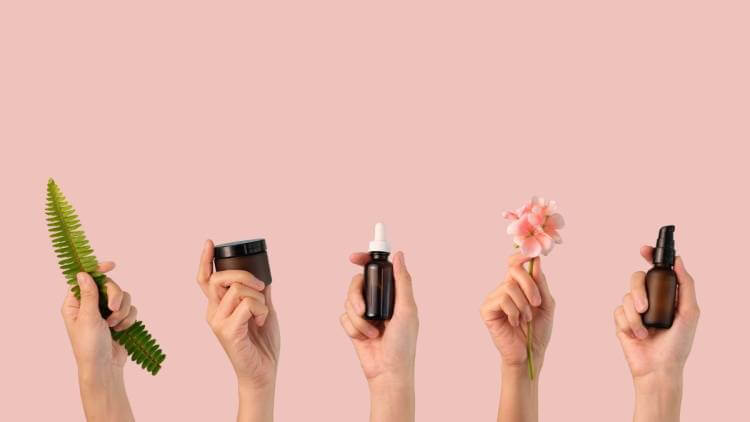 Keeping your face clean is important, so you wash your face twice a day. Using the correct type of face wash can make all the difference to your skin, even before you consider your moisturizing creams and lotions.
For optimum skin care, be sure to choose the right cleanser for your face.
Gel Cleansers clean pores and exfoliate the skin. Gels work best on oily skin – which may not apply to all seniors.
Cream Cleansers are creamy and non-drying. They act gently on the skin, do not strip any natural oils, and are great for both dry and sensitive skin types.
Foam Cleansers can be worked into a rich lather that removes oils the way gel cleansers do. It will remove most makeup.
Oil Cleansers do not dry the skin while removing dirt and makeup. It may be the ideal cleanser for aging skin.
Clay Cleansers are thorough cleansers that pull toxins from the pores. While perfect for oily skin, clay cleansers are also available for sensitive skin.
Micellar Cleansers are a water-based cleanser from France – and the French are known for their great skin. Soak a cotton pad with some Micellar water, and it gently cleans and removes makeup without rubbing or scrubbing. It is thorough without drying.
Cleansing balms are rich and creamy and remove dirt well without drying. These balms, made only of natural ingredients, can be used to remove eye makeup, as well. They are especially beneficial for skin in need of added hydration with ingredients such as coconut oil.
Five Anti-Aging Face Washes
Couple these face washes with anti-aging skin toners to help complete your skincare routine.
Peter Thomas Roth Anti-Aging Cleansing Gel
Peter Thomas Roth Anti-Aging Cleansing Gel exfoliates gently and helps lessen the appearance of fine lines as it tightens the skin.
Pros:
The bottle lasts a long time.
Gives the skin a smooth and radiant look.
Reduces the appearance of fine lines and wrinkles
Cons:
Makes skin dry post cleansing
Not good for sensitive skin
Instanatural Vitamin C Cleanser
Sale

InstaNatural Vitamin C Cleanser Face Wash, Brightens and Reduces Signs of Aging, Fine Lines and Uneven Texture, with Coconut Water and Aloe Vera, 6.7 FL Oz
Brightens, Tones and Hydrates: Our Vitamin C Facial Cleanser refines skin tone and texture, reduces the appearance of pores and helps reduce the appearance of wrinkles, dark spots and fine lines
Clean Skincare that Works: This deep cleaning face wash combines Vitamin C, Aloe Vera, Coconut Water, and Botanical Extracts to hydrate and nourish for a refined and radiant complexion
This is a liquid cleanser that helps reduce wrinkles and cleans and exfoliates skin with natural aloe vera, coconut water, and green tea. Vitamin C helps hydrate and refresh. This cleanser works on every type of skin and leaves the face feeling soft and smooth.
Pros:
Boosts collagen production
Will help your skin stay healthy and radiant
Refines skin tone and texture
Coconut water hydrates the skin
Minimizes dark circles beneath the eyes.
Cons:
Some users with sensitive skin have found it difficult to use.
May cause a burning sensation
If used more than once daily, the skin may lose its moisture
Olay Deep Gel Cleanser with Tea Tree Essential Oil

This gel deep cleans without drying. The cleanser includes tea tree and Vitamin B3 and has a eucalyptus scent. It contains no sulfates or parabens.
Pros:
Contains ingredients that are very useful for improving skin texture, adult acne and wrinkles.
Has creamy texture with micro beads for skin exfoliation
Works well on sensitive skin.
Minimizes dark circles beneath the eyes.
Cons:
Takes a little longer to wash
Bioderma – Hydrabio H20 Micellar Water

This cleansing water works well on dehydrated skin. It cleanses gently and removes makeup and eye makeup without the need to rinse, and it helps keep the skin moisturized.
Pros:
Feels fresh and soothing on the skin
Makes skin refreshed and brightened
Easy to use – simply soak on a cotton pad.
Less costly than some other micellar water cleansers.
Hydrates even without the use of a cream.
Cons:
Does not remove makeup well
May make the skin break out.
O'o Hawaii Birdbath Antioxidant Cleansing Balm
This cleansing balm promoted the production of collagen and brightens the skin. It contains natural antioxidant ingredients such as Vitamin C, Hawaiian Coffeeberry, Kukui nut oil, and elderberry and is devoid of chemicals.
Pros:
Removes makeup and eye makeup.
Softens the skin without drying
Boosts collagen production
Helps reduce the appearance of fine lines and wrinkles
Cons:
Skin feels oily after wash
The balm is scented, but these are natural organic scents. The pot is quite small.
How to Have Great-looking Skin After the Age of Sixty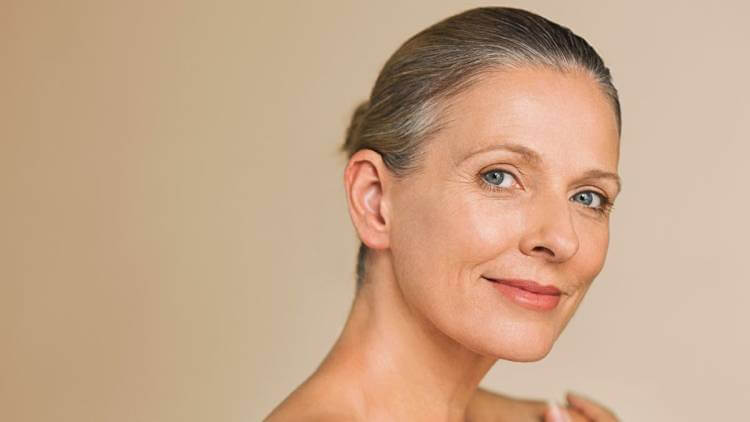 It is normal for aging seniors to want to look younger. However, younger doesn't always translate into better. What seniors really want is to look great – and older women can look great! They want to like what they see in the mirror. And some secrets can help them with that that have nothing to do with expensive products.
1) Your Eyebrows
A face looks best when it is framed nicely. Make sure your eyebrows are trimmed and shaped properly. This will emphasize your eyes instead of your skin.
2) Sugar
Sugar is bad for you, regardless of your age, but it can be especially harmful to seniors. Sugar can emphasize aging skin; more importantly, it can affect the brain and make it harder to concentrate and affect memory.
3) Not Getting Enough Sleep
Lack of sleep can negatively impact skin health. Research has shown that a poor night's sleep can cause swollen eyes, heavy eyelids, dark circles, paleness, wrinkles, and fine lines. Skin that lacks sleep lacks the strength to deal with daily environmental stress such as the sun. A good night's sleep helps seniors look their best. Sleep is when the body "takes care of itself." If it doesn't get that time, aging may be the inevitable result.
4) Chemicals
We use more chemicals every day than we realize – from pesticides, paints, and harsh household cleaners. It's nice to live in a germ-free home, but many of our daily household cleaners are harsh on the skin. Some examples are ammonia, drain cleaners, mildew removers, oven cleaners, disinfectants, and others. One hint is to read labels and spot warnings, such as "Use only in a well-ventilated area." That can't be good for your skin.
Wears gloves and a mask if possible. It is also a good idea to switch to "green," natural cleaners, which are somewhat milder on the skin.
5) Grapes
Few seniors are aware of the anti-aging properties of the humble grape. The fact is, grapes, white or red, aren't humble at all. Grapes aren't the most nutrition-dense fruit, but they contain a nutrient called resveratrol. Resveratrol has been shown to neutralize free radicals that can harm and age the skin.
According to Dermatologist Tanya Kurmali, "As we age, we lose our natural collagen and elastin. We begin to experience a thinning of the skin. Antioxidants are thought to help protect against the accelerated aging effect of free radical damage." With resveratrol increasing our antioxidant levels and neutralizing free radicals, the humble grape can become an important part of any anti-aging skin care program.
6) Benefits of Exercise on Facial Skin
The benefit of exercise to our overall health is well-known. For seniors looking for younger-looking skin, it should be pointed out that exercise increases the blood flow, and that decreases puffy eyes. Exercise (in addition to toning your muscles) leaves the skin with a radiant glow.
7) Make-up "Can Be" Your Friend
When it comes to makeup, many older women either just give up and go bare, or they use too much. Aging skin needs subtle makeup to help the skin look its best.
Use foundation gently. Nothing ages like foundation applied to the skin with a trowel. Instead, use a light touch. It's a good idea to use a hydrating foundation that moisturizes while it covers.
Create a great, natural eye with a brown eyeliner.
Use a cream blush instead of powder blush.
Lips get thinner with age (ergo, Botox is a billion-dollar business). Use a lip liner to line the edge of your lips and create the illusion of a fuller mouth.