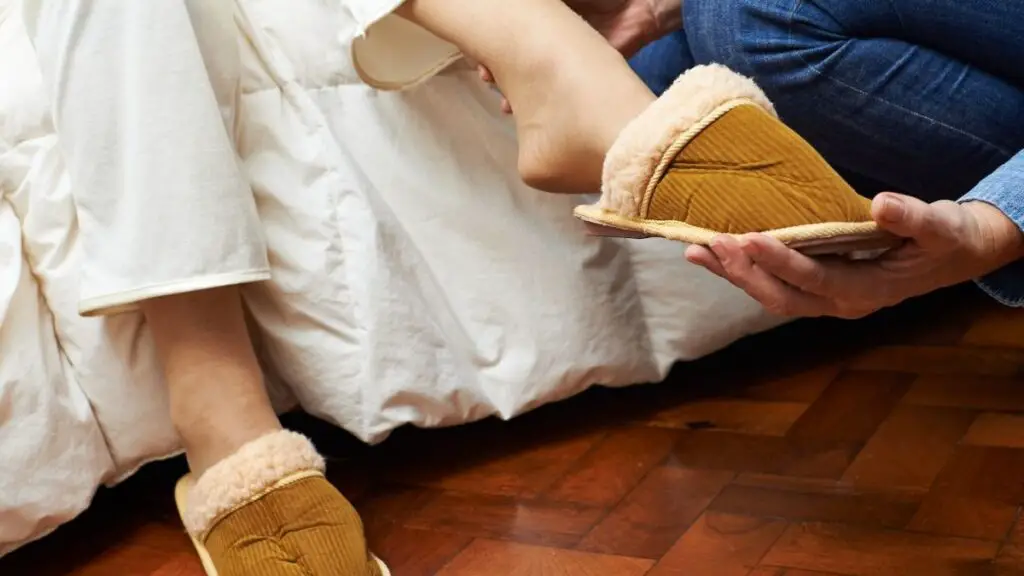 A decent pair of washable slippers can be the most-used pair of footwear for loafing around the house. When we get home from work we kick off our shoes and grab our trusty pair of slippers. During coronavirus lockdown slippers became the footwear of choice for thousands of people. Even people working from home might have a "Zoom shirt" up top for the laptop camera, but jammies and slippers below where no one can see.
As we have less reasons to leave the house and more reasons to choose comfort, slippers begin to play an important role in our wardrobe. This is particularly true for seniors, who no longer have to shuffle into the office, warehouse, etc. for the Monday through Friday daily grind. Retirees have long known the benefit of a good pair of slippers.
However, whether you wear your slippers for just a few hours before bed or you spend days on end in them, they will inevitably become smelly and dirty. So can slippers be washed, and if they can how do we go about it?
Why do Slippers Start to Smell? 
Unless you are a sock lover who wears socks with your slippers, the natural sweat from your feet seeps into the slippers. Foot bacteria, known as Kyetococcus, love damp dark places and multiply profusely in sweat. These bacteria eat dead skin cells and oils from your skin. As they grow, they give off organic waste which smells bad, and to compound the issue they also produce volatile sulfur compounds that have an awful odor. 
If you wear the same pair of slippers day in and day out the bacteria will breed up into a flourishing colony inside your slippers. They feed on your sweat and oils when your feet are inside them and waiting it out between meals when you are not wearing your slippers.
How to Avoid Smelly Slippers
You can alleviate the smell by wearing socks with your slippers. This will decrease the amount of sweat reaching your slippers and help to contain the bacteria within your socks. You can also try sprinkling foot powders into your slippers and using antibacterial soaps and creams on your feet.
Socks in slippers are not the first choice for everyone, however. After all, you buy slippers precisely for the convenience of sleeping bare feet into them, feeling the soft inner liner. Socks in slippers will often defeat the purpose of wearing slippers in the first place.
The best way to combat this bacterial infestation in your slippers is to wash your them regularly and give them time to dry out completely before wearing them again. Walking barefoot is a good way to decrease the bacterial growth on your feet. Having more than one pair of slippers is a good idea and experts advise that we replace our slippers every six months.
How to Wash Your Slippers
We've established that the best way to combat smelly slippers is to wash them regularly but are all slippers actually washable? Most slippers can be washed.
Look at what your slippers are made of and let that be a guide. Cotton slippers can be washed in a warm wash as you would wash cotton clothing. Never use a hot wash for any slippers with a rubber sole. If you're ever unsure, always stick with a cold wash rather than warm. 
When washing your slippers in the washing machine, place them in a washing bag. If you don't own a washing bag put them in an old pillow case and tie it closed. This will prevent them from banging around in the machine and being damaged or damaging your machine.
Washing by Hand
You can was your slippers by hand if they are not washing machine safe. Gently press the slippers into a sink of warm water and detergent. Let them soak for a few minutes before gently pressing them, allowing the water to wash in and out of them. Rinse carefully and gently squeeze any excess water out before allowing them to dry.
To fluff up fluffy slippers again, dry them with a hairdryer working your fingers into the fluff.  You can also brush them as you dry them to make them as fluffy as new.
How Do You Wash Non-Washable Slippers?
Some slippers cannot be immersed in water, however. Other cleaning tricks will need to be used for these.
For outside dirt, begin by brushing them with a shoe brush or a dry towel. This will remove any dust or dry dirt. If marks remain you can spot clean them with a damp towel or damp cloth. Gently rub or pat the spot until it has disappeared. 
For greasy stains or spots use a little diluted dishwashing liquid on a warm, damp cloth. The dishwashing liquid together with the heat will break down the oil in the spot and it should disappear with a little rubbing. 
For stubborn spots, pour a little baking soda onto the stain. Leave it for a few hours before wiping it off. Repeat until the stain has been removed. Carpet spot cleaner can also be used but first check by spraying a little on a non-conspicuous area to make sure it does not discolor the slipper.
If the inside of non-washable slippers is smelly you can sprinkle baking soda into them. One or two teaspoons should do the trick. Shake the slipper to encourage the baking powder to coat the entire inner. Leave it in for a few hours before vacuuming it out with the upholstery adaption on your vacuum cleaner.
Alternatively, you can spray the inside of your slipper lightly with a mixture of water and vinegar. Allow to dry so the vinegar smell disappears. This can be repeated if the smell is not eradicated completely.  
Fleece lined slippers can be brushed to fluff up the fleece again.
---
Best Washable Slippers
To save time and improve the health of your feet, it is probably best to buy washable slippers. Here are a few of the best washable slippers available today. 
1 – Ultraideas Women's Comfort Coral Fleece Memory Foam Slippers
No products found.
These slippers are ideal as they are machine washable. Just pop them in a laundry bag in the machine. 
They are easy to slip on and are lined with warm, cozy plush fleece.
The insole is made of high density memory foam that molds to the shape of your feet to maximize comfort. 
They have a durable rubber outsole with non-slip texture so they are perfect for both indoors and outdoors.
---
2 – World's Softest Cozy Slippers
These slippers are ideal for throwing in the washing machine with your regular washing.
They come in a range of colors and are easy to slip on. They are lined with plush fleece for warmth and comfort. 
They have a thin slip resistant sole making them perfect for walking around the house and curling up on the couch. 
---
3 – RockDove Women's and Men's Original Two-Toned Memory Foam Slipper
Sale
Not only are these slip-on slippers machine washable but their waffle knit upper allows your foot to breath reducing sweat and thus reducing bad smells.
The memory foam insole ensures maximum comfort as it molds to your foot. 
The outsole is made of waterproof, durable, non-slip rubber so a quick trip outdoors to check on the mail is easy and convenient. 
---
4 – OKBA Women's and Men's Slippers
No products found.
These slippers will need to be washed in a bag on a cool wash or washed by hand. 
The slip on style is convenient and they come in a variety of colors. The fabric is cotton rich and the upper is waffle woven to decrease sweating and bad smells.
The insole is made of memory foam to maximize comfort as the slipper supports and molds to your foot.
The inch thick rubber outsole is durable and strong and non-slip allowing for short outdoor excursions.
---
5 – Classic Turkish Cotton Slipper
No products found.
These slippers are ideal for traveling. They are light weight and inexpensive and they can be thrown into the washing machine on returning from a trip to the hospital or holiday destination. 
They are made of 100% cotton allowing your foot to breathe reducing sweating and bad odors. 
The outsoles are made of ribbed rubber for durability and to prevent slipping. 
The insoles are cushioned and soft ensuring your feet feel at home even when you're not.
---
6 – Walk-Hero Men's Canvas Slippers (Arch Support)
Sale
These canvas orthopedic slippers look like canvas shoes and have an amazing amount of arch support.  The arch support, together with the deep heel cup, aligns the foot to reduce foot pain and control foot motion.  They can ease pain caused by Pronation (flat feet), Plantar Fasciitis, Achilles Tendonitis and Ball of Foot pain.
They have a soft moisture-wicking velvet lining for comfort and a stylish canvas upper making them smart enough to wear when popping out on an errand.
The rubber soles are durable and anti-skid making them safe in the kitchen and outdoors.
And the bonus prize is that they are machine washable.
---
7 – Hanes Mens Moccasin Sipper with Memory Foam
Hanes Men's Textured Moccasin Slipper
SIZING: Available in size Small (Mens US 6.5 -7.5), Medium (Mens US 8-9), Large (Mens US 9.5-10.5), X-Large (Mens US 11-12), XX-Large (Mens US 12.5-13.5), XXX-Large (Mens US 14-15)
COMFORT: thick memory foam cushioning provides support while contouring to your foot providing you with ultimate comfort
This stylish slip on moccasin slipper is machine washable to ensure less hassle and no fuss and is suitable for both men and women. The color range includes black, grey, brown and tan.
The unique odor protection technology ensures less sweating and less smell, keeping them fresh between washes.
The insole is made from thick, memory foam offering support and comfort. 
The outsole is durable and non-slip making it suitable for both indoor and outdoor wearing. 
---
8 – Zigzagger Men's Microsuede Moccasin Slippers
Zigzagger Men's Slip On Moccasin Slippers, Indoor/Outdoor Warm Fuzzy Comfy House Shoes, Fluffy Wide Loafer Slippers
Microsuede upper with color contrast wool-like lining; these cozy moccasin slippers are suitable for indoor, around the house and general lounging. Simple and classic design. Rugged but refined style mixes the traditional moccasin with the construction of a hiking shoe
Men's moccasin style slippers with a closed back heel, combines the safety and fit of an outdoor shoe with the comfort of a slipper. High-density memory foam insole feels like marshmallows under your feet. Luxurious plush fleece lining offers next-to-skin comfort to keep you warm and cozy
These fluff lined, suede looking moccasin slippers look like they wouldn't handle a drop of water but amazingly they are machine washable. All materials are fully machine washable but washing in a laundry bag is always a good idea.
The microsuede upper gives these slippers a stylish, classic look while the wool-like lining offers cozy comfort. 
The insole is made of high density memory foam allowing the slipper to mold comfortingly to your foot. The closed back heel offers support and safety while the soft lining creates extra comfort. 
The durable rubber outsole has sneaker traction preventing slipping and perfect for those quick outdoor excursions. 
---
9 – Dearfoams Women's Beatrice Side Gore Slide Sipper
Sale
Dearfoams Women's Beatrice Side Gore Slide Slipper, Fresh Pink, Small
ABSORBENT MATERIAL: Made from an absorbent terrycloth material, our slide slippers are great for use after a shower or at the gym.
CLOUD-LIKE CUSHIONING: Dearfoams slippers are designed with a multi-density cushioned insole with memory foam, bringing you instant comfort and relaxation.
These elegant slide slippers are ideal for warmer weather or for use after a shower or at the gym. They can be thrown into the washing machine with your regular washing and will come out looking like new.
Their terrycloth absorbent material and open design prevent feet from sweating and becoming smelly.
The insole is made from multi-density memory foam with increased heel support ensuring maximum comfort.
Summary
Washable slippers – for seniors in particular as they wear slippers the most – are a wise investment and also make a great senior gift. Spending so much time in our slippers calls for extra slipper hygiene, however.
Stinky slippers can be deodorized with powders and tricks but the best solution is a good wash. So to ensure minimum hassle and maximum hygiene and comfort choose a pair of stylish washable slippers today.