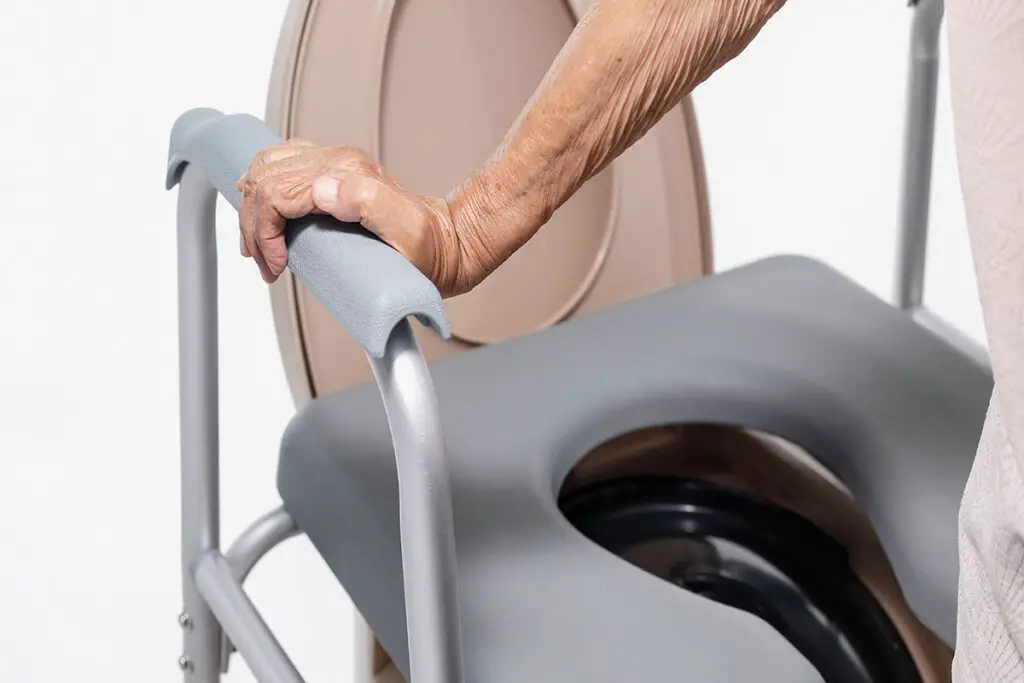 As you age, you may notice that going to the restroom takes more toll on your body than it used to. Getting on and off the toilet may be very difficult for you, especially on the knees and hips. If you suffered an injury or have worn-out cartilage, having the proper toilet seat height can help. A toilet seat riser may be the solution for you. It will improve your comfort, reduce the pain, and make going to the restroom a breeze again.
What Is a Toilet Seat Riser?
A toilet seat riser is exactly what it sounds like. It is a raised toilet seat or an insert that is placed between the toilet bowl and the toilet seat. It makes the seat higher so that you do not have to bend your knees and hips as much when using it as you have to with a regular-height toilet. The installation is very simple and it takes just a few minutes. As everyone's needs are different, there are different types of toilet seat risers.
Types of Toilet Seat Risers
With that being said, the starting point to determining what type of toilet seat riser you may need is your height. While very tall people may have difficulties using the regular-height toilet, they may be much more at ease using a toilet riser. They may also find it easier to sit on and get back up from a toilet seat riser.
On the other hand are the people of lower stature. For them, using a very high toilet seat riser may pose issues of another kind. They may have difficulties using the riser because the body would be in a position that is not natural and comfortable enough to void their bowels and the bladder.
This is a known issue. The thing is that our body was simply not made to sit on a toilet, but rather to squat somewhere in the field or a forest. However, modern changes take their toll and we may be left with difficulties getting on and off the toilet and be left with our bladders semi-full.
What many people do to overcome the issues that come with toilet risers is to use a toilet stool or a footstool. This small stool easily fits next to the toilet bowl when not in use. Placing your feet on a stool like this will keep your knees elevated and your hips in a more bent position – this way, it will allow for a more complete bowel movement.
Let's consider different kinds of toilet risers and their substitutes.
Tall Toilet
A tall toilet is the best option for many, as this is a fixture that gets screwed into the floor and is a permanent solution. You use it and clean it just as you would any other toilet. The only difference is that the seat is around 4" higher than on other types of toilets. This way, you are sure to spare your back and your knees by sitting down and getting back up from a taller toilet seat. However, the price of a tall toilet may be a bit higher, so not everyone will find it the best option for them.
Bubble Raised Toilet Seat / Place-On Toilet Seat
A bubble-raised toilet seat is the most common thing anyone will think of when thinking of a raised toilet seat. This is also a type of toilet riser that is sold in the US the most. It attaches to your toilet bowl and it bolts down to it.
Some models come with a toilet seat installed onto them, while others offer extra height to the toilet seat you already have. In any case, they are cheaper and much easier to install. You could do it yourself.
There are two main types of bubble-raised toilet seats – one with no handles and one with handles sticking to the side of it. You should evaluate your needs before making a purchase, as most models cannot be adjusted once your needs or wishes change. For understandable reasons, they can also not be sent back to the store.
Simple Raised Seat
The simplest solution could be a taller seat that replaces the existing seat on your toilet. The advantage to this style of seat riser is that there are no cumbersome handles in the way. The disadvantage to this style of seat riser is that there are now handles to guide you on or off the seat. Usually if you need a toilet seat riser it's because you have mobility challenges. People with mobility challenges can usually benefit from additional support. Still, it's possible a simple seat riser could be a low-cost yet safe(r) solution for you.
Place Over Toilet Seat Riser / Commode
A commode is a mobile piece of furniture that is placed over the toilet. With a commode, you will also get handles that can provide extra support when sitting down or standing back up from a toilet.
Auitoa 4-in-1 Raised Toilet Seat with Handles and Back, Medical Bedside Commode Chair, Adjustable Toilet Safety Frame, Shower Chair for Seniors, Elderly, Handicap, Pregnant,Collapsible Basin Included
【Multi-use Toilet Safety Aids】More than a raised toilet seat with arms and back, toilet safty frame, Shower Chair. 4 functions to meet your different needs. Suppots up to 300lbs.
【Adjustable Raised Toilet Seat】Easy Height adjustment for individuals who suffer from knee pain or leg ache. To comfort your hip and thigh, thickness of seat cushion is 1.6 inch. Ideal size fits for most toilet.
They can be moved around, as some models have wheels. The price tag falls in between a tall toilet and a bubble-type seat riser.
Who Is a Toilet Seat Riser For?
So, a toilet seat riser, or any of the alternatives is a great thing to have in your home and restroom if you feel that you are getting old or that you need some assistance when moving the lower part of your body. However, besides the elderly, a toilet seat riser is great for many more people. If you have any of these conditions, a toilet seat riser is the perfect solution for you:
Scoliosis,
Discus hernia, 
Obesity,
Lower back arthritis,
Parkinson's,
Knee arthritis,
Injuries to the lower back,
Injuries to the lower extremities, and
Some plastic surgery (abdominoplasty, thigh lift, cankle surgery…).
Many of these conditions may cause pain when using the toilet. The thing is that joint mobility may be impacted by injuries or cartilage that has been worn out. If this is the case, the pain can be quite severe and the quality of your life could suffer beyond a reasonable threshold. However, choosing the right model of a toilet seat riser may require some time and thinking.
What to Consider When Choosing a Toilet Seat Riser
As there are many models on the market, you should know what it is that you are looking for. You should understand your needs, your medical condition, and the overall state of your health. Once you understand these, you can start looking for the toilet seat riser that you would like to purchase. Here are some factors to consider before making your choice:
The size of the toilet seat bowl,
The height of the toilet seat bowl,
The width of handles (if any),
The structure material (plastic, vs. aluminum, vs. steel),
The seat material,
Bearing Capacity.
4 Other Ways to Make Toilet Seat Higher
As a toilet seat riser may not be the right choice for everyone, it is good to know that there are other ways to raise the height you use the toilet from. Among these are:
A tall toilet,
A tall toilet seat,
A mechanical seat lift, or
A commode.
Install a Tall Toilet
As discussed before, a tall toilet is the priciest option on the list. This solution is the best one if you live alone and need a sturdy fixture underneath you. It may not be the best option for you if you have a temporary need for elevation, such as after an injury or surgery.
Install a Tall Toilet Seat
Besides toilet seat risers, tall toilet seats exist as well. These are almost the same as regular seats but are made of a thicker material. They will generally not provide as much increase in height as a toilet seat riser but this may be enough for you. You can also choose to combine them with bars installed on the sides of the toilet, to be able to aid yourself by using your arms.
Install a Mechanical Seat Lift
A mechanical seat lift is a bit more expensive, but it is the most comfortable option on the list. A mechanical toilet seat lift will enable you to lean onto it while it is in the upright position and will then slowly bring you into the position where you feel comfortable using the toilet. A big downside is that most models do not work without electricity.
Place a Commode Over Toilet
A commode is another way to raise the toilet seat height. A commode is a much better option than a seat riser, in particular, because it can be used as a standalone toilet, for example, next to your bed. Some models have foldable armrests so that you can slide on and off them from a wheelchair if you happen to use one. If you have house help or personal help, they can also help move you from your bed to the toilet and back in a fast and comfortable way.
How to Clean A Toilet Seat Riser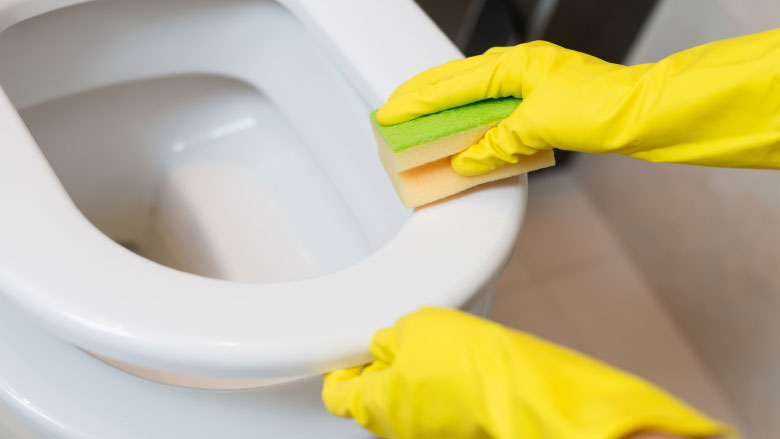 Cleaning a toilet seat riser is simple and easy. You can clean them just as you would the outside of your toilet bowl. Lukewarm soapy water is usually just enough to ensure you can remove all the dust and dead skin cells. If you would like to disinfect it as well, you can use a solution of bleach or any other similar disinfectant. Always check the manufacturer's instructions to avoid damage to the materials.
How to Make Your Bathroom Safer
A toilet seat riser will make your restroom trips much easier and safer. Our article on bathroom safety for Alzheimer's disease includes many bathrooms safety suggestions that can help any senior, not just those with dementia. Besides this, there are other ways to improve your experience and increase your safety when using one. Here are some ways:
Using a toilet stool will make for a more comfortable and faster bowel movement,
Installing handlebars on the sides of your toilets will help with sitting down and getting back up,
Installing hand bars in your shower and next to the bathtub will make using them much easier and will decrease your chance of slipping and falling,
Using a shower transfer bench will provide more support when taking a shower. If you want to purchase a commode, you can choose a model which doubles as a shower seat as well,
Using non-slip mats will decrease the likelihood of falling,
Using a toilet light will help improve your nighttime navigation and choosing a light with no blue light will help improve your sleep quality, especially if you use the restroom at night often.
Toilet Seat Riser FAQs
How Can I Make My Toilet Seat Taller?
You can make your toilet seat taller by:
Installing a tall toilet,
Using a raised toilet seat,
Using a toilet seat riser,
Using a mechanical seat lift,
Placing a commode over the toilet.
Can a Raised Toilet Seat Be Too High?
Yes, a raised toilet seat can be too high. The thing is that the higher the toilet seat, the less comfortable going to the restroom will be. If you have issues with bowel movement after installing a toilet seat, you may want to consider purchasing a footstool or a toilet stool, as it will help keep your body in a more natural position.
Do Raised Toilet Seats Fit All Toilets?
There are many different types of toilet bowls and many different types of seat risers. It is safe to assume that not all of them will match. Always check the size of both the toilet bowl and the riser. Check the height added by using a riser and see whether you will be comfortable this way or not.
Is It Better to Have a Higher or a Lower Toilet?
In case you have suffered an injury to the lower spine, the hips, or the knees or have weakening muscles, you may want to purchase a higher toilet. However, you should know that the offset can be a difficulty to your bowel movement. The thing is that, in healthy individuals, a much better option is a lower toilet seat.
Final Considerations
A toilet seat riser can make trips to the bathroom much easier than usual. If you have any issues with the mobility and the mobility of your joints, you may want to purchase a riser and enjoy the benefits that you will get. With a toilet seat riser, you will have a more comfortable experience using the restroom and will put less stress on your body. Also see our article on toilet support for seniors.