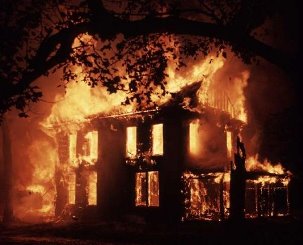 Do the seniors you work with know what to do in the case of a fire?  They should, especially given the fact that older adults, age 65 and beyond, are twice as likely to suffer an injury or death as the rest of the population.  The risk continues to increase with age, as well as with cold weather when many fires are started from cooking and heating.
Fire spreads quickly and give residents little time to react if a plan is not already in place.  In two minutes, a fire can become life threatening.  In five minutes, a resident can be engulfed in flames (source).  For an older adult with a delayed reaction time and limited mobility, the swift movement of a fire can easily be fatal if precautions are not taken.
The best way to ensure a senior's safety in the case of a fire is through prevention and awareness.  There are several organizations that have compiled guides and info sheets for professionals to use in the education of seniors, caregivers, and communities to improve safety planning for seniors.
Here are the National Fire Prevention Association's tips for fire safety:
Tip 1: Keep it Low
Encourage seniors to consider sleeping on the ground floor to make an escape easier.  Smoke alarms should be installed in each bedroom and outside of each sleeping area.
Tip 2: Sound the Alarm
Many fires start when residents are sleeping, and smoke can put a person in a deeper sleep so it is important to have an early mechanical warning of a fire.  If anyone has a hearing impairment, consider a smoke alarm with flashing lights for an alternative warning method.
Tip 3: Do the Drill
Encourage seniors to do a fire drill which ensures everyone knows the plan and identifies any issues with hearing or responding to the alarm.
Tip 4: Open Up
Make sure all doors and windows open up.
Tip 5: Stay Connected
Keep a phone nearby in order to communicate with emergency responders, as needed.
For additional resources on fire safety planning and prevention specific to seniors, including home assessment checklists, info sheets, implementation and follow up guides, check out the following links.
Fire-Safe Seniors Program from US Fire Administration
Remembering When- a free fire and fall prevention program for older adults
Presentation on Home Fire Safety for Older Adults, Community Outreach
Home Safety Awareness program- Electrical Safety Foundation International