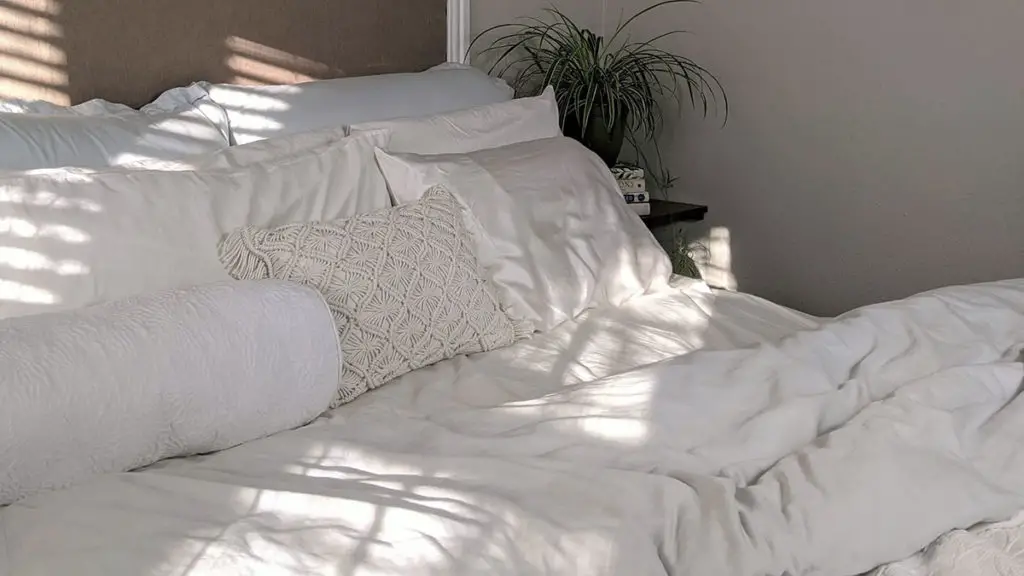 Aging isn't always easy. In fact, it's often difficult. We might find ourselves shopping for higher toilets for seniors or even – gasp – buying sheets for bedwetting.
If you're a senior citizen, one of the quickest ways you are stripped of the honor you deserve for all your wisdom and years lived is to deal with bedwetting or incontinence. Both of these affect your quality of life, are embarrassing, and searching for an answer should be your primary goal.
But before we discuss the bedwetting issue, it's important to know you are not alone. In adults, the prevalence of bedwetting is as high as 2-3%, and in patients in nursing homes, the prevalence is 39%. One of the big problems of bedwetting at home is that it's the biggest reason for why senior citizens are placed into nursing homes.
According to Urology Health, 25-33% of men and women in the U.S. suffer from urinary incontinence, and 33 million have an overactive bladder. Mayo Clinic reports that over 16 million women are estimated to have incontinence.
If you or a loved one are at all prone to bedwetting, what you want is confidence, not incontinence.
What Causes Bedwetting in Seniors?
You might be wondering why bedwetting is happening to you or your older loved one. Although incontinence is common in adults, bedwetting is a little different. It's considered uncommon.
Seniors that wet the bed may be having any of the following issues that lead to bedwetting:
One of the medications you are taking is causing it as a side effect.
You have a urinary tract infection.
There is a blockage in the urinary tract, such as a kidney or bladder stone.
The nerves are overactive in your bladder.
Your bladder only holds a small amount of urine.
You have an enlarged prostate.
Diabetes is affecting your bladder.
Bedwetting is happening because of obstructive sleep apnea.
There are some neurological disorders occurring, which are affecting the bladder.
Addressing any of these causes is always the best way to eliminate the bedwetting but the problem is how do you reverse the enlarged prostate, the diabetes, the overactive nerves in the bladder, or the other causes? While you're working on the attack of the causes of your bedwetting, there are other things to do that make a lot of sense.
One of those things is to consider sheets for bedwetting, sheets for the bed that are specifically designed to be waterproof bed pads that are absorbent and waterproof. They protect your bed from the bedwetting accidents.
How Do You Protect a Bed from Bedwetting?
There are several ways you can protect your bed from bedwetting, and they may be ways you have not considered yet:
Waterproof Underpad
These underpads may be used both over and under a flat sheet. They are washable or disposable and both may be used like this: Place a large washable pad on top of the flat sheet and then place a disposable sheet on top of that.
Waterproof Mattress Pad
This is generally used as a second layer on top of a vinyl mattress cover.
Waterproof Flat Sheet
This one speaks for itself. It's a flat sheet made with waterproofing material. It's the easiest and least expensive item on the list. There are many sheets for bedwetting on the market.
Waterproof Mattress Cover that is Zippered and Vinyl
This one prevents moisture from soaking into the mattress. Your mattress can cost thousands of dollars to replace and should be protected. There are other options as well you will learn about here.
Disposable Absorbent Products
These are your personal preference items like incontinence pads that are meant for nighttime use. They should fit snugly.
Replace a Thick Comforter with Blanket Layers
Unless you have an industrial strength washer dryer or a large unit, it's easier to wash blankets than comforters. Layering blankets helps a lot. The more layers you have, the more likely that something will soak up any bedwetting incidents that happen.
Top 5 Best Mattress Sheets for Bedwetting
Usually the best way to find the best mattress protector is to follow the reviews and see what people think about a product. Then determine what your criteria are for your own mattress protectors. Does it include ones free from chemicals, ones made from natural fibers, and ones containing no hazard whatsoever for anyone in your family? These are some things to consider.
Here's a list of five of the top mattress protectors on Amazon:
1 – SureGuard Mattress Protector
This one is made from premium cotton terry, is waterproof, hypoallergenic, and is a fitted sheet design. It comes in white. One of the best things about it is it is free from vinyl and PVC which outgas harmful chemicals. It's also free of phthalates, which disrupt hormones. It's also free from fire retardants that accumulate in the body and may be a cause of chronic fatigue.
All these things are important to consider in these toxic times we live in. The 10-year quality guarantee extends many other warrantees.
Sale
2 – PlushDeluxe Premium Bamboo Mattress Protector
Over 16,000 people rated this mattress protector with high ratings. The white top surface is 100% bamboo, a degradable material you don't have to worry about potentially polluting riverways or oceans. It's ultra-soft and free from chemicals such as PVC, phthalate and vinyl. It's waterproof and hypoallergenic as well. There's no crinkling sound when you sit on it, and, like the first one, has a 10-year comprehensive warranty.
Sale
3 – Utopia Bedding Zippered Mattress Encasement Waterproof Mattress Protector
This mattress cover is waterproof but doesn't use natural fibers. It's made of knitted polyester fabric and the waterproof backing is a PVC one. It's effective; however, if you are concerned about PVC outgassing, this one isn't the best choice for you. The closure on it is zippered and uses Velcro. Over 46,000 buyers rated it highly.
4 – SafeRest Premium Hypoallergenic Waterproof Mattress Protector
You can rest assured you won't get any PVC or Vinyl off-gassings from this mattress protector. It's made in an 'environmentally-friendly' way from hypoallergenic cotton terry surface with a membrane back coating that is waterproof, noiseless and breathable. It's registered with the FDA as a Class 1 Medical device and rated OEKO-TEX Certified for incontinence. This one also has the 10-year warranty and it protects against urine, fluids, perspiration and allergens. Over 170,000 buyers rated it highly.
5 – UltraPlus King Waterproof Mattress Protector
This odor-free mattress cover contains no PVCs, phthalates, or vinyl and was tested for waterproofing by putting it up to the 100-gallon flood test. That's much more than anyone in a bed could urinate! It passed with flying colors. There's a soft surface layer that is ultra comfortable and doesn't crinkle.
The protector contains a stretchable skirt to fit thicker beds up to 18". Over 6500 ratings on this mattress protector are still good proof that this one could be helpful for those that need protection against bedwetting.
Sale
UltraPlush King Waterproof Mattress Protector - Bedwetting, Bed Cover
WATERPROOF - Sleep with peace of mind knowing your mattress pad is designed with water resistant fabric to be totally protected from spills and accidents.
SAFE SLEEPING - No need to sneeze while you snooze with this waterproof mattress protector. Keep unwanted guests out and comfort in with this safe, thick yet breathable fabric.
Are Mattress Protectors Really Waterproof?
Mattress protectors really are 100% waterproof. Not only are they impervious against fluids but also against dust mites and bed bugs. Besides being used for those in bedwetting situations, they are also a good way to protect your mattress and keep your warranty from being voided if you have to return it. The mattress companies can say you cannot return a mattress, warranty or not, if there are stains on it.
How Often Should You Replace Your Mattress Protector?
Generally speaking, a mattress protector should be washed regularly when you wash your sheets. Replacement is recommended every one to two years. However, if you see that the mattress protector is experiencing wear and tear, you may replace your mattress protector more often.
How Do You Clean Up Bedwetting?
Despite our best efforts, no solution is perfect. Accidents will still happen. And the thing is that if you don't get the urine out of the mattress, then it's going to give off an odor in the room. The urine smell will linger. The sooner you clean up the bedding, the sooner the smell will go – and be kept away.
What you'll need for the job includes:
Here's the procedure:
First remove any of the bedding that has been affected by the urine. Many people simply remove all of the bedding and throw it in the washer so that all of it will smell fresh when the bed is made again. Wash the bedding as usual but add one cup of vinegar about halfway through the wash agitation cycle. In the beginning of the rinse cycle, add 3-4 drops of essential oil with whatever scent you like. Tea tree is the most disinfecting; the others do also have antimicrobial properties but provide a nice scent.
Use the towel to soak up any urine on the mattress. In a quart sized bowl, make up a sanitizing solution with 2 cups cold water, 1 cup vinegar, and a tablespoon of detergent. Mix and then pour into a spray bottle. Spray the area, covering it all.
Let the sanitizing solution work on the stain for 15 minutes. Then blot it up with another clean towel. Your goal is to absorb as much of the liquid as possible.
Next get out your baking soda. Sprinkle it over the wet area. Let it sit for another 15 minutes. Then blot it up with another clean cloth or towel.
Now it's time to use the wet/dry vacuum to pull up any remaining wetness.
Let the mattress air-dry, by using a hairdryer or fan.
Finally, cover the mattress with a waterproof mattress pad so you won't have to do this whole process again.
Summary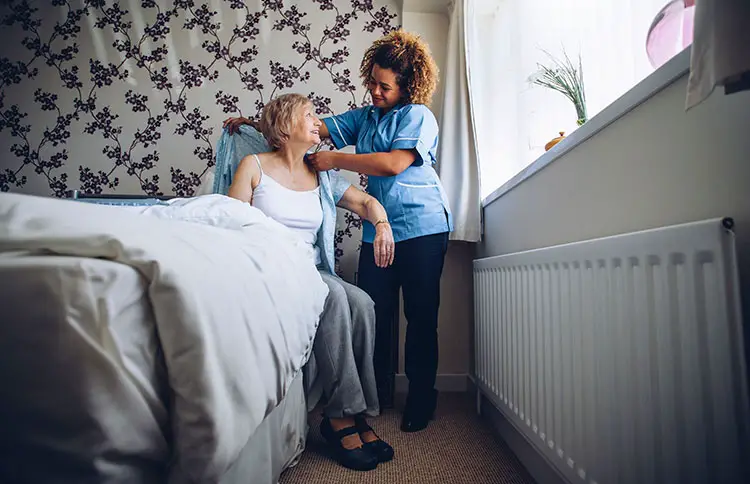 Bedwetting by seniors may be unfortunate, but it's not uncommon. Older adults facing this situation might try tricks like reducing fluid intake after dinner, but you also want to stay hydrated. Buying sheets for bedwetting is a good insurance policy to protect your mattress.
You do have options and solutions for seniors that are having issues with bedwetting that include, but are not limited to, waterproof sheets. Keep that chin up! Our aging bodies don't always cooperate, so we have to make adjustments.