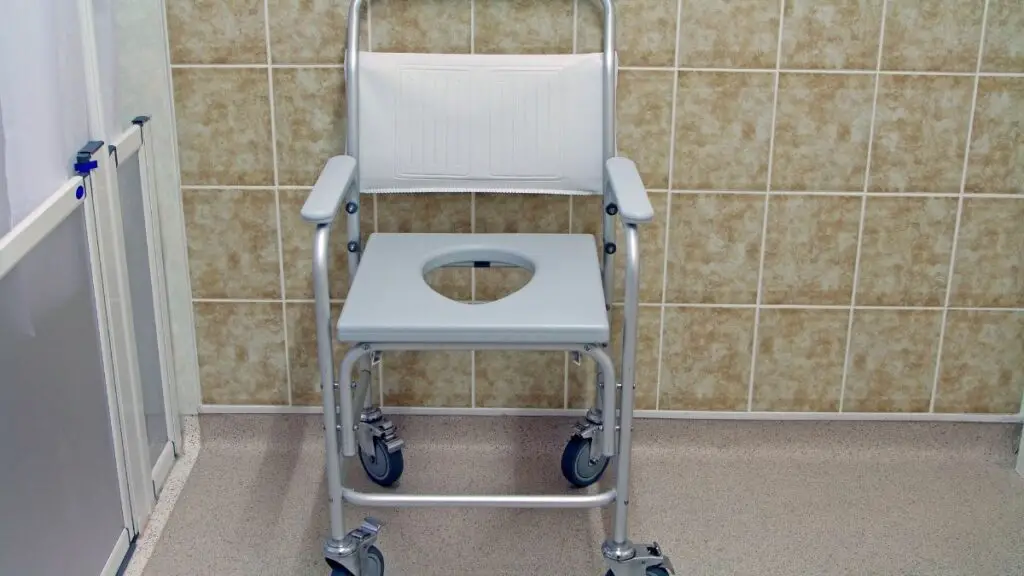 As seniors become frailer and more bedridden, their need for portable toilets, or a bedside commode, may become more urgent. Some seniors with mobility problems struggle to get from their bed to the bathroom. Sometimes they make it in time, sometimes they don't. It's a delicate matter that many seniors find difficult to discuss or admit, but it is one that must be dealt with.
For situations such as these, portable toilets for the elderly are an excellent solution. These portable toilets can be conveniently placed by the bed to enable the senior quick access, especially when there is no caretaker around. It also helps prevent falls and injuries that can happen when an elderly person rushes to the bathroom.
What to Look for in a Portable Toilet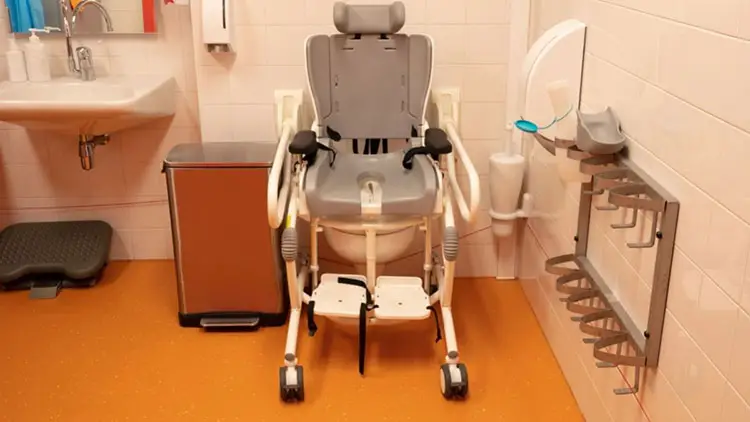 Fixed Arm
Any portable toilet should have a fixed arm to help the senior be more mobile.
Weight Capacity
The weight capacity of portable toilets can vary. However, it should hold a minimum of 300 pounds. There are portable toilets can that accommodate up to 1,000 points. Choosing the correct weight capacity will prevent the toilet from becoming unsteady.
Wheels
For the chair to be truly portable and movable, it should have wheels to move it wherever it is needed. Most seniors are unable to carry a portable toilet by themselves.
The Best Portable Toilet Height
Senior frequently have difficulty getting from a sitting to a rising position. Our legs simply become weaker with age. When choosing your portable toilet, the proper height is important.
Ideally, portable toilets should be the right height for seniors – 17 to 19 inches high. The senior's feet need to touch the floor while sitting.
Bed Pans vs Portable Toilets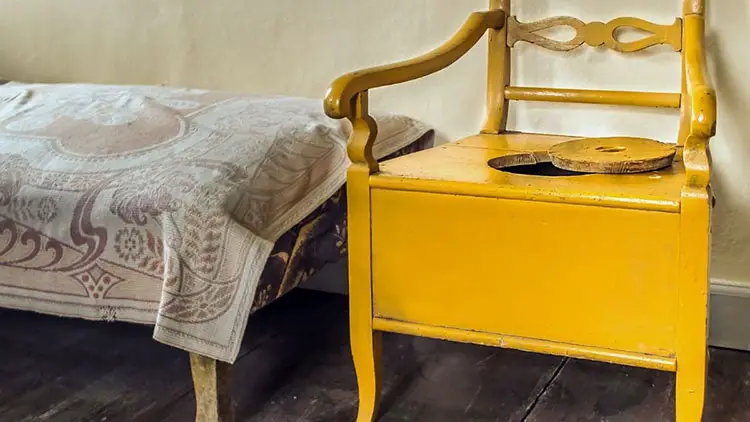 In some instances, such as when a senior has difficulty in sitting down, he or she may turn to a bedpan.
What To Look For In A Bedpan
Caregivers need to decide what they need in a bedpan for the elderly. There are different kinds to fit everyone's circumstances.
A standard bedpan is a type used most frequently. It is designed like a regular toilet seat and is approximately 4 inches thick. It is meant to fit beneath the user for depositing bodily waste. The design should prevent any waste from escaping the pan. Most seniors with limited mobility can use a standard model bedpan.
 A fracture bedpan is wedge-shaped and becomes shallower at one end. This makes it easier to slide underneath the person with mobility problems such as fractured bones. The fracture bedpan requires less movement on the part of the patient.
Urinal bedpans usually have a cylinder shape and can remain upright. It is appropriate for both men and women to use while urinating, but more men use it.
As with a portable toilet, make sure you have a washcloth, soap, gloves, and toilet paper handy. If you are using a bedpan, it is also advisable to use absorbent bed padding.
Here is a selection of the best Portable Toilets
Mefeir Folding Commode Chair
The Mefeir Commode has wheels that make it easy to move around. It weighs 16 lb., and the wheels make it easy to move into position. Due to its weight, is it a challenge to bring on trips and vacations, but even a frail senior can move the chair along a wall.
The chair is 20.08" x 17.91" x 38.58". From the floor up, the seat is 7.87".  
Pros
The frame is made with sturdy aluminum alloy.
The wheels are secured by breaks.
The Mefeir portable toilet has an easy-to-reach peg for toilet paper.
There is a side pocket for magazines and hygiene products.
For shorter people, there is a platform on which to rest the feet.
Cons
It is difficult for a frail senior to lift on his or her own.
The platform has a step, which may be difficult for a senior person to maneuver.
---
Medline Elements Bedside Commode
Sale
This bedside portable toilet chair is fortified with antimicrobial protection which helps inhibit odors and stains due to bacteria. The plastic material makes it easy to wipe clean. The lid is flat for a more discreet appearance.
The Medline is sturdy and has a 400 lbs. capacity. The seat can be easily adjusted in half-inch increments between 19.5" and 22.5" for the perfect height. The legs are 19 inches. The dark color will help the toilet fit in with most décors. It looks like a regular chair and actually blends with other furniture. This commode can be used over the regular toilet, and it serves as a shower chair, as well. It is multi-functional.
The overall size of the Medline Bedside Commode is 27.2" x 22.6" x 19.6". The arm can be adjusted to accommodate a height between 7 and 10 inches.
Pros
The commode has the appearance of a chair rather than a portable toilet.
The Medline is designed to hold up to 400 lbs.
Cons
It may not be comfortable for a short person.
---
Drive Medical Steel Folding Bedside Commode
This bedside commode can accommodate up to 350 lb. It is made of sturdy steel, and its dimensions are 18″ x 22.5″ x 35″
The multi-functional folding chair can be used as a raised toilet, bariatric bedside toilet, or a toilet safety frame. The fact that the chair is foldable makes it easy and convenient to assemble and disassemble anywhere.
It assembles easily with a plastic snap-on seat and comfortable armrests. The entire commode is made from strong powder-coated steel. However, it only weighs 13 lb., so it is easy to carry.
Pros
The frame is extremely sturdy.
The height is adjustable for both tall and short people.
It is very budget-friendly,
Cons
Although it is labeled as "bariatric," it cannot accommodate more than 350 lbs.
The chair is not as stable as some other portable toilet chairs.
---
NOVA Heavy Duty Bedside Commode Chair with Drop Arm
The Nova Heavy Duty Bedside commode will accommodate 500 lbs. It has a wide seat, is constructed with durable steel, and is a genuine Bariatric chair. It cannot be transferred to the shower.
The drop arm feature makes it easy for the user to transfer from the commode to a wheelchair or a bed. The back gets snapped on and the bucket is easily inserted. The bucket has a handle and lid for discreet emptying and cleaning.
The chair's overall dimensions are 30" x 30" x 21". At 18.1 lbs., it is a heavy chair.
It is shipped pre-assembled and includes disposable liner bags.
Pros
It is very sturdy and will accommodate 500 lbs.
---
Medline Heavy Duty Padded Drop-Arm Commode
This padded portable commode has a capacity of 350 lb. The arms conveniently shift out for an easier transfer to and from the toilet.
The seat and arms are padded for extra comfort, and the back can be removed to allow the commode to be placed over the actual bathroom toilet. This might be desirable if a user wants extra safety while using an actual toilet.
The dimensions of the Medline Heavy Duty Commode are 25" x 21" x 18.5". The chairs weighs 17 lbs. This might be too heavy for a fragile senior to lift on his or her own.
Pros
The commode is extra-sturdy. The foamed arm pads will keep you steady even if your hands are wet.
Cons
The commode is high, about 25", making is more practicable for a taller person. However, the legs can be adjusted to lower the chair down to 20".
Assembly is required, which might be somewhat of a struggle.
---
MedPro Homecare Portable Toilet
The MedPro Homecare Portable Toilet is made to last a long time and is rust-resistant. The height can be set for seven different adjustments, from 15.5" to 21.5". The plastic armrests are comfortable and help the user get in and out of the seat.
In addition to a bedside commode, the MedPro can be used as a frame for an actual toilet for added safety. It comes with a convenient bucket and lid.
The chair is made of steel and can hold 300 lbs. of weight.
The overall dimensions are 13" x 14.5" x 18".
Pros
The MedPro Homecare Commode Chair is multi-functional.
The armrests have added padding for extra comfort.
The chair is easy to assemble.
Cons
The chair cannot be used as a shower chair.
The chair may not be as sturdy as it could be.
---
UltraCommode Foldable Commode
UltraCommode™ Foldable Commode and Shower Chair, Soft, Warm, Padded, Portable and Foldable XL Toilet Seat with Open Front, Padded Pivoting Armrests, Adjustable Height, Includes Free Commode Pail, Blue
EXCEPTIONAL COMFORT- Soft, padded, warm seat base, backrest and armrests makes the UltraCommode the worlds #1 most comfortable commode chair. Can also be used as a shower seat and shower chair for inside shower. Commercial grade PU foam will never absorb water, helps with sliding and is easy to clean and disinfect. **IMPORTANT-PRIOR TO ORDERING PLEASE REVIEW DIMENSIONS CAREFULLY TO ENSURE PRODUCT WILL PROPERLY FIT USER AS WELL AS PHYSICAL ENVIRONMENT.
PROPERLY SIZED- This toilet seat riser with handles features an extra large seat is 16" x 16" and width between armrests is 20". Compare these dimensions to other commodes- to ensure this commode chair isn't too small to be useful or comfortable.
The UltraCommode Foldable Commode is a portable toilet that can accommodate up to 300 lbs. It is very comfortably padded with bright blue padding for the armrests, seat, and back. The material is easy to clean and sanitize. The seat is large at 16" x 16", and the armrest has a width of 20". The armrests can be shifted for easier wiping of the body and for an easier transfer in and out of the chair.
The UltraCommode can be assembled in under a minute. The rust-free aluminum construction is meant to last a long time. The seat can be adjusted to the perfect height.
This chair can also be used as a shower chair.
Pros
The chair can be easily folded and moved to a different location.
---
Why Some Seniors Need Portable Toilets
When an elderly person becomes frail and mostly bedridden, a portable toilet is a much better choice than relying on a standard bathroom toilet. The portable toilet will benefit a senior in a few important ways:
Independence
Portable toilets allow seniors to retain more independence and dignity. They can answer the call of nature on their own, if needed, without always relying on a caregiver. Providing a senior with a sense of self-reliance is one of the most important things we can do for those we love.
Easy Access
A portable toilet is exactly that – portable. It can be placed in any room where it is needed.
Mobility Support
A regular toilet can be difficult for mobility-challenged seniors to use. Many have a problem just getting up and down. A portable toilet for seniors has arms that can be used to help the senior push back up. This small difference can make the difference between a senior going to the bathroom independently or needing someone to help them. Seniors prefer remaining self-reliant as much as possible.
No Water Is Needed
Portable toilets do not require or use water. They merely need to be emptied and cleaned. This is an advantage if you are trying to conserve water.
Needed Features
A portable toilet can have special features, such as adjustable legs or a wider seat, which can genuinely help a senior feel safer and more comfortable.
Advantage of Portable Toilet for Seniors
Portable toilets can be easily assembled.
They are easy to use.
They can be moved to different locations.
Most of them are affordable and cost-effective.
Portable toilets keep the user safe and greatly diminishes any fall risks.
They are comfortable.
How A Caregiver Can Help With a Portable Toilet
The caregiver needs to make sure the wheels to the portable toilet are locked and that the container is installed beneath the seat. He or she should have the following supplies on hand:
Washcloth
Toilet paper
Soap
Elastic gloves
A towel
The elderly person may need help getting out of bed and onto the commode. If the person is extremely unsteady and in danger of falling, the use of a gait belt is recommended.
If necessary, remain with the elderly person. If that is not needed, provide him or her with privacy and a bell to let you know he or she is done.
At that point, use toilet paper, washcloth, and/or soap to help keep the person clean and hygienic. Pat gently with a towel.
Assist the person with washing his or her hands and help them back into bed. Remove the container from the portable toilet, empty it and clean it.
Conclusion
The decision whether or not to use a portable toilet is a personal one that a senior needs to make with his or her caretaker. Hopefully, the above information will be useful.