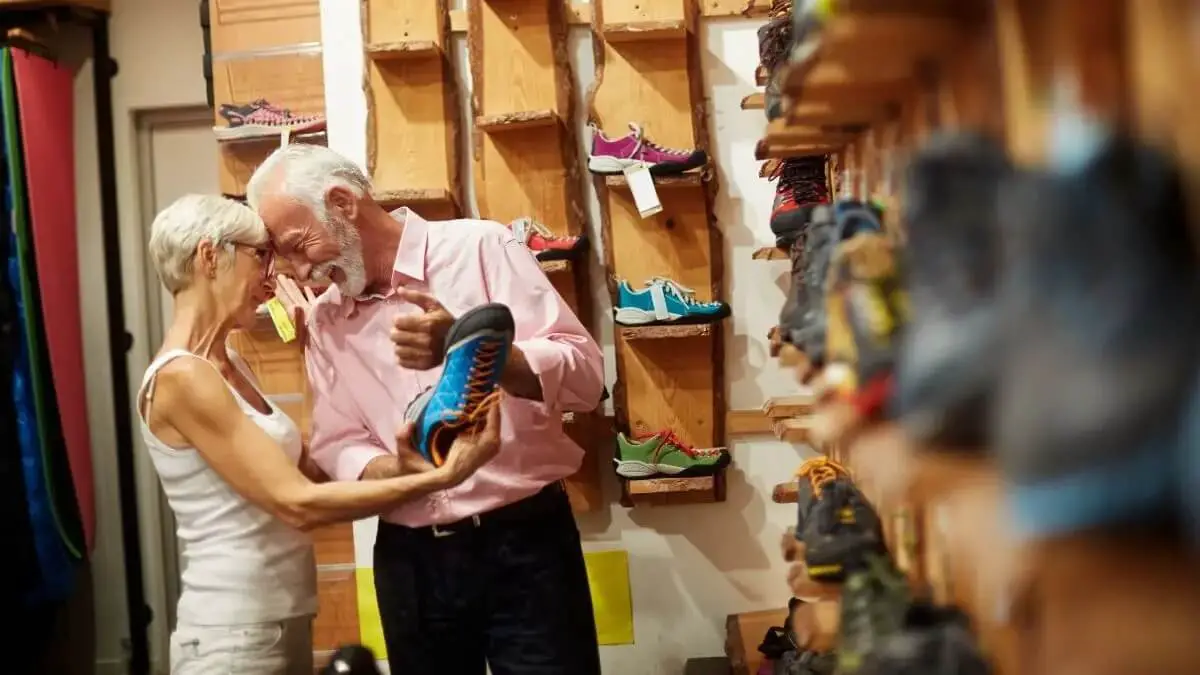 The idea of wearing old man shoes in our youth evoked images of lousy fashion and Velcro tops. If someone told you you're wearing old man shoes it was almost an insult.
My kids call me old, and I have years' worth of experience working with seniors, but I'm not a senior (yet). Still, even now, in my late 40s, I find myself gravitating toward comfort shoes more than I ever did before. I look for styles with more support than I used to. Age impacts our bodies, and thus, the choice of apparel we put on our bodies. I would imagine the next few decades will force a change in my footwear again.
What Seniors Should Look For When Buying Shoes
Older adults, especially those who wish to remain active and mobile, will benefit from a pair of good shoes or sneakers that will support them. Look for something with a thicker sole and a wide toe box. Make sure they feel comfortable, especially if they'll be your primary walking shoes.
Just because you are focused on good foot support does not mean you need to buy orthotics. They can still be stylish, however, you want the proper type of shoes.
According to the American Podiatric Medical Association, make sure the shoes you buy are roomy and have a comfortable cushion. You will do best to avoid any type of narrow front to prevent your toes from cramping. When purchasing shoes, always try on a new pair while wearing the socks you intend to wear with them, whether that be a heavier pair for hiking or a lightweight pair for workouts.
Regardless of how attractive or in style a pair of shoes may be, if they aren't comfortable as you first try them on, do not purchase them with the intent of "breaking them in."
Senior Shoe Search Criteria
When buying shoes, seniors shouldn't think in terms of "old people" shoes. Seniors need to be active and wear the necessary footwear to see them through the day. It's necessary that footwear for seniors is safe and comfortable to encourage an active lifestyle and prevent falls. Seniors will not be as active if their feet hurt.
9 Helpful Suggestions:
Shoes should cushion feet.
They need to provide arch support.
They should feel comfortable even on rough surfaces.
They should have a sole that keeps the wearer from sliding.
Shoes should be comfortable to put on. That can mean foregoing laces for Velcro.
Walking is probably one of the most recommended exercises for seniors and elderly men in particular. That is why a good pair of walking shoes is critical. The best walking shoes should have a rubber sole and be easy to slip into.
Most falling accidents happen at home. That is why old, loose-fitting slippers are a slipping hazard. Floors can be wet, especially in the bathroom and the kitchen. Non-slip rubber soles are just as important for the home as they are outside the home.
Seniors should not assume they wear the same size shoes they have been wearing their entire life. When feet become flatter with age, a new shoe size may be needed.
Feet are at their largest and most swollen in the afternoon. That is the best time to buy a new pair of shoes.
Foot Problems Experienced by Old Men
A number of conditions can contribute to foot problems in seniors.
1) Arthritis
Arthritis is an unfortunate accompaniment to aging. After a lifetime of heavy use, the joints in one's feet can easily develop arthritis.
If you suffer from osteoarthritis, it is important to watch your weight. The more weight your feet are carrying, the more pain you will feel. Losing just of a few pounds can ease the burden that our feet carry every day.
2) Swollen Ankles
The reason for swollen ankles can vary and be difficult to pinpoint. The veins in the legs can certainly intensify the problem. At times, ordinary hormonal changes can bring about swollen ankles. In addition, some medications may be the culprit, so be sure to check with your doctor.
3) Bunions
Years of pressure on the feet can cause the joint in the big toe to jut out in a bump. The best solution for bunions is to switch to roomier shoes with plenty of space for the toes. Wearing comfortable inserts can also help.
4) Hammertoes
This "condition" causes the toes to bend like claws. It can be painful but stretching the toes a few times a day may help. So will low heels and a roomy shoe. A doctor can prescribe pain medication if the pain becomes worse.
5) Calluses
After years of wearing uncomfortable shoes, feet can protest by developing calluses. Not wearing socks may also contribute to the problem. A well-fitting pair of shoes with good, thick, soles may alleviate calluses from continuing to build up.
6) Diabetes
People with diabetes are extremely prone to neuropathy, including pain in the feet. Diabetes can frequently include poor circulation, which can also affect the feet's wellbeing. The best foot treatment for diabetes exists is to heal the entire body overall according to the doctor's instructions.
7) Plantar Fasciitis
This is the fascia, or connective tissue, that connects your toes to your heel. When it is aggravated, it can feel tight, and painful. It can be worst in the morning, right when getting out of bed. Stiff shoes with a "chunk in front" (non sloping) and arch support can really help.
Big Brand Shoe Names for Seniors
Several shoe brands are particularly well-suited to the feet of seniors. Any senior who has been approaching shoe shopping based on "what's on sale," would do well to change his or her thinking. Shoes that are bad for your feet are no bargain – they are a waste of money. Your feet are important. You use them every day.
Comfort and safety ought to be your major priority when buying footwear.
According to Diane Koshimune, a board-certified podiatrist and a member of the American Podiatric Medical Association's Communication Committee:
It depends on your foot structure, as well as the purpose for when or how you're going to be using them. Shoes are an investment. They protect feet from the elements, but they are also the connection between the body and the earth. If the foot has better posture, then the rest of the body will also have better alignment.

https://www.prevention.com/beauty/style/a29515189/most-comfortable-shoe-brands/
When it comes to sneakers, Dr. Koshimune discusses the options offered by New Balance, ASICS, Brooks, Altra, Hoka One One, and Merrell.
A quick overview of Dr. Koshimune's favorite brands:
ASICS – This is a Japanese shoe company that believes the right shoe will help you thrive. They provide comfortable shoes in the form of a sporty sneaker with gel cushioning, ankle stability, and a feature that helps distribute the wearer's weight.
Brooks – Brooks are designed to take a pounding without harming your feet. They have a comfortable cushion and removable footbeds, making them excellent casual shoes that provide extra room and width options for older adults needing a more customized fit.
New Balance – New Balance shoes are chic and in style. However, they are also on top of foot health. They have a variety of widths (they even come in extra extra wide options) and can accommodate any type of arch, making them great sneakers for days full of walking.
Vionic – Vionic has the seal of approval of the American Podiatric Medical Association. Vionic shoes have a contoured footbed, removable insoles, and cushioning for the balls of the feet.
Clarks – Clark shoes have been about comfort for over a century. Their sophisticated design comes with ortho-lite cushioning to help alleviate foot stress and absorb impact.
Merrell – Merrell makes hiking boots and other supportive shoes with comfort in mind. They have built-in arch support and cushioning for shock absorption, and the sole has a firm grip to prevent slipping. These are excellent shoes for all-day wear and are popular among those with foot issues such as plantar fasciitis as they offer good support and relief from heel pain.
Birkenstock – This four-hundred-year-old company offers anatomically shaped sandals with plenty of toe room. They are lined with a suede footbed to prevent any foot moisture from happening. For added safety and stability, most of their sandals are double-strapped.
5 of the Best-Rated Shoes for Older Men
Skechers Performance Men's Go Walk 4
These Skechers have a grooved rubber sole for outstanding traction. They are slip-on and require no bending to tie laces. The sole is thick and adds excellent shock absorption.
Pros
Made from breathable material.
The mesh uppers allow for ventilation.
Can be worn every season.
Multiple color options.
Cons
---
Hush Puppies Men's Gil Slip-On Shoe
These loafers close with a Velcro strap and can be made as tight or as loose as is comfortable for the wearer. The upper part is firm and keeps ankles steady, while the sole is slip-resistant to prevent falls.
Pros
Lightweight and easy to wear.
Constructed entirely with leather.
Durable and strong
Cons
---
Propet Men's Life Walker Strap Sneaker
The Propet Men's Life Walker Strap Sneaker provides the shock absorption many seniors need. It closes easily with two adjustable Velcro straps. Cushioned insoles provide added comfort, but these can be removed to insert orthotics.
Pros
Comfortable to wear.
They are easy to take off.
The design is breathable.
Cons
---
New Balance Men's 577 V1 Hook and Loop Walking Shoe
These New Balance are excellent walking shoes. They are comfortable and designed for men who spend a lot of time walking and moving around.
They close with two no-hassle Velcro straps. The perforations on the top of the shoe allow breathability for the wearer's feet. The dense midsole provides long-wearing comfort. The shoe provides stability even on uneven surfaces, and it has a slip-resistant sole to help prevent slips.
Pros
Provides excellent arch support
Comfortable and long-lasting
Cons
Tongue of shoe too short
Some wearers find the tie-up version more comfortable.
---
Sketchers Men's Superior Milford Loafer
The superior design of these loafers consists of soft suede and an upper portion with a breathable mesh style. They slip on comfortably and without effort. The memory foam insole provides long-lasting comfort.
Pros
A very comfortable shoe.
A comfortable wear for diabetics.
Is available in extra-wide.
Cons
The shoe has a one-inch heel.
---
Balance and Aging
Perhaps our feet feel the accumulations of our years the most. We place a lot of stress on them every single day. Eventually, our bones and joints simply don't function as well as they used to. And walking becomes just a bit more dangerous and hazardous.
These changes tend to happen gradually. According to the University of Chicago, changes can include the feet getting wider (this has happened to me), a loss of elasticity, and the arches sagging. Wider feet do not equal larger feet, although you may feel more comfortable in a larger-sized shoe (this also happened to me).
If the feet have been put through a great deal of strain over the years, developing arthritis is not unusual. Basically, there comes a time when you need more foot support. Think carefully before trusting your mobility to flip-flops or high heels, especially when your feet hurt. I've even had to resort to buying quality inserts in all of my shoes.
Our feet will reflect the result of aging. But that isn't the only problem seniors have when walking. Seniors frequently suffer from uneven balance in different shoes, which can place them at extreme risk of falling.
Studies have shown a correlation between walking and steady balance The test was given on both flat and uneven surfaces, with the participants wearing a variety of different shoes. There were three different types of walks. At the end of the study, the researchers discovered that wearing the right shoes improved balance and stability.
Those wearing elevated heels and/or hard-soled shoes took smaller steps, with both feet remaining safely on the surface longer, especially uneven surfaces. The elevated heel made seniors feel more unstable, however, and shoes with soft soles caused a shift in body mass, causing seniors to lose some of their sense of balance.
The result of the study showed that for seniors, heels present a fall risk, as did uneven surfaces.
When Your Doctor Recommends Orthotics
Your doctor may recommend that you wear orthotics. These orthotic shoe inserts support irregular foot movements or arthritis. They help alleviate foot pain and allow you to walk more comfortably.
The following are the benefits of wearing orthotics:
Shock-absorbing cushion for your feet
Arch support
Weight distribution
They relieve pressure in the joints. This helps seniors who suffer from flat feet.
They keep the foot in a stable position, helping to prevent rolled ankles, etc.
They can help prevent friction and lessen the chance of developing corns, bunions, calluses, and other problematic foot conditions.
As I mentioned, I've already begun buying these for all of my shoes. They certainly add to the cost of the shoe, but they also add to the comfort. Further, I find they extend the life of the shoe greatly. I use the same orthotic insert so many others do – Superfeet.
No products found.
Full-Length Fit: High-profile, high-volume Superfeet insoles are designed to fill the length and width of your shoe for maximum support, simply trim the arch-support inserts to fit your shoes
Stabilizer Cap: The base of these orthotic sole inserts supports the rearfoot and provides structure and stability to the foam layer
How to Care for Aging Feet
As people age, every part of their body needs extra care. That includes their feet. Good foot care is critical for old men who want to remain as active as possible. Seniors with well-tended feet should be able to enjoy a walk, go shopping, and be active in all areas of life. Remaining active becomes especially critical with age to prevent limited mobility.
Here are some foot care tips that should be practiced regularly:
Wash your feet daily and dry them thoroughly.
Change into a clean pair of socks every day.
Clean your shoes regularly.
Avoid wearing the same shoes every day.
Make sure your shoes fit properly.
Do not go barefoot, especially outdoors. Invest in some comfortable, washable slippers for indoors.
Check for sores.
Trim your toenails regularly (see our nail clipper guide for seniors).
Frequently Asked Questions (FAQs)
Summary
There is no glory in shopping for old man shoes, but there is also no shame. Our bodies age, there's no denying that, and our clothing needs change with it.
Fortunately, seniors have more choices in shoes than they used to. Older men are no longer restricted to big, boxy black shoes with Velcro tops. There are plenty of options if you shop around, and we'd love to hear your favorites in the comments section below.
About the Author
Derrick has worked as a social worker in a nursing home, as the Social Services Manager at an area agency on aging, as Director of an Adult Day Care at an Alzheimer's care facility, and has served on the board of the Maine Adult Day Services Association. He's also worked for the State of Maine as a Research Analyst at the Office of Elder Services. He now works as a Program Manager on Medicaid policy, and writes on topics related to healthy aging, sustainable caregiving, and Alzheimer's Disease.