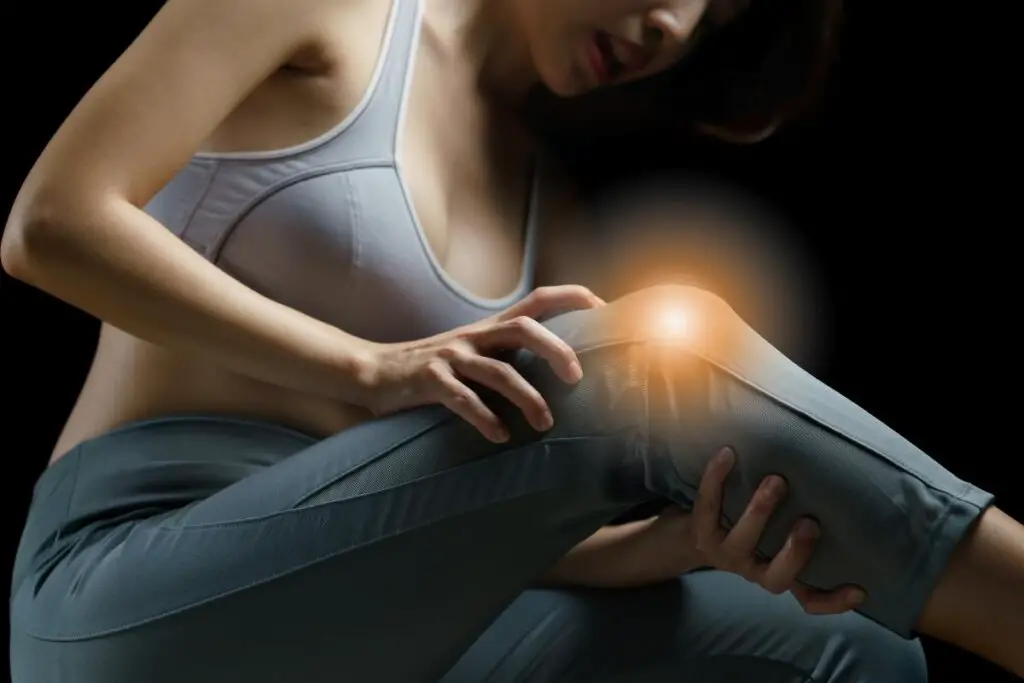 Over 30 percent of Americans experience knee pain at least once in their life. As the knee is such as important joint, you may feel limited in doing some daily activities, such as walking, running, or moving around your home. As pain medication has a limited scope of effect in chronic pain, you may want to consider getting your own TENS unit for knee pain.
I've written about TENS units before, how to use one, TENS for sciatica, etc. I keep writing about them because I've had positive results from one using it to treat migraines. I think the units can be used by people to find pain relief for other problems, such as knee pain, and there's research to support this.
When treating knee pain with your TENS unit, you want to consider several things, such as your comfort levels and where the pain is coming from. As TENS is not suitable for everyone, especially people with pacemakers and insulin pumps, you may want to schedule a consultation with your physician. They should be able to evaluate your state and give you recommendations on whether TENS is the right device for you or not.
What is TENS?
TENS treatment is a Transcutaneous Electrical Nerve Stimulation treatment. This treatment has been around for over 5 decades and has been proven to be effective against many sources of pain, including:
Sprained tendons,
Sore muscles,
Injuries to the muscle,
Minor trauma to the muscle and the nerve,
Injuries to the joints, especially due to sportswear of the cartilage or being overweight.
If you experience pain in your knees for any of these reasons, you may want to consider TENS therapy. Often more affordable than similar treatment in your physician's office, they are reliable, safe, and cost-effective – as a single TENS unit can last you for years. Let's consider what a TENS unit is and how to use it to treat your pain.
What is a TENS Unit?
A TENS unit is a small, wearable, handheld device that you can bring with you just about anywhere. It is a battery-operated device that uses rechargeable, AA, or even AAA batteries. The TENS unit uses batteries to generate a low current of electricity. This current is then sent through your skin and into your muscles and nerves through pads that you place on your body.
There are many TENS models on the market. Each of them has its pros and cons. Since there are no two same patients, the same goes for TENS choices they make, although in general, most devices will be able to help you get rid of your knee pain. Once you have your device, you should learn how to attach it properly and how to use it to minimize risks and maximize benefits.
Using a TENS Unit for Knee Pain
When using a TENS device, you should know that it works by sending a low electrical current through your body. Do not worry, as the current cannot injure you. The most that can happen is that you experience fatigued muscles with prolonged usage on currents that are too high for you.
Before you start using the TENS unit, there are two things to consider: the current strength and the placement of the TENS pads on your body. When speaking of how strong the current should be, this is a very individual factor. While some may use lower currents, some other patients may use higher currents. In any case, you should listen to your body, and stay within a comfortable range for you.
The rule of thumb says that you should feel the device working on your nerves, but that you should not experience any pain, burning, or tingling sensation. Your muscles should also not contract, because the device is not there to exercise the muscles, but rather to stimulate them and the nerves running through them.
The second thing to pay attention to is where you place the TENS unit. Namely, the unit sends pulses through one pad while the other pad is there to pick up the electrical current and prevent it from going further through your body. So, the device creates an arch through your body and the center of the pain should be in the arch.
Where to Place a TENS Pads for Knee Pain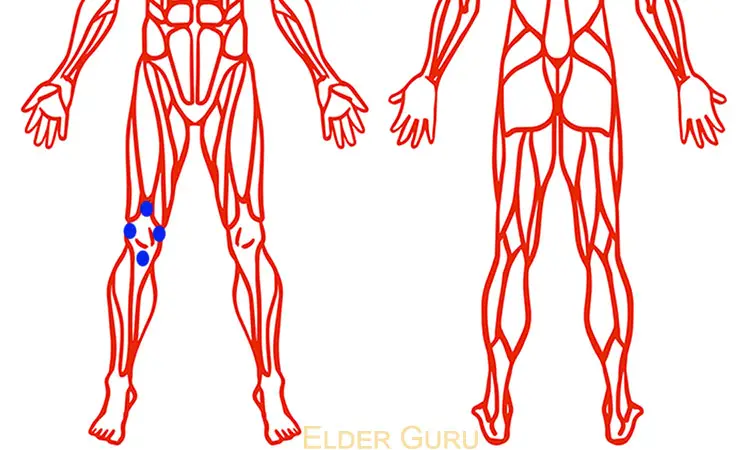 With this in mind, you should place the two pads on the opposite sides of your knee. You should not place one over the kneecap and the other one on the backside of your knee. Quite on the contrary, placing one on the outer side of the knee, facing outward from the body, and the other one on the inner side, facing the other knee is the best thing to do.
Alternatively, you may also decide to use two pairs of pads for this job. In this case, you should place them in such a way that the imaginary arches of current criss-cross each other and form an X mark in the middle of your knee. This will double the results, but also the possible discomfort so be careful with the device and start slow. Build up the treatment intensity as you feel comfortable.
How Often You Should Use It
Whenever using the device, make sure to stay in the comfortable range. This is true for both the current intensity and how often you should use the device itself. When deciding how often to use the device, experiment for yourself and see how often you should use it first. Using TENS for knee pain twice a day is a good starting point.
If you feel that the pain is coming back between the TENS sessions, feel free to increase how often you use it. Also, consider increasing the current level. Some people may use the device up to four or five times a day – all based on their personal choice and their experience of pain.
How Long You Should Use It
If you feel that you should use TENS many times a day, maybe you should reconsider how long each TENS session is. TENS sessions shorter than 15 minutes will give marginal to no results. It is best to keep the sessions between 15 and 30 minutes long. In any case, follow the signals that your body gives you – if 20 minutes does the trick, this is how long you should keep the TENS unit running.
Best TENS Units on the Market
1) Balego TENS Unit – specializing in pain relief, the Balego TENS Unit is the best option for those suffering from chronic pain. With high adjustability and a handy chart on pad placement, the Balego TENS is the handiest we've seen so far.
---
2) NURSAL TENS and EMS Unit – This muscle stimulator for pain relief include dual channel functionality, 24 modes of operation, and 12 electrodes, for treating up to 6 pain spots at once.
Sale
---
3) Maytoyo TENS Units – the only unit on the list with 4 channels, the Maytoyo offers adjustability within a single TENS session. It has 24 modes of operation and 30 levels of intensity for pain relief. It also features a rechargeable battery and 12 pads for treating 6 different areas at once.
Maytoyo 4 Channels TENS Unit EMS Device 24 Modes 30 Level Intensity Muscle Stimulator for Pain Relief Rechargeable TENS Machine Pulse Massager with 12 Pads Belt Clip Storage Bag
❤️【INDEPENDENT 4 CHANNELS】Separate A/B/C/D channel could control up to 8 electrode pads at the same time, and allows you to set different 24 modes and 30 intensities on different parts on your body at the same time. It can be used in the office, car or travel on the go. The independent 4 channels could help stimulate muscles and relieve pain for the back, joints, neck, knees, shoulders, ankles, legs, wrists, and elbows, and it can be the most powerful weapon in your fight against chronic pain!
❤️【MULTI-FUNCTIONAL WITH 24 MODE】Multi-functional Tens unt for pain and muscle relief with 24 preprogrammed massage modes, 30 level intensity, and 10-90 minutes time control. TENS unit help reduce pain and muscle spasms caused by a wide range of conditions including: arthritis, period pain, knee pain, neck pain, back pain, sports injuries. You'll easily find one setting that suits your needs.
---
4) Brilnurse TENS Unit – Brilnurse TENS also comes equipped with EMS and Massage modes. It has 28 different modes of operation, 40 levels of intensity, and 12 pads. It comes in a handy storage bag and has a rechargeable battery.
Brilnurse Dual Channel TENS EMS Massage Unit 28 Modes 40 Level Intensity Muscle Stimulator for Pain Relief Rechargeable TENS Machine Pulse Massager with 12 Pads Storage Bag Pads Holder.
【TENS+EMS+MASSAGE 3-IN-1 UNIT】Safe, non-invasive, drug-free machine for Pain relief and muscle stimulator with 28 Modes, 40 Level Intensity, and 10-90 Minutes Time Control. It's combination of TENS, EMS, and MASSAGE functions. Twenty-eight preprogrammed modes for pain relief and muscle stimulator. Forty levels of adjustable intensity mean you'll easily find one setting that suits your needs. The timer allows you to set a time of between 10-90 minutes.
【DUAL BATTERY SOURCES】Except for built-in powerful rechargeable lithium battery, it also supports 3*AAA Battery(not included). Continuous use up to 30 hours! No worries about treatment interruption for dead batteries any more! You could use AAA battery as emergency measure when you can't charge the unit. The power indicator keeps you aware of charging the tens timely.
---
5) MedTENS TENS Unit – is the only TENS model on our list with a touchscreen for ease of use even by the elderly. It has 24 massage modes and 8 large pads. It also features dual channel functionality and a rechargeable battery.
---
How to Care for Your TENS Unit?
Your TENS unit is an electrical device that you should take good care of. A TENS unit or device should never get wet, it should not be kept in a damp place and should not be tossed around. You may want to store it with batteries that are 60-80% full, to ensure their longevity.
Batteries
If your device uses AA or AAA batteries, you may also want to take them out of the device before storing them away for a while. This will ensure that the internal contacts do not get damaged. If your device uses rechargeable batteries, make sure to never let them get down to 0% charge, as this can cause damage inside the battery itself. Also, you should not charge your device daily, or after each use. Wait for the battery level to fall to around 10% and then charge your TENS unit.
Replacement Pads
Replacement pads are small, silicone, self-adhesive pads that you attach to your body. You should clean them after every use. Some TENS may come with a water-based gel that you should apply to the pads before sticking them to your body. If this is the case, you should clean them after every use with water and some mild soap. In most cases, however, the pads will need to be replaced after a while, and you may purchase them in batches online.
Sale
Other Remedies for Knee Pain
Although TENS is a proven method that relieves pain, its severity, and how often you experience it, you may also want to try some other remedies for knee pain. In many cases, the remedy depends on the source of the pain itself. Arthritis of the knee may be difficult to treat, for example, but not so much with other pain sources:
Sports injuries – collagen supplements and supplementation with amino acids and hyaluronic acid are known to help with knee pain,
General wear and tear of the cartilage, especially at a more mature age, can also be treated with collagen,
General soreness of the joints and muscles can be treated with hot and cold showers, or even with hot and cold compresses,
In injuries to the bone, you may want to visit the ER and use cold compresses.
Final Remarks
A TENS device offers good results in treating knee pain. With this type of simple treatment, you can get rid of knee pain for longer and in a way that is more effective than with pain medication. As the treatment has been widely available and proven to be safe, you can use it in your home setting, however, make sure you speak with your physician or family doctor first.