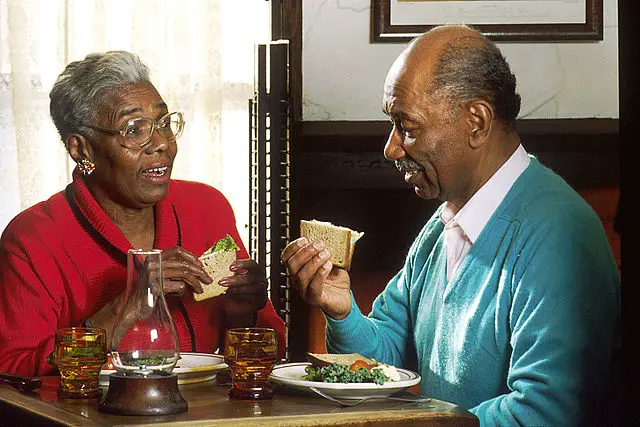 Have questions about Meals on Wheels? How much do Meals on Wheels cost? What it is, how it's funded, and who is eligible? Your questions are answered below.
What is Meals on Wheels?
Meals on Wheels is a program that delivers meals to the homes of seniors who are homebound and unable to purchase or prepare their own meals. It is a nationwide program made up of over 5,000 local community-run programs. The meals are typically hot meals delivered by volunteer drivers. Meals are often delivered five times a week. The program is sometimes referred to as the home-delivered meals program.
Related article: Who Qualifies for Meals on Wheels?
The meals are monitored for nutritional value and quality. The average age of a participant is 79. More than half of them live alone. More than 60% of participants say home-delivered meals provide one-half or more of their total food for the day (source).
The program services are intended to:
Reduce hunger
Help older adults
Promote socialization
Delay the onset of health conditions
Provide an in-person safety check on seniors
How are Meals on Wheels Programs Funded?
Meals on Wheels programs are funded through different sources, the largest being the Older Americans Act: Nutrition Services Program. That federal funding sources accounts for 35% of costs (in the aggregate). The programs receive the remaining funds through other sources:
State and local governments
Foundations
Fundraising
Direct payment from consumers
Donations
Medicaid waiver programs and Community Development Block Grants also offer funding in some instances.
Who is Eligible for Meals on Wheels?
Because Meals on Wheels programs are administered by different agencies and funded through different sources, eligibility can vary. You always want to check with your local Area Agency on Aging (find yours here), but eligibility generally includes criteria such as:
Age 60 and older
Limited income
Homebound
Unable to prepare healthy meals
Able to accept meals from drivers
How much does Meals on Wheels cost?
Meals on Wheels costs can vary depending on the program and the individual's ability to pay. The cost to produce and deliver meals averages $6.00 – $7.00 per meal. Most programs ask low-income seniors to contribute what they can, with a suggested donation of $3.00 per meal being common. Individuals who do not meet the income criteria for free meals may be asked to cover the actual production and deliver cost of the meal.
Important to note, the Supplemental Nutrition Assistance Program (SNAP) can also be used by seniors to help cover costs associated with Meals on Wheels.
How do You Sign Someone Ip for Meals On Wheels?
It is very easy to sign someone up for Meals on Wheels. Typically, the people who want to use a MOW program have to download a special application, fill the information, and then sign up. The application can be compatible with smartphones, PC (Personal Computer), tablets, etc.
The managers of these MOW apps want to assess the body's requirement for food, as well as other supportive services. You need to fill in the information so that the service can deliver the right products to you.
In special cases, some MOW programs may ask the signed-up person to send a referral letter from the hospital or doctors to confirm their condition.
Are Meals on Wheels Any Good?
There is without a shade of doubt that Meals on Wheels do wonders for people's health. According to the various studies from differing institutions, Meals on Wheels plays an important part in protecting people from harm and unnecessary damage to unhealthy food. They prove to be more nutritious, less hospitalized, and have fewer falls.
But are the meals any good? In most cases – yes! These meals are prepared by chefs and dieticians who look forward to bringing the best meals to people. 
Does Medicaid Pay for Meals on Wheels?
Although original Medicare doesn't take any responsibility for any home-delivered meal service, including Meals on Wheels, if you have certain qualifications, you are still eligible for meal delivery service from private insurance plans. 
Among them, Medicaid is applied to the homebound and those who are qualified for this service. If you are eligible for Medicaid, you will likely receive a waiver that pays for home-delivered meals. However, that service is only applied for Mom's Meals and Homestyle Direct. Therefore, if you have any questions about the use, contact your state's Medicaid center.
What Kind of Food is Served on Wheels?
Meals on Wheels are well-known for their variety of nutritious food, which helps protect people from diseases and harm and improve their mental and physical health conditions. Most of the people joining Meals on Wheels are satisfied with the variation of food. These meals are also able to be customized to meet individuals' particular dietary needs.
What are the Best Home Delivery Meals?
Questions about the best home delivery meals are frequently asked, as most customers cannot decide which meals they want due to the variety of meals. And we are here to provide you with some of the most popular and tastiest home-delivered meals and hope that you can choose one for you and your family.
The list includes Home Chef, designed for big appetites, Sun Basket for organic lovers, Freshly, suitable for those who love home-made food by don't want to cook, EveryPlate best for limited budgets, and Blue Apron for meal kit delivery.
Can I Deliver Food to Elderly Parents?
Meals On Wheels programs are almost always looking for volunteer drivers, so if you have a clean driving record and can pass a criminal background check (usually), a program would likely add you to their volunteer list, and some drivers may even be paid positions.
What are Mom's Meals?
Mom's meals is a program which is nutritionally tailored for users. For this reason, Mom's Meals are designed to deliver the most nutritious and healthy meals to your home! In each delivery, you are free to choose meals ready after some minutes of heating. There is no need to worry about the quality of the food, as each dish delivered to you is cooked by professional chefs and approved by Safe Quality Food  (SQF).
Where Can Senior Citizens Get Free Food?
It is an uphill struggle for senior citizens to make ends meet and have a stable life due to their poor health and lack of employment. Particularly, during this worldwide pandemic, this task seems to be the most challenging task for them. However, Meals On Wheels has various programs to supply the elderly with free food boxes.
To access this service, let's contact the Commodity Supplemental Food Program (CSFP), which is sure to deliver free meals to those who are over 60 and have limited budgets. Therefore, to find the nearest site, call WhyHunger's Food HelpLine for more information.
How Many Meals on Wheels Locations are There?
Being such a popular foundation, thus it has expanded to around 5000 independently-run local locations. In particular, it has appeared in virtually most American communities and gained trust and love from citizens worldwide.
The reasons behind this love lie in Meals On Wheels's aims. While each program's services and operation are distinctive due to each community's different demands and resources, Meals On Wheels is specifically designed to provide help and support to the needed, the senior neighbors, and help them adopt a healthier life.
Can You Freeze Mom's Meals?
For preservation and later use, you can store mom's meals in the refrigerator, and they can last for up to two weeks! Therefore, after taking them out of the fridge, you don't have to thaw; what you need to do to make them ready is heating. Heat them in around two minutes, and have a satisfying and nutritious meal!
In case you want to keep them for later use, meals can be frozen and stored in your freezer. At a later time, defrost and heat them whenever you want. In this way, your meals are preserved from harmful bacteria and keep the original taste.
Further Reading
Below are some books that many have found helpful not just for caregiving, but specific to caregiving and meals: