Many older adults, men in particular, don't want or need gifts. Yet as family and friends, on special occasions, we feel inclined to buy a gift just the same. Here we're exploring this – what are the gifts for 70-year-old men?
"What do you get the guy who already has everything and wants nothing?"
I believe that the answer to this question can be summed up in one word: luxuries.
For the person who already has everything, a thoughtful gift that coincides with the recipient's interests, yet also wouldn't be something they may buy of their own accord is the ticket.
So, what are the best gifts for 70-year-old men?
I believe you'll find a good sampling below.
1) A Leather Working Kit
Is your man a fan of working with his hands and always on the lookout for what to learn next? Then you may want to check into a leather working kit. This will give him a new hobby to delve into as he works his way around the learning curve of learning how to make wallets, belts, holsters, bags, and a host of other leather goods.
To round out this gift, I highly recommend purchasing some leather to work with as well. Such would make this gift ready for use right out of the box.
2) A Recumbent Bicycle
If your recipient loves spending time outdoors or simply is looking for a way to get more daily exercise, a recumbent bicycle makes a great gift. While there are 2-wheel options available, I highly recommend the trike versions. In fact, three wheel bikes are popular with seniors for safety reasons alone.
These bikes are easy to get on, require zero balance, allow one's back to be fully supported, and will get one out and exploring once more.
3) Carving Gouges
For the handsy woodworker in your family who enjoys spending time piddling in his shop, carving gouges can be a fantastic gift. These will enable the recipient to delve into the world of carving, crafting fine signs, decorations, gifts, and the like.
There are a number of complete gouge sets out there, but if you're looking for a few solo tools, may I recommend the Veritas brand. They're an economical option that are high-quality, built for serious abuse, and are fun to look at as well.
4) Personal Trainer Sessions
If your loved one is looking to improve his health, a personal training session package may be the perfect gift. Here he'll learn his way around a gym, learn what exercises he should/should not be doing, and get the chance to regularly talk with somebody as well.
As somebody who is a former personal trainer, I can attest to the fact that this is often the part people look forward to most.
Is this the most exciting gift? No probably not, but it could be the most beneficial.
5) Coordinates of Where They Proposed Monogrammed
A monogrammed item with the coordinates of where the recipient proposed to the love of their life is a great way to give a meaningful source of remembrance to somebody. For example, I recommend checking out this keychain over at Etsy.
6) Framed Topo Map of Where They Grew Up
Who doesn't love maps? With this thoughtful gift you'll not only give a masculine present with intonations of adventure, but you'll also help to draw up old memories of where some of the most important times in that man's life.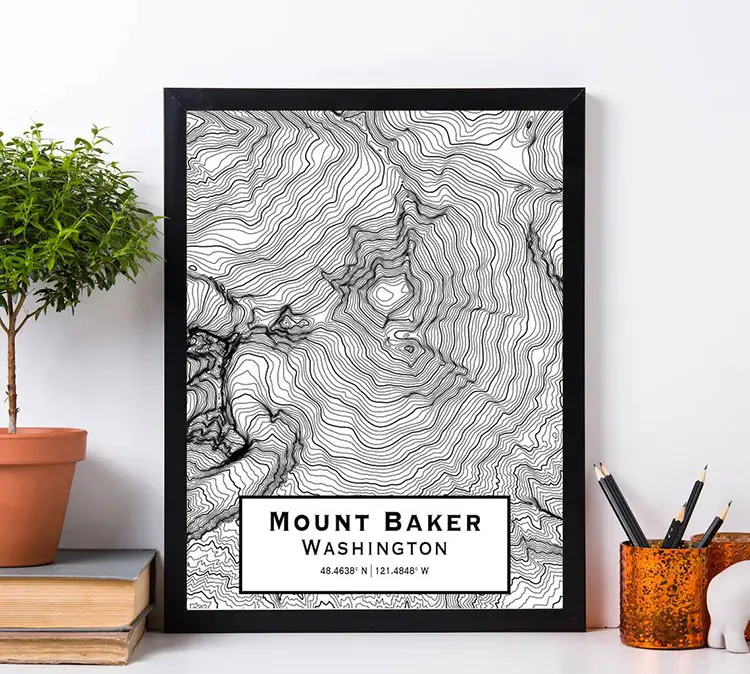 Every time he walks by, he'll be brought to remember all of the happenings that led to who he is today. You can easily find paper version of such that can be individualized over at Etsy, but for a version with a bit more flair, check out this wood engraved version.
7) Leather Copies of Their Favorite Books
For the reader in your life, these make a fantastic gift, and are a great way for him to better enjoy the books he finds himself turning to repeatedly.
Whether you end up picking up a leather copy of Don Quixote or can send an old favorite – such as an old study Bible – to be rebound with a leather cover, there are all kinds of options here to give a gift just about anybody will enjoy.
8) Moleskine Notebooks
Is your recipient a big note taker? Perhaps he always enjoys having a notebook in his pocket to better ensure he doesn't forget important dates, lists, and phone numbers?
If such is the case, why not look into giving a Moleskine notebook? These are a classic within the paper world and are a high-quality notebook anybody will enjoy.
9) Hand-Forged Knife
Men love weapons of all kinds. As such, it's hard to go wrong with a quality blade. But anybody can just go to the store and pick up a new pocketknife. You want something with some history behind it. A hand forged Damascus steel blade can fit that need perfectly.
Not only will you be giving a high-quality blade that will make a great family heirloom for generations to come, but hand-forged knives are truly beautiful to behold as well.
10) Fly Rod
Fishing is a great way to get out of the house and into nature. It's relaxing, excitement is involved with the catch, and getting out to one's favorite stream can serve as a healthy form of exercise. For the man who's apt to fall asleep just watching a bobber float, fly fishing also requires regular casting motions into the water.
A fly rod can serve as the perfect gift to not only help someone to increase their activity levels, but to decrease their stress as well. Check out some of the offerings from Thomas and Thomas, as they're known as one of the top brand rods out there.
I recommend shopping Taletellers Fly Shop. They're easily the best store out there for such gear.
11) A Beehive
Have a man who enjoys spending all his free time outside? Then consider gifting him a beehive. You can easily buy these as an unassembled kit, giving him something to put together as he ponders over what type of bees he'll fill the hive with.
A beehive requires only about 4 square feet of ground as well, so these can easily fit in to just about any yard out there. While he'll most certainly need some other equipment to engage in this rewarding hobby, the gift of a beehive may be all the motivation he needs to jump right into the world of beekeeping.
12) A Pocket Watch
Aside from bringing back memories of yesteryear, a pocket watch can easily be engraved to include a special message on the backside of it. Having the ability to tell the time throughout the day is important for knowing when certain tasks need to be performed, and a pocket watch is a thoughtful and stylish way to be able to do so all day long.
13) Universal Socket Tool
Nobody likes having to fiddle around in their socket wrench set for the right size socket. For the tool nut in your life, a universal socket tool could easily be the remedy. This functional gift will not only save the recipient from having to search through his toolbox for the appropriate socket but will also save him from having to lug around the weight of a full socket set.
A tool that saves hassle and weight? Sounds like a win-win to me.
14) Inversion Table
Back pain is incredibly common among older men and any chance to get relief from such is bound to be welcome. Many find such through regular use of an inversion table. As you flip yourself upside down in this piece of equipment, the pressure on the discs of the spine is relieved, helping many to find the pain relief they've long been longing for.
15) Travel Mug
A simple yet functional gift that will be used daily, a high-quality travel mug will allow the recipient to keep their coffee right at their fingertips as they head out early for deer season, work in the shop in winter, or head out the door on a road trip.
16) Handcrafted Toolbox
What 70-year-old man doesn't enjoy fiddling with his tools? For the handyman in your family, it may be time to upgrade from the beat up and rusted old metal box. A great way to do so is with a handcrafted toolbox.
There are several great varieties of such out there, but they all serve as a classy way to work around the house and help the family member in need of a little household maintenance.
17) Handcrafted Chess Board
If you're looking for a thoughtful gift for the older man in your life who enjoys playing chess, why not look into a nice, handcrafted chess board? There are some exquisite examples out there that are absolutely beautiful.
However, some of these boards admittedly are a bit pricey. If cost is an issue, it may be much more economical to simply look at handcrafted chessmen instead. They'll increase the beauty of any board they're placed upon and cost significantly less than a handmade board and chessmen together.
18) Leather Journal
For the writer in your family a rustic looking leather journal can be a fun way to keep track of one's thoughts, memories, and records of the happenings throughout the day. These can serve as a visually and tactile pleasing means of finally putting remembered memoirs and family genealogies to paper as well.
19) A Compass
While perhaps not as relative in the world of modern technology as it used to be, there is still something pleasing about holding a heavy, well-crafted compass in one's hands. For the man who loves going on road trips yet hates having to deal with smartphones or a GPS, this can be a fun way to stay on the right course until the goal is reached.
20) Key Locater
A more practical gift, a key locater will allow the recipient to never have to worry about misplacing his keys again. Should he lay them somewhere and forget about them, all he now has to do is press the alert button on his smartphone. An alarm will then ring until he picks up his now found keys and disengages it with the press of a button.
This is a gift he'll most certainly appreciate after the first use.
21) Zippo
There's something about the feel of a metal Zippo in your hands that just feels right. The satisfaction one can receive from opening and closing the lid of one of these is like putting the last piece in a puzzle. This is a relatively inexpensive gift that's not only easily engraved but will be used repeatedly.
22) A Quality Cigar
Building off the Zippo suggestion, and negative health effects aside, many older men appreciate a quality cigar. They smoked them for decades while socializing with friends, playing poker, or just sitting on the porch enjoying one. Today, cigars can be purchased right online, and with a wide selection – including Cuban cigars!
Does your celebrant have love affairs with cigars? Is he still enjoying it while sitting on his sofa on late-night evenings? In case he does, you can consider gifting him with a couple of Cuban cigars or maybe with a whole set. There are numerous types of cigars that will surely match any smoker's tastes and smoking experience.
For seniors, it's usually better to choose from lighter smokes like VegaFina Coronas Tubo or VegaFina Short Robustos Tubo. They have smooth and tasty smoke with a creamy and cedar splashes character and will be appreciated by your loved one.
23) Handcrafted Leather Tool Belt
Sometimes carrying a toolbox everywhere is inconvenient. For these circumstances a leather tool belt can allow one to get the task at hand accomplished with much less tool searching, bending over, and lugging around heavy toolboxes.
A leather tool belt serves as a great way to avoid all this hassle. However, anybody can just go out to Lowe's and pick up a bland tool belt. What you're searching for is a memorable gift. That's where Akribis Leather comes in.
Their toolbelts are gorgeous and will cause the recipient to think of you every time he picks up his tools to go to work.
24) Hardwood Planting Dibble
If the man in your life enjoys starting his garden from seed, then check out this hardwood planting dibble from Fisher Blacksmithing. Rather than having to scratch a dip in crusted over dirt with his finger, the recipient can now use the planting dibble to prepare a hole for each individual seed. It can help one to be more uniform in planting seeds at the appropriate depths as well.
This can be a great tool for those who need to avoid infections at all costs yet still want to spend time in the garden.
25) Red Pig Tools Gardening Equipment
For the gardener in your life there are some fantastic tools out there which will greatly aid in weed removal. One of these is the Warren Hoe from Red Pig Tools. Not only will this gift help keep his garden looking great, the tool itself is a joy to look at as well.
Final Thoughts
Getting a gift for an older man can initially seem somewhat daunting, but there are plenty of great, thoughtful gifts out there for even the trickiest of recipients. Hopefully you'll have found some of the above to serve as a source of inspiration in your own hunt for the perfect gifts for 70 year old men.
Are there other gifts you believe should be added to the list? Have you given any of the above in the past to good effect? Let us know in the comments below!