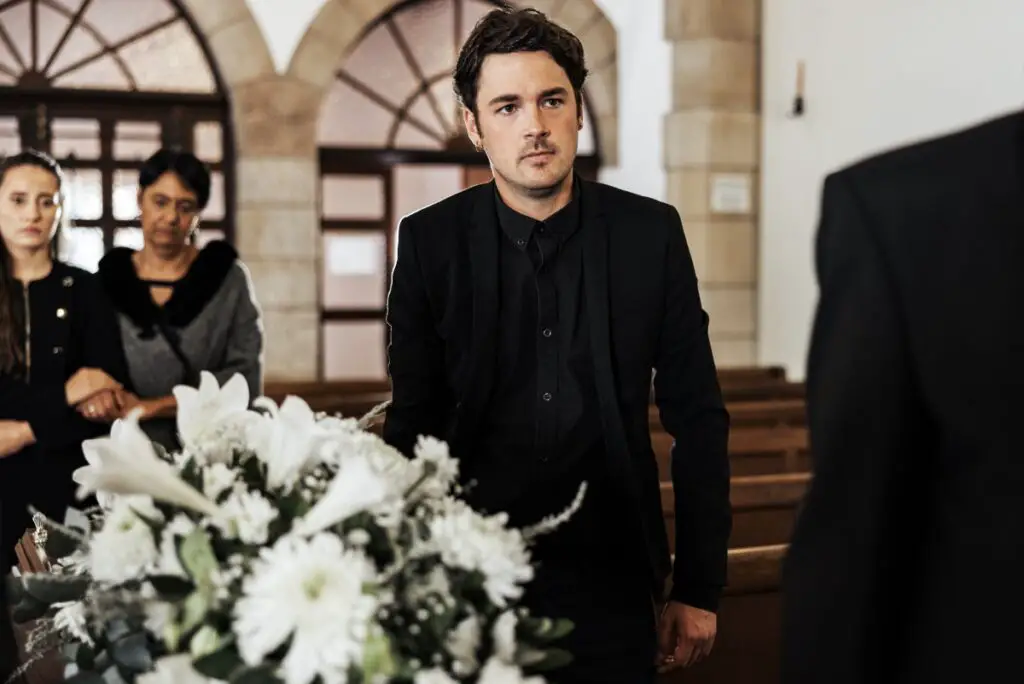 Funerals can bring about a great deal of anxiety because they deal with death. Questions about what to say, how to support the deceased's family, and what to wear to the funeral are normal. However, choosing what to wear and worrying about how you look should be the last of your concerns so you can focus on supporting the bereaved family of the deceased. This article explores funeral attire for men specifically.
Funerals don't follow the exact same format. Take the time to investigate the place, any service, religious or cultural preferences, and instructions on the announcement. In other words, be prepared before you pick your funeral attire – otherwise, you might feel uncomfortable and out of place. Your attire shows respect for the deceased, loved ones, friends, and family. It is almost always better to err on the side of being slightly too formal than too informal.
There are no hard and fast rules about funeral attire except for what you shouldn't wear. Notice where the event is taking place and the specific type of funeral you will be attending.  You can assume more formal funeral attire if the funeral is in a church. Funerals can encompass several different types of services that can guide your attire.
Funeral Service: A traditional ceremony with a casket or an urn. Traditional funerals are usually religious in nature, so there could be a pastor, priest, or some other religious leader. A funeral can be preceded by a viewing or visitation and a graveside service after the funeral.
Graveside Service: A graveside service occurs at the cemetery for family and friends before the casket is lowered for burial.
Direct Burial: A direct burial occurs without a visitation, funeral, or graveside service. The family may arrange for a memorial or celebration of life service at a later date.
Direct Cremation: A direct cremation does not involve a service of any kind. The ashes are returned to the family. A wake or celebration of life may occur later.
Memorial Service: A memorial service can occur any time after death. A casket is not present.
Celebration of Life: A celebration of life is personal and diverse. It may include cultural factors, and be held at a club, someone's home, or a chapel.
Wake: A wake can be at someone's home or at the funeral home. The term "wake" is sometimes used interchangeably with visitations for viewings. If you're the one responsible for organizing everything, see our guide on how to organize a wake.
Viewing: A viewing usually occurs the night before the funeral service, where the body is present for mourners. A viewing is usually a formal event but less so than the traditional funeral that follows.
Visitation: A visitation is less formal than a funeral, and the emphasis is on visiting with friends and family of the deceased. Food and drink are typically provided.
What Should a Man Wear to a Funeral?
In general, funeral attire for men should be made of conservative clothes. There is some leeway within that definition, however. In the past, men were expected to wear all-black suits with a dress shirt and tie. Dark colors are still best, with dark gray and navy being appropriate choices. Think about office attire or if you were going to a job interview. If you don't own a suit, you can wear dress slacks with a dress shirt and tie.
What kind of event is it? Is it a memorial service, a celebration of life, or a wake? Is the service on the beach? Is the celebration of life at a bar? Details about location will guide your choices. If in doubt, ask the host.  Let's review some colors to give you a clearer picture of how to coordinate your attire and dress.
Black: Black is the most common color for funeral wear. However, you don't have to have an entirely black outfit. You can wear a black turtleneck with gray dress slacks.
Navy: Navy is as appropriate as black since it signifies the dignity of the situation. Navy pants with a white shirt are a good choice.
Dark Grey or Charcoal: Dark gray is perfectly acceptable at a funeral. On the more casual side of formal, wear gray pants with a button-down long-sleeved shirt.
Light Gray: Light gray is a good color, especially for summer, and looks less stark than black.
Khakis: Khakis should only be worn for less formal funerals, a celebration of life, and wakes, but paired with a dress button-down shirt.
Sale
Shoes are another component of funeral attire for men. A classy outfit can be ruined by old, worn-out, or outdated shoes. Nice Black shoes are perfect for a funeral and will go with almost any color. Make sure you have or buy a nice dress belt to go with your outfit.
Sale
CHAOREN Reversible Belt for Men - Mens Belt Leather 1 3/8" Cognac for Formal Pants - Adjustable Belt Trim to Fit
2-in-1 Sophistication: Elevate your wardrobe with the versatile charm of our brown and black reversible leather belt. Experience two colors in one, making it an ideal companion for your favorite jeans, casual attire, or dress pants. Effortlessly transition between looks with this smart accessory.
Tailored Fit, Effortless Adjustment: Say goodbye to the hassle of traditional double-sided belts. Our innovative design eliminates the need for tools. Trim it to your exact size without the fuss. Perfectly suited for those with a 33/35 waist, embrace a tailored fit that exudes confidence.
Funeral Attire for Men – 6 Examples
Let's get down to specifics. We will give you some examples of different styles with some mix and match for more casual funerals.
1. Classic Suit
Men's 2-Piece Suits Slim Fit 1 Button Dress Suit Jacket Blazer & Pants Set
Material: Premium polyester-made of high quality fabric which allows for comfort and ease of movement, over 264lbs are not recommended to buy
Design: Cut in a slim fit 2-piece Suit, it keeps its shape and keeps you looking sharp and dapper. Whether you are going to prom, a wedding, a holiday party, or even just for everyday- this is confidence that suits you
You can spend a lot or a little on a classic suit for funeral attire. On the more reasonable cost side, this suit is a nice choice for any funeral event.  In the slightly more expensive range, you can choose this 3 piece suit for your funeral attire.
Sale
LUPURTY Suits for Men, 3 Piece Men's Suit Slim Fit, Solid Jacket Vest Pants with Tie, One Button Tuxedo Set, Black XL
【HOW TO CHOOSE SIZE】 XS≈36R, S≈38R, M≈40R, L≈42R, XL≈44R, XXL≈46R, XXXL≈48R, XXXXL≈50R. Please refer to the LUPURTY SIZE CHART in description carefully(DO NOT look at the Amazon size chart). If you are not sure, please feel free to inquire us about the size first and we will recommend the suitable size to you as soon as possible.
【PREMIUM STRETCH FABRIC】 With 70% Polyester, 28% Rayon, 2% Spandex, LUPURTY 3 piece mens suit is comfortable, breathable, soft, flexible and stretch. The 4-way stretch fabric and durable stitching makes this slim fit mens suit easy to keep the shape and have a long lifespan and full mobility.
2. Slacks with Long-Sleeved Shirt
Sale
Haggar Men's Classic Fit Flat-Front Hidden Expandable Waistband Premium No Iron Khaki, 42W x 32L - Black
PREMIUM NO IRON KHAKI: Eliminate the need to iron with the premium khaki pant from Haggar. Featuring a hidden expandable waistband that stretches up to 3", off seam front pockets, single welt back pockets in a flat front, classic fit silhouette.
MATERIAL: Made of 61% Cotton, 37% Polyester, 2% Elastane for stretch and recovery. The comfort of the stretch is what makes this classic pant your go-to for the office or a formal event.
Dress slacks with a long-sleeved shirt is not as formal but could be appropriate if you opt for black slacks and a long-sleeved white shirt.
Sale
3. Slacks with Blazer
A combination of dress slacks with a blazer and dress shirt can be slightly more casual since you don't have to wear a tie. And in this funeral attire, you will look respectable and dignified.
4. More Casual Slacks with Shirt
Sale
For a decidedly more casual funeral, where the expectation is that more formal attire will be out of place, consider khakis and a long-sleeved shirt. More casual slacks can be appropriate for a wake or memorial service.
5. Tie
A tie dresses up a casual outfit and should be considered for a standard traditional funeral in a church.
6. Coat
Adam Baker Men's 40811 Wool Full Length Topcoat - Black - 44L
Full Length: Hits below knee. The length of the coat is between 43 1/3" - 47 1/3" length, depending on the height type (Short: 43 1/3" Length, Regular: 45 1/3" Length, Tall: 47 1/3" Length). 22" center back vent.
Classic Fit - This sophisticated wool top coat's three-button closure ensures coverage and warmth while you enjoy a night out on the town
A long black coat is appropriate for a funeral outdoors or on a rainy, cold day. Once inside, remove your coat.
Funeral Attire for Men FAQs: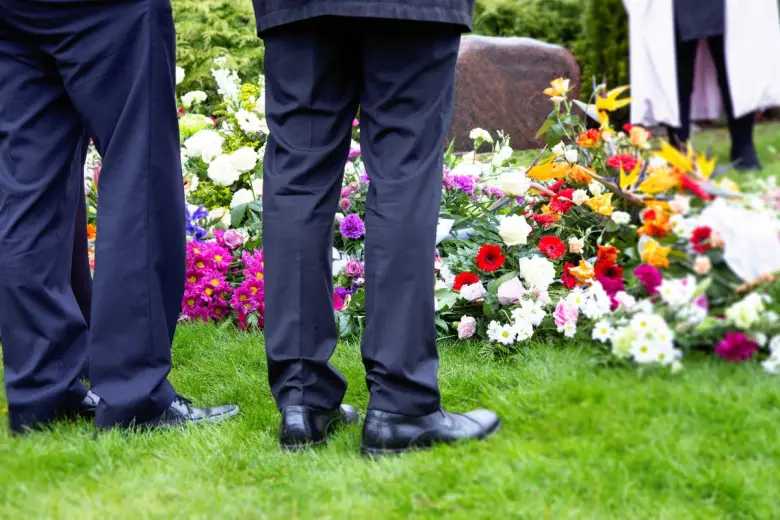 There are no hard and fast rules about funeral attire for men except for what you shouldn't wear. More casual funeral attire has gained in popularity through the years. Again, look at the funeral announcement and speak with the person in charge of the arrangements. You can assume more formal funeral attire if the event is in a church.
Do You Have to Wear a Tie?
You do not have to wear a tie if you attend a memorial service, visitation, celebration of life, or wake. But at a traditional funeral, you should wear a tie. Keep the tie a solid neutral color. It is rare for a tie to be out of place when honoring the deceased person and their family. Stay away from a bowtie.
Can You Wear Jeans?
Sale
The short answer to whether you can wear jeans to a funeral is no. Jeans have no place at any of the types of funeral services we mentioned. The only time you might get by with jeans at a funeral would be dress jeans for a casual celebration of life paired with a white shirt, a nice belt, and new shoes.
Can You Wear a Black or White Shirt?
A white shirt is a great choice to wear to a funeral. Black is also acceptable but avoid a black shirt that is shiny or satiny.  Black and charcoal suits go well with black shirts.
Can You Wear Khakis?
Khakis encompass a range of pants, some of which are inappropriate. Consider dress khakis at a celebration of life or informal memorial service. Khakis can look dressy if you take the time to wear a nice white long-sleeved shirt, dress belt, and shoes.
What is Inappropriate to Wear to a Funeral?
Except under exceptional circumstances, there is a list of inappropriate attire to wear to any of the events we listed under funeral services.
Flip flops, thongs, or in some cases, sandals
Bright-colored shirts or slacks (unless there is a specific cultural expectation)
Bright or loud ties
Shorts
Jeans except for dress jeans for an informal celebration of life
Athletic wear
Tank tops
Sneakers or boat shoes
Tee shirts
Tight or revealing clothing
Soiled or wrinkled clothing
Funeral Attire to Show Respect
Here is a British man's take on this subject:
Always remember your reason for being at a funeral. Whether it was someone you were close to or not, a funeral is a ceremony that allows people to grieve, console, but also remember the deceased. Although hundreds of people may be at a funeral, your presence is essential, and you only get one chance to do it right. Look your best, and you will be off to a good start.