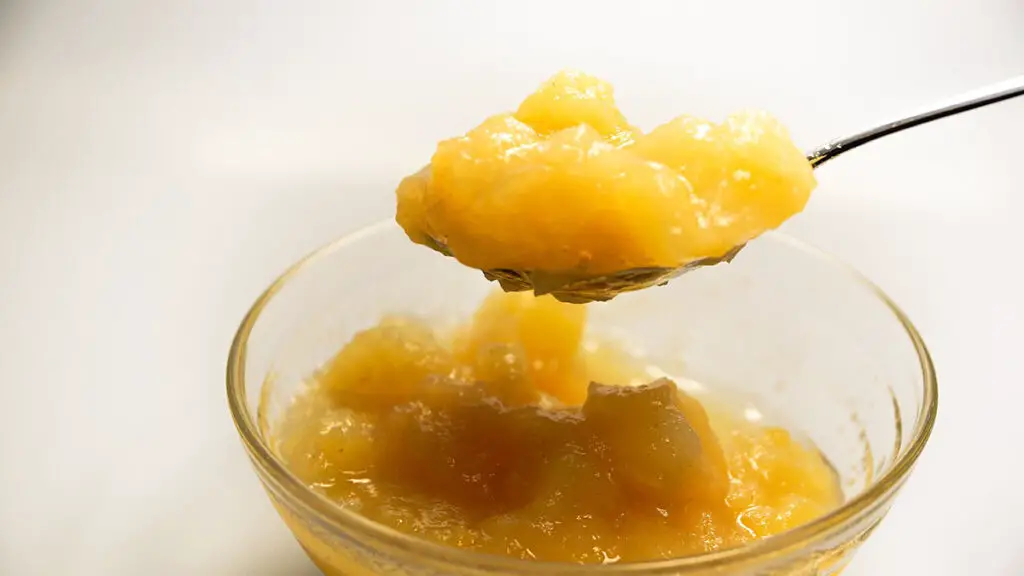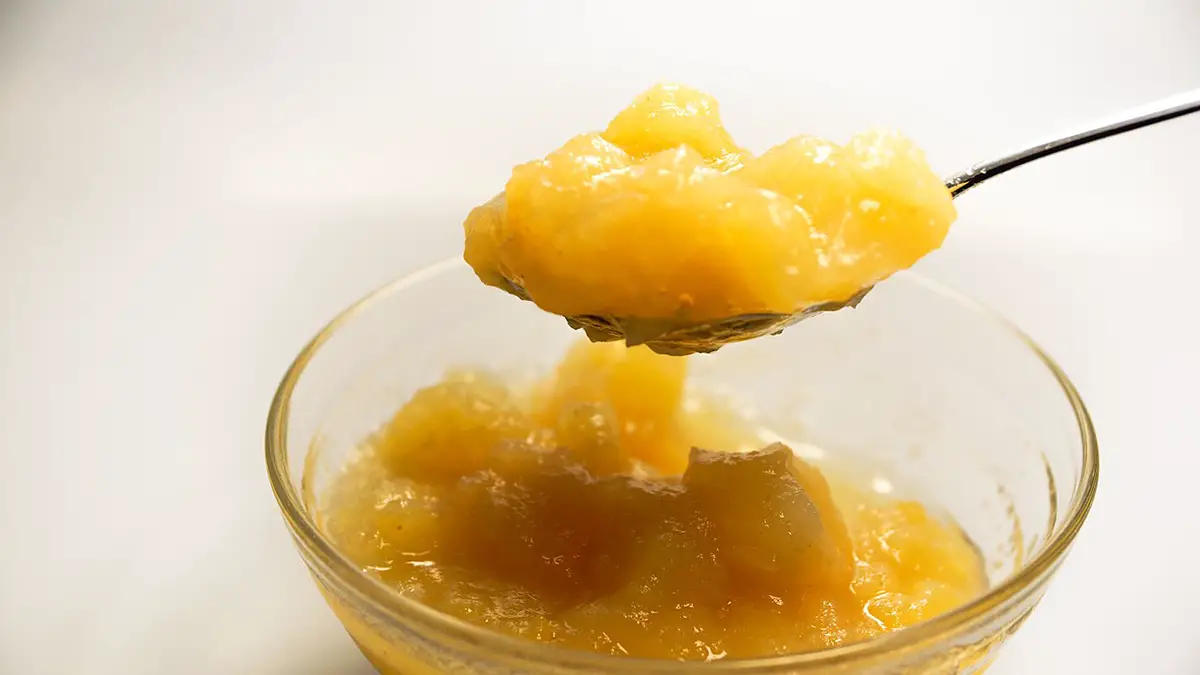 As we age, we may lose fine motor skills. In some cases, this muscle loss includes dysphagia, or difficulty swallowing. Seniors who cannot swallow well typically transition to a mechanical soft or pureed food diet. These diets are used for preventative purposes, and may even come with a doctor's order. They are particularly important for people who:
Have trouble chewing, masticating, or swallowing
Are recovering from mouth surgery
Have lost feelings in parts of the mouth, tongue, or lips
Other conditions that may cause eating difficulty chewing food include head injuries, Parkinson's disease, Alzheimer's, myasthenia gravis (MG), or tardive dyskinesia (TD).
Caregivers who already have "a full plate" will find the need to puree foods as one more task in an already busy day. We hope this article might help alleviate that stress and workload.
Food Pureeing Tools
You don't need any fancy equipment to provide a pureed diet as a caregiver. A food processor or blender is typically sufficient. In fact, some extremely soft foods, such as avocado and bananas, can be mashed to a puree consistency with just a fork. Here are some items that will certainly help, however.
Ninja Mega Kitchen System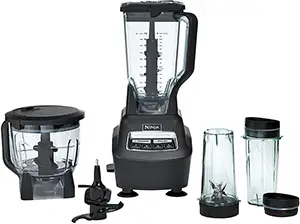 If you are pureeing food regularly, you may wish to invest in something serious like the Ninja Mega Kitchen System Blender/Food processor. The large 72-ounce BPA-free pitcher is perfect for making large batches you can divide into portion sizes and freeze, saving you effort over the longer-term. The two 16-ounce Nutri Ninja cups come with lids and are just the thing for creating single servings. The set also comes with an eight-cup food processor bowl. The Ninja Mega can be hand washed but is also dishwasher safe.
Papablic All-in-1 Baby Food Maker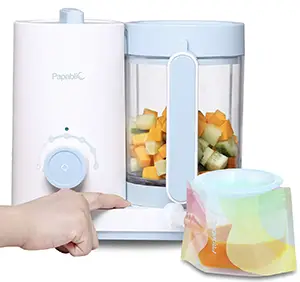 Another excellent option for pureeing food, and less expensive than the Ninja, is the Papablic All-in-1 Baby Food Maker. This little processor can steam, cook, blend, reheat, and defrost your purred food. It comes with reusable food pouches and a funnel for easy filling. It is dishwasher safe and BPS, phthalate, and lead-free. You can steam the food from 10 to twenty-five minutes. It has a measuring cup with clear markings on how much water to use depending on the heating time.
Batch preparation can save you time during the week. Keep those portions fresh in these Glass Baby Food Storage Containers with Lids. These four-ounce containers are made from borosilicate glass. They can be stored in the freezer and heated in the microwave. The airtight silicone gasket and locking lids keep everything fresh.
Adding Puree Thickeners
Thickeners are used to either bulk up a watery blend or water down a thick blend. Your choice of thickener will depend on what solid food you are pureeing. You can use water, broth, gravy, sauces, juices, milk, yogurt, or supplement drinks to make the pureed meal the best consistency for eating.
If you are using yogurt, use the plain or nonfat varieties that have no chunks of fruit. Strained cream soups make suitable thickeners. Also consider using celery, potato, mushroom, or chicken broth made with skim milk for a variety of flavorings. Skim milk with protein powder is yet another healthy alternative.
If lactose intolerance is not a problem, you can use nonfat small curd cottage cheese or low-fat ricotta cheese. Diluted apple, grape, or cranberry juice are sweeter options. If you are pureeing canned fruit, use the liquid that it has been canned in to reduce the thickness. Tomato juice is another option that will work as a delicious flavoring for many purred vegetables.
Make Smart Pureed Food Choices
Seniors have different nutritional needs than other age groups. You must keep these dietary requirements in mind when choosing food for someone who needs a soft diet.
The elderly have an increased risk of becoming micronutrient deficient. Therefore, it is important to choose foods that are rich in micronutrients when meal planning. Food choices should also be low in saturated fat and salt to reduce high blood pressure and cholesterol levels. Increasing the number of daily fruit and vegetable servings will also go a long way in improving overall health. Here are 6 simple yet delicious pureed food recipes.
Foods That Work Well
Artichokes, asparagus, eggplant, and beets are easy to puree with minimal thickening agents. Carrots, potatoes, and other root vegetables are other vegetable options. Spinach, mushrooms, celery, and zucchini are good choices. For protein, consider fava and kidney beans or lentils. Pumpkin and peas are possibilities as well.
Peaches, apricots, pears, melons, and apples all make delicious purees. Scrambled eggs are yet another food to consider. For breakfast, sometimes simply letting cereal get a bit soggy in milk will be enough.
Foods To Avoid
The consistency of some food does not lend itself well to pureeing or makes it difficult to swallow for those with dysphagia. Because of this, avoid seeds or grains that are covered in an outer layer, like corn or multi-grain cereals.
Foods that are fibrous or stringy are challenging to swallow. If you are making a puree out of something like celery stalks, be sure to strain the blended food before serving to get any stringy bits out. Pineapple is a fruit that can be fibrous and difficult to process.
Exercise caution with meat. Use only meats that have been moisture cooked (steamed, poached, or boiled). Be sure to add four tablespoons of liquid (broth or water) for every two ounces of meat.
The Puree Process
All ingredients, including fruit, should be cooked until they are tender. Chop the food into small pieces. Adding a small amount of liquid to the food bits in the blender before you puree, makes it easier to get a creamy texture. Add more liquid if you need to and blend it again. You may need to strain the food through a colander if there are larger pieces even after blending.
Helpful Eating Utensils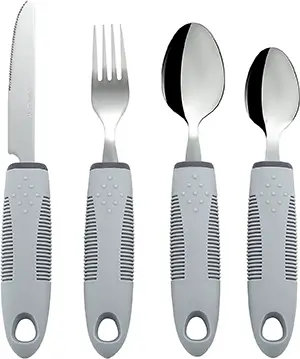 Pureed food is often eaten with a spoon. Some conditions, such as Parkinson's disease, make it more challenging to eat. Consider having a set of specially designed utensils on hand. These adaptive utensils are wider than standard silverware and have a ribbed handle to improve control. The four-piece stainless steel set is dishwasher safe and comes in black or gray handle options.
Another alternative is the EazyHold Silicone Adaptive Aid. These attachments are made from silicone and can be wiped clean with disinfectant wipes. They not only make silverware easier to maneuver but can be used with grooming items such as toothbrushes and hairbrushes. The set comes in eight different sizes for any size hand.
Final Pureed Thoughts
As you can see, a pureed diet does not have to be lacking in flavor, although there are some foods best avoided. A blender and some storage containers can simplify the meal preparation process so that as a caretaker, you don't find the special accommodations burdensome. Having adaptive utensils on hand could also allow your loved one to feed him or herself, maintaining some level of independence despite any disabilities.
Lastly, be mindful that for your loved one, the need to move toward pureed foods can be a difficult transition. As we age, meals become more important not just for their nutritional value, but for activity's sake, social interaction, etc. Many seniors really enjoy meal time. Moving to pureed foods can induce depression and sadness. Once seniors are ready to transition out of pureed foods, you may consider exploring a range of soft foods that are nutritious and easy to chew.
Do you have any favorite equipment you use for pureeing at your home? We'd love for you to share them in the comment section below.