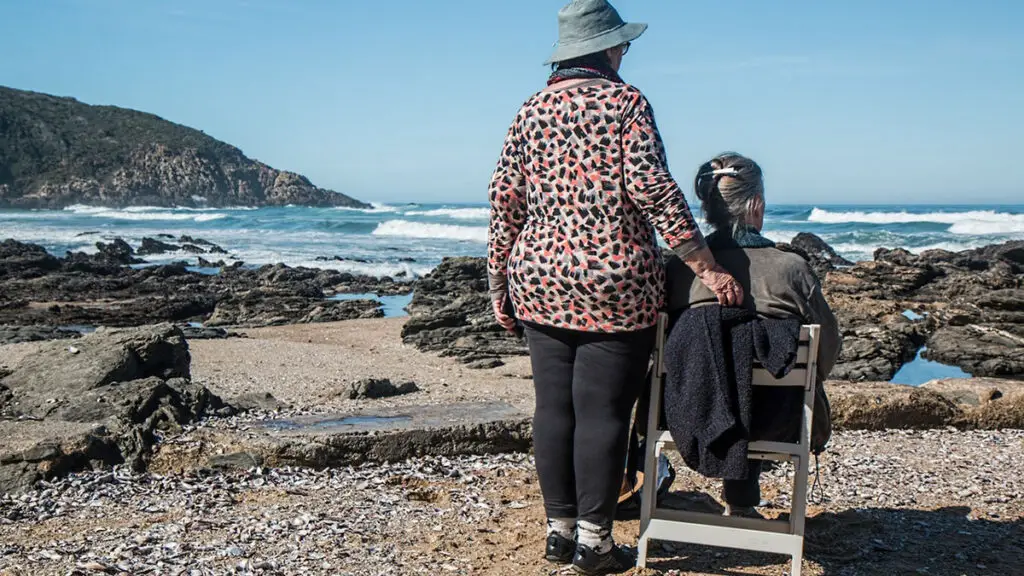 Family fun at the beach doesn't have to exclude grandma and grandpa. The challenge can be in mobility, however. Navigating sand and getting out of beach chairs is difficult for some seniors. Buying the right beach chairs for the elderly in advance might help.
Chairs of this type are going to offer better stability, comfort, and the proper height to make getting into and out of the chair easier. This can benefit not just the senior sitting in it, but anyone else that is lending a helping hand.
Many beach chairs are built to be lightweight and easily portable. They're fine for kids or young adults sunbathing, but older adults are going to appreciate a bit more comfort. It's worth the extra weight and – possibly – cost. Let's see what some of those chairs look like.
Features of Beach Chairs for Seniors
The ideal beach chair for a the average older adult will have a seat cushion over 13″ from the ground, have a strong base, arm rests, and made of solid construction.
When I used to work at a long-term care facility we would take the more able residents out to sit at the beach and get an ice cream. We would do it toward the end of the day when the crowd had died down and the sun wasn't as hot. Even with beach chairs well-suited to seniors, they struggled to get out of them.
Granted, these were residents of a long-term care facility. They were living there because they had more challenges. However, the pain (literally) is real. You are only going to get so much comfort from a beach chair, so you want to get the best one that you can, particularly if you're older.
So what should you look for in a well-designed chair?
Height, Width, and Depth
Most beach chair seats are 8-12″ from the ground. Low beach chairs are much closer to the ground, and although they allow the beach-goer to stretch out on the sand, they are much more difficult for seniors to sit down and stand up from. You want high beach chairs that are more than 13″ from the ground. These are the easiest to get in and out of for most individuals.
Although less important than the height from the ground, the width and depth also need to be taken into account. Most beach chairs average 18-25″ wide, while the seat's back can range from 24-48″. Plus size beach chairs are more expansive and designed to hold more weight. Make sure to find a wide enough chair that is comfortable to sit in and provides enough back support.
Material Construction
The material that the beach chair is made from will determine how durable and comfortable it is. Wood is a common material but is heavier and less weather resistant than other types.
Aluminum beach chairs are weather-resistant, light, and sturdy. If you need to carry the chair for any distance, you'll appreciate its weight. Steel beach chairs are less weather-resistant than aluminum and heavier but sturdier overall.
Although plastic seems like a cheap and flimsy material to make beach chairs from, nowadays, you can find recycled plastic chairs that are ultra-durable and weather resistant.
Other Features
There are a variety of other features that you might consider when picking out your next beach lounger:
Folding chairs with shoulder straps and backpack beach chairs are easier to carry.
Canopies or umbrellas can provide much-needed shade.
Arm rests can aid getting into and out of the chair.
Side pockets for a book and sun block are nice to have.
Sale

Sport-Brella Versa-Brella 4-Way Swiveling Sun Umbrella (Midnight Blue)
Upf 50 Plus Protection. The Versa-Brella Is A Clamp-On Shade Canopy Umbrella That Offers Upf 50 Plus Protection To Help Keep Skin Safe From 99.5% Of Uva And Uvb Rays
Rugged Cover And Durable Connector. The Rugged Canopy Cover Won'T Rip Or Tear; A Heavy-Duty Universal Clamp Connects To Square And Tubular Surfaces And Ensures A Secure Hold On Golf Bags, Beach Chairs, Or Even Bleachers
If the chair you want does not come with a built-in umbrella, consider the optional Sport-Brella. It attaches to any chair, making it very versatile. If the sun doesn't call for it, you can leave it in the car and save carrying the extra weight. The importance of being able to keep aging skin from UV rays cannot be understated.
Picking the Best Beach Chairs for Elderly
In general, the best beach chair for an elderly person falls into two categories, zero gravity or camp chairs, sometimes called high boys (or hi-boy). Standard beach chairs are far too close to the ground for an older person to manage without considerable assistance.
You also want to avoid using general camp chairs for beach use, particularly for seniors. These often come with 4 legs with small bases. A quality beach chair is actually going to rest on two long bars that stretch across the sand. These provide more contact with the ground and reduce the odds of one legs sinking into softer sand and tipping over.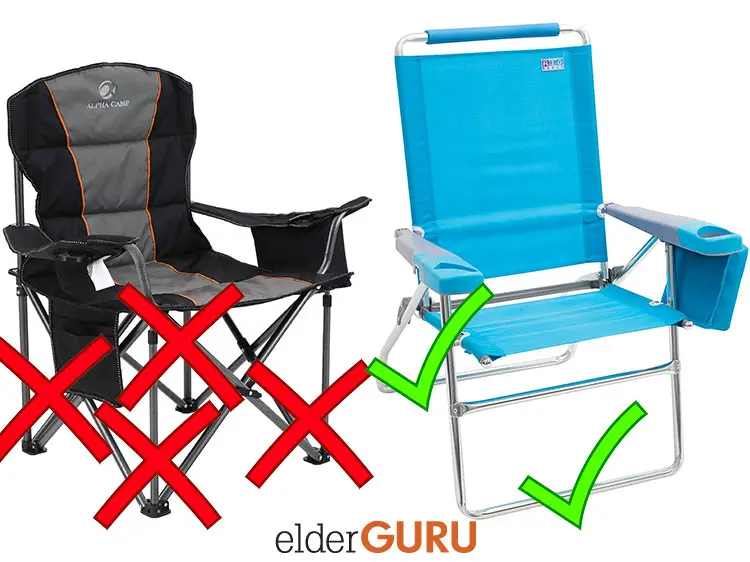 You can also see in the picture above the difference in arm rests. The camping chair on the left has fabric arm rests whereas the quality beach chair on the right has hard plastic arm rests. The latter is much stronger and better for seniors than need to push off in order to rise from a seated position.
Tall Beach Chairs
Many beach chairs are low to the ground and challenging for older adults to get out of. If you are looking for a beach chair high off the ground, probably the best overall beach chairs for the elderly, then take a look at these models.
ONIVA – a Picnic Time Brand Portable Folding Sports Chair
The folding sports chair from ONIVA comes in a variety of colors. It is constructed from lightweight aluminum and polyester canvas and has several pockets to stash your cell phone, sunglasses, or book. It also has an insulated beverage pouch and a fold-out side table. The seat is 19 ½ inches wide, and the seat is 16 inches from the ground.
Sale

ONIVA - a Picnic Time brand - Sports Chair with Side Table, Beach Chair, Camp Chair for Adults, (St. Tropez)
THE ADULT CAMPING CHAIR- The Sports Chair with Side Table by Oniva, a Picnic Time brand, is a lightweight, outdoor folding chair with sturdy aluminum frame made to withstand some heavy, grownup relaxing
FEATURES GALORE - The accessories panel on this picnic chair offers a variety of pockets to hold personal items, an insulated bottled beverage pouch, zippered security pocket, and a sturdy side table that folds out
Features
Made of Aluminum Frame and Durable Polyester Canvas With Padded Armrests
Lightweight and Sturdy Folding Outdoor Chair With Fold Out Side Table
Offers Variety of Pockets and Pouch to Hold Personal Items and a Zippered Security Pocket
Easy to Transport
300-lb Weight Capacity and Lifetime Guarantee
The armrests are sturdy and padded. This beach chair has a 300-pound weight capacity. The ONIVA beach chair can be carried using the under-seat handles or the detachable shoulder strap. It weighs just over ten pounds, so transporting is easier than some other models. This chair comes with a lifetime guarantee from the manufacturer.
RIO Gear Beach 17″ Extended Height 4-Position Folding Beach Chair
The Rio Beach 17 inch higher seating beach chair is on of the highest beach chairs we have found. The 17 inch folding beach chair has 4 different reclining options. The molded armrests include the built-in SAFE-ADJUST technology that prevent fingers and hands from getting pinched while adjusting the chair recline. Additionally, the molded armrests are extra wide and contoured to provided maximum elbow and forearm comfort.
Sale

Features

Store personal belongings inside the insulated storage pouch with mesh pocket conveniently located on the armrest
Rust-proof, heavy duty aluminum frame
Seat height is 17″ off the ground
250-lb Weight Capacity
4.6/5 rating – note that different colors can be priced higher or lower
Rio Beach Big Boy
This chair has very strong reviews and for good reason. It's solid! The chair is 13″ off the ground, it comes in a variety of colors, it's wide and deep, and it reclines. The arms are solid, not fabric like in many cheap camping chairs. This makes them more stable to push off from.
Sale

Features
Lightweight Rust-Proof Aluminum Frame and Hands-Free Portability
Easy to Carry and Recline
4-Position Safe-Adjust Recline Design
Extra Wide Seat Width and Adjustable Backpack Shoulder Straps With Large Storage Pouch
300-lb Weight Capacity
Zero Gravity Beach Chairs
These are nice. We have one on the deck at our house and use it all summer long. Zero gravity chairs are designed to hold your body in a position so that it receives equal gravity pull on all parts. In contrast, a traditional chair leaves your legs dangling. The only problem with these chairs is they are on the heavier side, making them less portable.
Zero gravity chairs are best for individuals that suffer from edema, varicose veins, or other conditions that cause swelling. The hammock-like structure also reduces the strain on the vertebrae, easing back and neck pain. If you are looking for the perfect beach chair for an older person, zero gravity might be the way to go.
Amazon Basics Zero Gravity Recliner Padded Patio Lounger Chair
Features
Pack of 2 Chairs With Side Table Made of Durable Steel and Textilene Fabric
heavy-duty steel frame
Fold Flat Design for Compact Storage and Easy to Transport
Extra Wide Seat Width and Adjustable Backpack Shoulder Straps With Large Storage Pouch
300-lb Weight Capacity
The Amazon Basics Zero Gravity Recliner Padded Patio Lounger Chair is 22 inches from the ground with a 21-inch padded seat width. It measures 72 inches when fully reclined and can bear up to 350 pounds. It can be adjusted for the most comfortable position. The back is also fully padded. The padded pillow can be moved to serve as a headrest or lumbar support. It comes with a detachable table with a cup holder. It isn't a light chair, weighing about 20 pounds, so moving it to and from can be difficult.
Amazon Basics Zero Gravity Chair with Side Table
Sale

Features
Made of Heavy-Duty Steel Frame Specially Designed for Tall and Large People
Easy Folding and Compact Structure That Requires No Assembly
0-170 Degrees Adjustable Positions With Locking System
Fully Padded Seat and Adjustable Padded Pillow
350-lb Weight Capacity
The best deal we found for Zero Gravity Chairs is the Amazon Basics Zero Gravity Chair with Side Table. It comes with two chairs and a side table that has two cup holders. The headrests and cup holders are removable. The chairs and table fold flat, making them easier to transport and store. Perfect for senior couples.
The chairs are adjustable and have a lockable recline position. They are constructed of Textilene fabric and steel framed. The chairs measure 26 inches in length and up to 43 inches in height. These chairs come in a variety of colors and have a weight limit of up to 300 pounds. The set comes with the Amazon Basics one-year limited warranty. Each chair weighs about 20 pounds, so moving the chairs might be cumbersome for an elderly individual.
Wheelchair Beach Chairs
"Wheelchair" beach chairs could be a possible free option. The picture above is one I took at a state park in Maine. It's a wheelchair/beach chair, designed to more easily move across beach sand than a conventional wheelchair ever could despite any wheelchair accessories that might make life easier. I have seen these types of chairs at ever state park I've been to, and they are always sitting unoccupied. I've never seen one in use.
They are always chained up, as in the picture above, so not anyone is able to just take it an use it without speaking to park staff. They are reserved for handicap use, they're free to use, and they could save you money from buying a beach chair designed specifically for seniors.
Of course, these are at state parks. Other beaches may or may not have such beach wheelchairs. It can't hurt to call ahead and ask, however.
That said, you can also buy a beach wheelchair such as this one (better even), but they are pricey. Still, for someone that has mobility issues and visits the beach all summer long, it could be a wise investment. It would also be great for facilities who take residents to the beach.
Consider these options from ACTIVEnABLE:
DeBug Beach Access Wheelchair – This is an adapted all terrain recreational wheelchair. It has balloon-like wheels to make it easier to operate in beach sand, on gravel, etc.
DeBug Beach Access Walker – Similar to a wheelchair but a walker that is significantly easier to operate on sand, snow, gravel, etc. It comes with the same, albeit smaller, balloon-like tires.
Sit Down and Relax
Whether you choose a zero gravity chair or camp chair depends on the person's health the beach chair is meant to accommodate. If leg swelling is an issue, then, by all means, go with the zero gravity chair. Keep in mind that these types of chairs are heavier and more challenging to maneuver. On the other hand, if you need a taller beach chair, then camp chairs are ideal. Many come with a variety of pouches and padded seating.
Don't forget to add an ample beach umbrella, side table, and cooler for the best beach time experience. May this list of beach chairs for the elderly make your next trip that much easier. Surf's up, grandma!