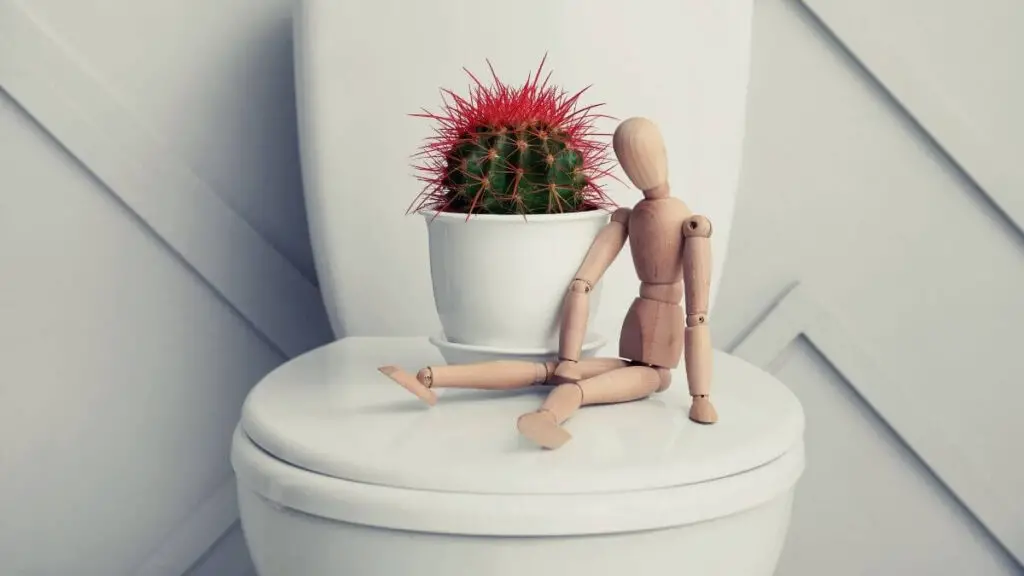 Hemorrhoids, also known as piles, are a common but painful disorder and occur in both men and women. According to the NIH, 1 in 20 Americans have hemorrhoids and half the adult population over the age of 50 has hemorrhoids. Hemorrhoid pillows are one way people can ease the pain.
What are Hemorrhoids?
Hemorrhoids are caused when the veins around the rectum or anus become swollen or inflamed due to increased pressure. The common symptoms are rectal pain, itching, bleeding and sometimes prolapse. A prolapsed hemorrhoid is a vein that protrudes through the anal canal.
There are two forms of hemorrhoids. External hemorrhoids form under the skin around the anus. Internal hemorrhoids form in the lining of the anus and lower rectum.
What Causes Hemorrhoids?
Hemorrhoids are caused by increased pressure. This pressure can be due to a number of reasons:
Straining during bowel movements.
Sitting on the toilet for extended periods of time.
Chronic constipation or diarrhea.
Not enough fiber in your diet.
Age, many over 50 year olds find hemorrhoids a recurring problem.
Pregnancy
Regularly lifting heavy objects
Standing for long periods of time.
Complications of Hemorrhoids
Hemorrhoids are generally not a serious disorder although they can cause great pain and discomfort. Complications can, however, occur but seldom need medical attention. External hemorrhoids can develop a blood clot within them. This can be extremely painful.
The blood clot could be reabsorbed leaving a flap of excess skin (skin tag) which can become itchy and uncomfortable. The blood clot could also burst causing bleeding. This can be painful and uncomfortable but is not usually dangerous. If the skin has torn open infection may enter which can become a problem.
Internal hemorrhoids are usually painless even when they bleed. If you do not feel pain but see blood in the toilet, it is probably a bleeding internal hemorrhoid.
Pruritus Ani, anal itching, is a complication caused when a protruding hemorrhoid collects small amounts of mucus and stool particles. These cause an irritation and itching, which is aggravated by constant wiping.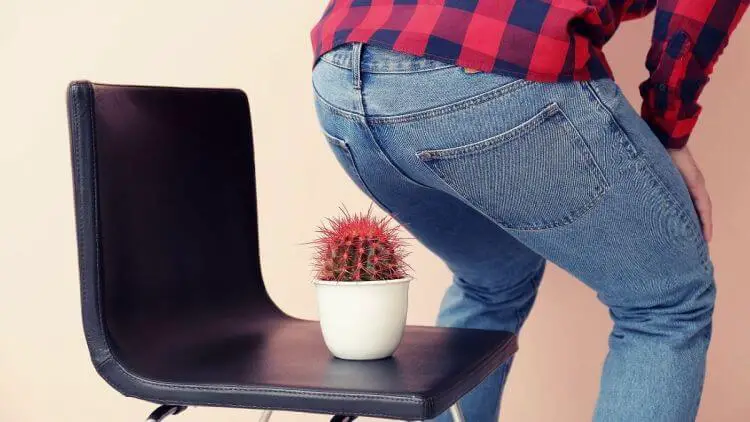 Do Hemorrhoid Pillows Really Work?
Hemorrhoid pillows do not help heal hemorrhoids but they do offer some relief from the pain. Using a hemorrhoid pillow may be the only comfortable way to sit if your hemorrhoids are badly inflamed and painful. Although doughnut cushions may offer temporary relief from hemorrhoid pain it is not recommended to sit on them for any length of time as this could actually make the hemorrhoids worse.
Because there is a hollow middle ring in cushion (like a doughnut) there is no support for the hemorrhoid. Thus, sitting on a doughnut cushion will have the same effect on hemorrhoids as standing.
Standing for long periods of time can aggravate hemorrhoids and thus so will sitting on a doughnut cushion for long periods of time. Some doughnut cushions have a similar shape to a toilet seat and thus sitting on a them will put pressure on the same places as a toilet seat does.
This pressure is part of what caused the hemorrhoid in the first place. It is advised to sit on a soft surface, such as a bed or sofa, and lean back to decrease the pressure on the hemorrhoid. If you need to sit at a desk or dining table then using the doughnut cushion will enable you to do this. But do not sit on it for too long. Longer periods may warrant using a soft cushion that will provide support and pain relief.
6 Great Pillows for Hemorrhoids
You may be able to fashion your own pillow or seating accessories to help ease the discomfort, but hemorrhoid pillows are made for this purpose. The following pillows have solid user reviews. Each is unique, however. This allows options to find the best one that will fit where your hemorrhoids are located, your weight and size, and what type of furniture you sit on. Some people may find one pillow works on one seat, but another works better somewhere else.
1 – Everlasting Comfort Seat Cushion
Sale
This memory foam cushion uses your body heat to adapt itself to fit you perfectly. Unlike a doughnut cushion, it provides support while relieving pressure on the tailbone, back, coccyx, sciatica and hemorrhoids. The cushion fits all types of seating and can be used at the desk, dining table or in the car.
The cushion is made of breathable material thus reducing sweat and so with it reducing hemorrhoid itching. The underside is made of non-slip rubber to ensure the cushion stays in place even if you move. The memory foam is long lasting and ensures the cushion will regain its shape after every use. The cover is machine washable making it both hygienic and easy to use.
2 – Everlasting Comfort Donut Pillow – 2-in-1 seat Cushion
This donut cushion not only supports hemorrhoids but it also supports the tailbone. By reducing pressure on the tailbone and hemorrhoids it reduces pain. This cushion comes with a removable insert that transforms the cushion into a plush seat cushion that can be used in the car or at work.
3 – DMI Donut Pillow
DMI Seat Cushion Donut Pillow and Chair Pillow for Tailbone Pain Relief, Hemorrhoids, Prostate, Pregnancy, Post Natal, Pressure Relief and Surgery, 18 x 15 x 3, Navy
DONUT PILLOW is perfect for preventing pressure on the tailbone and lower extremities. The discreet hole in the middle relieves pain and pressure related to sciatica, childbirth, hemorrhoid sufferers or those who sit for extended periods of time
SEAT CUSHION high density foam keeps its original shape even after repeated use and it is great for travel, at home, in the car or at the office
This donut pillow is inexpensive and effective. It offers relief from hemorrhoids as well as tailbone pain, prostate and postnatal pain. It is made from high density foam ensuring it keeps its shape even after repeated use. It is fitted with an easy to remove cover which is machine washable. This cushion is the answer if you do not want to spend too much but you want effective pain relief.
4 – H. Charcoal Donut Pillow
Sale
This donut cushion comes in 3 sizes: soft 80 – 140 lbs, medium 120 -220 lbs and hard 200 – 260 lbs. You can thus choose the pillow that will serve you best. It offers relief from hemorrhoids as well as tailbone pain, sciatica, hysterectomy, pregnancy and postpartum surgery. It is fitted with "Hydro Allieve" which is a specifically designed gel which keeps your bottom cool while relieving pressure. The cushion is infused with bamboo charcoal to absorb odors. This cooling, comfortable donut can be used in the office, in the car or in a wheelchair.
5 – Kabooti 3-in-1 Donut Seat Cushion
Sale
Kabooti Donut Seat Cushion, 3-in-1 Design with Center Cutout for Tailbone Pain, Sciatica and Hemorrhoids
COMFORTS TAILBONE INJURIES, SCIATICA, HEMORRHOIDS AND MORE - Perfect for those suffering from sciatica, lower back pain, lumbar pain, numbness, hemorrhoids, piles, postnatal pain, sore tailbone, coccyx pain, perineal wounds, post-surgery recovery, pelvic pain, prostatitis and general seating discomfort.
UNIQUE 3-in-1 DESIGN CATERS TO MULTIPLE PAIN POINTS – Find relief in your most sore and sensitive areas with the all in one design. Combining key features of a ring-shaped donut pillow, tailbone relief cushion, and the standard seating wedge the Kabooti erases the need to purchase multiple seating cushions for each pain point.
The central oval cutout provides relief from hemorrhoids while the corner stability lobes improve seating balance. The tapered, wedge design encourages proper sitting posture and helps to relieve pressure on hemorrhoids. The washable cover is made of double knit fabric that stretches two ways and thus doesn't wrinkle. A waterproof option is also available. This cushion can be used in the car, in a wheelchair or any other chair to provide relief from pressure and pain in lower back, hemorrhoids and tailbone.
6 – Royi Memory Foam Seat Chair Cushion
ROYI Memory Foam Seat/Chair Cushion for Relieves Back, Sciatica Pain, Tailbone Pain, Coccyx, Degenerating Disc, Orthopedic, Osteoarthritis, Sacrum, Prostate Cushion, Low Back Pain Cushion, Hip Shaping
★[Most Comfortable Memory Form Seat Cushion on the Market]---Designed with the highest quality fabric that snugly fits over the foam cushion and is easily removed for cleaning. With an enhanced memory foam formula, the wedge/ U-shaped cut out ergonomic design cushion will contour to the body's pressure points to promote blood flow, help alleviate pain and provide the best comfort and support.
★[Assists You in Relief & Seat Comfort]---Our Coccyx Seat Cushion has proven to restore your spine's natural lumbar curve to the correct posture. You will feel instant relief from lower back pain, numbness and pain from sciatica, herniated discs, tailbone injuries, back pain from pregnancy, hip pain, hemorrhoids, and pressure sores. Use it whenever you are and forget about fatigue!
This portable memory foam cushion relieves back pain, sciatica, tailbone, coccyx, degenerating disc, orthopedic, osteoarthritis, sacrum, prostate and hemorrhoid pain. The u shape cut out design contours to the body's pressure points to promote blood flow and alleviate pain.
The unique design also restores the spine's natural lumbar curve to the correct posture. It also distributes your body weight across the seat. Together these two factors work to relieve pressure and pain in the back, sciatica, tailbone and hemorrhoid pain.
The non-slip mesh rubber bottom ensures you will not slide around and thus it can even be used on the floor for yoga or meditation. The cover is breathable and machine washable. It is easily removed with a zipper. It can fit any chair, wheelchair or car seat, offering you comfort and relief wherever you are.
How to Use a Hemorrhoid Pillow
When using a donut cushion that has indentations on one side, the indentation should fit just under your coccyx. If there are two indentations the second indentation should fit between your legs. This will reduce pressure in the legs.
Make sure your feet are flat on the floor. If the added height from the cushion prevents your feet from being comfortably flat on the floor, you may need to use a step or lower the chair if possible. Your legs should be at roughly a 90-degree angle.
Remember that as beneficial as hemorrhoid pillows are for complaints such as tailbone pain, sciatica, and coccyx pain, sitting on a donut cushion for long periods of time can aggravate hemorrhoids and thus a donut cushion should only be used when absolutely necessary and for short periods. A hemorrhoid pillow will provide temporary relief but don't be fooled into thinking that this relief is healing the hemorrhoid.
Other Helpful Hemorrhoid Hints
How to Prevent Hemorrhoids
If you have ever had painful hemorrhoids you will definitely want to know how to prevent them occurring again. There are certain everyday lifestyle adjustments you can make to help prevent the development of hemorrhoids.
Get enough fiber in your diet. Fiber helps to keep our digestive systems working regularly and correctly. Nothing sets off piles like constipation or straining during bowel movements.
Drink enough water. Water also helps to keep our systems running smoothly.
Exercise. Exercising regularly has a myriad of health benefits. It helps promote blood flow which helps prevent hemorrhoids as hemorrhoids are caused when blood flow is restricted in the veins of the anus and rectum.
Don't Delay. Try to go to the toilet as soon as you feel the urge. Delaying this can cause a build-up which will lead to increased pressure, straining and, inevitably, piles.
Use a step. A small step to rest your feet on while using the toilet can change the angel of your body. This can result in easier passage of the stool.
Other Hemorrhoids Products that Help
Usually hemorrhoids will clear up on their own after a few days but those few days can be painful and uncomfortable. There are many home remedies you can use to ease your suffering while you wait.
Magnesium and Fiber Supplements – Magnesium can help with constipation. The same is true for fiber. As a lack of fiber can lead to constipation and straining, it is a good idea to take a fiber supplement if you feel you are not getting enough fiber in your diet. Magnesium and fiber draw liquid from the body and into the colon making stools soft and easy to pass. You can add fiber supplements to your diet, but nothing beats natural fibers found in fruit and vegetables.
Take an Epsom Salts Bath – To relieve pain, irritation, and itching, draw yourself a warm bath. Make sure it is not too hot as heat may make the swelling worse. Add half a cup of Epsom salts. Epsom salts draw out any toxins and impurities. Sit in the bath with your knees bent for 15 to 20 minutes. If you do not have Epsom salts the warm water alone will help with itching.
Epsoak Epsom Salt 19 lb. Magnesium Sulfate USP Bulk Bag
Epsoak Epsom Salt (Magnesium Sulfate) is USP grade. It is GMO free (Genetically Modified Organism).
After soaking in Epsoak Epsom Salt it becomes clear why Epsoak is the leading name in Epsom Salt. The expertly selected grain size of Epsoak Epsom Salt means that it dissolves quickly & easily in warm water without hassle every single time. It's transparent/slightly white in color, and is unscented. Buy in BULK and save.
Sitz Bath – A Sitz bath is a small bath that can be placed over the toilet and is designed to bathe your buttocks. This can be used to ease the pain and itching without having to take a full bath.
Sale
Sitz Bath for Postpartum Care - Use w/Sitz Bath Salts for Hemorrhoids, Postpartum Sitz Bath Tub Sitz Bath for Toilet Seat, Yoni Steam Pot for Women w/Foldable, Deep Bowl, Flusher Hose, Drain Holes
✅ Comfortable & Secure Design - For those with hemorrhoids, postpartum pain and other ailments, our contoured designed provides relief and ensures safety. Ergonomic design suits any size body and features wide edges to prevent spillage.
✅ Easy & Convenient To Use - Open the seat, hook up the flusher hose, pour warm water (94F to 98F recommended) Sit, soak & relax!
Various Sitz bath salts can be added to the water to relieve pain and itching.
Epsom Salt Paste – To make a soothing paste, mix two teaspoons of Epsom salts with two teaspoons of Vaseline. Place the paste on a gauze square or cotton wool pad. Place the pad onto the hemorrhoid. Keep the pad in place for 15 to 20 minutes and repeat the process every 4 to 6 hours. This should relieve the pain and itching.
No products found.
Gentle Massage – If hemorrhoids are protruding, they can be very painful. When bathing or showering gently massage the protrusions and press them back into place. This can relieve a lot of the pain.
Soothing Creams – There are many over the counter creams that will reduce swelling and itching such as Preparation H or Scheriproct.
Sale
Witch Hazel – This is a natural anti-inflammatory and helps to reduce swelling in hemorrhoids. It can be applied directly to the infected area or applied to a pad and held in place. Witch hazel can also be added to bath water or a Sitz bath.
Sale
Keep it Clean – Wiping with a witch hazel pad or a baby wipe after each bowl movement will reduce itching.
Sunning – Lying on your side or stomach with your behind in the sun has also been known to soothe the pain of hemorrhoids.
Cold Compress – Applying a cold compress can reduce the swelling in hemorrhoids. If using ice or frozen peas make sure they are wrapped in a cloth before applying. Applying ice directly to the skin may damage the skin and lead to further complications.
Patience is Best
Trying to avoid activities that aggravate hemorrhoids is the best way to prevent and heal these painful uncomfortable afflictions. Beyond the suggested hemorrhoids pillows and other suggested products, there is little one can do but find patience and wait it out.