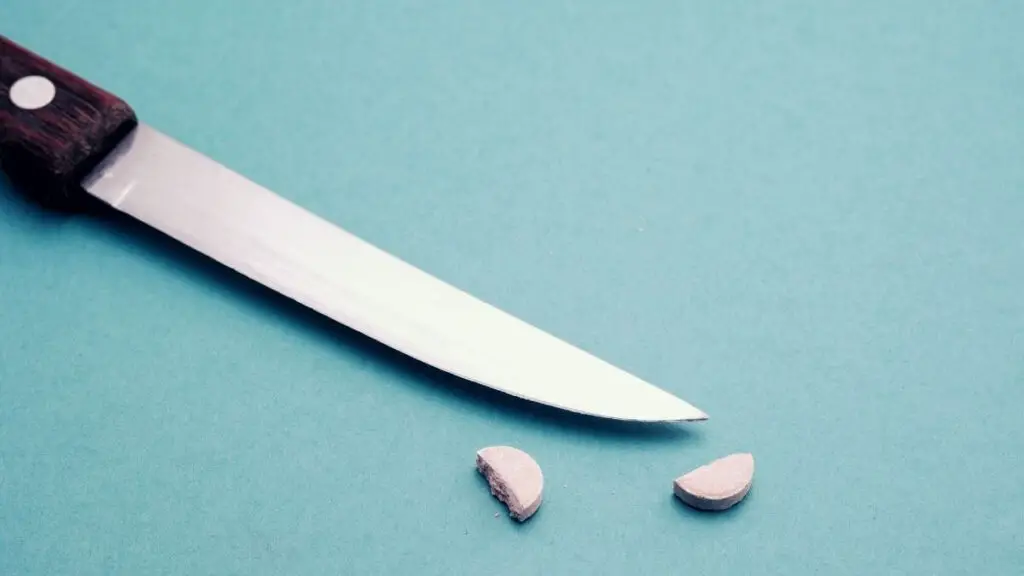 Pills are most common way to take medicine, and it's also common to have to reduce the dose by cutting them in half. For seniors with arthritis or vision problems, this can be a struggle. That's why it's worth investing a few dollars into pill cutters specifically for seniors.
Dating back to antiquity, pills containing a mixture of medicinal ingredients, herbs, vitamins, or fillers have been around as long as humanity has been taking medicine. Records dating back to Ancient Egypt show ingredients contained within bits of bread dough or encased in honey or grease.
Though modern pills have come along way since then, the base idea remains: making sure people can easily take the desired amount of medicine they need.
Why People Cut Pills
All pills don't work for all people, however. Patients with various conditions can't process specific medicines, while those with a weak immune system can't take the dosages measured out for the general population. Even simply wanting to cut pills into smaller portions for ease of swallowing is a common need for those who take pills daily.
On top of all of those concerns, common medications can be used to help our pets at much smaller doses. Because of all of those conditions and concerns, the ability to portion up the contents of even a single pill is important.
Sadly, some seniors even cut their pills because money is tight and they need to spread the medicine out further than their funds allow.
How to Choose the Best Pill Cutter – A Buyer's Guide
To select the right pill cutter it is important to see its specifications. For example, which types and sizes of pills it can cut or is there any storage compartment or not.
Similarly, what is the quality of the pill cutter? These are some important factors that define the durability and efficiency of the pill cutter.
So, let's have a look at these factors so you know what the best pill cutter for you is.
1. Pill Shape
Most of the pill cutters are made to cut oval shape pills. Therefore, they have a harder time cutting larger, or especially round pills. If you consistently take these harder-to-cut-pills, it makes sense to get a larger sturdier pill cutter. 
2. Size
Different pill cutters have different sizes according to their functionality. Some can cut many pills at one time, while others cannot. Depending on your needs, as well as the frequency you will be cutting pills, and how often you will be traveling with those pills, choose accordingly.
3. Storage Capacity
Most pill cutters have a built-in storage capacity, so you can store the pills after cutting them. The difference is that some pill cutters have a large storage space and differentiate cut versus uncut pills, while others don't. Therefore, depending on your travel needs as well as the frequency of how you take pills, this can be an important factor.
4. Safety
The final important factor while selecting the pill cutter is safety. This is because the fingers can get easily hurt with the cutter's blade while you cut pills. So making sure the pill cutter you select has a blade guard is important, as the guard protects the hands from getting cuts.
Pill Cutters for Seniors
Pill cutters are common in pharmacies, medical shops, hospitals and clinics, but that doesn't mean you can't have the one at home to cut your pills yourself. When cutting pills at home though, are several things to consider. 
First off, not all pills can be split. Capsule pills are obviously a no go when it comes to pill splitters, but other types of pills shouldn't be tampered with as well. To start, pills with outer shells or marked 'ECR' (extended release tablets) are designed to release into the body in a specific way.
Therefore splitting them will change how the body absorbs them, and what the medicine does. It's best not to tamper with these types of pills to ensure they function as they are supposed to. 
A good rule of thumb for splitting pills is if they are pre-marked or scored down the middle, it is alright to split. Both Tiphero and WebMD have detailed guides on this process with examples of what you should and should not be doing when it comes to spitting pills.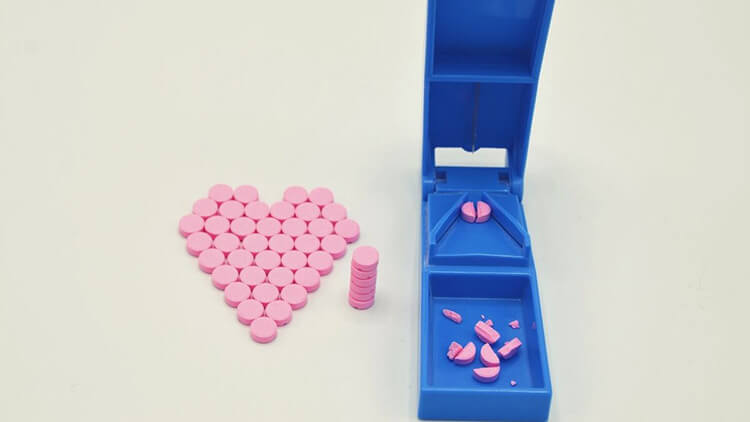 So with an understanding of what kinds of pills we can cut, we can turn our attention to the pill cutter itself. Pill cutters vary greatly in design and use, so what should you be looking for? When you want to buy one?
In this article, we will be looking at three of the best Esy Dose brand pill cutters on the market right now. Esy Dose is a leader in medication management products that help people take medicine including medicine spoons, pill containers, droppers, pill crushers, and yes, pill cutters.
We'll be going over their pros and cons, their features, and why you may or may not want them. So without further ado, let's dive right in. 
1. Ezy Dose Pill Cutter with Dispenser
Sale
This portable size pill cutter is best for travel and discrete storage. Not only is the Ezy Dose Pill Cutter designed to make cutting pills easy with its stainless steel blade, you don't have to worry about losing the halves because of its enclosed cutting area.
Therefore, with little pressure users can easily split pills, and keep track of them. After a pill is cut, each half will fall into separate compartments, meaning you don't have to worry about the halves mixing or one dosage being larger than the other. 
This pill cutter is also designed with travel in mind. Its portable design can easily fit into purses and suitcases, even your jean's pocket. In addition to the high-quality stainless blade, as well as the portable design, the Ezy Dose Pill Cutter is designed to be durable. That means it is suitable for use day after day.
What you will love:
Stainless Steel Blade: This pill cutter comes with a sharp 100% stainless steel blade that cuts pills in half every time
Durable Quality: This pill cutter is designed with quality in mind.  It is mean to withstand the rigors of travel while still being used every day.
Easy to Use: The sharp stainless steel blade makes this pill cutter easy to use as with little pressure you can cut pills of all size
What Can Be Improved:
Pill Area: This pill cutter does not have any support for pills. It can be tricky to get pills to stay beneath the blade unless you are on a perfectly flat surface.  Otherwise the pill can fall when you place it in the cutter.
Pros:
The sharp stainless steel blade makes cutting pills easy
Cons:
Does not have a holder for pills
Can only cut one pill at a time
2. EZY DOSE Cut N' Crush
Sale
Ezy Dose's Cut N' Crush is a three-in-one pill cutter, crusher and storage container in one portable shell. Rather than have a separate pill crusher, pill cutter, as well as another pill container, the Ezy Dose Cut N' Crush allows you to condense all of that into a single tool.
Along with area for storage, this pill cutter comes with a built-in cover and drinking cup. With the help of this cover and cup, you can easily take even liquid medicines while traveling.
While the storage area of this pill cutter is quite small, it can still be enough to hold up to 4 aspirin-sized pills. That can be perfect for day tripping or slipping it into your purse, without getting too bulky. 
Again, the Ezy Dose Cut N' Crush is specially made for regular use. Therefore, it's designed to be durable and can be relied on day after day of use.
Furthermore, similar to the first entry on this list, the Ezy Dose Cut N' Crush comes with a 100% stainless steel blade. That sharp blade is specifically designed to easily cut pills with less pressure.
What you will love:
Sharp Blade: The 100% stainless steel blade of this pill cutter stays sharp and helps people easily to cut pills with less force
Storage Compartment: This pill cutter comes with a built-in storage space where users can store pills, as well as a lid that doubles as a drinking cup
Compact Size: This pill cutter's compact design means it can be easily traveled withy anywhere you go
Pill Crusher: This pill cutter also doubles as a pill crusher meaning you can split, store and crush pills on the go.
What Can Be Improved:
Blade Safety: This pill cutter does not have a blade guard therefore users might cut themselves while arranging or gathering pills in front of the blade
Pill catch: This pill cutter does not have either a place to set pills in order to cut them nor a catch once they have been cut. It would be very easy to drop and lose pills as they are being arranged, and when you reopen the lid after the pill has been cut
Pros:
Comes with a pill crusher
Comes with a built-in storage space and sipping cup
Cons:
Your fingers can get hurt easily while cutting the pills
Can only cut one pill at a time
3. Ezy Dose Pill Cutter and Splitter with Safe Shield
Sale
This pill cutter is great for cutting pills on the go due to its compact size, catch to place pills before cutting, and storage area for pills after you cut them.
The stainless-steel blade of the pill cutter is designed to make it easy for anyone to cut pills and comes with a guard to protect you. Therefore, users' hands won't get cut when splitting the pills.
Like the other two entries on this list, the Ezy Dose Pill Cutter and Splitter with Safe Shield is designed to be used every day and stand up to the test of time. It is made with high-quality material that allows you to use this cutter daily.
What you will love:
Build Quality: This pill cutter is made with high-quality materials that are meant to last continuous use
Stainless Steel Blade: It comes with a stainless-steel blade that is sharp enough to cut pills of any size, and protected with a blade guard
Compact Size: This pill cutter's compact size allows users to easily carry it on the go
What Can Be Improved:
Storage: This pill cutter has no differentiation between cut pills and other stored pills
Pros:
Require less force to cut pills
Pill cutter has a durable quality
Cons:
No separation between stored pills
Can only cut one pill at a time
Summary
Having a pill cutter in your home is an easy and efficient way to ensure proper dosage for those who take many medications as specific dosages. The best pill cutters are available at extremely affordable prices and ensure accurate amounts of medicine are provided.
This means you do not have to spend more to get one. Pill cutters for seniors come in many shapes and specialties depending on pills size, portability, storage, and inclusion of other tools like pill crushers. That just means that to get the most useful tool, a bit of research beforehand can go a long way.
---