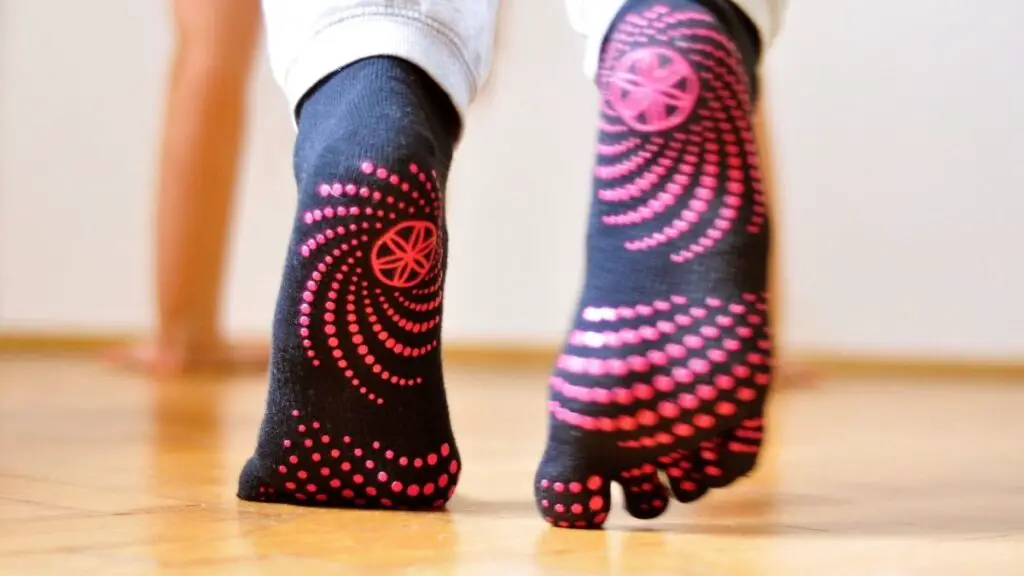 What are Socks with Grips and How Are They Effective? 
Socks with grips are also referred to as gripper socks, and occasionally as yoga or Pilates socks, for the simple reason that they are non-skid, non-slip, and meant to keep the wearer from falling. They are very popular because they allow slip-free movements while exercising or simply walking about your home.
For this reason, gripper socks are ideal for helping the elderly keep their balance, preventing slips and falls. Astonishingly, every year one in four elderly people in the United States will suffer a fall. To make matters worse, not all of them report the fall to their doctor.
While the home is supposed to be a haven of safety, the fact is, it can be fraught with hazards. In a Boston study, 10 percent of 756 seniors indicated that they relied on slippers and socks around the home, or they went barefoot. This may be comfortable, but these options offer nothing by way of fall protection. Regular socks and floppy slippers with slick soles can increase your risk of falling.
All falls are serious. Three million elderly people end up in the emergency room each year due to injuries sustained in a fall, according to the Centers for Disease Control and Prevention (CDC). Three hundred thousand of them require hospitalization due to hip injuries. Falls are also responsible for brain injuries among the elderly. That is why gripper socks are so important for people over 65. 
With all the wisdom we gain with age, we also suffer a loss of balance. On top of poor balance, the elderly have fragile bones which makes the risk of falling far more serious. To prevent injury, many add extra nonslip measures to their homes, such as grab bars in bathrooms. These are highly recommended since the bathroom can be a particularly hazardous place for falls. Socks with grips are another excellent way to prevent slips and, thus, injuries from falling.
Different Types of Gripper Socks
Non-Slip socks, or gripper socks, are specific footwear that protects against slippage while the wearer is active. They offer a solid grip that helps reduce the number of at-home falling accidents.
These socks have a thick sole for comfort and provide more warmth than regular socks. Grip socks are also available in many sizes, colors, and styles.
Styles and Options:
Basic gripper socks with a secure sole. These are frequently used in hospitals due to their ability to prevent falls and slips.
Fall Management Slippers are more of a slip-on house shoe, offering secure rubber soles.
Single Thread Socks, made with a single thread, offer a lightweight gripper sock option. This is optimal for elderly people who want to feel safe moving about their home without the discomfort of sweating in heavy, thick socks.
Dual Thread Socks provide threads on the top and bottom of the foot. These gripper stocks offer the best level of fall protection.
Non-Slip Shower Socks are meant to be worn while showering to prevent slipping in the tub. These are a must since showers can present many falling hazards for the elderly.
What Are Grip Socks Made Of?
Grips socks are much like regular socks, but they have anti-slip protection. The sock part is usually made of cotton, a breathable knit, wool, or polyester. The backing, or the sole, is the critical part of the gripper sock. These are usually made of a non-slip rubber material or silicone grip. Some gripper socks have padding on the sole for additional walking comfort.
Gripper shoes or slippers are also an excellent choice for the elderly. Either of these will provide more ankle support than a sock. Just be sure the sole of the slippers is made of hard rubber to provide a strong grip. These options must also be comfortable and provide a perfect fit.
Why Elderly Prefer Wearing Socks with Grips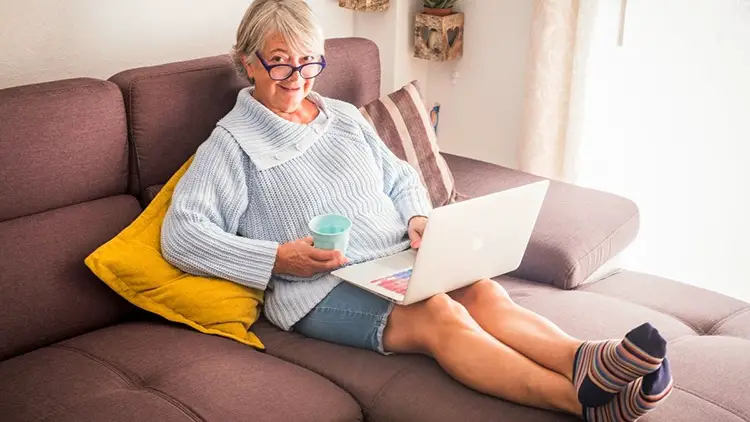 A good pair of non-slip shoes are excellent in preventing falls among the elderly. But wearing shoes at home or while exercising ranks low when it comes to comfort level. Also, as people age, they may suffer from conditions such as arthritis and diabetes. These can cause the feet to swell and make wearing normal shoes difficult and uncomfortable.
Socks with grips offer the best fall protection while also keeping the wearer comfortable. Because these socks are light, flexible, and breathable they won't create discomfort the way a pair of shoes might.
A huge benefit of socks with grips (in addition to providing slip protection) is the cushion and comfort they provide, which can actually encourage seniors to move more. Lack of physical activity can present a problem among the elderly. When we stop moving and exercising, our bodies deteriorate more quickly. However, it can be difficult to find the motivation to move if your feet, ankles, or legs ache.
A comfortable foot can lessen certain aches and pains and help the elderly find more joy in movement. In their own way, gripper socks encourage the elderly to be more active, which, in turn, provides a wealth of health benefits. Given some call them yoga socks, they're particularly well-suited for seniors starting a yoga practice.
What To Look For When Buying Non-Slip Slippers
Before we dive into what qualities a slipper should have, let's discuss what slippers any senior should avoid. Everyone loves flip-flops or shoes that are backless for their ease and comfort. The problem is, these slippers offer absolutely no fall protection.
An even worse option is the fashionable high-heel slipper. These are a trip magnet and should be avoided by anyone, especially the elderly.
What you want to pay attention to most are the soles of your slippers. Smooth soles may feel good, but they provide no fall protection. They are not recommended as a viable alternative to wearing socks with grips around the house.
For guardians and caretakers, it is important to be aware of the shoes worn by those in your care and know the benefits or hazards each may hold for seniors with weakened balance.
5 Great Grip Socks
The following socks are all available on Amazon. However, Simply Medical also offers grip socks. They may have better pricing depending on your choices. It's also not uncommon to find socks of this type in large department stores if you prefer to see them in person first.
Unenow Unisex Non-Slip Grip Socks with Cushion
unenow Unisex Non Slip Grip Socks with Cushion for Yoga Pilates Barre Home & Hospital
Non-Slip Grip Design: Featured non slip dots on the bottom of the socks. Unisex pilates barre socks offer better grip for improved stability & balance so that you can stay safe, avoid injuries and have better control of your body movements, even without a mat. Grips are made of soft and flexible silicone; they will not crack no matter how much you pull and guarantees a firm grip which allows you to push yourself when it really matters.
High Elasticity Socks: High elastic non skid sticky grippers socks are available in all sizes so everyone can enjoy. These socks are made with soft fiber for their elasticity and snug fit, embracing your feet like second feet. Performance can also come with extra comfort. Yoga Socks easily absorbs and evaporates sweat, you can always enjoy perfect stability, no matter how slippery the floor is!
These multi-use gripper socks can be used for exercise, yoga, walking around the house, or traversing the hospital. They come in a variety of attractive colors with dotted non-slip grips covering the soles. The sock is made with breathable cotton. Unenow Non Slip Grip Socks come in all sizes, and add an extra layer of warmth during cold weather.
Pros:
Simply toss them into the washer
They are true to size and will not shrink
Great on tiles or hardwood floors
Cons:
They may not be as durable as they should be
---
Debra Weitzner Men's Fuzzy Grip Socks
Debra Weitzner Mens Fuzzy Socks Grip Plush Sleeping Soft Anti-Skid 5 Pairs
5 PAIRS ASSORTED FUZZY MENS SOCKS
NON-SLIP AND MOISTURE FOOT THERAPY: Our non-slip fuzzy socks are specifically designed footwear with a very cozy and soft feel on the inside. It will give your feet the silky feel you want and will keep your feet moisturized at all times! In addition, its non-slip grips will be perfect for activities like exercising, yoga, or just to walk around the house all day long. The superior grips are premium made and designed to grip on any surface to help reduce slips and falls.
These Debra Weitzner Grip Socks are made of polyester and spandex. The fuzzy material makes them especially warm and cozy. They can even be worn to bed and matched to the color of your PJs. They are also machine washable. 
Pros:
These socks come with a satisfaction guarantee
Highly recommended for users for feet psoriasis
Come up high above the ankle
---
Momcozy Non Slip Socks with Grippers
Momcozy Grip Socks for Women, Non Slip Socks with Grippers, Yoga Socks Size 5-10
Non Slip Silicone Grip Design: Our no slip socks for women featured by reasonable distribution of anti-skid silica gel particles can offer better grip, and help to improving stability and balance to let you avoid injuries.Increase friction with the floor and mat.
Perfect Yoga Socks: Stylish design of the non slip yoga socks with grips for women help to perfect your performance for Yoga, Pilates, Barre, Ballet, Dance,Fitness, etc. And protect your ankles.
These grip socks for women offer a superior grip and protect against injuries. They are perfect for working out, retaining one's balance, and for the elderly at risk of falling. The special silicone grippers on the sole will not only prevent slippage but will also keep the wearer warm. Each package comes with two pairs of socks.
Pros:
Keep your feet warm
Great for at-home exercise
Offer fall protection
Men can enjoy these slippers, as well
Cons:
May be too warm in hot weather
Available only in black or grey
---
Muezna Non-Slip Anti Skid Socks for Women
Muezna Non Slip Yoga Socks for Women, Anti-Skid Pilates, Barre, Hospital Socks with Grips, Size 5-10
Newest Design: Stylish design on the instep and anti-skid frictions on the bottom, providing an absolutely effective anti-skid effect, perfect for Yoga, Pilates, Barre, Bikram, Ballet, Fitness, etc.
Better Material: The Combed Cotton and 100% Silica Grips have better effect in sweat absorption and providing absolutely anti- skid, non-slip surface of the sock bottom.
These anti-slip socks come in a four-pack of multi-colors.  They are made from 100 percent breathable cotton and are machine washable. The anti-skid design, which begins at the instep and continues down the sole, is made of silica for perfect protection. They are wonderful for walking on linoleum or wood floors
Pros:
A moisture cushion helps keep feet dry, free of sweat
Durable
Offers excellent grip on slick floors
Cons:
They fit low at the ankle
---
NOFALL Men Non-Slip Non-Skid Ankle Socks
These non-slip men's socks come two pairs per pack in various colors. They have been specifically tested for their anti-skid ability and have proven to be eight times more non-skid than a normal pair of socks. The grips span from the toes to the heel, enhancing the sock's ability to provide stability for the wearer even while walking across a wet floor. The silica grips are certified skin-friendly.
The NOFALL socks are made out of breathable cotton.
Pros:
Provide a massage effect when worn with shoes
The socks do not slip off the feet
The NOFALL socks can be worn with or without shoes
---
Make Your Own Alternative Socks
If you feel creative, you will find it fun and easy to make your own socks with grips. Here is how:
Puffy Paint Socks
Use puffy paint, as it is meant to adhere to all surfaces. Make an outline of your feet onto a piece of cardboard. You want an accurate tracing of your feet. Do this with both feet, then slide those two pieces of cardboard into a regular pair of socks so that the socks stretch across the cardboard.
Have the sole of the sock face you and use the puffy paint to create lines or individual dots on the socks. Make these dots or lines approximately half to a full inch in size. You can use any color, and feel free to get creative. You can even draw pictures if the socks are a solid color.
Let the paint dry for a full 24 hours. Then remove the cardboard. Voila, you have created a pair of gripper socks. Don't wash the socks for at least 72 hours.
Making your own gripper socks can be a creative and fun activity. Plus, you have absolute control over colors and design.
When A Fall Does Occur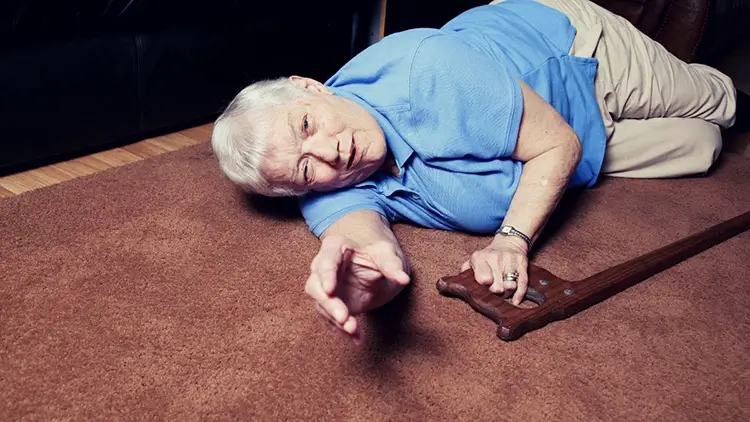 Despite all efforts and everyone's best intentions, falls among the elderly do occur. Socks with grips can help reduce the number of indoor falls, but they won't eliminate them. According to the CDC, one in five falls causes an injury. To exasperate the problem, once an elderly person has fallen, it increases the chances that they will fall again. Repeated falling can undermine a senior's confidence and prevent them from wanting to remain mobile, thus creating greater dependency on caregivers and increasing health risks.
Potential falls are a constant source of concern to families and caregivers because of the permanent injuries that a loved one can sustain. For anyone, but especially caretakers, it is very helpful to know what to do when someone older falls down.
While all falls should be taken seriously, the majority do not cause major harm or injuries. However, there is a great risk of fractured or broken bones.
As a caretaker, even if the fall does not appear serious, it is important to ensure that the senior visit their doctor or a general clinic as soon as possible. They may be reluctant to do so, but it is up to the caretaker to be firm on this point.
After a fall, some elderly people won't discuss their pains to avoid seeing a doctor and risk potentially losing their independence. The caretaker can provide reassurance on this matter but should still insist that the person see a physician.
It is important to note that you should not help an elderly person up immediately after the fall. They may be dizzy or in a state of shock, so leaving them laying comfortably for a short time is best. Do a check for potential injuries, such as discolored skin or swelling.
If you have any doubts as to the senior's condition, call 911 without hesitation. If they move with difficulty or indicate they are in pain, call 911 and don't try to move them.
If the senior does not indicate any problems or pain, and you feel comfortable doing so, help them to their feet. Do this slowly and extremely carefully. It is strongly advised that you get another person to assist you with this task. Watch the senior carefully as they may be suffering a greater injury than you realize.
Lastly, be prepared for the possibility of hidden injuries. Some injuries, such as head injuries, aren't immediately apparent, even after an initial doctor's visit. The caretaker should monitor the senior and arrange for a follow-up visit a week or two later.
Conclusion
They say age is only a number. That may be true in some circumstances; however, as that number rises, so do certain personal risks, like increased chance of sustaining a serious injury by falling. There is no reason seniors shouldn't enjoy life as they always have, or even more so. By taking a few safety precautions, such as using socks with grips, you can help the seniors in your life feel safe and confident when moving about their home.
If balance continues to be a problem, consider balance exercise and the exercise program made specifically to improve seniors' balance – Matter of Balance.