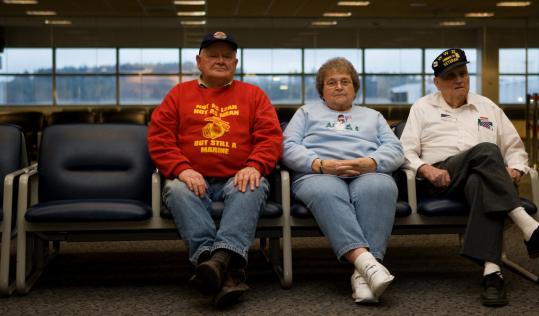 Each of us enters old age, and with that comes a philosophical, spiritual reflection on what life has brought us thus far and how we'll spend our remaining days. The response to that is as different as the individuals pondering it. Some will do their best to ignore the thought, to seek mental distractions from thinking about the inevitable end; and others embrace that end-of-life reflection, and seek to leave some positive influence in their final years.
The Way We Get By is a newly produced, independent movie that at the outset may appear like a simple documentary on three elders that greet American soldiers flying home with a layover at the airport in Bangor, Maine. Why Bangor? Bangor is the first major American airport encountered by airliners approaching the United States from the east. Many overseas flights land in Bangor first. It's where thousands of U.S. soldiers first plant their feet after returning home. Away from the airport handshakes and smiles, however, the three main characters wrestle deeply with debt, failing health, depression and contending with their mortality. The director states:
This is a rare film, encompassing important social issues and controversial topics, while remaining a story that every American can support. While troop greeting may not be an option for many of the nation's seniors, it demonstrates how community involvement can significantly improve the lives of the elderly in America.
The film has not yet been released, but you can watch the trailer below, and/or order a copy of the film by visiting the site, The Way We Get By Movie. Let this film serve as motivation to not go idly into the night. Every action has a reaction. The question becomes:
What will your final actions be, and consequently, what reactions will you produce?