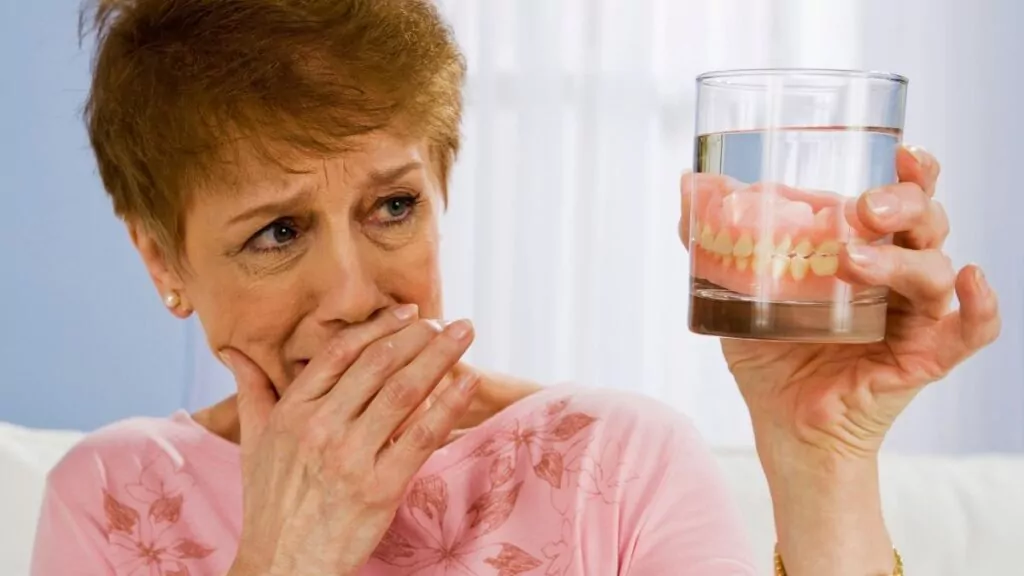 Key Points:
Permanent dentures are false teeth that are permanently attached to your jaw via dental implants.
Some people are not candidates for permanent dentures, including smokers, people with diabetes, low bone density, etc.
The cost of permanent dentures varies by location. Some people will travel out of country for lower costs.
Medicare does not cover permanent dentures.
What are Permanent Dentures?
There are two types of dentures – ones that are removable and ones that are permanently attached to your jaw. Permanent dentures are false teeth that are permanently attached to your jaw via dental implants.
Permanent dentures could be called All On 4 Implants, All on 2 Implants, or All on 6 Implants. The All on 4 Implants could be the best solution for a full mouth reconstruction or a complete arch replacement. In the example of the All-on-4 Implants, an entire arch of 12-14 teeth will be replaced with one arch.
The process includes the following four steps (for All on 4s):
Initial consultation. Are you a candidate for these permanent dentures? 3D imaging will show the dentist your jaw bone structure and decide what your new teeth will look like, what is the dental crown length and bite placement.
Computer simulation of your mouth is done with guide for surgery as well.
Insertion of the four implants after tooth extraction and bone shaping. You are given caps with abutments on the implants and temporary teeth. Healing time for your jaw bone occurs during this step as well. You'll eat a soft diet during this phase.
Three months after Step 3, the temporary teeth are removed and replaced with the permanent denture. Recovery at this point is quick and there is little discomfort.
Pros and Cons of Buying Permanent Dentures
There are pros and cons to every procedure that involves surgery of any kind. Below is a chart of things to consider for permanent dentures.
Pros of Permanent Dentures
Offer a better fit
More comfortable than other dentures
Designed to be worn for many years
Better durability and comfort
Most closely resembling natural teeth
Do not rest on the gums
Even though the whole process is not finished for at least three months, you may get temporary teeth in as little as one day.
Less pain and swelling
No need for denture adhesives
Fewer dental visits
Prevents bone loss over time seen with removable dentures
No issues with speech
No eating limitationsSupports your cheeks and lips
Can brush and floss just like you would normally do
Cons of Permanent Dentures
Take several office visits to get the best custom fit
More expensive
Permanent Dentures vs Implants
Many factors will go into your decision to get permanent dentures vs implants. Some of these factors include your overall health, bone density (especially of your jaw), your immune system, your use of medications, your history of smoking, and how long you have needed a tooth or teeth. Your dentist is the best person to help you decide this; don't make the decision without professional guidance.
Who is Not a Potential Candidate for Permanent Dentures?
Even with all the advancements in dentistry, there are still some people who will be denied permanent dentures. They include:
those who have the smoking habit
those with diabetes and uncontrolled blood sugar levels
those who have taken or are currently taking bisphosphonates orally or in IV form. However, dentists differ in believing whether or not these drugs are a potential issue.
those who do not have good bone density
those who it's not possible to find a primary nerve in the lower jaw (too easy to cause nerve damage)
If you are included in this list, get a few different opinions from dentists to see if these reasons may be overcome.
What is the Average Cost?
Permanent dentures vary in cost depending on your location. In northern California, costs are $14,995 per arch (All on 4 Implants). Most dentists have finance plans that can be 48-month, 60-month, or 90-month terms. Good credit is not necessarily required. Zero down for a 90-month term brings you a payment of $225/month.
A single implant with a crown generally costs $2,495. Thus, if you have six teeth that need implants, your cost will be $14,970.
How Does Medical Tourism Affect Permanent Denture Costs?
In the U.K., permanent dentures are costing up to $50,000 for six to eight implants required to restore a full arch of teeth, and the All-on-4 technique with one arch is around $24,000.
Here's a breakdown of the cost of All-on-4 in other countries:
| | |
| --- | --- |
| Italy, Ireland | $11,000-14,000 |
| Thailand, Mexico | $9,000-10,000 |
| Costa Rica, Italy | $8,000-$9,000 |
| Hungary, Germany, Spain | $7,000-8,000 |
| Brazil, Poland | $4,000-5,000 |
Here's a breakdown of the cost of All-on-6 Permanent Dentures in other countries:
| | |
| --- | --- |
| Thailand, Italy | $13,000-14,000 |
| UK, Mexico | $12,000-$13,000 |
| Costa Rica, Hungary, Spain | $8,000-10,000 |
| Brazil | $6,000 |
Be concerned if a company is offering a much lower cost for permanent dentures. You want the implants from a reputable manufacturer. The top manufacturers stand behind their own products especially if you will need some type of repair and/or replacement.
The cost of the arches for the All-on-4 technique may vary depending on the brand of implants used, the quality of the final restoration, and the customization required. If they are done on acrylic or composite, the cost is $15,000 to $24,000 and if it's porcelain, $21,000 to $30,000. The experience and skill or your oral surgeon or dentist also comes into play for determining the cost.
Additional Considerations
Many dentists will focus on the benefits of permanent dentures, since they clearly outweigh the cons. The success rate for dental implants is thought to be around 95%. However, there are some things that can potentially wrong with the procedure. Knowing these things ahead of time will help you better prepare for the procedure.
Here's a list of the top considerations:
1) Infection
If bacteria is present during the oral surgery, it may cause an infection that inflames the gums and/or bone around the implant. It could cause the implant to fail. The ways to prevent this are to 1) stop smoking, 2) improve blood sugar regulation, 3) improve gums, and 4) improve the immune system.
Bone loss in the upper back jaw can be a potential problem for the replacement of the upper teeth. The implant protrudes into the sinus cavity and the sinuses can become inflamed or infected. Your dentist may be able to do corrective surgery so this will not occur and will need an x-ray or CT of the sinuses area.
3) Foreign Body Rejection
An implant is a foreign body placed in the body. Sometimes a patient's body rejects it and pushes it out.
4) Allergic Reaction
There are additional metals besides titanium in an implant, especially nickel. Some patients are allergic to titanium or nickel and are not candidates for the procedure. Placing the implant would potentially cause chronic fatigue syndrome but taking the MELISA test prior to the surgical procedure, you can avoid this whole scenario.
5) Failed Osseointegration (They loosened and fell out)
Implants fail because the jawbone doesn't fuse with the implant. If there's not enough bone density beneath the area of missing teeth, this can be a cause of the failure. Every time you chew, the jaw is stimulated by the act of chewing, but if there's no tooth, then the area of the jaw does not get stimulated. If you have had a tooth missing for a long time, your dentist will use bone grafts to build up your jaw before the implants are placed.
6) Nerve and tissue damage
Where an implant is placed could cause nerve damage, which results in chronic pain, and numbness or tingling in the gums, tongue, lips, chin or cheek. The problem is caused by choosing a dentist that is inexperienced.
7) Overloading
Placing the crown and abutment right after the post is inserted may cause undue pressure or forces on the new structures. The pressure then interferes with the healing process and may be a cause of implant failure. This is usually only a problem for those with inadequate bone mass, and the placing of the crown and abutment should be a 2-step process if you are in this category.
8) Failure of the Implant Itself
If there is a trauma to the face or grinding teeth or an unbalanced crown, the excessive external forces can cause the metal to bend or break.
Does Medicare Cover Permanent Dentures?
Dental insurance may cover part of the fees needed to restore your teeth but most companies won't cover the surgery. This is because most insurance companies will call the procedure a cosmetic procedure.
Likewise, Medicare doesn't cover most dental care, including even cleanings, fillings, tooth extractions, dentures or dental plates. However, Medicare Part A does pay for dental services obtained while you are in a hospital. Inpatient hospital care is covered for Part A for emergency or complicated dental procedures.
You may be able to get a Medicare Advantage plan that covers dental or get a stand-alone dental plan. You'll pay monthly for it and still pay coinsurance, copayments, and deductibles. However, a single implant that may cost $4,500 would cost only $900 if your coinsurance is 20%.
Always look at all the fine print in your insurance plans to see what's covered. Find out what the maximum annual benefit is. If you're going to have to shop around for some new plans, look for ones that have affordable coinsurance plans with a high maximum annual benefit.
Summary
Permanent dentures do have their benefits. However, their cost is sometimes prohibitive to many people. Insurance plans or Medicare may not cover the procedures. Do your homework first before you 'sign up' for any type of dental procedures.