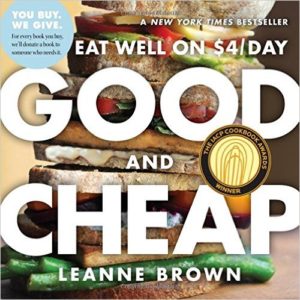 Eating healthy on a tight budget is possible with careful planning and creativity.  Leann Brown proves this in her new cookbook, Good and Cheap.  She put together a great collection of recipes, tips, and ideas on how to make delicious and nutritious meals based on just $4/day.  It's free and available online, keeping reading for the link listed below.
Brown's inspiration came when she moved from Canada to New York and realized the unhealthy types of foods that people with low incomes were consuming.  She focused her efforts around people receiving SNAP/food stamps and came up with an average of spending $4/day for meal planning.
What is SNAP?  SNAP is the acronym for Supplement Nutritional Assistance Program, also known as food stamps.  The program offers nutritional assistance for millions of low income singles and families across the United States meeting the eligibility requirements.  Use this link for on-line pre-screening eligibility into the program.
While many older adults are on a fixed income and might benefit from nutritional assistance, only 9% of seniors are enrolled with SNAP. The benefit can go to purchase all foods, not including: beer, liquor, cigarettes, or tobacco, or any nonfood items, vitamins, medicine, foods that will be eaten in the store or eaten hot.
Unfortunately, there is a struggle to make healthy choices that will last through the entire month based on the limited amount provided through SNAP.  Personally, I have worked with many clients who shop at the beginning of the month, selecting junk foods that can't be made into a meal, and are high in carbs and preservatives.  By the end of the month, they must rely on food pantries and the generosity of friends and family members for meals.
Thanks to Brown's creative genius for cooking and budgeting, there is help available for free online for those who struggle with creating nutritious meals on a limited income, with or without the SNAP benefit.
Check out her cookbook here to view or download. The pics are pretty great,too.
She also has a longer, 2nd edition, print copy available for sale on Amazon.
Happy cooking!