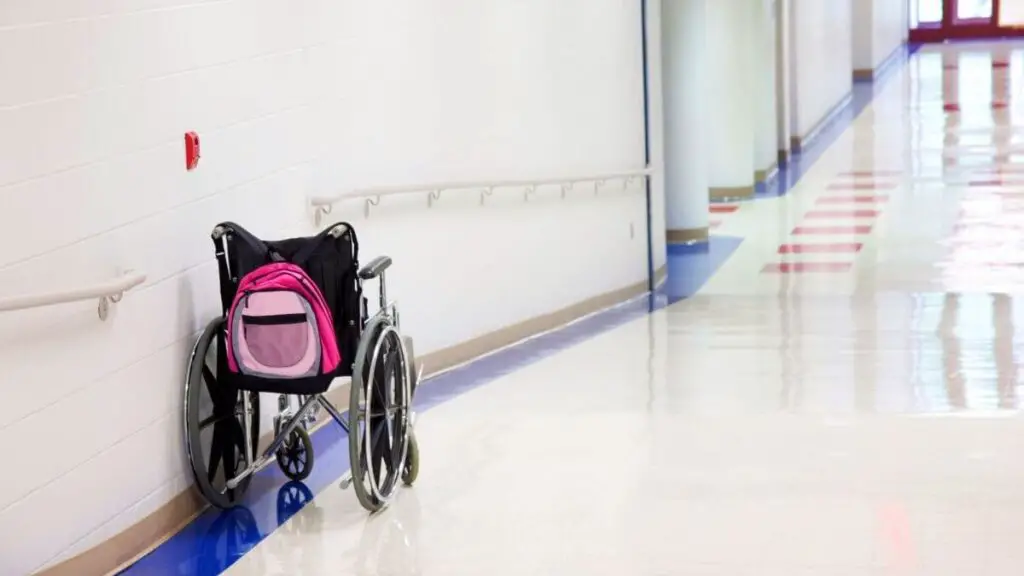 If you are a wheelchair user, you know exactly how frustrating it can be to carry all your items in your lap. Your laptop, the handbag, documents, and breakfast can all slip from your lap and wheelchair and either ruin your workday or meal for later in the day. However, with a practical and functional wheelchair backpack, you do not need to worry about losing your items.
In this article we'll help you sort through which wheelchair backpacks might serve you and your situation the best.
Can You Put a Regular Backpack on a Wheelchair?
You can put a regular backpack in the space under the seat of many wheelchairs, but most users would benefit from a backpack designed specifically for a wheelchair.
Unlike regular backpacks, which are worn on the back and have two straps that go around your shoulder, wheelchair backpacks are designed to be placed on the handles of the wheelchair. With two straps perpendicular to the body of the backpack, they are easier to be used by wheelchair users and offer the extra security that you know a regular backpack cannot.
This is especially true if you use tilted wheelchair ramps and risk your backpack falling out from the small space under the seat. The situation is different with motor wheelchairs, although some simply prefer to have the extra space. In the end, as with most users, you decide which type of backpack you want to use, and what kind of added security you need. For this reason, here is a breakdown of the top wheelchair backpacks.
9 Great Backpacks Made for Wheelchairs
As wheelchair backpacks come in a variety of shapes and sizes and are made for different users, we've compiled a list of backpacks meant for people with differing needs. From super-sized to super practical, the following should give you plenty of mounting options.
Note that not all of these are backpacks specifically, but carry bags specifically designed for wheelchair use. In the end, these may serve as better options for carrying personal items on a wheelchair than a backpack would.
Note that some of these packs and bags have more attachment points than others. More usually means better stability, but if you're looking to transition to/from your wheelchair via transfer boards or personal assistance, ease of pack detachment will be better.
1 – Armrest Pouch for Wheelchairs
If a backpack on the back of the chair is inconvenient, another option is this armrest organizer. This way, it's easier to keep all your important items within reach and site. No help needed from a caregiver! However, none of the pockets seem to be large enough to hold a water bottle.
Sale
Wheelchair Armrest Pouch Organizer Bag for Side of Chair, 3 Pocket Tote, Arm Rest Storage Accessories for Electric, Manual or Powered Chairs (Purple Circle)
Ultimate Convenience – Keep your phone, wallet, snacks, medication, glasses case and other essentials within an easy arm's reach with this indispensable wheelchair armrest organizer bag. No more stretching, twisting or asking for help when you need to access your belongings.
Generous Sizing – Measuring 12.5″ wide and 7″ long, with 2 front pockets and one zippered compartment, there is plenty of space for all your personal items – safe and right at your fingertips. Carefully designed to clear the wheels of your wheelchair and also the perfect size for attaching to the inside or outside of your wheelchair armrest.
If a backpack on the back of your wheelchair is what you are looking for, read on…
2 – Dotday Wheelchair Backpack
Not really a backpack, but more of an open carrier that rests on the back of your wheelchair. Another way of describing this one is as a basket for the back of your wheelchair.
Dotday Wheelchair Backpack, Wheelchair Basket for Back, Wheelchair Bag Wheelchair Accessories Storage for Wheelchair Users, Wheelchair Bags to Hang on Back with Cup Holder
Customized for Wheelchair: -why we upgraded a wheelchair basket, if you know about Dotday, then you will find our, that we are devote ourselves to kinds of help for walker users & wheelchair users. So we have designed kinds of basket organizer for walker & wheelchair these years, and all customized Item responded well, as we always takes great pains on studying deeply of users' truly requirement and Product improvement.
Convenient to Use: We have a idea, what about a basket for the wheelchair? Then it can be convenient to use, convenient to put some daily essentials, the water bottle, cup, tissue etc. And convenient to pick up what you want. As we are the opening Basket, but not a bag, you do Not need great effort to zip the bag and find out the thing you want.
With an item that is as versatile as this, you are sure that most of your needs will be covered.
3 – Pembrook Wheelchair Backpack
One of the higher rated bags for wheelchairs on Amazon, this one is cost effective and well liked. Easy opening and enough room for a water bottle, medical supplies, and medications.
Pembrook Wheelchair Backpack for Back of Chair – Wheelchair Bag for Walker | Wheelchair Accessories for Adults | Walker Bag | Wheel Chair Caddy
Fits All Standard Wheelchairs – The Pembrook wheelchair bags to hang on back has an easy quick clasp system with adjustable straps making it suitable for most senior walkers and wheelchairs. It measures 18 inches wide X 16 inches tall. The walker bag is designed to expand up to 8 inches when filled.
Hands Free & Easy Access to Your Things – The wheelchair travel case bag can fit most of your day-to-day essential items like a tablet, medication, water bottle, a small jacket, glasses etc. There is also an inner zipper pocket for small valuables in this walker carry pouch.
However, some of the more recent reviews indicate that there may be a quality issue, so perhaps they've changed where
4 – Elder Depot Universal Wheelchair Backpack
The 14X3 inch wheelchair backpack is a heavy-duty backpack offering ample storage for those who need it. With a depth of 6.5-inches, it can even fit a change of clothes for a day out. The polyester and PVC materials it is made from mean that it is machine-washable (be careful with the temperature) and that it is stain-resistant.
Shop Elder Depot Universal Wheelchair Backpack
Features:
Unique design to hang on the back of chairs
100% easy to clean polyester
3 zippered pockets for added security
The Elder Depot backpack also offers three additional zippered pockets and comes in an attractive navy blue color.
5 – Vive Wheelchair Bag
The most stylish on our list, the Vive Wheelchair Bag comes with ten different designs that you can choose from. Affordable and practical, the wheelchair bag comes with three outside pockets (open pockets), two adjustable straps, and a fold-over top that can fit more contents when upright.
Vive Wheelchair Bag - Electric Wheel Chair Walker Accessories Pouch for Adults, Seniors, 15 Colors - Large Tote Accessory to Hang on Back, Power Transport Storage Travel Backpack for Men, Women
FITS ALL STANDARD WHEELCHAIRS: Durable wheelchair bag attaches with two easily adjustable straps, allowing it to fit on all standard wheelchairs, bariatric wheelchairs walkers and transport chairs.
HANDS FREE GRAB AND GO BAG: Easily keep essentials at hand with the large inner pocket measuring 19"x 14". Sturdy nylon bag can hold a purse, a change of clothes, or necessary medical supplies. Convenient outer pockets provide easy access to everyday items such as drinks and snacks, glasses, electronic devices and more.
An additional strap means that you can easily carry it over one shoulder and on your lap for an easy reach of your daily essentials. The Vive Wheelchair Bag is also machine-washable as it is made of nylon.
6 – ISSYAUTO Wheelchair Bag
The ISSYAUTO wheelchair bag offers increased storage space at 16X16 inches. When full, it expands 6+ inches to accommodate more content.
ISSYAUTO Wheelchair Backpack Bag, Wheelchair Pouch, Backpack for Wheelchair Users, Wheelchair Bags to Hang on Back, Wheelchair Accessories Bag, Large Storage Bag with Inner Cup Holder, Black
【Large Capacity】 The backpack of wheelchair has a main space, one outside pocket, three inner pockets. Perfect for keeping all your everyday necessities safe inside the bag.
【Durable Material】 Unlike others wheelchair back pack which use thin tearable material, ISSYAUTO wheelchair backpack features a padded sponge lining, which durable and stronger to load laptop, books, even oxygen cylinder.
The inner reinforcement and padded sides are perfect for carrying a laptop and protecting it from any hits and blows. It is a perfect bag for those who commute, as the bag is equipped with reflective strips that are visible from up to 300 feet (100 meters) away.
7 – SAMDEW Wheelchair Backpack
SAMDEW wheelchair backpack is the only hybrid model on our list. Both a wheelchair backpack and a regular backpack, it has everything you may need on a regular day. The insulated thermal pocket is perfect for keeping your medicine safely, and the outer pockets are made for essentials that you need within easy reach.
SAMDEW Wheelchair Backpack, Wheelchair Bag to Hang on Back, Manual & Motorized Wheelchair Bag for Adults, Accessories Bag for Wheelchair, with Thermal Insulation Pocket for Medicine Storage, Bag only
[ UNIVERSAL DESIGNS ] -- With adjustable webbing strap on both sides, hanging the backpack on the handle grips. The bottom of the shoulder straps is detachable and can cross the armrest to be fixed on the chair back. These designs make the bag compatible with different types of wheelchairs.
[ INNER STRUCTURE ] -- Main compartment features a 15.6 inches laptop storage layer, a zipper pocket, a large elastic pocket and 2 side pockets, to keep your aid transfer sling, wheelchair poncho, and other daily necessities separate.
Perfect for both motorized wheelchairs and manual models, it is a robust, super-sized solution for even the most demanding users.
8 – Medipaq Deluxe Wheelchair Bag
The rigid and robust model, Medipaq Deluxe, has side handles for easy placement on the wheelchair. The three outer pockets offer plenty of storage space for your cell phone, wallet, and other smaller items.
Medipaq Deluxe is equipped with an adjustable loop strap, easy-wipe fabric, and a padded carry handle. Medipaq offers a perfect balance between robustness and size and comes in two colors: black and gray.
9 – Scooter Wheelchair Backpack Bag
The Scooter Wheelchair Backpack is intended for both wheelchair users and electric scooter users. It is intended for a variety of uses and users, as it is equipped with an insulated compartment for a lunch box, a medicine travel case, and a separate outside pouch for a tumbler/umbrella.
As an added security feature, this adaptive wheelchair backpack also comes with two reflective strips, making it a secure solution for all those returning home past the sunset.
Other Wheelchair Options for Carrying Gear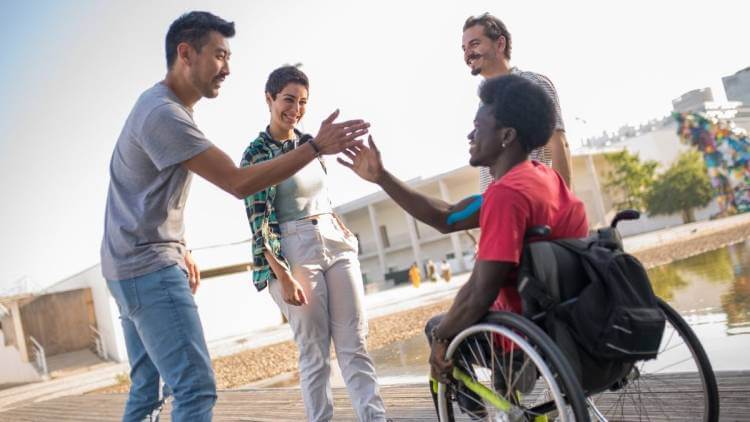 If you are not all up for a wheelchair backpack, you may also consider some other smaller but equally practical solutions for extra wheelchair storage space. In this case, you may sacrifice space, but the added ease of reach is enough to persuade many. Here are some other wheelchair storage options you may want to consider:
Wheelchair Totes,
Underseat Pouches,
Armrest Wheelchair Bags, and
Handmade Wheelchair Bags.
Wheelchair Totes
The smallest but the most eye-catching wheelchair totes have made it to the top spot of alternative wheelchair storage space. With the handy and stylish totes, you will be able to carry some extra clothes, a jacket, a tumbler, and maybe even a book or two. Beware of important documents being placed here, as totes are usually not rigid, and you may end up with crumpled pages.
Underseat Pouches
Underseat pouches are the next best thing. Sleek and barely visible, they are designed to fit in the under-seat space of your wheelchair. As they are laid flat, they are perfect for your documents, books, and even take-away, but they may not be as good at keeping your liquids in their tumblers. If you live in a rainy area, you may also want to consider that they may get wet occasionally, so going for a waterproof model will definitely pay off.
Armrest Wheelchair Bags
Armrest wheelchair bags are the second smallest storage solution on our list. Armrest bags add to the functionality, as they are in a perfect spot that is easy to reach whenever the need be. They are perfect for your cell phone, storage bank, and any items you use often. On the other hand, they may not be as good for documents due to safety reasons. The documents are best kept on you, especially when you travel in a wheelchair.
Handmade Wheelchair Bags
If you are crafty or like handcrafted goods, handmade or DIY wheelchair backpacks and bags are the perfect thing for you. Check out Etsy, Pinterest, and Facebook marketplace for more ideas. With handmade backpacks, you can always choose your own style, material, and size, but may compromise rigidity and usefulness.
Summary
There is no need to compromise practicality or looks when it comes to choosing your wheelchair bag. With a variety of options to choose from, starting from size and looks to inside pockets and a laptop pouch, wheelchair backpacks are as diverse as regular backpacks are.
With added safety features and straps, our choice of the best 2023 wheelchair backpacks is sure to satisfy even the most detailed wheelchair users.