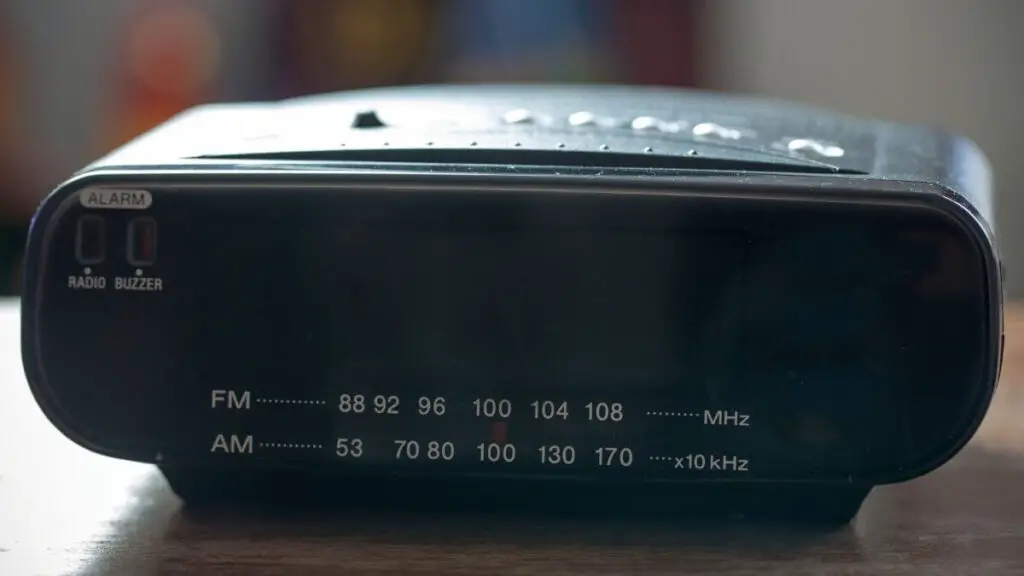 Having trouble seeing the numbers on the clock? Not hearing the alarm go off in the morning? Fumbling to hit the small snooze button when you do hear it? Old age does a number on us. In this article we'll look at the best clock radios for seniors.
Hearing loss is one of the most common problems that we face as we age. One in three people over the age of 65 and between the age of 75 will have issues with hearing loss. At least fifty percent of those over 75 will experience difficulties with hearing.
Vision loss is a close second when it comes to problems as we age. According to the National Eye Institute, about 15% of Americans that are 75 or older will experience loss of vision. Once a person reaches 80, half of the population will experience cataracts.
With all that said, it's clear why there is a need to look for certain types of clock radios for older adults. The right clocks will help those who have vision issues or hearing issues. These are the clocks that will be sure to wake you up even with these setbacks.
Manual dexterity is another limitation that negatively impacts activities of daily living. According to a study published by the National Library of Medicine:
Studies have reported age-related impairments in maximal grip force sensory functioning and in grasping and manipulation of objects. Regarding specific manual dexterity components, accuracy in force control tasks is reduced in age and independence of finger movements may deteriorate. Increased variability of finger movements and motor slowing have also been documented. These studies suggest a complex multi-component decline in manual dexterity in older people, especially in the very old.
If you have impairments in your fingers, you can imagine trying to fumble with small buttons on an alarm clock… in the dark… while you're half awake.
What Makes a Good Clock Radio for Seniors?
The best clock radio for seniors is going to have big numbers, big buttons, and a loud sound. There are several clock radios with these features, so the deciding factors between them may be something unrelated – like cost and color.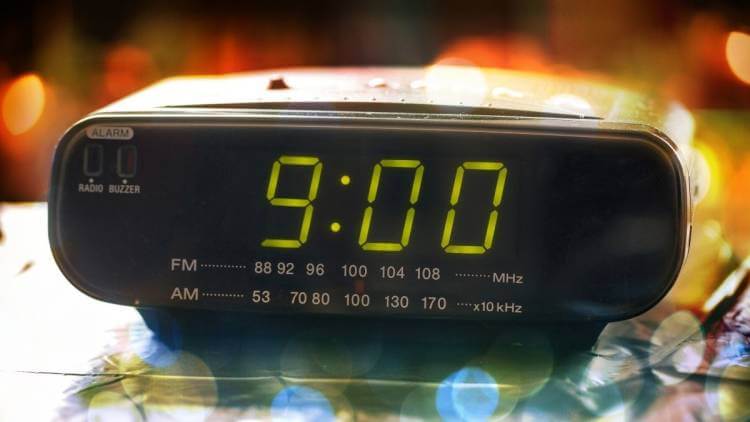 Big Numbers
A clock radio for seniors should include large, bright numbers. It will not be a traditional clock with arms. Traditional clocks are  more difficult to read, even if they are large. They will be impossible to read in the dark.
The display should be easily readable. Unusual colors are harder to see. This makes it difficult for those with vision issues to tell time. Ideally, the best colors to have on a clock for seniors would be black and white. White letters on a black background make it easier to read from a distance as well.
Big Buttons
You will want a clock that has big buttons. The larger the buttons, the easier it is for those with vision problems to navigate. Plus, the bigger the button, the bigger the print on it will be. This allows those with vision problems to navigate their clock easier. However, the buttons should not interfere with the aesthetic of the clock.
Big Noise
Most manufacturers do not typically boast about the decibel levels of their alarm clocks. That's okay, because most of the clock radios out there are going to have sufficient volume for seniors. However, if hearing loss is a significant problem, the buyer may want to look for clocks that have high volume as their signature feature.
Many of these clocks will be coupled with vibration devices that shake the pillow with a separate attachment. Between loud noise and vibration, these clocks will wake people who are hard of hearing.
The downside to these clocks is that they are usually clocks and clocks only, not a clock radio. If you find you need a vibrating feature to help you wake because you struggle to hear the alarm, it may be worth buying an alarm clock designed for the hard of hearing and just buy a separate radio for music.
Other Features
The next thing that you should look for is how it is powered. If it is a corded clock, make sure it is long enough and simple enough to plug in. If the clock runs on batteries, find a clock that does not require tools to change the batteries. The easier it is for the batteries to be changed the better.
Lastly, you want to make sure that that the clock will match your décor. This is something that people say not to worry about. However, a clock that does not fit in will stick out like a sore thumb. The best clocks will blend into your décor. Now let us look at some of the best radio clocks for seniors.
6 Great Choices
1) Pipishell Day Clock Premium Digital Alarm
Pipishell Day Clock Premium Digital Alarm Clock with Extra Large LCD Screen ,Electronic Wall Clock & 5 Alarm Options,Perfect for Seniors
LARGE & CLEAR DISPLAY - This unique Resolution Digital Calendar Day Clock display uses large and thick letters that clearly spell out the time, period of the day, full day of the week, month and date - with no confusing abbreviations. Adapter cable length: about 120cm(44 inch), The clock is not battery operated.
2-COLOR DISPLAY & 8 ALARM REMINDERS - This digital clock includes 2-color display options (white/yellow) and 5 daily alarms 3 medicine reminders (Morning / Afternoon / Evening Medication Reminder) for Seniors Elderly Dementia Memory Loss Vision Impaired Alzheimer to have the meals/medicine on time.
This is a big digital clock with a display that looks like it's housed in a picture frame. It has a black background with white lettering. This is beneficial because it is easy to read from a distance. It is both battery-powered and corded. It features a large display of eight inches. The letters and numbers on the clock are clear and thick. This makes them easy to see.
Cons:
May need assistance to set up initially
Works better with batteries
The manufacturer bills this clock as particularly beneficial for seniors, stating, "It is quickly becoming used for senior care and is an in-home care necessity." The clock would seem more appropriate in a senior housing situation where individuals are not controlling the clock, because the buttons are small and on the back. If you need a clock with big buttons that are easily managed, keep looking. If you need a simple display clock that a caregiver manages, this could be the right choice.
2) HAPTIME Digital Alarm Clock Radio
HAPTIME Digital Alarm Clock Radio: 6.2" Large LED Display with 4 Brightness Dimmer, Dual Alarms, Snooze, 12/24H, FM Radio with Sleep Timer, Blue Digits Clock for Home Bedside Bedroom
Dual Alarms with Multiple Ringtone Options: Easy to set 2 separate alarms for your different needs. The standard ringtone buzz "BB" with a default volume, different FM radio stations with adjustable volume (L01-L15) give you more choices to start your new day. The alarm will continue for 30 minutes, ensuring you definitely wake up, of course you can easily turn it off when you wake up
Large LED Display with 4 Dimmer: A large 6.2in digital blue LED display with clear numbers allows it easy to read from any angle of a room. 2 inch tall big numbers comes with 4 levels of brightness: Off/Dim/Medium/Bright (0%-20%-60%-100%) to meet your different needs in both daylight and nighttime. The time display support both 12/24H time
This is a modern-style alarm clock radio. Mid-sized buttons sit on the top making it easy to adjust the volume of the radio or set the alarm with ease. There are fifteen levels of volume and a radio option for your alarm so you can choose how you want to wake up, a feature you won't find with some other clocks.
There is a large display of just over six inches. It has bright blue letters on black lettering. The clock features both AM and FM radio so there is something for everyone to listen to.
Cons:
This radio may require instructions to begin using.
Sometimes the FM tuning can be hit or miss.
3) Digital Wall Clock – Large Calendar Alarm Day Clock
Digital Wall Clock, SICSMIAO 10.5'' Large Calendar Alarm Day Clock, LED Desk Clock with 3 Alarms, Temperature, Display Dimmer, 2 USB Chargers, Snooze, 12/24H, Battery Backup for Home, Office, Elderly.
🕑【10.5'' MULTI-FUNCTIONAL DIGITAL DAY CLOCK】: The 10.5'' extra large LED display clearly shows time, date, week and indoor temperature in large letters, that is easy to read the time clearly from any angle in the room for the elderly and the impaired vision. Two fix modes, free standing on the desk/shelf/nightstand by the holder or just mount it on the wall with the bracket hook/ stickers we provied, easy to fix up. A modern decoration alarm clock for bedroom, kitchen, living room or office.
🕒【3 ALARMS WITH BIG SNOOZE BUTTON ON TOP】: Digital calender clock with 3 alarms are a worthy extra feature to wake up your different family members, also can remind senior people for daily meals or for taking medications on time. 3 alarm modes allow you to set weekdays/ weekends/ everyday only, or turn them OFF for 24 hours or permanently. 6 alarm sounds with volume adjustment for Bird, Waves, Piano, Chord, Beep ect. Snooze Button on the top easily enable you extra minutes of sleep.
If need a clock to mount on the wall this could be the choice for you. This clock features a large display. The 10.5-inch display will allow you see this with ease. You can read the time or date from every angle. It is black and white so that it is easy to see from a distance. You can put it on a nightstand or have it hanging on the wall. You can use either electrical power source or batteries.
This clock lacks a radio, however. If you need a big display, loud sound, big buttons, and a radio, you will likely have to give on a feature. This product gives in some areas, but lacks the radio that some will want.
Pros:
Brightness automatically adjusts
Cons:
If you use the ports enough, people have reported they do not work for extended time periods.
If used to mount on the wall, it would not be suitable for use as a daily alarm clock
4) Reacher Simple Alarm Clock Radio
Wide, bright, and white is the best way to describe this clock radio. It comes with an adjustable volume for heavy sleepers (0db-120db) that gradually increases to your preset volume level. The music sound, according to the manufacturer and reviews, is richer than many competing products because it has a bass cavity design that adds depth of sound, something difficult to find in many compact clock radios. It looks sleek and modern with its rectangular shape.
Pros:
Easy-to-Use Adjustable Knobs
Cons:
Setting radio stations may be difficult. This may require the instructions to understand how to set stations.
May be too small for those with limited sight
Does not allow you to pre-set radio stations
5) Electrohome Retro Alarm Clock Radio
Looking for something with a more unique look? This clock radio could be the right choice. It has the white on black numbering that we want, easy setup, and 20 station memory to easily navigate your favorite stations. While the control buttons are smaller than some competing clocks, the most important buttons are located directly on the face of the clock.
The best benefit of this clock radio for seniors – motion sensor nightlight. Few clock radios offer this feature, and for the senior who is struggling to find their glasses in the night as they fumble with the alarm, it's the perfect solution.
6) Mesqool Alarm Clock for Hearing Impaired
Mesqool Alarm Clock for Heavy Sleepers Deaf Hearing Impaired, Loud Alarm Clock with Bed Shaker, 2 USB Chargers 7-Color Nightlight,Large LED Display &Dimmer,Snooze 12/24H DST Plug-in Battery Backup
【Bed Shaker & Loud Buzzer Wakeup】.This loud alarm clock for heavy sleepers, hearing impaired seniors is designed with a vibrating bed shaker and the loud buzzer can wake everyone up in 3 ways to personal preference. You can choose the alarm to be a loud buzzer, a pillow vibrator without disturbing your family or both by sliding the switch left or right, or middle for both. It has 3 levels of volume control from 75db to 90db, meeting different demands.
【7 Color Night Light & Large 7'' LED Screen with Full Range Dimmer】The bedroom LED digital alarm clock for adults and kids has 7 color night lights which allows you to choose your favorite one, definitely a great gift choice. The night light button also works as SNOOZE to get an extra 9 min when clock rings. Easy to read across the room with the large 7'' LED display and full range brightness dimmer for poor eyesight or people used to the dark sleeping environment.
I had talked about clocks that are designed specifically for the hearing impaired. Well, this is a good example. Hard of hearing seniors will appreciate the vibrating bed shaker and loud buzzer that are sure to wake the heaviest of sleepers up in the morning.
It has a white on black numbering display and a helpful night light option atop the clock that can be changed to different colors. The alarm comes in three settings: a loud buzzer, pillow vibrator, or both. Selecting the pillow vibrator alarm only makes a great feature for the individual who wants to wake without waking a partner at the same time. Sound settings range from 75db to 90db.
Note that while this clock has many features you won't find in other clocks, it lacks a radio. No clock is going to have it all, so if this is the best choice for waking you up, you will need a separate radio if you want music.
Cons:
Too many features compromise simplicity
Commonly Asked Questions About Senior Alarm Clock Radios
Is a radio clock designed for seniors worth it?

Yes. These clocks are designed to make it easier for seniors to see the time. Just because people age does not mean they do not want to stay on a schedule. That is why the large print and screen make it easier for seniors to navigate. This is especially true if there are large buttons and louder sound.

What should I spend on a radio clock?

Many seniors live on fixed incomes, so cost is a concern. Clock radios for seniors will range in price from $20 to as high as $70.The more complex a radio clock is, the more you will pay. With that in mind, you do not need to spend a fortune on a radio alarm clock for seniors, because it's simplicity that is most often desired.

When should I get a radio clock for seniors?

You may be noticing a loved one having difficult telling the time or even waking up in the morning with their alarm or struggling to see the numbers at night. This is a sign to get a senior alarm clock. This will have a large display so that they can see the time. It will also have louder volume options for those who are hard of hearing.
Summary
Taking the time to find the perfect radio alarm clock for seniors is important. Just because someone is starting to have vision or hearing issues, does not mean their bedtime routine should suffer. It simply means that they will need things and adjust. Having a larger alarm clock with different volume options is a great idea.
The clocks listed in this article are great options for seniors. They have large displays, big buttons, and loud noise.
Just keep in mind that if you do purchase an alarm clock for a loved one who is a senior, do not explicitly state that it is for their hearing loss or vision loss. These clocks are designed to look no different than any other major alarm clock radios. They just have more volume options and a larger bolder screen.