This is a complete list of where to find Kansas senior services, aging information, area agencies on aging, and related links.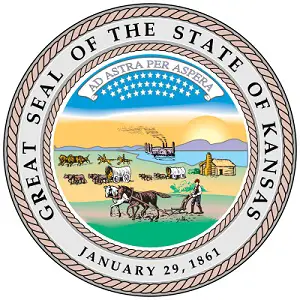 Kansas has an overall population of 2.9 million, with senior citizens making up 16.3% of that number. Kansas is younger on the whole than the United States, with a median age of just 36.7 compared to the national median age of 38.1.
As in much else of the United States, Kansas is seeing an outmigration from its rural areas as the urban centers continue to grow. While small towns in the state are being abandoned, metropolitan Kansas City has some of the fastest population growth in the country.
7.2% of Kansas's senior citizen population lives in poverty and 15.5% of those over the age of 60 experience food insecurity. The median income for people 65 and older in Kansas is just over $42,000, which is about in line with the national median income of $43,000 for the same demographic.
3.4% of senior Kansans avoided seeking medical care because they were worried about its cost. However, 93% of the state's senior population does have a dedicated healthcare provider and there are 19.6 geriatric providers for every 100,000 senior citizens.
Senior citizens in Kansas have ample opportunity to influence policy in the state, especially through the Silver Haired Legislature, which is a group of people over 60 elected by their peers to work with state legislators on issues of importance to Kansas's senior population.
Kansas has 11 Area Agencies on Aging as well as the state's Commission on Aging. There are many resources for elder services in Kansas – if you know where to look. Below, we've listed links to organizations and programs like the Area Agencies on Aging that can provide senior citizens, and even caregivers, with support and assistance.
We try to keep these state resource pages as up to date as possible. If you find a broken link, please contact us to let us know. This helps us help others. Thank you!
Area Agencies on Aging
State Government
State Agencies and Non-Profits
Legal Services
Should other Kansas senior services be listed here? Contact Elder Guru